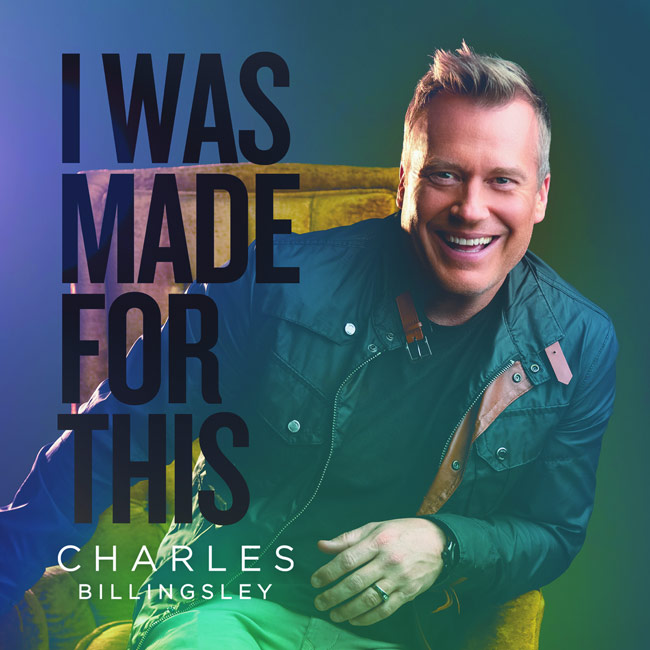 Stowtown Records
Release Date: April 10th 2020
Reviewed by Joshua Andre
Charles Billingsley– I Was Made For This (Amazon mp3/iTunes)
Track Listing:
I Was Made For This
Kyrie
Rise Up
Center Of It All
Sing For My Soul
Play the Man
Fragile
Painted Skies
King Of Glory
Where You're Supposed To Be
Spirit Of God (feat. Tasha Layton)
We Believe
A nationally known recording artist, a worship leader, teacher, author and pastor, Charles Billingsley is probably best known for his stint in the mid 90's as lead vocalist for the CCM/pop group Newsong. Though I haven't heard of his music prior to this album (aside from a few songs from Right Here and the entire 2014 album Only Jesus only once or twice straight through!); it is the passion and heart of Charles as well as the familiarity of some covers in I Was Made For This that intrigued me and sparked my interest, as I took the plunge, to see what Charles has been up to in the past few years. The result is a stellar worship record that has me wanting to check out the rest of Charles' discography. With plenty of styles incorporated in this record, from pop to adult contemporary to epic orchestral pieces, Charles' new album is one not to miss, as we dive deeper into God's presence, and worship along, singing new songs and old!
2020 is a real let down of a year, isn't it? From one disaster to another to another, it seems like we all can't catch a break. We're all at home on lockdown- and there's nothing to do except to wait on God and just wait out of this pandemic. Music albums have been delayed and so have movies. But some albums- inclusive of Charles' new project, have nonetheless dropped, so while we have the time, why don't we become immersed in some of the most hopeful and impacting worship music I've heard this year? And as Charles and his family are isolating due to Charles contracting COVID-19, this album obviously means a lot to him, as presumably some of these songs are written for himself without even knowing… so from that standpoint I Was Made For This is always going to be poignant and mean something much more, especially in this economic climate and season of uncertainty.
Opening up the track list is the explosive vertical worship ballad which is the title track. Driven by fervent keys, vibrant guitars and a collective resounding stadium-style atmosphere; Charles majestically relays his fervent cries to Jesus, as He declares the promise that we all were made for this moment, the moment that God is leading us to, wherever that may be. Now this song lyrically si super vague, but there's no denying that this track is powerful and God's hand is on it. As such, lyrically the track doesn't really matter that much- because it still is resounding and it still is inspiring and poignant, meant to encourage and to provide comfort that our lives do mean something. God has a plan and all we just need to do is to walk into it.
The rest of the album is just as musically and lyrically impressive as the near-flawless title track and opener. "Kyrie" by Mister Mister is such an iconic song, and has been covered several times, by Mark Schultz and Kevin Max to name a few. Here, Charles puts his own gospel/big band take on the track- which is sublime and sheer brilliance. And as a part of an album in which the theme speaks about knowing that we're made for a purpose bigger than ourselves, the theme of this track fits in nicely, as Charles relays that in every move that we make we can sing out 'kyrie eleison' meaning 'Lord have mercy' or 'Lord have favour or providence'. "Rise Up", written by Paul Baloche, is another album highlight, as this potential Sunday morning setlist inclusion and mid-tempo worship tune has Charles ardently relaying to us that in every circumstance, we can allow God to rise up and take control over our lives '…for the glory of the Lord has risen on you, He's working in us, He's making us new, to do what only He can do…'; while the future modern hymn "Center Of It All", written by Krissy Nordhoff is sure to be a hit amongst… well, everyone, as Charles delivers a track for the ages, which basically points out that Jesus is at the centre of everything in our lives- no matter what. The tempo then changes for a pure pop radio friendly track in "Sing For My Soul", which is a prayer that asks the Holy Spirit to 'sing for our soul', to intercede on our behalf when words fail us. "Play the Man" rounds out the first half of the album, with a personal track penned for Charles' sons- as mentioned by Charles himself.
In Mark Batterson's book, Play The Man: Becoming the Man God Created You to Be, he shares that as Polycarp was being burned at the stake he heard a voice say, 'Be strong Polycarp, play the man,'. We don't hear much about what it means to be a real man these days. We don't see it modeled in movies or talked about in society, but men are called to be strong, gentle, firm, affectionate, generous—all the things God created us to be. Ultimately, I wrote this song for my boys, who are 18 and 19 years old. I wanted them to have it as a reminder from their dad of what it means to be a man and 'play the man.'
With the second half of this album opening with the enthralling synth and acoustic guitar driven cover of Sting's smash hit "Fragile", reflection and introspection are at the fore as Charles laments about the transience and temporary nature of life, with many of us will agree that '…on and on the rain will fall, like tears from a star, like tears from a star, on and on the rain will say, how fragile we are, how fragile we are…'– and given that this track is from a mainstream artist, there is no resolution here, however we know from Charles' background as a worship leader that the solution to our fragility that is implied here is Jesus. In that sense, this song is all the more fitting here, given that we're right now in the midst of one of the worst crises ever imaginable to the modern world- mean to test our spirit and our fragility. "Painted Skies", one of my favourite songs on the album, would've served better as a Christmas original song by Charles- however its inclusion as a worship song here isn't baulked upon- but rather welcomed as this is a track that I could conceivably sing out with great passion at all times of the year! The added gospel choir and the evident yet emotional key change adds extra depth here.
Todd Dulaney's gospel worship song "King Of Glory" is also covered here, as is Newsboys's smash hit "We Believe"- and on both tracks Charles excels beyond what I could ever imagine- these covers are probably slightly better than the originals! – while the piano prominent "Where You're Supposed To Be" is as honest as it emotional, with Charles asking each of us if we truly believe God's plan for each of our lives. Because if we do, then the chorus really hits home and reminds us that we aren't in control and that He is- '…what if blessings come from rocky roads the faithful have to climb, what if growing faith looks like an old fight you're facing one more time, what if God is working perfectly in ways you're soon to see, then maybe you're right where you're supposed to be…'. Yet Charles' magnum opus if you will- the pinnacle of the album, comes in the second to last song "Spirit Of God"- an empowering duet with rising worship artist Tasha Layton. Written by producer Keith Everette Smith and Gabe Finochio (one half of The Royal Royal), this gut-wrenching worshipful track of admission of unworthiness to God, is fit more for personal worship than corporate worship, this this song being perfect for us at all times, but especially in a time where we don't have the words to say anything. Because the chorus is quite simple. It's '…Spirit Of God I need Your presence…I need You…', and it's something I can envision the somewhat discouraged heroes of the Bible would sing quite frequently. Gideon when facing the army of thousands while he only had 300 warriors beside him. Jonah in the belly of a whale. Joseph in prison after Potipher's wife accused him of raping her. Daniel in the lion's den. Paul and Silas in prison. Many, many times, our heroes found themselves in sticky situations, and this song would've served them well and brought them comfort. For this track to be released now and sung by us in a time where the world is in chaos right now- it's only fitting that the album ends with the Nicene Creed- Charles' stirring cover of "We Believe" from the Newsboys. There's just something about reciting the bones and the crux of what we as Christians believe- and Charles executes this simple yet effective song quite well. He doesn't botch it up, and furthermore, he draws us into worship. With every song on I Was Made For This, he draws us into worship. Yes… this might just be Charles' most personal and most inspiring album, and maybe the most hopeful and impacting album of the year thus far!
The album as a whole is simply a reminder of why we're on this earth—we were made to worship the Lord. All things were made by Him and for Him, and our purpose is to bring glory and honor to Him. Every song relates to that theme in one way or another. I intentionally wanted to take listeners on a journey addressing why we exist; the reality of sin; the reality of the Gospel; and finally, worship. The end of the album is a series of powerful moments of worship that celebrate the Hope we have in Him.
Reminding me vocally of Phillips Craig and Dean, Russ Lee from Newsong, Mark Harris from 4Him and Jason Crabb; Charles Billingsley is an amazing vocalist, as each song highlights his impressive vocal ability, unrivalled to most vocalists in the CCM industry. One of the most enjoyable worship albums I have heard over the past year alongside albums from Elevation Worship, Passion and Matt Redman; don't let the two mainstream covers turn you off. Because this is meant to be a worship album full of old and new favourites, these two covers of "Fragile" and "Kyrie" mean something personal for Charles- and organically they flow in this track list in my opinion. With Charles gaining a fan (myself), I pray and hope that you all are blessed by his music. I presume that the goal of OI Was Made For This was to lift Jesus high and to remind us that we can sing to Jesus even in the struggle and even in the pain. In that respect, Charles Billingsley has accomplished what he set out to do. So dive in, take a listen, and be blessed by Charles' worship leading. And like me, anxiously and eagerly wait for the next album full of original material from Charles, or at least dig through his 20 + year old discography…
3 songs to listen to: Center Of It All, Painted Skies, Spirit Of God
Score: 5/5
RIYL: Jason Crabb, 4Him, Phillips Craig and Dean, Matt Redman, Newsong