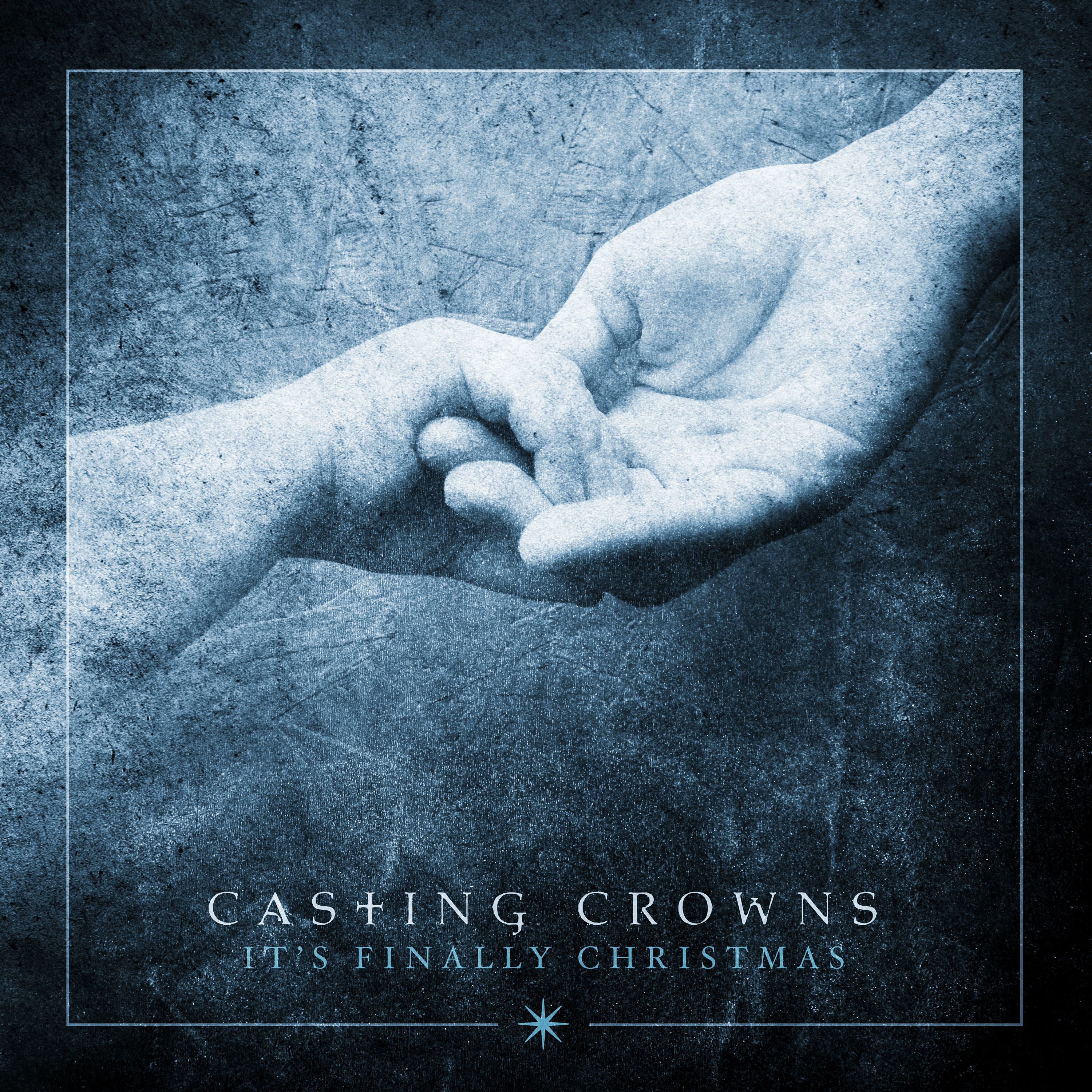 Provident Label Group
Release Date: October 20th 2017
Reviewed by: Jonathan Andre
Casting Crowns– It's Finally Christmas (iTunes/Amazon mp3)
Track Listing:
Gloria
It's Finally Christmas
Christ the King (What Child is This)
Somewhere in Your Silent Night
O Holy Night
Make Room (feat. Matt Maher)
Christmastime is upon us. No seriously, that is the truth. In just over 2 months, we will be celebrating the birth of Christ again on December 25th. And then it'll be Boxing Day, and the end of 2017 and the start of 2018…but I'm getting ahead of myself. Now let's backtrack. We are in October and Christmas is in December- 2 months away. And what does that mean? A flurry of Christmas music albums (and EP's and just songs released as singles about Christmas), of course. So let us review what Christmas albums released in 2016. And boy there was albums aplenty- from artists like Matt Redman (These Christmas Lights), Lauren Daigle (Behold), Amy Grant (Tennessee Christmas), Matthew West (Unto Us) and Beckah Shae (Let it Snow), to Christy Nockels (A Thrill of Hope), JJ Heller (Unto Us), Newsong (The Best Christmas Ever) and We are Messengers (God With Us EP); this time a year ago we were given some great moments of worship and realisation as we reflected and understood the gravity of such a situation like Christmas during Christmastime 2016.
Now for 2017…which albums have released (or will release) that will bring our hearts into a place of reverence and awe as we come up to the season of hope, giving and celebrating the greatest gift we could ever receive? Well, firstly, Casting Crowns' new Christmas EP is a great way to start off the 2017 Christmas season, that's for sure. And then listen to some Hillsong Worship (The Peace Project) and Hannah Kerr (Emmanuel) for good measure. No seriously, enough with the comedy. When I heard that veterans Casting Crowns were releasing a new Christmas project, I was intrigued to say the least. Their last Christmas offering was in 2008, where they penned the musical arrangement to their cover of 'I Heard the Bells on Christmas Day' (a song that, whilst the lyrics were the same as the original, the musical arrangement was re-written, and the song became one of my favourite Christmas carols, ever). And so fast-forward to 2017, where Mark Hall and the rest of the band offer another Christmas project, this time a 6 song EP titled It's Finally Christmas. Now Casting Crowns needs no introduction. We all know who they are, right? And if you don't…just google them. Look on Wikipedia, and be reminded of the band who sung and wrote all your favourite songs you've heard on radio over the last 10 or so years. Because when it comes down to it, Mark Hall and the rest of the band basically redefined the genre of CCM over the last 10-15 years with their music. Along with artists like for KING AND COUNTRY, Tenth Avenue North, MercyMe, Francesca Battistelli, Phil Wickham and Meredith Andrews. But I guess if you were to pick one artist that shaped CCM to what it is today, I'd have to say the 7 piece band who had their humble beginnings in Daytona Beach, Florida. And so today, the band have once released a new project, and one that is indeed very much reliable and heartfelt, with songs emotive and poignant, encouraging and uplifting, as the 2017 Christmas season begins with what I reckon one of my favourite Christmas projects (EP's and albums included) I've heard of, ever since Michael W. Smith's The Spirit of Christmas way back in 2014!
Out of a track-list of 6, four are originals. That's 2/3rds. Personally, for myself, I enjoy originally written Christmas songs ahead of carols. Everytime. Not to say that I don't enjoy carols, I do (songs like 'O Holy Night, 'Angels We Have Heard on High', 'Little Drummer Boy', 'Joy to the World' and 'O Come All Ye Faithful' are some of my favourite carols in recent memory), but there's just a joy, beauty, awe and wonder when it comes to hearing a song you know the artist took the time to write especially for the season at hand. A song like 'Christmas Card' for example, written by Steven Curtis Chapman on his album JOY speaks about how the persona is writing a Christmas card to someone in need, telling them that they are loved on a season in their lives where they may think of themselves and unloveable, or a song like 'Heaven Everywhere' from Francesca Battistelli (on her album Christmas) that reminds us all that we all need to have a little bit of cheer and forgiveness during a season where people can seem to be busier than needed, that '…it's funny how it takes a holiday, to show the world that we can truly change…' And so we see this track listing of six formulated by Mark Hall and the band, and I myself immediately am gravitated to the song 'Somewhere in Your Silent Night', track four.
Maybe it's because out of the rest of the original songs it was the most obscurely written, or maybe the song title just reminds me of 'Somewhere in the Middle', one of the 'forgotten' tracks on The Altar and the Door. Nevertheless, I decided to hear this song first, and boy I was in for a treat. As Mark Hall uses this song to invite us to realise that often during such a season as this December time that rolls around once a year, there are some people in the world that often feel like it is a season of hurt and pain, we are called to the lyrics of the chorus that state that '…somewhere in your silent night, heaven hears the song your broken heart has cried, hope is here, just lift your head for love has come to find you…', words that can often be overlooked during a season of rushing and busyness, but words that we nevertheless need to hear and take heart to. For it is in our own silent nights that we can reflect on what Christmas means to each of us, and whether we need to reconcile the Jesus we have known all these years through what people say about Him, with the Jesus He really is, and whether they are complimentary or conflicting, and why. And thus, this song by the band can facilitate such discussions and conjure up these thoughts leading to what I reckon is one of the most important but equally one of the most painful, moments of the year. Still, such a song like 'Somewhere in Your Silent Night' is needed in society, now more than ever!
Throughout the rest of the EP, we are given both original songs and traditional Christmas melodies that are certain to impact us all in the upcoming months ahead. The first track is a reimagined work of 'Angels We Have Heard on High', titled 'Gloria'…actually, it's an original work with borrowings from the ever reliable carol, as Mark presents a message of proclamation and declaration that God has come to earth. It is a great first track that makes us all be excited for what is to come. 'It's Finally Christmas' follows, as Mark invites us all to partake and enjoy in the little moments of the season- getting the tree, hanging the lights, having the family over for a gathering, and just enjoying the day for what it is, a get together with family, each of us remembering why Jesus came in the first place, all the while enjoying the moment as well. Sort of like another version of 'Because It's Christmas' by Sidewalk Prophets. And that's ok. Casting Crowns are allowed to make Christmas songs that don't say anything about Jesus in them, right? 'What Child Is This' has Megan Garrett on vocals as the arrangement reinvents the chorus while the verses stay very much to the original recording. It does take some time getting used to, but 'What Child is This' nevertheless is a track that provides us with hope and encouragement for the future… and provides us with a discussion point- which melody came first- What Child is This, or Greensleaves? 'O Holy Night' is a fairly standard rendition of the song, that again features Megan on vocals and a heavy piano presence (though nice to hear, no version can top that of Kerrie Roberts!), it is the EP closer 'Make Room' that stands out lyrically and musically, as both Mark Hall and Megan Garrett team up with fellow Provident Label Group mate Matt Maher to provide to us a song about the story of Mary and Joseph and the birth of Jesus through their eyes. Though heavily prominent in keyboards and light percussion, this track gives us a reminder that the road to the birth of Christ wasn't easy, and thus we ought to emphasise as much with Joseph and Mary as we do with God the Father come this Christmas season, rather than ourselves, which we often fall into as the weeks progress!
It's Finally Christmas is an EP full of both originally written music as well as traditional carols, depending on which type of Christmas music you enjoy. Yet while at times in albums gone past the band has always reverted back to safe radio friendly CCM songs, this album is somewhat different, featuring bigger more anthemic moments and sounds, all the while delivering the Christmas message in a heartfelt and poignant way. And while at times the band may divide fans more than unite, I still reckon that this new album will be enjoyed more across the board. But who am I to say? Listen for yourself and make a judgement, but let me say this- Casting Crowns' new effort is one that I reckon will gain some new fans, of both the band and fans of Christmas music, in the coming months ahead. Well done guys for such a diverse EP, one that'll be on my iTunes playlist for years to come!
3 songs to listen to: Gloria, Somewhere In Your Silent Night, Make Room
Score: 4.5/5
RIYL: Matt Maher, Chris Tomlin, MercyMe, Tenth Avenue North