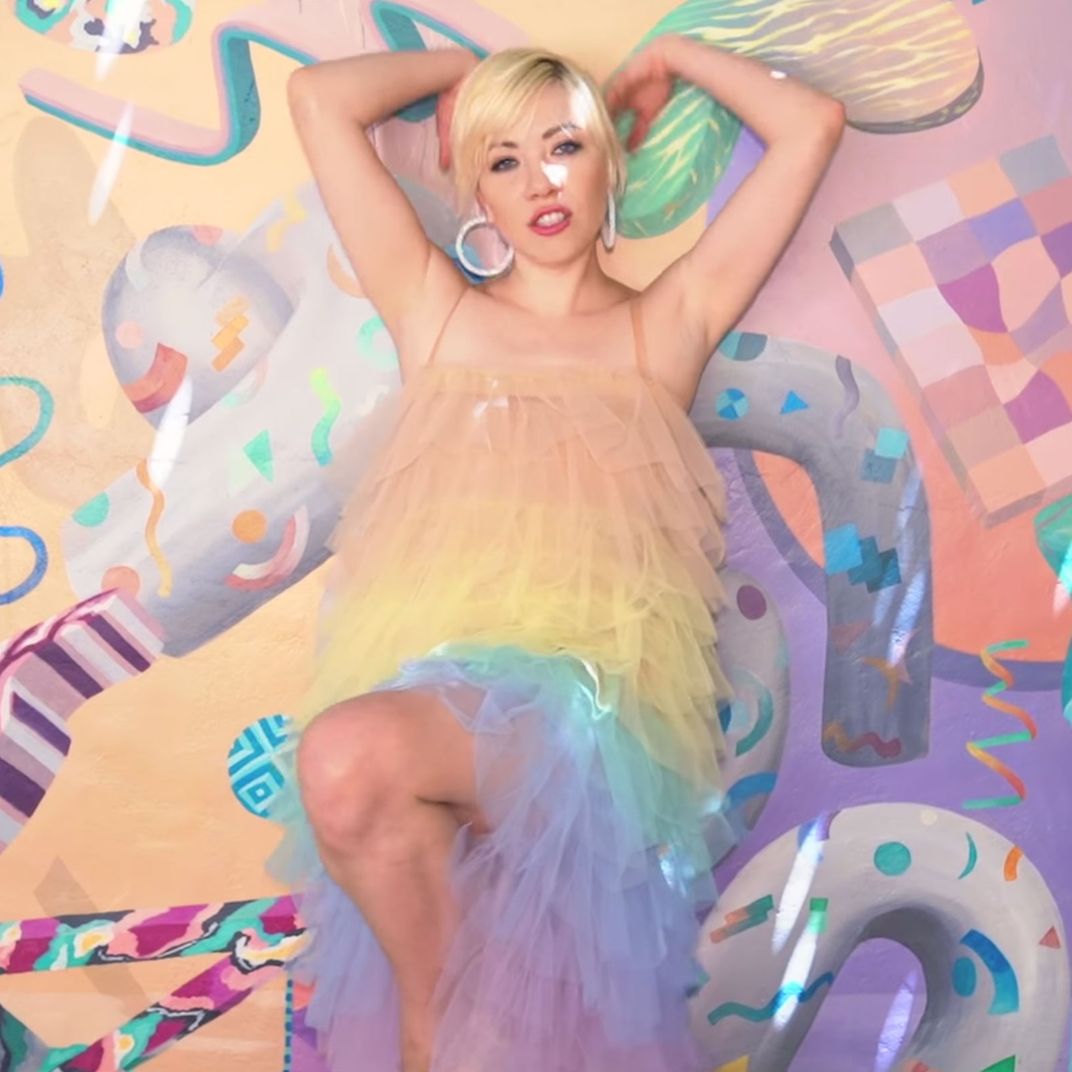 Schoolboy / Interscope Records
Release Date: August 19th 2020
Reviewed by: Joshua Andre
Carly Rae Jepsen– Me And The Boys In The Band (Single) (Music Video)
Track Listing:
Me And The Boys In The Band
For most of my life, I haven't had the inkling to listen to pop music. mainstream pop music which said something superfluous and only spoke about drugs and sex and partying and having a good time. That was until I found out about Carly Rae Jepsen's pop/dance music around about a month ago. My brother Jon uploaded his blog about her as one of the most influential artists of all time– and though at the time I wasn't entirely convinced at whether Carly really belonged in that list or not, I still powered on in reading the blog and watching the videos Jon embedded in the post. The result is me loving Carly's music, and becoming a fan now! Sure, I'm not part of her target demographic (as she sings angsty love songs almost all the time!), but there's something powerful and dare I say it, spiritual, about Carly's music and her lyrics and just the way she delivers them. In a world where artists like Miley Cyrus, Justin Bieber, Ariana Grande, Katy Perry, Halsey, Dua Lipa, Bebe Rexha and The Jonas Brothers rule the radio and the pop stratosphere, with their overall lyrics and themes not entirely wholesome; Carly's music is refreshing- as we remember that a seemingly 'one-hit wonder' ("Call Me Maybe") isn't so, and that if you are sleeping on Carly, you better wake up very, very soon. In my opinion, Carly's pop songs are so catchy, and fun for the whole family to listen to, and I for one will recommend Carly to whoever I meet, simply because I believe that her music will resonate with many.
COVID-19 and quarantine has hit us all very hard, but none were harder hit than musicians in my opinion. People whose entire livelihood depends on touring other countries and playing in front of sold out crowds; songwriters and performers and artists have had to adapt and have had to play online shows, and outdoor shows. Some artists have thrived, considering that they're still releasing new music and are in the studio with producers and writers and a COVID-safe distance; while other artists have had a tough time of it. Many artists put on a brave face and say that 'it's ok, we're all in this together', but I don't think anyone has had the guts and courage to release a song about quarantine and what they're feeling about the situation. Until now that is.
While we as a site will review this year's Dedicated Side B from Carly very, very soon, and maybe touch upon Dedicated as well within that same review; it's time for me to briefly voice my thoughts on the latest track from Carly, the introspective yet playful and optimistic "Me And The Boys In The Band". Released only as a music video (and perhaps later on, on Spotify and Apple Music in the future?), the release features Carly and her band mates in isolation singing to this song about her own feelings around touring and around not being at home for half the year at least. Poppy and catchy and extremely danceable, the track reminds us to not take things for granted, as we never know what the future holds. In that way, the song is nostalgic in that Carly reiterates that she misses touring and being around people, even though at times it is monotonous. Sometimes routine is good, and as COVID-19 has stuffed up all of our routines- especially musicians, Carly reminds us that sometimes it's best not to be bitter and to just roll with the punches. Sometimes it's best not to be angry and to not hold grudges. And when the enemy is an unseen virus who is unrelenting in how it selects who is sick and who isn't… maybe it's best to find the good in the bad. And as Carly is sad about not touring, but is also hopeful for the future- so must we hold onto hope and stand together and keep on fighting. Someday everything will be back to normal- and we'll look back upon these days and laugh. Until then though, let's remember the good times, look forward to better times, and live in the moment, no matter how seemingly depressing it is. Well done Carly Rae Jepsen for this underrated pop gem!
Carly Rae Jepsen's determination to deliver music that impacts people's lives and their souls, is what makes her presence much more evident and felt, in an industry that is not really having people's lives at the centre of their motivations. Nevertheless, we are here in 2020, and Carly's music I'm sure has impacted your own life at one point or another. It may be in fact 'Call Me Maybe' that set someone onto a course of digging deeper in their own lives, and that's good. Or it could be any one of Carly's other songs, and that's good too. And as I finish this post, let me just ask this one thing- which song has impacted you the most out of the songs from Carly's career? Have you written her off as just a one-hit wonder, only listening to 'Call Me Maybe' and that's it? Carly's music, from hearing it this past week, is much more than the miniscule lens we look through, and regardless of how puzzled you may be, that Carly herself is in my own Top 100 Influential artists list, as we look deeper into her music, it may not necessarily be the most puzzling of it all. Placing Carly in this list actually makes sense. Her lyrics emotive and heartfelt, her songs catchy but also deep and meaningful. This Canadian is not stopping anytime soon, and if Carly continues to make music in a similar vein to that of EMOTION or Dedicated in the upcoming years ahead, then this world will be all the better for it!
On the road. That was the life. I miss travel and performing and my band mates who over the years have become my adopted brothers. Through romantic relationships good and bad I have always found myself again in the late-night conversations with my band. Here's to all the shows we have played and have yet to play. The late-night dancers we turn into on the long bus drives and the tourists we become in the early mornings. Here's to nostalgia city and keeping close the ones that know you best. Can't wait for more. Till then a from home 'pick me up' song from all of us to you. Me and the boys and the band!  Big thanks to Jack Antonoff, Tavish Crowe, Jared Manerika and Nik Pesut for making this jam come together from a distance.
Score: 4.5/5
RIYL: Delta Goodrem, Kelly Clarkson, Dua Lipa, Selena Gomez, Julia Michaels, Halsey, Echosmith