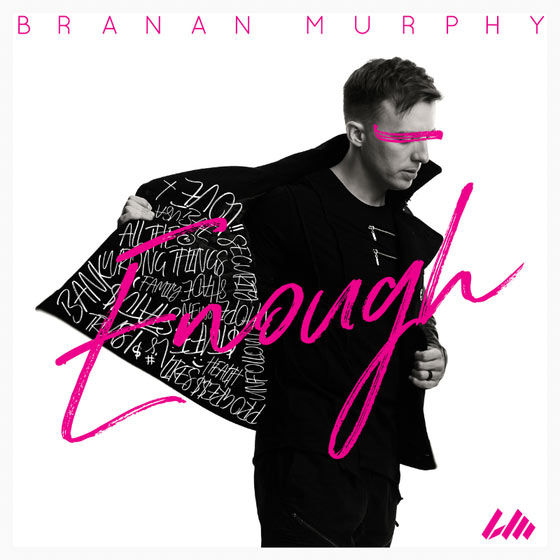 Essential Records
Release Date: September 22nd 2017
Reviewed by: Jonathan Andre
Branan Murphy– Enough (iTunes/Amazon mp3)
Track Listing:
Enough
'…I write songs about what it's like to be human – my own brand of conscious pop. We are all complex people. We have struggles. We have contradictions. We have deep desires. We are all seeking to be loved, understood and satisfied. My songs attempt to capture those deep emotional, even spiritual, yearnings we have as human beings. The bottom line is that I want to make great art, but most of all I want to be honest. I want to sing about what people are really going through…' Branan Murphy came out of nowhere to deliver arguably one of the most unique and 'different' songs to grace Christian music this year in 'All The Wrong Things' in April 2017. Similar to how songs like "Undefeated (feat. KB)" (Tauren Wells), "Chain Breaker" (Zach Williams), "Thy Will" (Hillary Scott) and "Fight For You" (Grayson Reed) came out of 'nowhere' last year to impress me in all facets (lyrically, musically and thematically), 'All The Wrong Things' from Branan is also a song that took me by surprise, blending together pop and rap- and moulding them together quite well in this track. Musically and vocally reminding us all of Colton Dixon, Lecrae and some Plus One/Anthem Lights vibes; Branan, while not necessarily speaking out the words 'God' or 'Jesus', is nevertheless giving us songs that we can reflect upon…I guess you can coin his type of music as 'conscious pop'- a phrase created by him- why do we say we love Jesus when we 'follow' all the wrong things, as 'All The Wrong Things' suggests, or when did the love of God stop being enough for us to rely on, as this new song 'Enough' alludes to as well? Branan's music is a must-listen if you enjoy similar artists like Lecrae, Colton Dixon and Royal Tailor, as this new song of his continues to probe and prod, breaking down the barriers placed there that divide 'sacred' and 'secular' music, as both 'Enough' and 'All The Wrong Things' have the message and heart to impact lovers of both CCM (and all facets of that) as well as mainstream too! Signed to Essential Records, home to artists like Tenth Avenue North, Tauren Wells, Zach Williams, Steven Curtis Chapman, Casting Crowns, Brandon Heath and Building 429 to mention a few; Branan's new song will hopefully be one of many in the months to come!
Like 'All the Wrong Things', 'Enough' is a song that is certain to cross boundaries as the song has the power to influence those who listen to Christian music, mainstream music or a combination of both. Having a universal appeal, we see a song that discusses the fact that often at times we can stray from the first love and move towards something that is only a shadow of what we were worthy of (and still worthy of). As Branan articulates himself, '…we are so quick to forget our first love. Life happens and you look back wondering, 'How did I get here? Things used to be so good!' We are always hustling, trying to chase down the next thing in life thinking it will be the thing to satisfy us, but if we're not careful, life will be a constant pursuit of satisfaction without contentment. The song is about keeping it real with that struggle…', and it is a reminder to us to continuously ask the question- is it true in our own lives? Have we lost our first love? Have we lost the passion and zeal we've had for Christ, the fire inside us that is still dormant but has been dormant because of other things that are more transient and superficial? These are tough questions that don't have simple answers, but what I will say is this- 'Enough' challenges us to ask them, and if we have the boldness to even enter into a discussion about said issues, then we care, and if we care, we have the ability to change. For a change from being all in with our first love to not even caring at all, doesn't happen overnight- it's a slippery slope. So a change in the reverse also doesn't happen overnight too. For it requires hard work and discipline, and a knowledge that we as imperfect humans can't do it all on our own. As we ask the Lord for guidance and wisdom, our road back to Him won't be as tiresome and weary, and we'll start to fall in love with our first love once more. Well done Branan for such a song that is as universal in its message as it is focused in its message for me!
Branan's music is different. Unique. A fusion between pop and rap. And it works. With the rap of the song delivered by Branan himself (as well as the verses and choruses too), Branan's music channels much of other artists like Lecrae, NF, Colton Dixon and Plus One- weird combination of artists, but as a whole, Branan fuses together these genres to create a song where the different music genres enhance the song quite a bit. Released last week, and impacting radio after the radio gets sick of 'All the Wrong Things' (maybe in a few months), this will be a welcomed addition if (and a very big if!) "Enough" slots on WOW Hits 2019 in the future… since 'All The Wrong Things' was not present on WOW Hits 2018! Well done Branan for such a hopeful and encouraging song. Can't wait til more in the future!
Score: 4/5
RIYL: Lecrae, Plus One, Colton Dixon, Andy Mineo, Anthem Lights, Royal Tailor