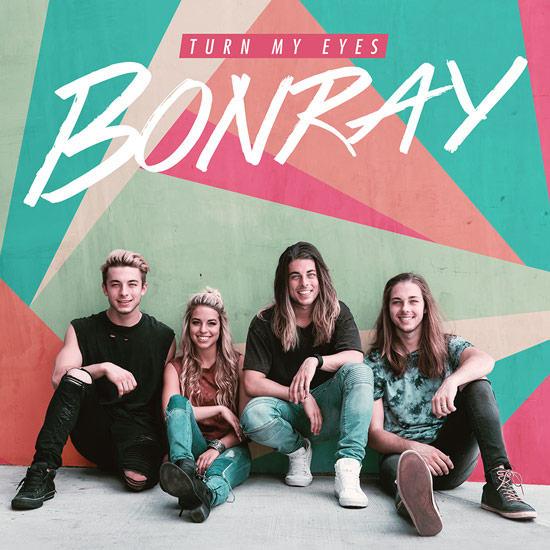 Provident Label Group
Release Date: July 21st 2017
Reviewed by: Jonathan Andre
Bonray– Turn My Eyes (Single) (iTunes/Amazon mp3)
Track Listing:
Turn My Eyes
'…the heart of our band is our relationship with Jesus. He is the inspiration of our lives and music and we're giving it all back to Him. We love what we're doing, and want everyone we come in contact with to be encouraged and see the hope and purpose that is waiting for them…' Being a lover of both CCM and indie Christian music, I've always been pro-active of sorts- trying to find new artists and check out new music. Bonray, a band of 4 siblings, are such a band, where they debuted in 2014 with a self-titled EP (which is currently no longer available anywhere on the internet except their facebook bandpage) as an indie band. And while the band has in fact been radio silent for the better part of 2 years (apart from the odd cover song recording), they have emerged in 2017 with a record label deal with Provident Label Group (Reunion Records) and a new song 'Turn My Eyes', a reimaginging and reworking of the beloved hymn 'Turn Your Eyes Upon Jesus'. And while frankly I don't really know the band that well (aside from the fact they are from Pennsylvania and their 2014 EP was produced by Scotty Wilbanks- who currently plays keyboards for Third Day), dare I say it, that this band is certain to bring in the fans and followers in the future, even with the relative unknown quantity about them. With powerful guitars and a great 4 part harmony making this one of the most fun youth-orientated groups since bands like Hillsong Young and Free and We are Leo, alongside solo acts Holly Starr and veteran Plumb; Zac, Jesse, Jason and Morgan Bonner have given us 'Turn My Eyes', a song fit and primed for radio, yet still with a heart-filled message of reliance and hope on Christ our Saviour and Friend!
"Turn My Eyes"…produced by Bryan Fowler, who produces songs by TobyMac and Mandisa. Co-written by Bryan as well. Yet what makes this song special that it becomes one of my favourite songs over the last few months? Maybe it's because of this- the song is simple, with its message being this- that we can turn our eyes on Jesus and ask Him for help and assistance no matter what and in whatever season. That is it. We don't have to do anything. And I love that about the track and what it reminds me of. And while there are many other songs that speak of such a message (namely songs that have the words 'turn' 'eyes' and 'jesus' in them), what this song has is that it doesn't try to over-complicate the message of what it means to focus on Jesus- not that I'm saying that other songs do complicate, it's just that sometimes, maybe unintentionally, I hear songs and it could be great theologically and have all the right words, yet somehow doesn't connect as well to the listener as maybe the artist may have hoped. 'Turn My Eyes' is very much different. Zach, Morgan, Jesse and Jason have provided a song that we can sing to as we add it to our road trip playlists, while also approaching the message of direction and guidance as we fix our eyes not on ourselves but towards our Father for our every need. As said by the band themselves, '…it's so easy to allow fear and worry to overhelm and paralyze us when we're facing difficult situations, but we can find peace and courage when we look to Jesus. He is the only real answer. We wanted to write this song to remind us to take our eyes off of our own circumstances and turn to Jesus…'
A debut EP in 2014 and a follow-up song in 2017. Is that enough to tell whether a band is going to succeed or fail with their subsequent albums? Maybe, maybe not. But what I can tell you is that the heart of Bonray and all the members in this sibling band is one of honesty, worshipfulness and presenting melodies that uplift and inspire- which is what the 5 melodies from 2014 and the one from 2017 does, in spite of their latest song 'Turn My Eyes' being at times too radio friendly for my liking. I thoroughly enjoyed 'Turn My Eyes' regardless of how musically 'safe' it sounds, and maybe, just maybe, in subsequent releases, Bonray can experiment more musically and stretch the box of what it means to be within the CCM industry and make good quality music that will appeal to a broad spectrum of listeners. Til then, this is a thoroughly good song that will be highly recommended to anyone who loves worship/pop/dance in the realms of artists like Hillsong Young and Free, Holly Starr, Plumb and We are Leo. A fun filled song that leaves you begging for more (it's only a tad over 3 minutes, it could've been a little longer!), this song is just enough to leave us anticipated for their full length album on Provident Label Group, whenever that may be. Well done guys for 'Turn My Eyes', can't wait to the full length label debut, maybe by the end of the year?
3 songs to listen to: Turn My Eyes x 3, and while it is very much radio friendly and cliché at times, the song does place Bonray on the map, them becoming one of the most refreshing and unique bands I've heard since We are Leo
Score: 4/5
RIYL: We are Leo, Holly Starr, Love & the Outcome, Plumb