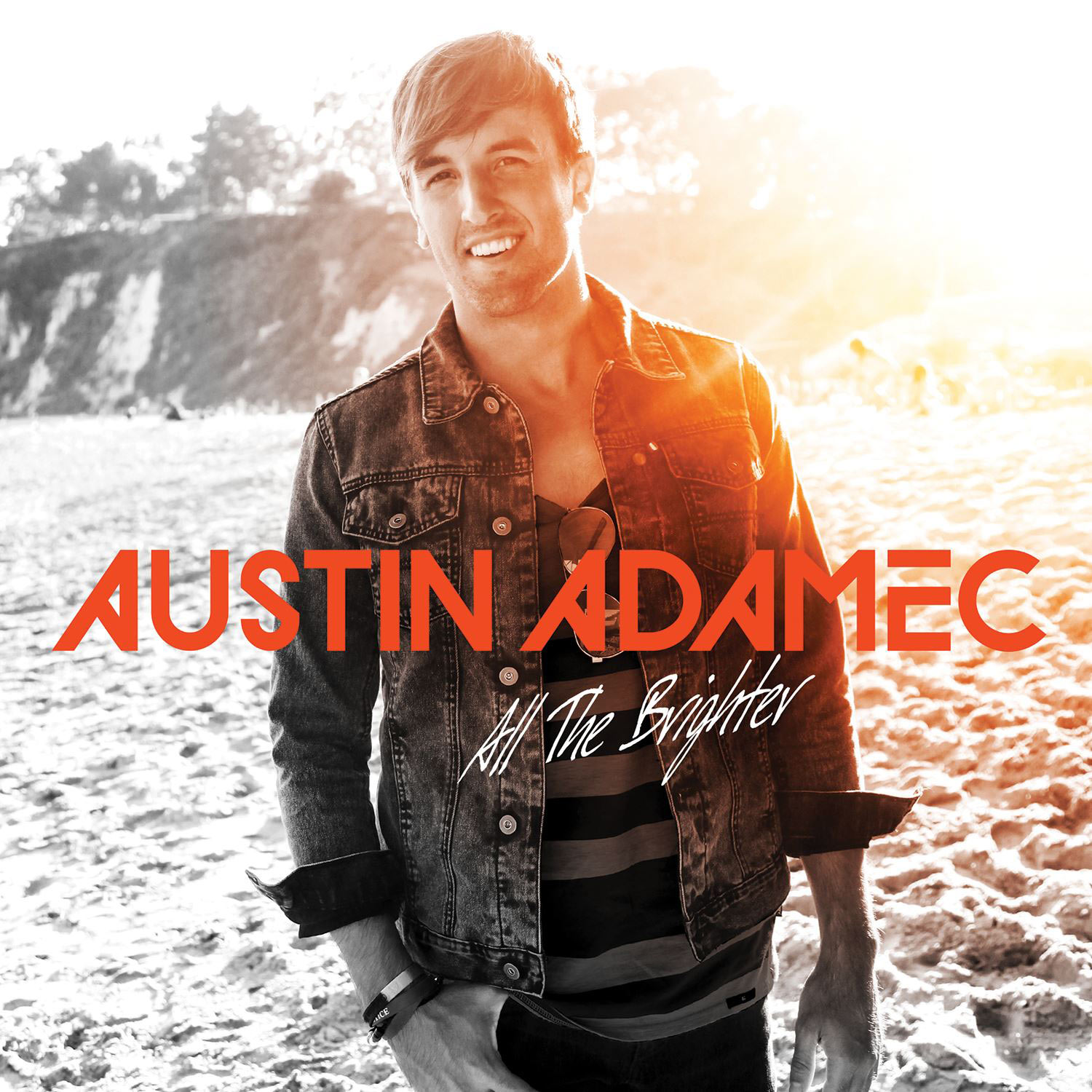 Independent
Release Date: November 3rd 2015
Reviewed by: Jonathan Andre
Austin Adamec– All the Brighter (iTunes/Amazon mp3)
Track Listing:
Chains Break
My Only Answer
I Wouldn't Trade
Gravity
How You Love Me
All the Brighter
Christ in Me
Down to Love
Rock of Endless Ages
Jesus is All I Need
'…I can't help but be connected to percussive sounds and big beats and just exciting melodies and just a lyric that just calls on the promises of God – that meets the trials of today, and the things that I'm going through — and I believe listeners are going through — and matches that with just the all surpassing greatness and love of God of our lives. That He'll never leave us nor forsake us – that He is always there for us. And as we continue to put our trust in Him, and wait on Him in our lives, that He will always pull through…' The story of Austin Adamec and his music has been a rollercoaster, for both listeners of his music and himself. Originally poised to release his debut album My Only Answer in 2014, when he was a solo artist signed to Reunion Records, Austin's music release was taken off any release date, and by the time August 2014 rolled around, Austin's music didn't see the light of day. There was no explanation. Just no release date. And here I was, thinking, 'Gee, what's going on?' It's only in the last few months that Austin's debut album released on iTunes, but independently than instead of being on a label.
While I may never know the real reason why My Only Answer was taken off the album releases roster for 2014, only to be released in November 2015 (I surmise that Austin was dropped from the label prior to his original album release); at least the album saw the light of day. Now about a year and a half later than its August 2014 original release date, I'm here, writing a review of the album. With Austin forming a duo with his wife Lindsey (former member of 1 Girl Nation) and them releasing a worship EP in March 2016 under the label Radiate Music; it seems fitting for this review of Austin's solo album to be written now. So what do I make of these 10 tracks that may have never been heard by people around the world? Read on to find out!
The first radio single from the album, "My Only Answer" is as pop and radio friendly as you can get. With a light electric guitar introduction, big pulsating drums and a message of how Christ is our answer in all the trials and tribulations we face, this is a great first single for anyone who longs to listen to a new artist in a similar vein to others like Chris Tomlin, Chris August or Sidewalk Prophets. While at times the song can seem a little repetitive as Austin powerfully asserts that '…oh God, hear me now, You are my only answer…', we are nevertheless reminded of this powerful fact, that He is indeed the one to fulfil all our questions and needs. Radio friendly and at times cliché; Austin's powerful voice alone (quite possibly one of the most underrated in the CCM/worship industry at the moment) is enough to warrant "My Only Answer" a listen, even if it is only once. "Chains Break", a song that came out on iTunes a few months after "My Only Answer" in 2014, is more acoustically dominated, and is much of a unique song than its first single predecessor. A song that powerfully proclaims God's providence and favour upon us, where Austin concludes that '…in You lost hearts are found, in You, walls crash to the ground, in You, captives are free and by the power of Jesus' name, chains break…'; "Chains Break" is by far my favourite song from Austin within his short career as a solo artist (from March 2016 onwards, he'll be in a worship duo with his wife, Lindsey). Both these two aforementioned songs continue to anchor the album lyrically and musically, even now after a year and a half since it's original release date!
"Gravity" and "All the Brighter" are the other promotional singles by Austin prior to the release of his album in November 2015, and while both these songs are poles apart musically, the message behind both these tracks are quite similar. "Gravity" has an electronic keyboard undertone, and with looping vocal distortion running through the track, you have a glimpse into the production (or somewhat lack thereof) of the song, and maybe it was intentional to create a track that is different and/or unique. The message behind the song is that of God being gravity in that as we can't live without gravity pulling us down to the ground, we can't live without God pulling us closer to Himself, and who He longs for us to be and undertake in this life. "All the Brighter" is a more light and acoustic melody, and standing at only 3:09, we see a song that his jam-packed albeit it's short timing. Austin powerfully reminds us that God's presence is around us shining in sometimes the most interesting and left-field things and moments of our lives. Enveloping us as we are encouraged by the Holy Spirit to continuously dwell in Christ; God continues to encourage with these two songs, both that give us a clear definition, that God is to us as gravity is to people who stand on Earth, and that God's presence around us makes us shine all the brighter as we impart our encouragements on others.
Throughout the rest of the album, Austin continues to bring us encouraging words as his songs, though not necessarily 'hits' compared to songs from artists like Chris Tomlin, Phil Wickham or Bethel, nevertheless impact those who listen, and will hopefully encourage us all to take a sneak peek at Austin's next album as a duo, Austin and Lindsey Adamec. "I Wouldn't Trade" mixes Austin's music and style to that of Gavin DeGraw, Stan Walker, Hillsong Young and Free and Jason Ingram to create a song and music style as unique as anything I've ever heard, as the message of us never trading God's love for anything else that is fleeting in this world is as poignant and impacting to anyone who listens; while "How You Love Me" brings down the tempo to present a waltzing acoustic song about the expression of love we have for our Father because He first loved us, and that '…how You love me, Jesus, You are for me, never failing, how You love me…' "Christ in Me", though not the same songs by artists Jeremy Camp and Tim Timmons, still encapsulates the themes present in both these two tracks, that the power we have in Christ within us is greater than anything that is in the world. It is the chorus that is ever the more poignant whenever I listen, that '…greater than the world is the Christ in me, Your blood upon the cross is my victory, so I won't be afraid when I'm brought to my knees, greater is the Christ in me…'
"Down to Love" is a hop-skip-jump fun filled power pop melody full of keyboard riffs as Austin presents a theme of us pursuing love and all its facets about everything else, that if we have not love in our lives, everything else is for vain; while the last two tracks of the album are "Rock of Endless Ages", a powerful worship song that declares God as the rock of ages, the firm foundation which we stand upon (a song that could obtain modern hymn status in the future if the song becomes more popular in churches around the world); and "Jesus is All I Need", a fitting song to be the last track, as Austin presents a piano-prominent song about us being given a comfort that Jesus is everything we need and want in this life that is somewhat chaotic and unsettling at the worst of times.
Austin's debut album, though a year and a bit late, is still a great find. And especially since Austin's new project with his wife Lindsey is releasing quite soon, it is great to see the groundwork in which Austin is working from. While it is unfortunate that he is not on Reunion Records anymore (he would've been a great fit for the label), Austin's perseverance to create another album under the label Radiate Music is encouraging and comforting for many who wish to pursue the music business. With artists gone before who have released a debut album only to release their second album independently (About a Mile, Karyn Williams), if Austin's first album is any indicator, then Austin and Lindsey Adamec is sure to become a great hit in the months and even years to come. If you enjoy worship music with a pop twist, then Austin's music, and dare I say, this new album from Austin and Lindsey, is an album for you!
3 songs to listen to: Chains Break, My Only Answer, All the Brighter
Score: 4/5
RIYL: 1 Girl Nation, Chris Tomlin, Phil Wickham, Hillsong Young and Free