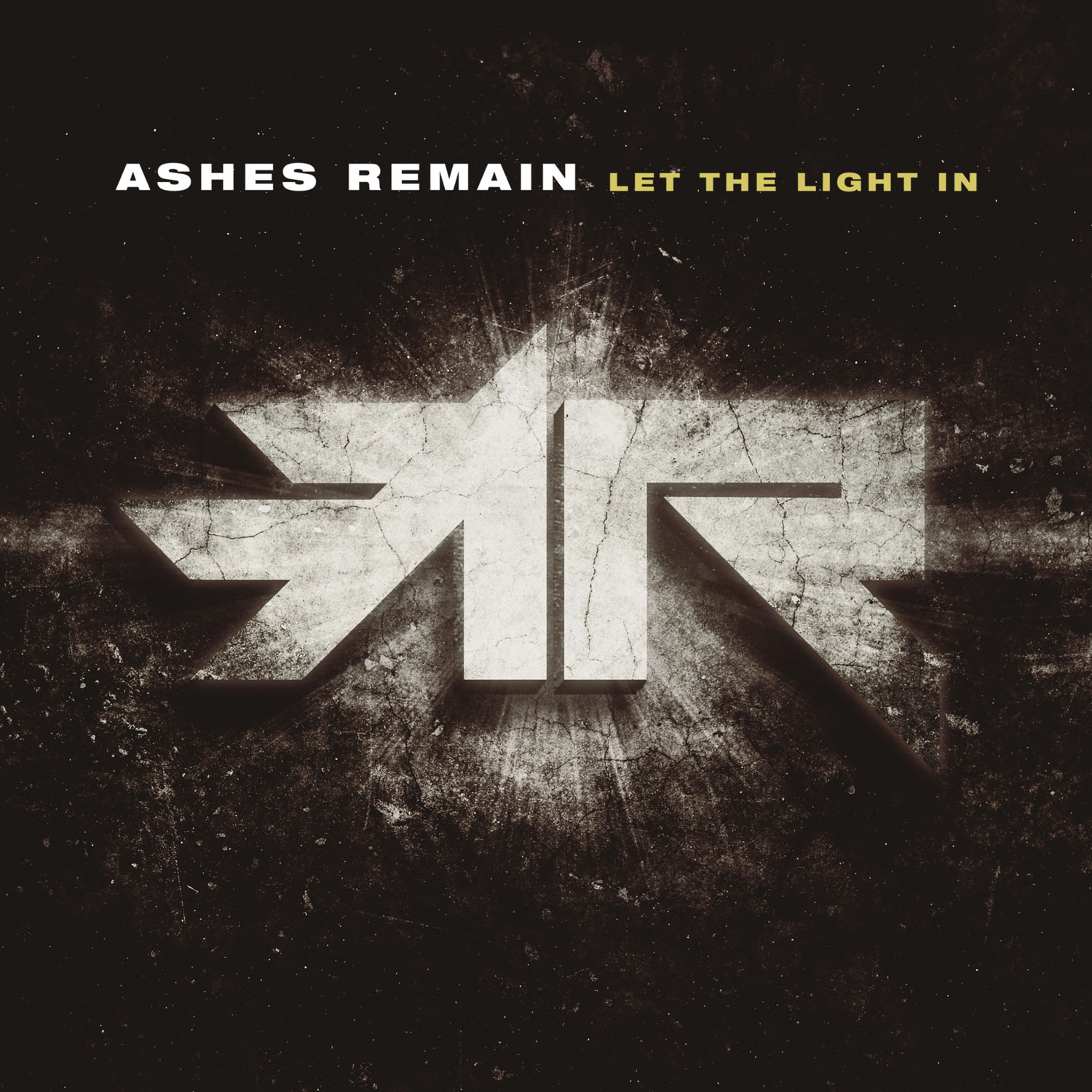 BEC Recordings
Release Date: October 27th 2017
Reviewed by: Joshua Andre
Ashes Remain– Let The Light In (Amazon mp3/iTunes)
Track Listing:
Rise
On Fire
All of Me
Always Faithful
Six Feet Down
Greater Things
Captain
Criminal
Follow
All I Need
After 6 years in the wilderness, pop/rock band Ashes Remain are back with their sophomore release Let The Light In. A label change (from Fair Trade Services to BEC Recordings), and what we are presented with is a collection of newly written pop/rock songs that on the surface seem like the standard stuff you hear on Air1 or K-Love, but a deeper look shows us a few tracks that are genius. Not all, but a few. Though I'm probably the least qualified to be talking about this band (given that their debut released when I wasn't even a reviewer, and throughout this time, I had never actively sought them out to check out their songs and see what they were about!)- the more I thought about reviewing this album, I thought 'why not?' Cause 6 years is a long time, and maybe they would surprise me. And maybe it's good for someone not invested in the band at all to give a fresh perspective. So here I am. Telling you all my thoughts about an album in which my opinion, is probably worth a grain of salt. But here goes anyway.
First of all, lead singer Josh Smith's piercing and engaging vocals sound like a cross between Joseph Rojas (Seventh Day Slumber), Mikey Howard (7eventh Time Down) and Jon Micah Sumrall (Kutless). And…sadly that's all I hear. All of those aforementioned 3 vocalists, at different times, and sometimes at the same time, when Josh is singing. And that's a shame. Cause these songs are solid. There's nothing wrong with them. But some listeners may not be able to get past the similarities vocally between Josh and the others I mentioned. It's a process, and it's taking me a while to get past the vocal similarities, but that issue aside (which can't be helped, cause that is Josh's singing voice!), these songs are quite engaging. Is it worth the 6 year wait? Well I'm not really an avid Ashes Remain fan, so I'm not the best person to ask, but I reckon yes, if you're a fan and love everything they record. Objectively though, there are some songs that have thematically been done before, and some unique ones, so in my opinion, the result of Let The Light In is a mixed bag.
Lead single "All Of Me" is the most CCM and radio friendly on the album, as the pop/rock guitar led melody features Josh's intense passion and vocal delivery, as raw emotion breaks through, and we are eloquently reminded of the fact that '…You want my faith, You want my doubt, things I don't want to talk about, all that's broken, healed, and somewhere between, I will lay it at Your feet, and I won't hold back anything, because what You want is all, what you want is all of me…', that Jesus demands our attention, our surrender, our devotion, our entire everything, one hundred perecent. We're either all in or we're not. Simple as that. Theologically it's very sound, and for that alone, "All Of Me" is a great track, even though musically it sounds a bit the same as other pop/rock outfits.
The album opener "Rise" has Josh further channelling his best Joseph Rojas impression vocally, as there's plenty of emphatic guitar solos, and a relevant message of Jesus giving us the fire within us in order for us to rise up and change the way the world looks like through the power of love, determination, and He who is in us that is greater than he who is in the world; while the r&b/gospel/rock melody (and that works perfectly- saxophones and guitars in the same song, go figure!) "On Fire" vocally is where Josh is at the top of his game, and has a brilliant message also, as we remember that because of Christ in us, we can live like we are indeed on fire for Him, as we step into the plans He has for our lives, and the promises He has for us, all the while as we lead others to Jesus, through our actions and our love for Him and our brothers and sisters. "Always Faithful" brings the tempo down a bit more, as this worshipful, earnest guitar led ballad recounts the truth that Jesus is always faithful, even when we believe Him not to be; while the rocker "Six Feet Down" is very confronting and equally comforting also, as Josh ardently highlights the fact that while in this life we will die, and we're not meant to live forever, our spirits will rise and reside with Jesus in heaven for eternity afterwards, and '…we will not fade six feet down…'.
Unfortunately, "Greater Things" is the weakest point on the album, with the radio friendly anthem (which tries hard, and is thematically similar to "Do Something" from Matthew West") speaking about how it's the little things we do for those around us, like saying an encouraging word, or showing love to someone who doesn't deserve it, that is actually the greatest thing we can do to point people to Jesus (even though I didn't connect at all with the song!); but the musically unique "Captain" (with the band combining rock with soul, blues and funk), relays to us that though we can feel like nothing can go right, and we're sentenced for a life of misery, the fact of the matter is that Jesus '…broke my change, You took the weight of my shame, oh, You took the blame and gave me life and so much more…'; while the intense and hard-hitting "Criminal" outlines that for us to follow Jesus, we must gladly and unashamedly consider ourselves 'guilty by association', a term made famous by Newsboys smash hit "Guilty" from a couple of years ago, and also a criminal by the world's standards.
Though a ballad, driven by light keys and guitar, "Follow" is miles better than "Greater Things", as the penultimate melody, though somewhat repetitive (and also the chorus doesn't rhyme, but still works!), showcases Josh's vibrant vocals and heartfelt passion for Jesus, as he relays to us his utter devotion and love to the One who saved his soul, and his dedication to Him so much so that he is willing to be like the disciples, and lay down everything to follow Jesus. But it is the album closer "All I Need", hymn like in nature, that really pulls at my heart strings, and is THE song to listen to if you could only listen to one song from Let The Light In. Standing tall at 5 minutes, and musically gospel in nature, we are eloquently reminded of the fact that Jesus is all we need, and that '…You are all that I need, Your words have calmed, calmed the seas, and I don't know what tomorrow holds, but You are all I need…'. Needed to be heard to be impacted, encouraged and inspired, "All I Need" is the perfect way to end an album, with some bright spots, and a couple of underwhelming ones.
What can I say about this album that I haven't already? I don't really know much about these guys, and maybe it's a good thing. To say my thoughts without any bias. But one thing I do know for sure, is that Ashes Remain are going to take the world by storm and by surprise. Though I do see lapses in songwriting ("Greater Things", and to some extent "Rise" being examples); Let The Light In does have replay value, even if you think you are listening to a Seventh Day Slumber, Kutless, or 7eventh Time Down album, when you close your eyes. Though it's not my favourite album of the year, a few songs stand out, namely "All Of Me", "Follow" and "All I Need". So check out this band and album, and tell me what you think. They're not ground-breaking yet, but they're dependable. What you see if what you get. And they may be ground-breaking later on.
3 songs to listen to: All Of Me, Follow, All I Need
Score: 4/5
RIYL: Seventh Day Slumber, 7eventh Time Down, Kutless, Jeremy Camp