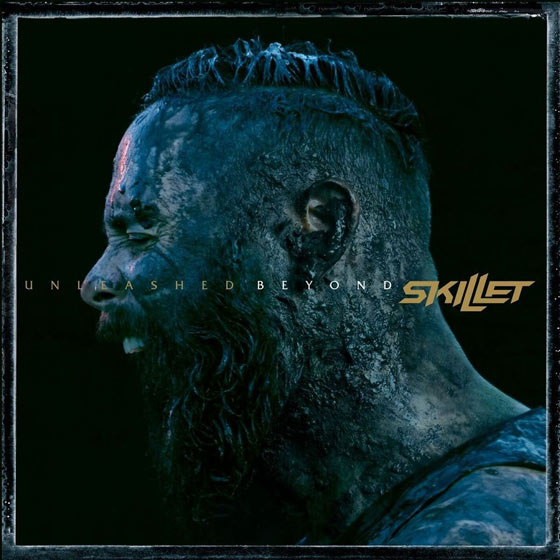 Atlantic Records
Release Date: November 17th 2017
Reviewed by: Joshua Andre
Skillet– Unleashed Beyond (Amazon mp3/iTunes)
Track Listing:
Feel Invincible
Back From The Dead
Stars
I Want To Live
Undefeated
Famous
Lions
Out Of Hell
Burn It Down
Watching For Comets
Saviors Of The World
The Resistance
Breaking Free feat. Lacey Sturm
Stay Til The Daylight
Brave
You Get Me High
Set It Off
Feel Invincible (Y2K Remix)
The Resistance (SOLI REMIX)
Stars (The Shack Version)
Probably one of the most influential crossover Christian bands ever (who have had a massive following and impact in the mainstream industry right now, after having had longtime success in Christian radio back in the day, rock band Skillet, comprising of lead singer John Cooper, bassist and keyboardist Korey Cooper (wife of John), guitarist Seth Morrison and drummer Jen Ledger; seem to be right now putting their feet in the right places, stepping into what God has called them to do, which is minister to both Christian and mainstream markets. Alongside other bands such as Switchfoot, Needtobreathe and Relient K, Skillet have this uncanny knack for creating hard hitting and poignant melodies thematically and lyrically relevant today, but doing so covertly, and not even mentioning the name of Jesus sometimes in a few tracks, so as not to scare off listeners and fans of different world views. Regardless of each of your opinions of a Christian band in the mainstream, and not fully praising God overtly in every single melody, you can't deny the passion of these four men and women of God, as they go out into the world and deliver the gospel to everyone they meet.
With 2016 being 20 years since the band formed, the band unveiled their 10th studio album Unleashed, to much critical and commercial acclaim. While the sound of the band has somewhat evolved and expanded over the years (from hard rock to rock to now pop/rock, dance, CCM, rock and worship all at once); it's clear to see that from many listens to this album, and comparing it to Awake, Rise, and a few songs from Collide and Comatose (I haven't heard any of their earlier tracks fully…of which I need to rectify right away!), that the band are set to be a force in CCM for a while yet, with this album being one of the most musically diverse this year so far! Comprising of many genres in once, Unleashed was probably their most cohesive album to date, in terms of music and lyrics, so I guess it's a no brainer for the band to release Unleashed Beyond this year. Yep, it's a deluxe edition of a prolific, chart topping and inspirational album, probably one of my favourites from last year, but it's not just a standard deluxe album, in the sense that there's a couple of re-recordings and remixes…no Unleashed Beyond is an experience on a whole other level. It's definitely an album you all need to check out, at least compared to the other deluxe edition albums out there (in terms of underwhelming deluxe edition albums, I'm looking at you Jordan Feliz, for your attempt at re-releasing The River!); so let's dive in, see what the band have added on that has enhanced this already engaging and unique musical journey.
If you think I'm going to repeat myself here, and speak about the first 12 songs from Unleashed Beyond, then you'd be wrong. It'd be just wasting space, and nobody wants to read a rehash of what I've written before. After all, I already talked about these songs last year, in my review of the standard edition of Unleashed. So you can read my assessments of these songs here, but for those who are lazy and do not want to read an earlier review before diving deep into reading this one, let me quickly recap. On Unleashed, Skillet covered a lot of ground musically and lyrically, with ballads ("Lions", "Stars", "Watching For Comets"), rock ("Feel Invincible", "Back From The Dead"), symphonic rock (is that a thing?) ("I Want To Live"), dance/EDM ("Famous"), and straight up head banging rock in the vein of bordering on metal ("Out Of Hell", "Burn It Down"), all part of the various genres Skillet have successfully implemented, as John passionately overtly worships Jesus in one breath and in another speaks about everything in this life that gets him down and confused, trying to make sense of the world we live in. While I can't really go into every song in depth without it being a 'review', let me just say that you need to feel and experience Unleashed, even if you're not a Skillet fan, because, trust me, you will be a fan afterwards. And what John, Korey, Seth and Jen have done beautifully with these extra tracks, is build upon the themes in their 2016 album, expanding upon everything they've explored before. So what is it about these 5 tracks, 2 remixes and 1 re-recording that has me excited?
Well first of all, I want to make special mention of the album ender "Stars (Film Version)". More laid back, haunting, mysterious and ethereal than the upbeat studio version, and slightly more reserved than the acoustic guitar driven "The Shack Version", I reckon "Stars" will end up being one of the bands most inspiring and encouraging songs ever. Yes, ever. For the song to have 3 versions, it must be something special. And it is. Holy Spirit anointed? God breathed? Just listen to it over and over, and I'm sure you'd be amazed at how passionate these guys are about worshipping Jesus, especially in the bridge, where I can't help but sing along '…Your love has called my name, what do I have to fear?…'. "Stars" truly is the band at the best, and this 'Film' version of an already impressive melody, is the best way to end a musically diverse project that the band should be proud of. With 2 stellar and thoroughly enjoyable remixes of "Feel Invincible" and "The Resistance" preceding the emphatic magnum opus, Skillet has also delivered to us 5 never- before heard new songs, and some songs that I think are the most musically unique, inspiring and engaging of their whole career thus far.
"Breaking Free", featuring the exemplary Lacey Sturm on guest vocals, has the band singing in probably their rockiest song since "Rebirthing", as they vividly describe how they can break free from their chains (addictions, vices, temptations etc) that hold them down, that their fear does not hold them anymore, and while we do not hear a mention of Jesus, who can and does deliver us from chains, we are covertly alluded to the fact that we cannot break our chains by ourselves, and need help from an outside source. "Stay Til The Daylight", a chilling, heartfelt and poignant acoustic guitar driven ballad, is a track that is musically out of the norm for Skillet, but it does work, as John sings about a friendship or relationship that's in a bubble, that he wants to keep intact before he goes out into the wide world, and sees the horrors of everything around him due to wars, famine, diseases, and humans just destroying each other for no good reason. Or maybe John is talking about a battle in his mind, and is singing to the person who keeps him accountable? Either way, it's a beautiful, tragic song, that poses more questions than answers, about this fragile world we live in that can break at any time.
Probably the only downside of this extended album is the frenetic and musically schizophrenic guitar led "You Get Me High", not because of the message, which is indeed admirable, and almost needed in today's society, as John relays to us that only Jesus' love 'gets him high', in the sense that it's the only thing He needs, and the effect is way better than drugs; but because of the wording and that fact that people who do not know Skillet's earlier work, and their insistence sometimes to dabble lyrically into song topics like addition, would immediately assume that Skillet is talking about drugs. But it's a small nitpick, though a nitpick nonetheless, on what is otherwise a confronting yet equally catchy song. "Set It Off", an intense rock song, is unusual in the way that it's ambiguous as to whether John is singing from the perspective of Jesus, who is asking us to allow his power to be unleashed into the world, and to just sit back and watch what He can do; or a trouble person who thinks he's the Messiah, and John could be warning us about false prophets. Nevertheless, this song still lyrically is powerful and makes us think about what would happen if the Messiah was among us today living and breathing, and what He would do in this world. Yet what I reckon will take off really big, and be on radio (Air 1, K-Love etc) is "Brave". A worship song at heart, it's the heartbeat of the band I reckon, as we hear John and Jen trade vocals effortless, beautifully and in perfect harmony, and sing out the words that '…wherever I will go, wherever You will lead, I'll never walk alone, Your spirit is with me, You're with me as I go, so I will not be afraid, You call me to be brave…', in a bold statement that has me thoroughly agreeing- Jesus makes us brave, and able to stand up and face our giants and inner demons. With Him everything is possible, and that's a notion that I reckon is reason enough why "Brave", though an unoriginal title, will inspire those of us who listen to take chances and risks in our lives, because of the Lord by our side. Well done guys for these 'b-sides' that are truly as enjoyable, maybe even more so, than their 12 counterparts from last year.
With Skillet delivering quite a variety of musical genres on Unleashed Beyond, as well as covering a smorgasbord of relatable topics and issues; this is an album that is a must listen for those who love hard rock, worship and any other genre in between. Last year I mentioned that I enjoyed Rise slightly more, but this latest effort, with the additional 8 tracks, now has me saying that Unleashed Beyond is my favourite Skillet band ever. A fun-filled and introspective musical experience that personally gets more lyrically and thematically deeper with each and every time; there's probably not much more I could say to you to convince you to pick up a copy of Skillet's latest. So, what are you waiting for? I guarantee you won't be disappointed!
5 songs to listen to: Stars, Back From The Dead, Breaking Free, Brave, Lions
Score: 4.5/5
RIYL: RED, Kutless, Building 429, Flyleaf, Switchfoot