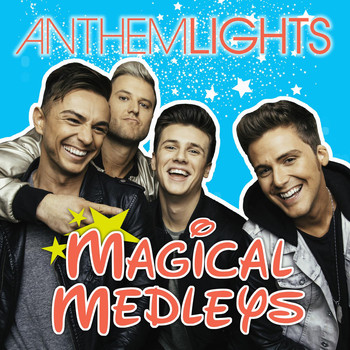 Independent
Release Date: October 28th 2016
Reviewed by: Joshua Andre
Anthem Lights– Magical Medleys EP (Amazon mp3/iTunes)
Track Listing:
Little Mermaid Medley (Part Of Your World/Under The Sea/Kiss The Girl)
Aladdin Medley (Arabian Nights/One Jump Ahead/A whole New World/Friend Like Me/Prince Ali)
Lion King Medley (Circle Of Life/I Just Can't Wait To Be King/Hakuna Matata/Can You Feel The Love Tonight?)
High School Musical Medley (Start Of Something New/Breaking Free/We're All In This Together)
Frozen Medley (Do You Want To Build A Snowman/For The First Time In Forever/Love Is An Open Door/Let It Go)
Anthem Lights, formally known as Yellow Cavalier before they signed with Reunion Records; have garnered quite a fan base since the band's inception. With avid and passionate fans called 'The Lightbulbs', the vocal quartet, unveiled their self-titled debut album in 2011, as well as an acoustic EP in 2012, and 2 more studio albums (You Have My Heart and Escape) in 2014. Since then, there have been member changes (the exit of Allan Powell and Kyle Kupecky, and the additions of Spencer Kane and Joseph Stamper), as well as plenty of mainstream cover projects, and now this year, as we wait to hear the band's new studio project Painted Skies to debut next year, Anthem Lights have proudly presented to us…wait for it! Yep, you guessed it- a Disney EP titled Magical Medleys, comprising of 5 medleys of some of the biggest songs across 5 films. Though many critics and listeners alike may classify Spencer, Joey, Caleb and Chad as a boy band, similar in genre to Plus One, BoyZone or the Backstreet Boys, these four young men of God have stood firm in their faith for Jesus Christ, and are ministering to both the mainstream and Christian markets. But before we find out how Spencer fits in with the band in his first album with the group in Painted Skies next year, let's dive in to see how this quirky, fun, and nostalgic EP resonates with myself and others!
First of all, let me just say off the bat that I am probably not the band's targeted demographic. As a 26-year-old single male worker, some of the time, I can find some parts of Anthem Lights' music and lyrics a bit cliché and/or cringe worthy, and other times, some lyrics are just God breathed, motivational and inspiring- it's my opinion that probably the ideal listener that would gain the most from exposure to the band would be younger teens, but anyway… As for this Disney Medley EP, what I found was that I enjoyed it a bit more than I probably thought I would, but there are still some elements that the quartet can improve upon.
In my honest opinion, cramming in 19 songs into 15 minutes of high-octane, energetic, fun balls of cheerfulness and joyfulness, can seem to be on the surface inventive and creative, yet for me I find the melodies a bit disjointed, despite the fact that on their own, each 'melody' inside each medley was enjoyable in their own rights. With each track featuring the band seguing songs with different tempos together (a slow 'song' followed by a fast 'song'), I found that fact to be bit disheartening, yet there's no denying the passion of these four friends. And while there is no mention of Jesus whatsoever in this track list, the fact that the band is covering Disney, of which many movies are kid friendly, and speak about themes such as family, friends, and looking out for one another no matter the cost, I reckon that what the band has unveiled for us is somewhat better lyrically and musically than most other mainstream pop material on the radio at the moment. Though I myself after listening to these 5 songs (even without watching any of the movies of the High School Musical franchise), thoroughly enjoyed this EP primarily because off sentimental reasons linked to my childhood; another of my nit-picks, was that it was too short, with the choice of movies needing to be broadened to include other hit movies across the years. Yet nevertheless, the band set out to record a fun EP sure to transport listeners back in time, and to that effect, they have succeeded.
Anthem Lights' Magical Medleys took me by surprise, particularly when the band announced the existence of this record not too long ago. And though despite the EP's shortcomings, the positives here more than outweighs the negatives, namely with Anthem Lights able to reawaken in us fond memories of the past. With their faith keeping them grounded (though not evident that much in this EP!), I am certain that this band will be within the CCM/pop industry for many, many years to come. Well done Anthem Lights for such a captivating and timeless EP, that I'm sure will receive a sequel entry in the coming months!
3 songs to listen to: Frozen Medley, Lion King Medley, Aladdin Medley
Score: 3.5/5
RIYL: Plus One, TobyMac, Jump5, Britt Nicole, Royal Tailor