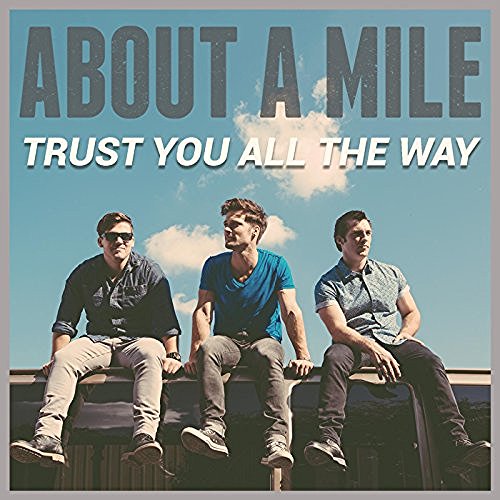 Radiate Music
Release Date: October 28th 2016
Reviewed by: Joshua Andre
About A Mile– Trust You All The Way (Amazon mp3/iTunes)
Track Listing:
Taking Back
Traded
Calling Your Name
Trust You All The Way
Reach
Born To Live
Outrun
Hallelujah
Undeniable
All I Need
"…what separates the Christian from the world is one five-letter word: Faith. I'm talking about God-pleasing faith that believes before seeing and allows us to confidently stand within the hardest battles…" 2 and a half years since their self-titled Word Records label debut album, About A Mile is back with their sophomore recorded titled Trust You All The Way. Having signed in 2016 to Radiate Music, and now employing Ian Eskelin as producer, brothers Adam, Levi and Luke Kutinoty have recorded an album that may not be the flashiest, most promoted nor the most memorable in terms of winning awards or the hype; yet Trust You All The Way is a batch of 10 songs that will change people's lives. Personal, honest, emotional, inspiring, and littered with biblical and eternal truths throughout; Adam, Levi and Luke have combined for their best album to date, and a personal favourite of mine over the past few months, as I dwell upon and mull over the truths about God loving us and us trusting Him all the way.
Opening the tracklist is the high-octane energetic guitar led rocker "Taking Back", the album's first single. A powerful declaration that has the brothers crying out that '…I'm taking back what belongs to me, I'm ready to fight, I'm taking back what the enemy stole from my life, you can knock me down, I'm gonna get back up every single time, I'm taking back…'; the melody is directly sung to the devil, as Adam declares that his plans won't win because God is on our side. In my opinion, this in-your-face hard hitting melody is the perfect opener for a track-list full of songs about hope, reassurance and security in Jesus. While the album's second single "Born To Live" is also an electric guitar led rock melody, as Adam passionately reiterates that living the Christian life can be fun, and part of our purpose is to live life to the fullest, the way God meant for us to live. Encouraging us to '…wake up, what are we waiting for? We know that we were made for more, we're not living just cause we were born, there's no doubt about it, we were born to live…', we are glimpsed into the notion of a very different mindset. Sometimes we can grow up and develop the line of thinking that life is for eating, sleeping, working and repeating the daily grind. But if we truly live, then life isn't boring at all. Life is more than the mundane and the usual, and About A Mile cleverly and eloquently spell out that notion, the living life the way Christ wanted is a joy and should be celebrated as such.
The rest of the album, while these eight remaining tracks mostly fall into the safe CCM genre mould, nevertheless speak to us as the lyrical relevance and passion of the band cannot be denied. "Traded" is a stirring electric guitar 3-minute pop melody, where Adam ardently relays that Jesus saved him from sin, that '…I traded a life of sin, for a life with Him, I came alive when we switched places, I traded my brokenness for holiness, He took my cross and gave me grace when we traded…'– indeed a cliché yet catchy melody; while "Calling Your Name" is led by captivating synth and engaging electronic effects, where Adam sings from God's point of view, giving us encouragement that '…if you stop and listen, you will hear Love say, 'I am right here with you, calling your name, calling your name, I will never leave you, every step you take, I'll be right beside you, calling your name, calling your name'…'.
The moving and inspiring title track is next (and is one of the most electronic tracks on the album!), and the band continue to bring home the theme of trusting in God because of all He's done for us. Trusting in God 100% and then some more, is scary, as it means giving up the control that humans so desperately crave. Reminding me thematically of Tenth Avenue North's melody "Control (Somehow You Want Me)", About A Mile nevertheless highlight the importance of trust, that we can rely on the Almighty at all times, because of who He is. He is faithful, and He always keeps His promises, so theoretically trusting in God should be easy. In practice, it's not considering some of us are experiencing difficult circumstances, bit at least this song can and should bring everyone one step closer to giving control over to God.
A slew of just-under-3-minute-tunes are next, and while I would have wanted these tracks to be a bit longer, About A Mile pack a lot into these tracks lyrically and musically. "Reach" is driven by hand claps and stirring synth as the band impart to us that we can reach out to God in any situation, that at all times, Jesus is our everything, and even when we feel out of reach, God always meets us where we are, and reaches for us, no matter how dirty, unworthy or unloved we think we are (similar in theme to The Parable of the Prodigal Son); while the 80's throwback electronic and synth led melody "Outrun", sung from God's perspective, imparts to us the notion that though we may want to be like Jonah in the Bible, and run from God's will and His love, nothing can separate us from His love, and we cannot outrun His presence, which is comforting and maybe confronting at the same time! Rock is back with the Everfound-like "Undeniable", as Adam once again inspires us with the eternal truth that Jesus Christ and His love is undeniable. Somewhat a testimony like track, we remember that Jesus' love reaches into the darkest depths of our souls, and that as a result of His presence and the change in us, He is undeniable, because of the fact that He is our Father, Friend and Saviour.
Stripping things back with the piano led ballad "Hallelujah", About A Mile do not really get points for a creative song title, but do excel in the passion, lyrical poignancy and raw emotion here as Adam deftly cries out '…hallelujah, I can hear the church bells ringing, I have been set free, hallelujah, I can hear the choir singing, I have been redeemed…'. The album then ends with the acoustic guitar led contemplative "All I Need". As Adam and his brothers earnestly recount that all they need is Jesus in this life, we are encouraged and given hope that this life can and will be easy, with God by our side and in our corner. All in all, Trust You All The Way is short in duration, but to the point, with the theme of trusting God in every moment and aspect of our lives being intertwined throughout each track.
 "…Ninety percent isn't enough. We need to come to God with 100 percent and lay everything down at the Cross. I laid down everything at the Cross and a disease that I was suffering from for four-and-a-half years is gone. It's completely gone. We've been playing 'Trust You All The Way', We've been playing 'Traded'. We've been playing 'Hallelujah'. And people have been coming to the altar, confessing their sins and accepting Christ into their lives. It was never like that before…" While About A Mile have somewhat transitioned from rock to pop from their first to second albums; the new album will undoubtedly bring listeners closer to Christ. While musically the debut may have been a bit more flash, hip and genre-wise more creative; by no means is this a sophomore slump. About a Mile have still recorded a noteworthy second album. Even if some of you think it isn't as captivating as the first, I would still recommend Trust You All The Way to friends and family. A solid effort by Adam, Luke and Levi, and I can't wait to hear what you guys are called to in the near future!
3 songs to listen to: Taking Back, Trust You All The Way, Hallelujah
Score: 4/5
RIYL: Switchfoot, Lifehouse, Building 429, Sanctus Real, Everfound, Daughtry