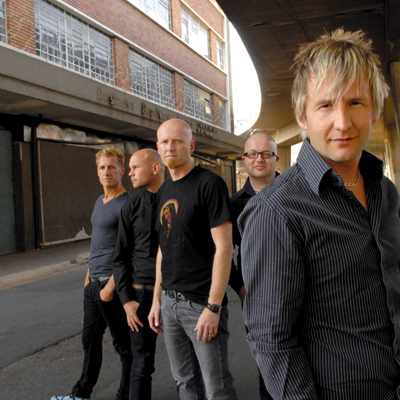 I don't think you can utter the words 'praise and worship' without uttering the word 'Delirious?' in the same sentence. There, I said it. Yes, this is my bold assertion. No it's not Hillsong or even Chris Tomlin (both these two have been influential and instrumental in the praise and worship movement), nor is it Paul Baloche or even Tim Hughes. The founding 'father' if you will, of praise and worship music, even a founding father of 'modern CCM', would have to be Delirious?. Yes, the 5 piece British outfit who impacted the world stage back during the 1990s and the 2000s. Yes, that same Delirious? Then, again…maybe I'm a little bias, right? I mean after all, Delirious?, alongside Carman, has shaped my years in my own tastes of music as I grew up, and taught me all there was to know in my formative years about Christianity…so I guess this statement of Delirious? being one of the pioneers of the modern praise and worship movement, can be a bit of a stretch, right? Maybe, maybe I am just tapping into a little bit of nostalgia for a little. Maybe I am further off the mark than I've ever been, and Delirious? aren't the founding 'fathers' as I assumed they were. Nevertheless, Delirious? (headed by Martin Smith as lead singer, Stu G. as guitarist, Stew Smith (and later Paul Evans) on drums, Jon Thatcher on bass and Tim Jupp on keys) has been with me on this journey of life and the mark they have had on Christian music, and maybe even to a broader extent, mainstream music; cannot be denied. Even during their tenure of 17 years as a band, the quintet have given to us songs of healing and hope, of poignancy and power- put it this way: had the band not exist, how would the worship landscape and the ability to create worship and praise music, how would that have changed? Would we have more free expressions of worship, people discovering new ways of delivering praise to our Father who certainly deserves such glory and honour? If Delirious? wasn't as successful as they were, if their songs didn't touch as many people as it did, frankly, I don't think we'd be where we are today. Frankly, in all honesty, we ought not to give thanks for bands and artists like Chris Tomlin and Hillsong for paving the way of CCM and worship music (they very much indeed continued along the way), but rather, in my bold opinion, Delirious? by far ought to be congratulated- taking risks and daring to grab the chance of singing something bold and powerful, it is only when artists travel outside the box, like Delirious?, that they can be influential to music and society. Yes, it has been 11 years since the band played their last concert, and 12 years since their latest album. But also yes, the band has shaped CCM like I'm sure we've never seen before. Delirious? will forever be my favourite group/band, ever. It is in the impact of the songs on the people that I can safely say that this British band from Southampton, England, carried with it an ability to put worship into song in a way that I don't think anyone has come before them, and I don't think anyone would come after, as well (though I do think veteran CCM/worship singer/songwriter Jason Ingram comes close!).
Now…where do I start? No seriously, because this last week or so, I've been at a loss. Because in all honesty, there's so, so many good things to say about the band, that I've found this blog post maybe even a little too short enough a space to even write anything that's adequate enough to showcase my own appreciation for a band that has shaped not only CCM by my life in general over the last 10-20 years. Delirious? have indeed given to us songs that have inspired and shaped music over the years- 'Did You Feel the Mountains Tremble?', 'I'm Not Ashamed', 'I Found Jesus', 'Obsession', 'Happy Song', 'Message of the Cross', 'Find Me In the River', 'Shout to the North', 'I Could Sing of Your Love Forever' and 'Louder Than the Radio' have all struck a chord with us during the mid-1990s when the band's debut of Cutting Edge was unveiled in 2 volumes in 1993 and 1994 respectively. It has been these songs that have been the anchor and the foundation of their worship music as years went by, and this quintet have reminded us through these early worship songs that you don't necessarily have to be from one of the 50 states of the U S of A in order to make great worship music.
For me and my family, I was introduced to this band from Southampton, England way back in the late 1990s when the very sentimental VHS was around- I remember our family travelling to Koorong, our local Christian bookstore and music shop, in order to buy the latest new VHS from Delirious?– A View From the Terraces. It was a special moment, and upon watching this live music concert, I myself was impressed with this English group who were so on fire for God; and wanting to impart hope and a sense of passion and urgency from the stage to the crowd. It was an experience that has to be one of my most memorable and defining as being a fan of the band, as I myself recall the band's importance on my life not only then when I was a young kid in primary school, but all the years since, as I grew up in high school and university- even now to this day. Songs have the power to impact and affect, to change lives and to spur individuals on to action, and Delirious? is no different. Songs I've previously mentioned, from 'Did You Feel the Mountains Tremble' and 'I Can Sing of Your Love Forever' to 'Obsession', 'I Found Jesus' and 'I'm Not Ashamed'; all are great worship songs even to this year in 2020, and still stand tall against the test of time. Yes they are indeed more than 25 years old, but they are no less than important now as they were back when these songs were written. Newer doesn't always mean better, and the songs of Delirious? are testament of this, especially songs from the Cutting Edge-band era.
Delirious? decided to go full-time with their music ministry in 1996 and with a change in the band name from 'The Cutting Edge Band' to Delirious?, songs began to flow, and Martin, Stu G., Tim, Stew and Jon delivered song after song, album after album, of contemplative worshipful moments, alongside thought-provoking unsettling ones as well, all the while staying true to their own faith and meeting the people where they are with delivering songs full of vulnerability and emotive poignancy. The band I reckon offered up their greatest hit (if you ever were to pick one hit, this'll be it!) in 1997- 'History Maker', never a radio single at all until 2010 when the re-released the song as their final single, was initially released on their 'debut' album as Delirious?; King of Fools. Alongside other standout songs like 'Sanctify', 'Promise', groovy dance-number 'Deeper' and their ever-poignant and heartfelt 'White Ribbon Day' (making what I believe is their most well-rounded album ever from the band!), 'History Maker' for me stood out amongst the rest of the songs on King of Fools– and for good reason too. Being in every single live song-setlist from when the song was created and sung first live; 'History Maker' indeed is a track full of anticipation and hope, of us wanting to see the things in heaven come down to earth, and declaring that we as followers of Christ long to be and want to become history makers in a world where history makers are much needed. With heavy U2 undertones (not only on 'History Maker' but on a lot of King of Fools as a whole!), the album is certainly a must if you haven't heard of Delirious?, but have heard of U2- people who are of that way won't be disappointed upon hearing this 1997 album. As lead singer Martin Smith speaks himself about the song 'History Maker' and his own little regrets about the song, we see his transparency- '…it's crazy to look back and think that 'History Maker' was never a single. I'm not saying it would have been very 'radio' but for us as a band that song has been 'the song' almost. I think we got caught up in listening to people too much and thinking "oh yeah if we do that then radio will play it". Of course then the tail starts wagging the dog a little bit, and you fall into a little trap of thinking that other people know more about your band than we do. We were a team, we made decisions as a team. We didn't always agree with each other, that's just the way it is sometimes. So yes, I think that sometimes our choices of single were wrong…' This quote is indeed a reminder that sometimes executives get it wrong in deciding for a band (or even an artist) which songs should be singles and which songs shouldn't. And indeed, in spite of 'History Maker' not being a radio single at all (only until after the band disbanded post-2009), the song itself has become synonymous with the band, as we cannot say one without the other. 'History Maker' indeed is the band's most famous song, and no amount of radio airplay had anything to do with this- reminding us all that radio popularity means nothing when it comes to a song connecting to listeners and becoming part of a global phenomenon.
'…Delirious? is the band that has continued to set me on fire when I hear their music. I love these guys. My first tour was with them, and I still count those days as some of the most important days of my music-life…I couldn't be more proud to call them my friends…' [Chris Tomlin] '…"Majesty" is, to me, what I would call a picture perfect song. Every word is perfectly placed to paint a picture of God's mercy, grace and grandeur. It is a timeless melody, anointed lyrics and, I believe, will be sung for generations…' [Michael W. Smith] '…I will never forget that moment when I first heard Delirious?. I found myself screaming to my father in the next office to come and hear this amazing song and began dancing around the office like I was a child again…' [Bill Hearn, EMI Christian Music Group President and CEO] '…they've [Delirious?] redefined the praise and worship scene; these guys are true artists who point the way to God. They're also one of those rare bands whose music appeals to nearly all generations…' [TobyMac] '…Delirious? is one of the most important bands in the past 10 -15 years, not to mention my all-time favorite band. They have worn their passionate love for Christ on their sleeves while making some of the most creative music of any genre…' [Bart Millard (Mercy Me)] '…for many years now, Delirious? have been inspiring us in our pursuit of Christ through their creative genius and uncompromising message of faith and hope through music. Mark and I count it one of life's greatest riches to call these guys and their families our friends…' [Darlene Zschech] '…"Our God Reigns" is a song that immediately struck a chord with me. It's an awesome reminder that no matter what life throws at you- both challenges big and small- that God is always in control and that He seeks to bring His justice to the broken hearted of this world. Its message is powerful and encourages me to do whatever I can to help people who are suffering and in need of experiencing God's love…' [Joyce Meyer] '…I remember the first time I ever listened to "Obsession." I was blown away by the honesty and passion. It was a worship song like I had never heard before – fresh lyrics full of imagination and vivid imagery with a deep heart-cry for more of God. I would listen to this song again and again, crying out to God, telling him how much I loved him and how much I wanted to know him more…' [Tim Hughes] '…I love "Our God Reigns." I've heard it many, many times and it never fails to move me. They say that nothing in the Psalms was abstract – the writer was a soldier so he sang about spears and shields. In the same way, this song is so powerful because it is specifically about certain heart-breaking situations. Then over all of the pain and confusion the song declares King Jesus and His kingdom reign – a kingdom which ushers in hope, truth, restoration and joy. What a powerful anthem…' [Matt Redman]
Upon reading the individual quotes above from all people who have indeed been inspired by Delirious? over the years, I am only certain of one thing- that what I believe of a band and what I think shouldn't really determine whether a band/individual is influential in the world of music or not. They just are. And these quotes have basically spoken for themselves- Delirious? have changed the gravity and the scope of worship music as a whole; and have been the go-to band to look up to when artists of today have been creating songs and crafting worship music themselves. Martin Smith and co. have created a discography that is as urgent lyrically as well as it being masterfully created musically to present a selection of songs that can easily rival bands like Queen and U2 on a musical level, but also on a lyrical level be as equally as challenging compared to other genre-defining CCM artists like DC Talk and Rich Mullins. Sure, the band aren't popular as of now in 2020, namely because they have indeed disbanded and everyone has gone their separate ways, but the effect of the band Delirious? across CCM and maybe even across music as well, cannot be denied. Often it may not be what I say about a band/artist that can often convince someone of the band/artist's influence, but rather, what other people in the industry say about them, and with this above quote a testament of the longevity of Delirious? and its effect on people even years after their tenure in music; Martin, Stu G., Tim, Stew and Jon have delivered one of the most impactful music discographies in all of CCM music history by any band (maybe even second to DC Talk, in my opinion!).
For me personally, there's been a number of songs by this British band that have impacted me in my own walk with Christ over the years. Songs like 'History Maker' and 'Did You Feel the Mountains Tremble' are straight-out worship tracks that always makes my heart full of joy and hope whenever I hear these songs- even years later- 'History Maker' declares that it is indeed our time to make history as followers of Christ through loving each other unconditionally and without reservation, while 'Did You Feel the Mountains Tremble' is a call of awakening in the church (and maybe outside of the church as well) to the realisation that there is big weight and gravity underpinning Jesus' sacrifice for mankind, and our response because of said sacrifice always comes from a place of whether we believe that we are even worthy to be saved by the Lord to begin with. 'The Happy Song', covered by Chris Tomlin on his own album The Noise We Make, is perhaps the band's most energetic and joyous song of the 1990s Cutting Edge era and speaks of the joyful noise we all should make as a response to what Christ has done for us, that our love and understanding of what He did in spite of who we are, merits a response shown through 'The Happy Song'. 'Obsession' speaks of an 'obsession' the persona has with the 'things I cannot see', and uses the term 'obsession', often used as a negative connotation, as a way of speaking to us in a way that we realise that having an 'obsession' with God our Father, is not an obsession at all- but a love given back to Him in the understanding that the love we received was during a time when we maybe didn't deserve it. 'My Glorious', a rock worship song that I can remember our church singing all throughout the years when I was growing up, is perhaps one of the band's most experimental songs (from their most experimental album ever, I reckon, in GLO)…ever; and speaks of God's bigness in terms of our smallness, and that God's grandness and majesty is worth us declaring His great worth and our reliance and dependence on such a God as He. Declaring God's bigness and greatness is a great reinforcement for us to remember God's ability to handle much more than we can even fathom- He created the universe but also wants an individual relationship with us…He cannot get much bigger than that!
While as a whole, I believe that Delirious?'s first album (as Delirious?), King of Fools is by far the band's most rounded and cohesive album to date, that's not to say that all albums superseding the first wasn't as good- in fact, other albums feature songs as poignant or even more so. 2005's The Mission Bell showcases a call for each and every one of us to be missionaries wherever we are and features standout songs (personally) in 'Miracle Maker', 'Here I Am, Send Me', 'Paint the Town Red' (a song that declares us painting the town red with the 'blood' of Jesus- showcasing the love of God without discrimination to people that may not know they need it…yet!), 'Solid Rock' (a re-working of the hymn 'The Solid Rock' complete with an adlib rap from CCM rapper TobyMac) and one of my own personal favourites of the band ever, 'Our God Reigns'- a hard hitting song that speaks of such horrors in terms of the inequality the world faces, and still declares that God still reigns in spite of such disparities we see on a daily basis. GLO, perhaps the band's most musically different albums I've heard, showcases to us 11 songs of honesty, heartfelt poignancy and a musical journey like no other the cranks up the volume to eleven and features a lot of instrumental tracks (add-ons to the song before, making said song extra-long, and a musical journey like no other!). Songs like the aforementioned 'My Glorious', 'Investigate' (a song that speaks honestly and frankly about wanting the Lord to investigate our lives and to show us all the things that need changing and what we ought to rid ourselves of so we can live a godly and life-affirming existence) and the tranquil but still ever-eclectic and transfixing 'Jesus Blood', have all been personal favourites of mine on an album that I've felt hasn't been given enough credit or even enough interest from people who call themselves fans of Delirious?…which is a little sad. Maybe it's because only a few singles eventuated from the album, and it was sandwiched quite literally between 1999's Mezzamorphis and 2001's Audio Lessonover– thus making 2000's GLO feeling a little out of place. Still, the albums keep coming with their integral themes and overarching underlying messages- 2004's World Service has more of a worshipful sound and an album that birthed global powerhouse melodies in both 'Rain Down' and 'Majesty'- both these songs being perhaps some of my favourite worship songs of today's generation. The album also brought to us lesser-known songs in 'Inside Outside'- a song that wasn't really much a hit in both either the U.S. or even the U.K. but ironically and interestingly, a very big hit in Germany. Same with Delirious?'s other German single, 'Every Little Thing', a song that has Daniel Bedingfield, brother of British singer-songwriter Natasha Bedingfield, as backing vocals on the track. 'Inside Outside' was co-sung between both Martin and guitarist Stu G. (which up until this point, has never sung lead vocals before, except on some demos of his own written song 'Come Like You Promise'- that appeared on Delirious?'s 2001 compilation album) and speaks of God being inside and outside, up and down and all around us, enveloping us with His unconditional love, while 'Every Little Thing' speaks of a comfort that we only know God can bring, that everything in our lives is going to be ok, that change and the journey's we're on are often placed there for a reason, that '…when it's all falling down on you, you're crying out but you're breaking in two, when it's all crashing down on you, when there's nothing you can do, there is someone who can carry you…'
Nevertheless, in spite of all of the great songs on other great albums by this founding-father band, the seamless ability for an album to venture from song 1 to song 13 with a natural flow and progression, telling stories and having a sense of wonder and rawness about it, is something that can always be attributed to King of Fools with much pride. King of Fools is the album that I myself always go back to whenever I want to listen to songs from Delirious? that I know can uplift me in difficult circumstances, and songs like 'History Maker', 'White Ribbon Day' (a poignant cry to end not just women's violence but end domestic violence full-stop), 'Deeper' (a dance-pop melody about us travelling deeper into God's love and deeper into the unknown with God by our sides), even lesser known songs and non-singles 'What a Friend' (a piano driven song about God being a friend to us and our declaration of that in circumstances when often we need friends to get us by), and 'King or Cripple' (a song that states that God sees both king and cripple the same- as two people needing a Saviour), being songs that have helped me a lot through the years of my past up until now.
And then comes the band's final album, yes, Kingdom of Comfort, that, alongside the band's official first album in King of Fools, their last has a sort-of sentimentality to it, as we see the band come full circle and champion the notion of equality and justice in the midst of chaos and inhumaneness that seems to flood the airwaves and televisions around the world at the moment. The band themselves have reminded us all of the necessity of such an album as Kingdom of Comfort, that birthed singles like 'My Soul Sings', 'Love Will Find a Way' and 'God is Smiling', while also delivering confronting lyrics in the title track too. Drummer Stew Smith and lead singer Martin Smith both relay their thoughts on the album as a whole in an interview with JesusFreakHideout at that time-
'…as we've traveled the last few years, we've seen with our own eyes some very horrific things. That's forced us into making a response. You just can't come home and carry on living life the way you were. It doesn't mean things immediate, but something happens inside that makes you go, "I need to start repositioning myself and what I do to make changes." So that's a slow process but hopefully it's a strong, steady, house-building process. And we'll all react different to that, but I know there's a sense for all of us that it can't ever be the same. Your heartbeat changes a little bit. It beats a little bit faster once you've seen all that stuff, and you can't settle. So we came back into the studio, and I remember us setting up and Stu G turned his amps on, and we got the drums up, and it's like all this emotion, worry, pain, confusion, and the smell of India, and it all just sort of came out in the music, and we decided we just needed to go with it. I don't know where this fits; but let's just keep going…' [Martin Smith] '…I think it's more than just about social justice and poverty. Those are some of the trickiest, but actually for me, this is about what I believe in, and "does it make sense?" and "how am I making a difference?" And those are the real challenges that we have as individuals. It's not just this small social justice kind of poverty thing, but actually that is being the spearhead to these serious questions about our faith and what we believe. And part of the whole concept of Kingdom of Comfort is: have we made the Gospel ­ which is so potent and can be so radical ­ have we made it something which is so menial and almost like a consumable item, that we've lost the meaning and the potency of what Jesus walked around on the face of this planet talking about? And those are some of the things that go through my mind and in my heart, and thinking "ok, what does that mean to me, am I actually making a difference?" And hopefully when people listen to the album, they hear that cry of poverty, but actually, it requires something of us to try to change this world that we live in, and that's not just about India or Cambodia, or wherever, but it's about where you live. It has to start with you. Those are some of the things that I'm still buzzing on, that I'm still questioning, and I haven't got all the answers, but that's where that confusion and frustration comes out. But you know we really have to be people that make a difference. If our faith actually is that real, what am I doing about it? It's an exciting and challenging album. Musically, it's brilliant. I think it's the best album we've made…' [Stew Smith]
It is in these quotes that I realise that an album can be so much more than the songs present, there can be an underlying theme and the message delivered throughout the entire album can permeate a person's soul more profoundly than one can ever realise. Kingdom of Comfort is one such album, and together with King of Fools, sandwich a music career that is one for the history maker books (no pun intended). And though now the band have formally moved their own separate ways, the band members (at least lead singer Martin and guitarist Stu G.) are in and around the music industry in some capacity. Martin Smith himself has launched a solo career after the band- releasing albums God's Great Dance Floor Volume 1 & 2 (alongside singles from these albums in 'God's Great Dance Floor', 'Back to the Start', 'Grace', 'Fire Never Sleeps', 'Emmanuel', 'Awake My Soul', 'Only Got Eyes' and 'Great is Your Faithfulness', to name a few), and now his new studio album Iron Lung in 2019. Stu G. had a bit of stint in CCM/worship group One Sonic Society, together with bassist Jon Thatcher, as well as drummer Paul Mabury (who was originally part of Hillsong) and the ever-reliable Jason Ingram on lead vocals. While now One Sonic Society are now currently a duo with just only Paul and Jason at the helm; Stu G.'s involvement in music hasn't wavered one bit- in 2017 he undertook a collaborative project of sorts that is as daunting as rewarding- he collaborated with a whole bunch of artists (inclusive of John Mark McMillan, Audrey Assad, Matt Maher, Amy Grant, Amanda Cook, Martin Smith and Propaganda) to release a music project based upon the Beattitudes in the bible- coupled with a DVD and a book about the same thought and the unpacking of arguably one of the most theologically rich but also misunderstood passages of the Bible; Stu G.'s project is by far one of the most compelling I've witnessed amongst any special event-style album in years! All in all, the band members of the band still are around music in some capacity, and even though Delirious? are gone, at least there's some kind of resemblance of their continuing in Martin's solo albums and Stu G.'s involvement in special projects as the years progress.
Delirious?'s departure from music way back in 2009 sent ripple waves through the music industry- maybe even more so than other band splits, namely the most recent one in memory was that of Third Day. But for me, Delirious? and their departure from an industry that was made better because of their presence, is something that is still hitting me all these years later. They were a great band, and still impact me from time to time, even now. And their message of hope and God's ever-covering love will continue to impact for generations to come. Could they have continued past 2009 for another few years and albums? Maybe. But what I will say is this- Martin's involvement in music is still going strong, and maybe, just maybe, if Delirious? continued their tenure, they'd sound like Martin's music from God's Great Dance Floor (both volumes)…but who's to know for sure? The band has certainly changed the landscape of worship music forever, there's no doubt about it. The band has delivered some of the greatest worship songs ever- and their most popular song 'History Maker' will continue to remind myself that a song that isn't a single can still rock the world and affect people's lives for the better, even without radio. A radio song doesn't always have to be better- just look at Delirious? and their life and career, and you'll see what I mean.
Does Delirious? make the list for you all when you write your own 'Best Influential Artists of All Time' list? Is there any song (other than 'History Maker' and 'Did You Feel the Mountains Tremble') that has impacted you on your journey through life thus far? Let us know in the comments. Till next time!