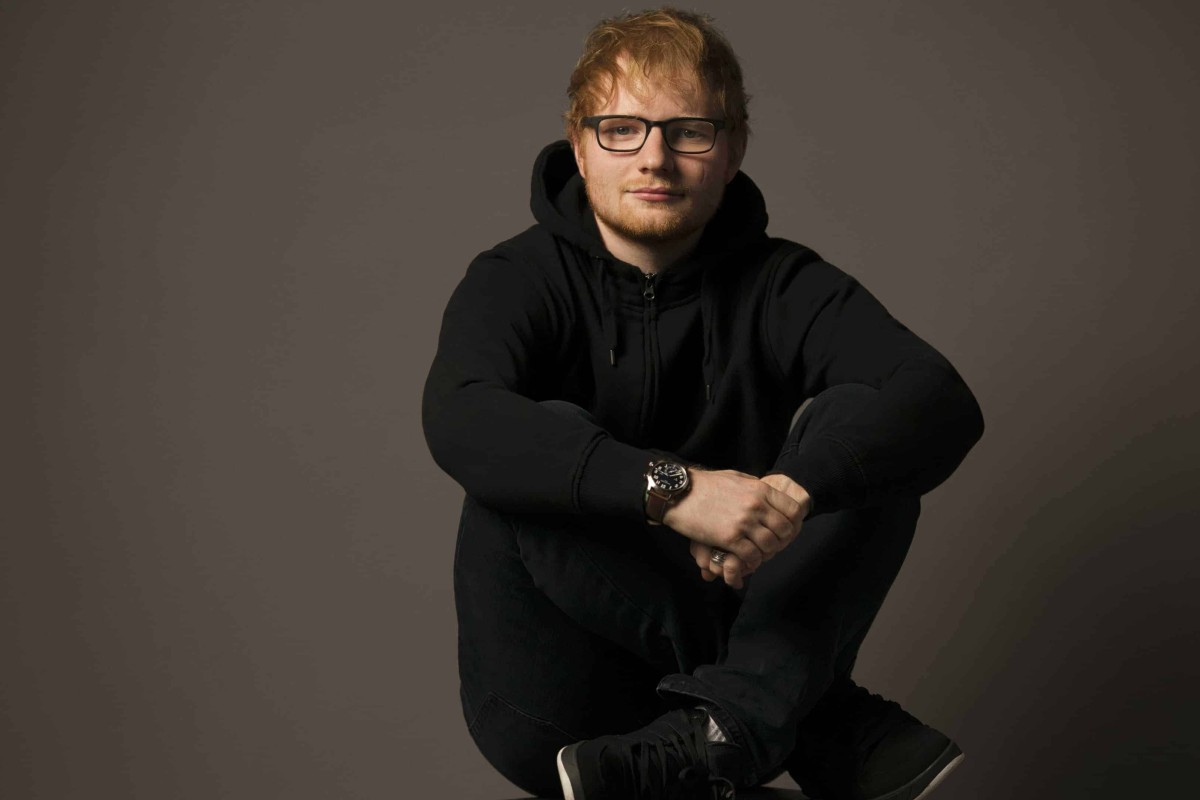 I don't know what your favourite music genre right now is. Maybe it's CCM like me, and you are a fan of artists like Michael W. Smith, Tenth Avenue North, Newsboys, Skillet, For KING AND COUNTRY and Steven Curtis Chapman, to name a few. Or maybe you are fanatical about country music, and follow artists like Carrie Underwood, Miranda Lambert, Keith Urban, Shania Twain and Dixie Chicks. Then again, maybe old-school 1980s is your type- and why not, with artists like Michael Jackson, David Bowie, George Michael, Phil Collins, U2, The Police and Led Zeppelin, all anchoring the decade musically and sonically. Then again, you could be totally out of left field and be heavily into the classical music and follow great composers like Bach, Mozart, Beethoven and the like. But whatever music you are into, be it the older style songs, or the newer current 'relevant' music that is currently on the radio; one thing is for certain- everyone knows Ed Sheeran, or at least a few of his songs. Or at least they should.
Ed Sheeran…now where do I begin? Because there's a lot to say. And frankly, not enough space to say it. Because if I were to say everything that there has been about this emotive, heartfelt, and influential singer-songwriter, I'd be here till next week- that's how much his music has impacted people, myself included. And even if I were not an avid fan of this young man from Britain, we at least remember some of his songs- even if we don't remember that it is Ed singing them in the first place.
'…I used to be super social at industry functions. My hobby was to go out and meet people that I admired, and go out and drink with them, and end up at a bar. That was my favourite thing to do. So I ended up meeting all my musical heroes and going out to bars with them and having fun with them. And then now, when I go to these events, I just have social anxiety. I hate large groups of people, which is ironic, because I play shows for a living. But, I just feel claustrophobic and don't like being around too many people. I don't mind talking to people. I have no problem with having a conversation with people. It's just when people film me and sh–, and just stare at me. It makes me feel weird, because it makes me feel like I'm not human. If you're coming up and having a conversation with me, it makes me feel human, even if we've never met. The thing that instantly shuts me off is having a moment like that with someone that's so human and so nice, and then being like, 'Can I have a picture?' It kind of then puts you back down to Earth and then you're literally just 15 likes on Instagram. That's what you are…'
Ed has become a household phenomenon, quite literally. Quite literally. Not that there's anything bad with becoming a success quite quickly, but sometimes, if you're not careful, success can go to your head and turn you into something that you are not, or something you know you don't want to be, but can't stop it anyway. For Ed, to go from no-one hearing your name, to now everyone hearing it- with the fact that he has released 4 albums in the span of 8 years, and also that he is from the U.K. rather than the big, gigantic massive, towering monstrosity called America, is something extraordinary, like fresh air being pumped into a room that has been sealed off for hours. Because that is how I feel sometimes the music industry is like. From the same artists, the same countries, the same songs, the same messages- and then Ed Sheeran comes along, and no he is not like British boy-band group One Direction. He is different, unique, quirky at times, and by the world's standards, a nerd. Yes there I said it- by an actual definition of the term, looking at Ed and seeing his mannerisms, and just hearing about his life, one can assume that his upbringing was of a 'nerd' typecast. Nothing wrong with that, I myself can be classified as a nerd as well- not really fitting in socially with people, and always tending to stay home after a hard day's work rather than canvasing the outdoors and wanting to meet with friends every night. So I guess I can relate. Nerd isn't a bad term, just a term that I'm sure describes Ed quite well. And that is why I reckon his success has been as it was- people who are 'nerds' relate to him, like myself and others. It is a reminder that singing and music isn't just reserved for people who 'look the part'- because in all honesty, from afar, if I didn't know Ed was a musician, I probably wouldn't have picked it. And that is one of the very reasons why we all need Ed's music in the world right now!
Born in Hallifax, West Yorkshire, Ed's rise to stardom is nothing short of unique, miraculous, something out of a dream. Dare I say that Ed himself is perhaps one of the U.K.'s most influential solo male artists around, ever since the popular prominence of singer-songwriter Phil Collins? Yes, a bold assessment, but nevertheless, Ed's impact is far unparalleled, and though only a career spanning since 2011 till now, we've been able to witness countless of songs, and albums that have changed the course of music as we know it. For I was hesitant to even place Ed Sheeran on my 100 influential artists list, but then upon reflection, I knew that though Ed hasn't been in the music business for that long (less than 10 years), his music has had reach and staying power far greater than a lot of music made by veterans even now. Grounded in his hometown of Suffolk, Ed's music, a mixture of pop, folk-pop and hip-hop, has been able to shatter boundaries about what singer-songwriter, especially British artists, should sound like. Ed's music is on the radio, but it is hardly the same as anything I've heard on it. It's not pure pop- leave that to One Direction, nor is it soulful, Adele can have that accolade to herself. Ed is not really a rapper too- Eminem, Lecrae, KJ-52 and NF, all do better jobs than Ed ever could. But somewhere along the way, Ed has been able to bring to life music that has categories in pop, soul, and hip hop. He has travelled the line and has walked the way of having music that influences a wide array of genres, and that's ok. For me, Ed Sheeran, the 25th artist I am undertaking, is such where I personally cannot fit him literally into a musical genre box, and even now, I'm finding that in my uncertainty of where to place Ed, that that is ok.
Looking through Ed's discography, it's easy to see Ed's reach and influence. Much of Ed's music is popular now, and I'm sure even one person can potentially say that an Ed Sheeran song has touched their life in some way…I know I have. With 4 albums under his belt (+, X, ÷ and No. 6 Collaborations Project), Ed's melodies have always struck a chord with listeners, even from his 2011 label debut project, +. 'The A Team', his first radio single, speaks of the dark subject matter of homelessness, and focuses on the persona in the song who is a prostitute, addicted to crack cocaine, a Class A drug- hence the song title 'The A Team'. While the song is generally upbeat, and the line 'class A team' is thrown around to disguise the heaviness of the subject matter, the fact remains, that homelessness and drug abuse is real issue, and Ed's music, especially his debut single, tries to shed some light onto that. While I myself didn't fully understand the song (and maybe even still don't) until I dug a little deeper, I have a newfound respect for Ed who isn't really afraid to speak out on real issues, even if it is uncomfortable to sing about or unpalatable to swallow. Other standout songs from + include 'Small Bump', 'Lego House' and 'You Need Me, I Don't Need You'- 'Small Bump' is about a close friend of Ed who gave birth to a stillborn at 5 months, and thus, the song was written from a first person perspective of that, while 'Lego House' is of a break-up, and picking up the pieces and having the willingness to start again- all the while using 'lego' as a metaphor of the fragility of the relationship to begin with. 'You Need Me, I Don't Need You', the second single from the album, is about Ed personally saying to the many record companies, that he is at a place in his craft and personally, where he doesn't need them, their support or even approval, to achieve things that he wants to. It is a reminder, even to myself and to people, to never conform to what society or even what we believe our role models are supporting- that if we're confident in our craft and our career, whatever that may be, what we decide to undertake ought not to be tied into their own agendas. The song 'You Need Me, I Don't Need You' is something we all can relate to, myself included!
'Sing', 'Don't', 'Thinking Out Loud', 'Photograph' and 'Bloodstream', all come from Ed's 2014 album X and all are central to the albums general feel and theme- and while I myself am only fully familiar with his chart-topping songs 'Thinking Out Loud' and 'Photograph', the other three remaining are nevertheless emotive and clever. Gone are the acoustically driven songs of the first album and in come funky beats and an acoustic-soul presence, coupled with hip hop beats and Ed doing his best to freestyle and rhyme a few bars together, as evidenced in 'Sing'- a song about the persona not being ashamed of a relationship and singing about it from the top of their lungs. With the song being produced by popular artist Pharrell Williams (of 'Happy' fame), this song is a great one to be the first single of X. 'Don't' catalogues the journeying of a relationship, between Ed and another singer, to the point of the other person cheating. Full of expletives, I'm sure there is another version of the song that is 'clean', and the version I've heard, doesn't have any. But the fact of the matter remains- Ed swears. And maybe that is a problem, maybe it isn't, but all that aside, 'Don't' is a reminder to always put in time for a relationship to blossom, to never take the other person for granted. With the song written from a place of hurt and frustration, maybe it could've been better without the expletives…but then again, without it, the song may not have been as honest. Still, Ed's music is honest and given credit where it is due. Expletives in songs have always been an uncertain part of my own musical journey, since I did grow up as a Christian (and still am!)- but if a word is there that tells the story, and not there for some gratuitous thing, then maybe the word is warranted…I don't know. Nevertheless, 'Don't' gives us a message we all need to hear- to always make time for our love, and to never let it get to that stage of what is happening in the song. 'Bloodstream', a weird one for a single, speaks about Ed's dealings with MDMA (ecstasy) at a friend's party, all the while cataloguing feelings and what it may have felt for someone who has done something that was initially a shock to their system. Though not my favourite Ed Sheeran song ever, 'Bloodstream' still gives us a warning of sorts- never undertake a journey into the drug world until we are fully informed and even then, it's just not a good thing to get yourself into.
'Photograph' and 'Thinking Out Loud' are arguably two of Ed's most popular songs pre-DIVIDE, and both are in fact love songs and are widely accepted in the general public as being melodies that can inspire people during weddings and other important events. 'Photograph' begins with the lines '…loving can hurt, loving can hurt sometimes, but it's the only thing that I know…', a subtle reminder that yes, loving someone can in fact be hurting for a while, especially if we know what is best for them, that they don't even know themselves. 'Photograph' for me speaks of a long-distance relationship, something that shouldn't really happen generally, but nevertheless, it does. 'Photograph' hopefully gives us comfort that there may be other people out there feeling loneliness and the longing to connect with the other, similar to ourselves as well. 'Thinking Out Loud', if you ask me, is the song that got Ed famous- not any of the other songs I've spoken of before, but rather, this one. A song that is a staple I'm sure at weddings around the world, it speaks about Ed speaking his mind, thinking out loud as he coins it. A song that shows us all the beautiful things that love can be, we are reminded that unfailing and unconditional love definitely exists- fully expressed in 'Thinking Out Loud', and fully embodied in the person of Jesus Christ. And thus, this song is possibly the closest representation of what a loving relationship between someone and their spouse really looks like, and in turn, as God made all creation in His image, what the love between Christ and the church is like as well!
Arguably the most popular album of Ed's career is ÷ (styled as divide). Released in 2017, the album as a whole has more of a 'happy' and 'introspective' vibe compared to his previous 2 albums, and hearing a fair amount of the songs from that album, it's no wonder why divide is the majority of people's favourite. Songs like 'Castle on the Hill', which speaks about wanting to go home and longing for places that is familiar, and 'Shape of You', a story-song about a person who falls in love with the body of the person before their character and personality, because in all honesty, when it comes to love, affection and the rest of it, like it or not, we are all attracted to physical attributes first and foremost; are the fast-paced melodies. While 'Happier', quite possibly the most solemn on the album, speaks of a breakup and how the persona (quite possibly Ed himself drawing on personal experience) wants the person he's broken up with to be happy, even if he himself isn't. 'Galway Girl' features Irish music and the fiddle, at its best, as Ed tells the story of two people, one Irish and one English, as star-crossed lovers somewhat. The feels and emotion continue to come with the meaningful and poignant 'How Would You Feel', a song about being honest and admitting feelings of like/love/affection/infatuation to the person in question, being brave and confronting the feelings head-on, while album-ender 'Supermarket Flowers' is the most out-of-the-box song I've heard from Ed. In fact, because of the subject matter- death, and him writing from the POV of his mother, about his grandmother, we as listeners take notice to this well-crafted melody that reminds us all to honour our family, and take the time to appreciate the time we do have with them. As Ed himself said in an interview about the song in general, '…that's the most special song on the record for me. My grandmother was very ill during the time I was making the record and passed away at the end of me making the record, so we wrote this song as a tribute and just left it on…my grandfather just turned to me [at the funeral], he was like you have to put that out, that has to go on the record. It's such a good memory, that's why it's ended up on there. [The song was] really hard to write, yeah. Very easy at the same time in terms of its flow. Because there was no trying to think of poignant lines and being like you know death is this or like life is this. It was just so spot on and the lyric of 'you are an angel in the shape of my mom', that could end up in a poignant line but it was the truth…'
Ed's latest album dropped in 2019- No. 6 Collaborations Project, with all the songs being featured on the album being collaborations with other artists. Now I don't necessarily fully all the songs on the album so I can't really give a brief assessment but from just hearing here and there, Ed's latest doesn't feel as cohesive as the rest. Maybe it's because of the whole plethora of people involved in the project that the project itself feels less like Ed and more like the others. Nevertheless, Ed is branching out into new territory, and even if this new effort fails commercially, at least he did this collaborations thing a go. And let us all not forget that this isn't the first time that Ed himself as collaborated with artists. Prior to this year's hit 'I Don't Care' featuring Canadian Justin Bieber, Ed tried his hand in a number of songs previously, namely 'End Game' (with Taylor Swift), 'Lay It On Me' (with remix/instrumental band Rudimental), and 'River' (with rapper Eminem). While to be honest, I hadn't heard much of Ed's collaborations prior to 'I Don't Care' (I've only heard Taylor Swift's song 'End Game' through a cover of it by Youtube sensation sister band Cimorelli), I do admire Ed's willingness to collaborate with a wide variety of people from different backgrounds, reminding us that no matter what perception of people we have, they are always needed to bring something to the table of creating music and art, and that who we may think as not contributing to the music scene at the moment, are often the people that may surprise us in the future (upon hearing the original version of 'End Game', I was surprised that Ed can do hip- hop and do it well- prior to that hearing of the song, I had only been exposed to Ed's more softer material). And so to have my own thoughts on this new collaboration project, of what I've heard so far…it's different. Yes there's a lot of rap, hip hop and experimentation. No, there's not much of slow introspective songs we've come to know and love. But that's ok. Ed is now at the place where the manner of delivery of the music shouldn't be a driving force in the message of the music. We are reminded that Ed is now at a place where his influence gives himself licence to explore and tap into genres that are indeed out of his comfort zone.
'I Don't Care' is as radio friendly as you're gonna get, and speaks about being in awkward social situations, not caring and wanting to be with your significant other, while 'Beautiful People' speaks to the heart of what the world considers to be 'beautiful'- having all the clothes and the looks and being with famous people just because, and not wanting to conform to that. 'Best Part of Me' featuring singer-songwriter YEBBA strips down to acoustics and a slow beat, as each singer sings about why their significant other (not each other) loves them when they have insecurities and worries themselves. The song itself is heartfelt and is an unlikely bright spark on this new album; and feels a lot like 'Thinking out Loud 2.0'. And…that's all I can comment about the album at the moment. Sure they'll be plenty of other reviews of the album online – just google it and then see. But for me, apart from these songs I've highlighted, the rest of the album feels very 'grime'- a sort of rap meets EDM, something that I myself am not completely versed in, nor am I completely impressed with. But that ok, because I'm sure another person may be impacted positively by this album, other than me!
Then, after all the songs that Ed has given to us, after all the collaborations, after all the songs that weren't on official album releases (inclusive of songs like 'I See Fire' and 'All of the Stars', songs on the soundtrack to The Hobbit: The Desolation of Smaug and The Fault in our Stars, respectively), after all that, there's 'Perfect'. Yes, its that song. Not that the song itself has become a dread to listen to, not at all. Far from it. The song itself is good. Epitomises everything what a love song should be, maybe even topping or at worst, equalling the quality set by 'Thinking out Loud'. But all in all 'Perfect' is good, albeit a little too overplayed. Written about his then girlfriend (now wife) Cherry Seaborne, 'Perfect' is about finding the right person to love and give your whole heart to- never looking back and wanting a future with them. It's a song that admires the other person and places them above yourself, something we all should do in relationships anyway, be it romantic or otherwise. The song charted a lot on Billboard, even receiving 2 more recordings of the track, the first with R&B singer Beyonce and the second are more orchestral composition with opera singer Andrea Bocelli. Both versions are good, but for me, nothing beats the original. The song was even so popular and successful that gospel-singer/songwriter Philippa Hanna even recorded her own version of the song, this time altering the lyrics a little, from singing the song to another, to singing the song to God our heavenly Father. While I don't know if she did get permission to re-write some of the lyrics, the fact remains- that Philippa's version of 'Perfect' is as much poignant and heartfelt as the original, and gives us hope that the same love we feel for each other, is the exact same, and then some, felt by God for His creation.
Apart from the singing, Ed is involved in a lot of other activities as well, that not only gives us all a perspective that is more rounded and 'human', but rather, it reminds us that often you start listening to the artist because of their songs, and you continue to follow them because of what they do and how they act behind the scenes. Ed's work in creating a new label in Gingerbread Man Records, alongside raising money for the One25 campaign, money that can be used to help sex workers on the streets, has made him much more personable and relatable, reminding us that musicians are people too. Ed also continues on a regular basis to give away clothes he has to local charities around his home Suffolk area, and has also received an honorary degree from the University of Suffolk for his contribution to modern music. He was appointed MBE in 2017, and to date has the highest-grossing concert tour ever, alongside him being one of the world's highest-ranking selling artists out of everyone else at the moment. Coupled with the fact that he has won countless Grammy Awards, Brit Awards and Billboard Music Awards throughout his tenure, alongside the very fun trivia that Ed is ranked fourth in a random poll about who is the greatest Yorkshireman (behind Monty Python creator Michael Palin, and British actors Sean Bean and Sir Patrick Stewart), and we see that Ed's quiver is full of all things music, and other unique talents and gifts as well. More recently Ed has dipped his toes into acting, first with being the video spokesman to the new Heinz Tomato Sauce, while his first feature film was released this year in the form of Yesterday, a movie about how a man, after a freak accident that was caused by a world-wide blackout, becomes the only person in the world to remember The Beatles- Ed Sheeran plays a fictional version of himself, who helps the main character in his own journey to stardom via the use and exploitation of the not-so-remembered The Beatles songs.
And so, here we are at the end of August 2019. Ed has finished off his most successful tour promoting the album Divide. He has now declared he's taking 18 months off, to sort out some personal issues (inclusive of a few legal and plagiarism battles, but that's for another blog post to discuss!). Nevertheless, regardless of the need for the break and the timing, I will say this- Ed Sheeran does deserve a break. Working tirelessly on his music, and giving to us songs that pierce right to the heart of our souls, it's no wonder how an artist such as Ed can become drained after a while. It is a reminder for us all that often the business of music can be ugly, that maybe allegations are in fact that, allegations, not necessarily true. But regardless, we are admirers of Ed as respecting of his music, want to hope that after all this personal thing is through, what eventuates will make him stronger as a person because of it. Till then, we all still have his previous music to enjoy. Because let's put it frankly- Ed is a once-in-a-generation musician, and yes, dare I say that Ed is Britain's version (and the 2010s) of 1980s legend Phil Collins. And with songs like 'Thinking Out Loud', 'Perfect', 'Photograph', 'The A Team', 'Lay It On Me' and 'Castle on the Hill', why not?
Ed Sheeran has changed the landscape of what it means to create pop music with a message. To delve within the depths of hip hop and come out the other side, having the ability to rap- although not great like artists Lecrae or even NF, but still good enough to do it. Ed has given permission to people everywhere (especially if you feel like a 'nerd') to follow your dreams, and as we all can watch in a very candid interview below, about the thoughts behind Ed's most recent collaborative album; Ed sums up a lot about his own life and what he has learnt, generally, from the video. Sure, the video is expletive ridden, but that doesn't mean that God can't still speak through it, because He can, He will, and He does. And so before we finish off this blog, let me remind you all that if someone like Ed can become an overnight success, changing what it means for someone from the U.K. (who is not Adele) to influence people on a global scale, then we can do that as well, even if it is on a local level.
Note: This above interview is littered with swearing, yet, Ed is as inspiring and impactful that even through the swearing, there is a message and things to ponder and think about when watching this interview above.
Does Ed Sheeran make the list for you all when you write your own 'Best Influential Artists of All Time' list? Is there any song that has impacted you on your journey through life thus far? Has this Yorkshire native delivered music that can transcend walks of life and maybe even walks of religion as well? Has there been some songs that have spoken to you about yourself or maybe God Almighty in the process? Famous for songs like 'Photograph', 'Perfect', 'Castle on the Hill' and 'I Don't Care' (to name a few); is there are song that has connected with you that is a little lesser known to the public? Let us know in the comments. Till next time!