If you have been an avid viewer of this site since it's inception just over 4 years ago, you could say with confidence that apart from Christian music, which I love; TV shows are one of my greatest hobbies/pasttimes- and for better or worse, I'd say you're probably right.
See a TV show can teach us vital and paramount lessons, relevant to today's society, and invoke in us emotions that we could never have dreamed possible, as we empathise with the main character and try to understand their plight and journey. Whether a TV show is a comedy or a drama, short lived and only 1 season like Awake, or a long-standing veteran of 20 seasons like Law and Order SVU; each show I reckon has their place, and each show is probably needed, speaking to a different part of society about something important to them. So what is it this coming TV season (2018/2019 broadcast season starting in September 2018) that makes the upcoming batch of new shows worth watching? I mean last week we witnessed the cancellations of many well-loved shows, such as Kevin Can Wait, Lucifer, Life Sentence, Kevin Probably Saves The World, Scorpion, Once Upon A Time, Designated Survivor, New Girl, The Mick, Shades Of Blue and Rise, amongst others (which can be viewed on Wikpedia); so obviously these new slate of shows are guaranteed to last a long time, right? On this Top Tens blog (doubling up as a Best of 2018 blog as well!), below I have listed ten shows that I am anticipating for this new season, complete with trailers (wherever possible) and official synopses. Now you guys can make your informed decisions as to what to watch (or avoid watching!). Don't take our word as gospel though- on last year's blog of a similar nature, we never saw a single one of those 15 shows, due to circumstances beyond our control!)
Manifest (NBC)- Mondays 10/9c
Clearly influenced by the mystery of Malaysia Airlines Flight 370, the high-concept Manifest explores a hypothetical scenario what would happen if a missing plane and its passengers suddenly reappeared.
When Montego Air Flight 828 landed safely after a turbulent but routine flight, the crew and passengers were relieved. Yet in the span of those few hours, the world had aged five years and their friends, families and colleagues, after mourning their loss, had given up hope and moved on. Now, faced with the impossible, they're all given a second chance. But as their new realities become clear, a deeper mystery unfolds and some of the returned passengers soon realize they may be meant for something greater than they ever thought possible.
A Million Little Things (ABC)- Wednesdays 10/9c
The Alphabet network on Wednesday [9th May 2018] gave a series order to the aforementioned drama, which follows a group of friends from Boston who bonded under unexpected circumstances. "Some have achieved success, others are struggling in their careers and relationships, but all of them feel stuck in life," reads the synopsis. "After one of them dies unexpectedly, it's just the wake-up call the others need to finally start living. Along the way they discover that friends may be the one thing to save them from themselves."
Written and exec-produced by DJ Nash, the series boasts an ensemble that includes David Giuntoli (Grimm), Ron Livingston (Office Space), Romany Malco (Weeds), Allison Miller (Terra Nova), Christina Moses (The Originals), Christina Ochoa (Blood Drive), James Roday (Psych), Stephanie Szostak (Satisfaction) and Lizzy Greene (Nicky, Ricky, Dicky & Dawn).
God Friended Me (CBS)- Sundays 8/7c
In God Friended Me, which is from Greg Berlanti's production house, questions of faith, existence and science are explored when an outspoken atheist's life is turned upside down after he is "friended" by God on social media. Unwittingly, the young man (The Mayor's Brandon Micheal Hall) becomes an agent of change in the lives and destinies of others around him. The cast also includes Joe Morton (Scandal), Violett Beane (The Flash), Suraj Sharma (Homeland) and Javicia Leslie.
The Passage (FOX)- Midseason
The Passage, based on Justin Cronin's best-selling fantasy book trilogy, is a retooling success story. Originally shot last summer, the pilot was reworked and partially recast and reshot this pilot season as three characters were replaced with new ones. The second pilot was very well received and had been considered the clear frontrunner on the drama side at Fox.
Written by Heldens, The Passage is an epic, character‐driven thriller about a secret government medical facility experimenting with a dangerous virus that could either cure all disease or cause the downfall of the human race. The series focuses on a 10‐year‐old girl named Amy Bellafonte (Saniyya Sidney), who is chosen to be a test subject for this experiment and Brad Wolgast (Gosselaar), the federal agent who becomes her surrogate father as he tries to protect her.
Jason Ensler, who directed the new footage, and Marcos Siega, who helmed the original pilot, are both credited as directors. Heldens executive produces with Reeves, Free, David W. Zucker and Adam Kassan. 20th Century Fox TV produces with 6th & Idaho, Scott Free.
In addition to Gosselaar and Sidney, the cast includes Vincent Piazza as Clark Richards, Brianne Howey as Shauna Babcock, Jamie McShane as Dr. Tim Fanning, Caroline Chikezie as Dr. Major Nichole Sykes and Emmanuelle Chriqui as Dr. Lila Kyle.
All American (CW)- Wednesday 9/8c
The CW is hoping for a 2018-2019 season touchdown: It has given a series order to All American, a football drama executive-produced by Greg Berlanti and Sarah Schechter.
The series, inspired by the life of pro player Spencer Paysinger and formerly titled Spencer, follows two families — one from South Los Angeles, the other from Beverly Hills — when a rising high school football player from Crenshaw is recruited to play for Beverly Hills High.
The cast includes Daniel Ezra (The Missing), Taye Diggs (Private Practice), Cody Christian (Teen Wolf), Samantha Logan (13 Reasons Why), Monet Mazur (Castle), Michael Evans Behling and Karimah Westbrook (Shameless, Aquarius). April Blair (Reign) will write and executive-produce alongside Berlanti, Schechter and Rob Hardy
Magnum PI (CBS)- Monday 9/8c
From Hawaii Five-0/MacGyver rebirther Peter M. Lenkov comes the new Magnum, P.I., which stars Jay Hernandez (Suicide Squad) and promises "an update of the classic television series" as it follows Thomas Magnum, a decorated ex-Navy SEAL who, upon returning home to Hawaii from Afghanistan, repurposes his military skills to become a private investigator. The cast also includes Perdita Weeks (Penny Dreadful) as Higgins, Zachary Knighton (Happy Endings) and Stephen Hill (Lewis and Clark).
The Fix (ABC)- Midseason
The Rookie (ABC)- Tuesday 10/9c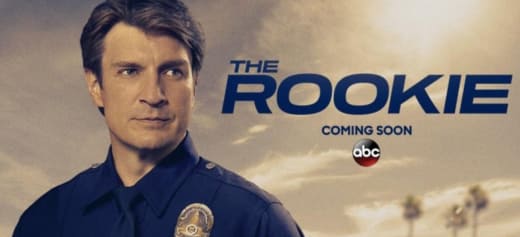 Starting over isn't easy, especially for small town guy John Nolan who, after a life-altering incident, is pursuing his dream of being an LAPD officer. As the force's oldest rookie, he's met with skepticism from some higher-ups who see him as just a walking midlife crisis. If he can't keep up with the young cops and the criminals, he'll be risking lives including his own. But if he can use his life experience, determination and sense of humor to give him an edge, he may just become a success in this new chapter of his life.
Fillion's former Castle boss Alexi Hawley serves as Rookie's showrunner. The cast also includes Alyssa Diaz, Richard T. Jones, Titus Makin, Mercedes Mason, Melissa O'Neil, Afton Williamson and Eric Winter.
The Village (NBC)- Midseason
The Village centers on a Brooklyn apartment building that houses a diverse group of residents — a single mom who works as a nurse, a war veteran, an undocumented immigrant protecting her son from ICE — that's more like a family. The ensemble cast include Michaela McManus (SEAL Team), Moran Atias (The Resident, Tyrant), Warren Christie (Chicago Fire), Daren Kagasoff (The Secret Life of the American Teenager), Dominic Chianese (The Sopranos) and Lorraine Toussaint (Orange Is the New Black). Mike Daniels (Shades of Blue, The Brave) will write and serve as an EP.
Trailer not available yet!
The Red Line (CBS)- Midseason
The Red Line, which counts acclaimed filmmaker Ava DuVernay (Selma) among its EPs, revolves around a white Chicago cop's accidental fatal shooting of a black doctor, following three vastly different families that all have connections with the case as the story is told from each perspective. The cast includes Noah Wyle (ER), Emayatzy Corinealdi (Hand of God), Noel Fisher (Shameless), Michael Patrick Thornton (Private Practice), Aliyah Royale, Vinny Chhibber, Howard Charles and Elizabeth Laidlaw.
Trailer not available yet!
Which shows have caught your eye? Let us know in the comments below!