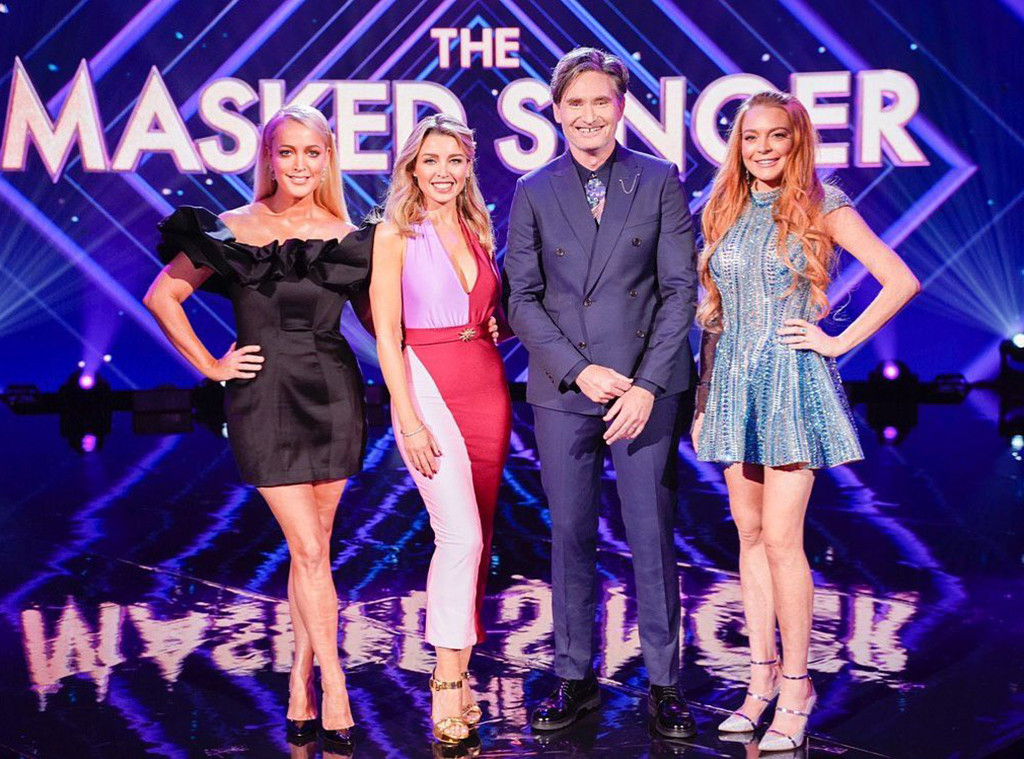 Channel 10
Premiere Episode Air Date: Monday 23rd September. Tuesday 24th September 2019
Reviewed by: Joshua Andre
The Masked Singer [Australia] (Season 1 Premiere- Episode 1, Episode 2)
Presented by: Osher Gunsberg
Judges: Lindsay Lohan, Jackie O, Dannii Minogue, Dave Hughes
When did we as a nation, or maybe as the whole entire world, become obsessed with reality shows? Now I'm not saying that we as a people and we as consumers have completely abandoned watching the scripted version of a TV show- no not by any means; just look at Amazon, Netflix, Hulu, Stan and various other streaming services that deliver gripping, high-quality drama and comedy. But what I am saying is that over the past decade or so, I've seen, or heard about much more reality shows than I have heard about in a long time, than I can even care to admit, and also than I think is needed. Am I being too controversial? Is there something about reality shows that rub me the wrong way?
No, not at all. I mean, you've got the singing shows (The Voice, ____'s Got Talent, ___ Idol) and the cooking shows (My Kitchen Rules, Hell's Kitchen, Mystery Diners, Masterchef) and the daytime talk shows (Ellen, The View, The Real, Ricki Lake, The Kelly Clarkson Show)- and yes they are all inspiring and all encouraging. And you've got the informative news and everything else that goes with channel ABC and SBS (here in Australia). And of course, all of these shows are needed in such a society as this- because if we believe everything seen on TV, then why not have a lot of reality TV shows and a lot of unscripted content on TV in order for us to be informed better? Makes sense, right? However there is a point known as a saturation point. It's true with anything with food, music- and I reckon I've found it with reality TV. It's called The Masked Singer, and the concept is engaging, ridiculous (in both the good and bad ways!) and infantile- all at the same time.
Let me start by saying that in no way am I hating on the presenter Osher Gunsberg (who in fact used to present on Australian Idol), nor the four enthusiastic judges who seem to be very keen to be involved with this show. Dave Hughes the comedian, who always guesses the 'celebrity' wrong just for laughs; and then you have Jackie O and Danni Minogue to draw in the radio and music lovers respectively. Plus Lindsay Lohan, who just looks excited and happy here, and trying to name as many Australian celebrities as she can. In fact, you could almost classify this as a comedy, and it wouldn't be a wrong definition. And kudos also does have to go to the guy who created the show (Craig Plestis)- who developed the American version which premiered early this year on FOX. But when watching the first episode on Monday there was a cringeworthy feeling inside of me.
Sure, the costumes are great. Sure, some of these 'celebrities' have awesome voices. But a part of me wonders what the end game will be. For a singing competition, the winner earns a recording contract and hopefully successfully embarks on a long and fruitful career in music. For a cooking competition, the winner earns money and an apprenticeship to work under one or two famous head chefs, and again they go onto be hopefully the best in their field at the end of the day. For The Masked Singer– it's a brilliant concept, because it's 12 'celebrities (not too famous, but famous enough!), who's identities are kept secret for a very long time, and they sing to the audience and the judges in masks. But there's no endgame I suspect. The winner I surmise (and this is what I'm guessing- I haven't seen the American version!) may not even be the best singer- just the artist whom the judges don't care for. Because the 'loser' winds up taking their mask off at the end of the week, revealing who they are to the world; maybe- and this is the cynical part in me- the best artists are booted off first because the judges want to know who they are first. Just something to ponder over. But I have thought about what comes next after one person of the 12 wins The Masked Singer. They're already famous right? Do they need the money, fame, attention, recognition of being the winner? Or are they really down and out at the moment? Something to think about when we're thinking over other crazy theories and life's questions to the universe. So yeah, the winner's already really famous or semi-famous, so what's next? Is there prize money? Is the winner really going to pursue music? I'll probably find the answers during the upcoming episodes…but that's how reality shows suck you in. Before you know it, a week or two weeks or three have gone by and you're left wondering where your life has gone because you've been sitting on the couch rooting for a person who you haven't seen in your life. Sounds about right, right?
Sorry to be blunt guys, and sorry to make you all feel uncomfortable about our own TV watching habits, or show watching to be more precise (because who watches shows on TV nowadays, right?). but I guess if we feel uneasy and like a chord has been struck; then it's not too far from the truth. Simply put, the screen has taken up too much of our time. Both reality TV and scripted shows, but reality TV especially. The Masked Singer just highlighted to me the other day just how obsessed the world is at seeing how someone else lives and interacts with others; and the sad thing is that (and I'm not immune either!) we're too busy watching other people's lives and living through them…that we forget to live ourselves separate from our devices and screens. Can we physically live without the internet and our TV? If reality TV just stopped tomorrow, would we survive? I know I would…but I don't know how I'd feel if scripted TV didn't exist. And another thing to think about…do we really want to see others succeed or is it just our curiosity to watch everything for 'fear or missing out'?
So that's enough of me on my soapbox. Not really a review per se but a rant. But hey, we all need a break and relaxation time one time or another, and if The Masked Singer is your thing, then go for it. Just know that it's only entertainment. There for a laugh, and then gone. Is The Masked Singer then, good entertainment? Yes it is. But it's also cringeworthy, and probably the 'worst' reality singing competition out there at the moment. It's not the best show on TV, but not the worst. But hey, as long as the show delivers good ratings, it'll still be here in 5 or 10 years. and as we have seen SPOILER both Gretel Killeen and Brett Lee have been unmasked. Whether these guys are the highest profile celebrities here or the lowest remains to be seen- we'll just have to wait and see. So hold on guys, things are about to become a lot more crazier with Dave's crazier guesses and Lindsay's at times off-the-mark guesses at Aussie celebrities. Pure mindless fun is what this is. But if you want to watch something with more substance…then check out anything from David Attenborough or an inspirational talk by Nick Vujicic.
RIYL: Dancing With The Stars, Australian Idol, American Idol, The Voice Australia, The Voice U.S., Australia's Got Talent, America's Got Talent, The Biggest Loser, The Bachelor
Rating: 2.5/5 (based on 2 episodes)
The Masked Singer airs 2 days a week on Mondays and Tuesdays at 7:30pm on Channel 10 in Australia.