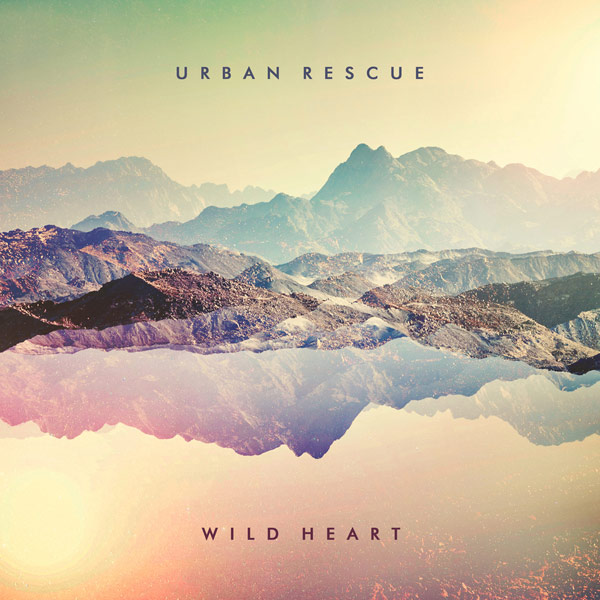 Rend Family Records
Release Date: May 6th 2016
Reviewed by: Jonathan Andre
Urban Rescue– Wild Heart (iTunes/Amazon mp3)
Track Listing:
Alive in You
Never Stop
Wild Heart
Open Hands
His Name
Song of My Father
Magnificent
Recreate
Fling Wide! Fling Wide!
Kaleidoscope
Up From the Ashes
Urban Rescue, the first signing onto the newly formed Rend Family Records, set up by worship quintet Rend Collective, is quite possibly the first band I have known literally nothing about before listening to their debut single on a label, "Kaleidoscope", way back in January 2016. As the band released their Wild Heart EP on Friday January 29th, each of these 5 songs I heard showcased a vein of enthusiasm and passion clearly evident, not just in the songs themselves, but in the delivery of them, imparting to us that the band really believes what they're singing. With a music and stylistic fusion between Hawk Nelson, Hillsong, Tenth Avenue North and Rend Collective, this myriad of artists is what you would hear if you heard Urban Rescue on a Sunday afternoon…if you know what I mean. Knowing absolutely nothing about a band before you listen to them isn't necessarily a bad thing. It's something fresh and different and invigorating, rather than listening to your favourite artist and often being disappointed because of cliché lyrics and production that sounds seemingly average. Yet Urban Rescue, from hearing songs like "Kaleidoscope", "Open Hands" and the title track; is anything but a cookie-cutter worship band. This is a group who is passionate about what they believe, fusing together electronics with a heart of bringing people back to what they once were supposed to be doing- giving glory to the King.
"Kaleidoscope", "Wild Heart", "Recreate", "Open Hands" and "His Name" were all present on Urban Rescue's EP released in January, and each of these five, though familiar on their full length, nevertheless carry a sense of familiarity going into this album as I hear it. Urban Rescue, through these 5 tracks, paved the way for us to be eager for whatever song they released after, and these 5 continue to be the backbone, musically and lyrically, when we look at Wild Heart as a whole. "Kaleidoscope" is as catchy as it is emotive and poignant as the light electric guitar introduction and a synth keyboard bring with it huge Hillsong Young and Free vibes, as the theme of being reminded that God's love to us is as powerful, impactful and life-affirming as a kaleidoscope is to anyone looking through the lens; is graciously and carefully explored in this 3:55 track. Kaleidoscopes are a mystery- they are beautiful and are made from just the simplest of materials. God's love to us ought to be as simple yet equally impacting.
The band continue to enrich us with heartfelt reminders of God's love for us, from "Recreate", a dance/worship song (that could easily fit inside a club) about us longing for God to recreate us and change what He needs to change from deep within, and "Open Hands", a 'tad-over-3-minutes' Citizen and Saints-esque track that speaks about the theme of surrender and opening our hands to whatever God has in store for us to undertake and accomplish; to "His Name", a worshipful ballad full of keyboard prominence and a message of declaring the name of Jesus in our situations, and the title track "Wild Heart", entering with hand claps and 'woahs' to infuse together musical undertones that echo Hillsong Young and Free, Capital Kings and Rend Collective, all the while encouraging us to travel '…into the great unknown, no matter where you go, we'll follow You, we'll follow You, we're after Your wild heart, we want to be where You are, we'll follow You, we'll follow You…'
With the remaining 6 tracks released on May 6th, Urban Rescue continue to deliver encouraging songs in a similar musical and thematic vein to the previous five heard from January 2016 onward. A song made famous by Jesus Culture on their latest album Let It Echo, "Alive In You", co-written with lead singer of Urban Rescue, Jordan Frye, brings to the fore a worship moment like no other, as electronic keyboards and Jordan's Mike Donehey-esque voice relaying to listeners that '…You are God, You're the great I AM, breath of life, I breathe You in, even in the fire, I'm alive in You…', words that are indeed sobering and needed for us to contemplate and reflect upon. A great way to open up the album, the song segues into "Never Stop", the songs official first single from the album. With looping percussion and an enthusiasm in Jordan's voice, we are reminded of how God never stops loving and chasing us in the difficult moments of our lives. Nothing we could and can't do will separate us from this fact, and "Never Stop" is just a timely reminder of the constant nature of Christ, through a song very reminiscent musically of Hillsong Young and Free. "Song of My Father", "Fling Wide! Fling Wide!" and "Magnificent" are also powerful and encouraging vertical worship tracks, with each song encouraging us, in how whatever we do or say is a song back to the Father in light of what He has done for us ("Song of My Father"), while also giving us clarity, through 80s dance track "Fling Wide! Fling Wide!", an encouragement that we ought to metaphorically fling wide the gates so that Jesus can invade every space of our lives that He can encourage and influence; and "Magnificent" a through and through worship track as Jordan powerfully asserts that Jesus is indeed '…magnificent, magnificent, we crown You Lord of all Lamb upon the throne, magnificent, magnificent, awake my soul to sing To Him who died for me magnificent…'
Yet it is the last track on the album, "Up from the Ashes" that is quite possibly one of my favourite songs I've heard all year thus far. A song that reminds us all that God makes beautiful things out of the hurt, rubble, difficulties and ruins of our lives, it is the chorus that underpins the theme of the album, and is a gentle and timely reminder of who exactly God is in all moments of our lives, that '…up from the ashes, God You are making something beautiful, for You have won my heart, no longer ruined, I have been ransomed by Your jealous love, for You have won my heart…' Add in a freeform rap bridge delivered with such poise, honesty and heart by social and poetry activist Michael Nelder, we witness one of the most honest, raw and open expressions of dialogue to God than I've ever heard since Lecrae's rap-like verses in "All I Need is You". A song that'll be on my iTunes playlist for a while yet, this is the song to listen to, if ever there is any to check out when you listen to Wildfire. Kudos to the band for marrying together worship with rap, and creating one of the most unique collision of musical sounds and sonical landscapes that I've ever heard, since Chris Tomlin's "Awake My Soul" way back in 2013!
With songs that bring in both lovers of dance music, CCM and worship music alike, Urban Rescue's Wild Heart is a great way to begin May 2016 with powerful and emotive music. Up there with Meredith Andrews' Deeper and Steven Curtis Chapman's Worship and Believe as one of my favourite worship albums of 2016 so far, the band is a must listen if you enjoy artists like Hillsong Young and Free, Rend Collective or Tenth Avenue North. While it still may be a few months before the band becomes popular to the point of Rend Collective or even Chris Tomlin, these honest songs written and performed with much grace, honesty and emotion are sure to be a step in the right direction for the band if they are to become noticed, by fans, other artists and management alike in the upcoming weeks and months ahead. From songs like "Kaleidoscope", "Up from the Ashes" and "Recreate", to "Fling Wide! Fling Wide" and "Never Stop", this band's first offering on Rend Family Records ought to be a job well done for Jordan and the rest of the band. Can't wait to hear more music from this group, whenever the next collection of new material arises.
3 songs to listen to: Up from the Ashes, Kaleidoscope, Never Stop
Score: 4.5/5
RIYL: Rend Collective, Dan Bremnes, Tenth Avenue North, Hillsong Young and Free, Hawk Nelson