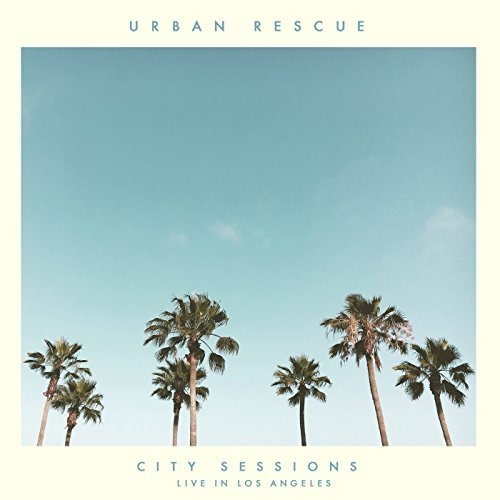 Independent
Release Date: September 1st 2017
Reviewed by: Jonathan Andre
Urban Rescue– City Sessions (Live From Los Angeles) (iTunes/Amazon mp3)
Track Listing:
Freedom
Holy Ground
Never Stop
Up from the Ashes (feat. Mike Nelder)
Unconditional
The Reason
Walls (feat. Derek Minor)
'…the heart is sacred. It's the centerpiece of who we are as human beings and core of everything we do. Scripture tells us that out of the "overflow of the heart, the mouth speaks." Jesus reminds us that it's not what goes into a person that makes her unclean, but rather what comes out. In other words, the heart is less like a river, and more like a cistern, a deep fountain from which the inner self expresses our true nature outwardly. It's easy to disguise our hearts by focusing on our exterior lives. We've become professionals in decorating our outward self and presenting it squeaky clean not only to God, but to everyone around us. We mask our secret thoughts, hidden motives, and personal disappointments – even to ourselves. "The heart is deceitful above all things, who can know it?" God doesn't focus on the exterior life. He studies the heart. Above all things God is in constant pursuit of the human heart because He knows the greatest secret of all: The moment He has your heart, He has you…' Urban Rescue. Fusing together worship and pop, spoken word and free worship. Presenting to us through their 2016 album Wild Heart a collection of songs that are equally passionate and heartfelt as they are very much artistically unique and stylistically layered, as we hear perhaps one of 2016's most ingenious albums I've heard in both the worship and CCM umbrellas since for KING AND COUNTRY's Run Wild, Live Free, Love Strong. And while now Urban Rescue is a band famous for their songs 'Alive in You', 'Song of My Father' and 'Never Stop', along with promotional singles 'Kaleidoscope' and 'His Name', prior to their signing to (and subsequent leaving of) Rend Family Records, I hadn't really heard much of the band, if at all.
With a music and stylistic fusion between Hawk Nelson, Hillsong, Tenth Avenue North and Rend Collective, this myriad of artists is what you would hear if you heard Urban Rescue on a Sunday afternoon…if you know what I mean. Knowing absolutely nothing about a band before you listen to them isn't necessarily a bad thing. It's something fresh and different and invigorating, rather than listening to your favourite artist and often being disappointed because of cliché lyrics and production that sounds seemingly average. Yet Urban Rescue, from hearing songs like 'Never Stop', 'Song of My Father' and my personal favourite 'Up From the Ashes'; is so much more than just another 'cookie-cutter' worship band. This is a group who is passionate about what they believe, fusing together electronics with a heart of bringing people back to what they once were supposed to be doing- giving glory to the King. And now a year and a few months later, Urban Rescue are independent again, and a delivering what I reckon will become songs that will revolutionise the worship industry, in the collection of tracks titled City Sessions (Live From Los Angeles).
'Never Stop' and 'Up From the Ashes' are the representatives from Wild Heart on this 7 song EP, and judging by these two tracks, this 'live' project (I've seen the videos, just live in a studio with all the instruments and vocals playing at once) is something powerful and poignant, as lead singer Jordan Frye invites us into a place of revelation and meditation as we understand fully that God's love never stops catching up with us, that out of something disturbing and distant can come something unique and beautiful. The first official single from Wild Heart, Jordan abandons synths and electronics to create more of an acoustic feel (in fact, the lengthening of the song to create a longer intro to build up to the anthemic moment where Jordan declares the lyrics is what I reckon is part of the reason why I enjoy this new version more so than the original recording. Both versions are good, as Urban Rescue reminds us all that God never stops loving and chasing us in the difficult moments of our lives. Nothing we could and can't do will separate us from this fact, and "Never Stop" is just a timely reminder of the constant nature of Christ. While this new version of 'Never Stop' in an overall sense doesn't have the same epic nature that the original recording did, the stripped down acoustic moment shown through this track invites us to reflect more upon the lyrics of the song, as we're reminded that '…Your love will never stop chasing after me…'
Yet it is "Up from the Ashes" that is quite possibly one of my favourite songs I've heard from Urban Rescue, ever. A song that sadly didn't become a radio single, but should've. A song that is a great inclusion into City Sessions, and is a must listen if you only listen to one song from this EP (yes, this song, for me, is the most enjoyable out of every other new song on City Sessions!). A song that reminds us all that God makes beautiful things out of the hurt, rubble, difficulties and ruins of our lives, it is the chorus that underpins the theme of the album, and is a gentle and timely reminder of who exactly God is in all moments of our lives, that '…up from the ashes, God You are making something beautiful, for You have won my heart, no longer ruined, I have been ransomed by Your jealous love, for You have won my heart…' Add in a freeform rap bridge delivered with such poise, honesty and heart by social and poetry activist Michael Nelder, we witness one of the most honest, raw and open expressions of dialogue to God than I've ever heard since Lecrae's rap-like verses in "All I Need is You". A song that'll be on my iTunes playlist for a while yet, the band should be commended for marrying together worship with rap, and creating one of the most unique collision of musical sounds and sonical landscapes that I've ever heard, since Chris Tomlin's "Awake My Soul" way back in 2013! And as spoken by Jordan Frye on JesusFreakHideout.com about the song in a recent blog post, '…I'll never claim to fully understand how God works in the world. I'll never claim to know His thoughts, for His ways are higher than my ways. But I do know God will do anything to capture and re-capture your heart. I sometimes wonder in those moments of devastation, when we've finally crossed the finish line, if God allows the threshold to be pushed back, just to re-capture our hearts – just to make us little bit more like Jesus. It's the in ashes that God is able to transform, heal, and create something even more beautiful than before. Maybe you're in the fire right now. Maybe you just got out of the fire but you're praying, longing, and waiting in the ashes. It's up from the ashes that God is doing his most beautiful work. It's in these times that God wants your heart. His desire is to spring up like a deep well from within you, starting from the inside. Once He has your heart, He has it all…'
'Freedom', 'Holy Ground', 'Unconditional' and 'Walls' (feat. Derek Minor) are the remaining 'live' tracks on the EP, while 'The Reason' is the lone studio song, and perhaps the new radio single for a new album coming soon? Maybe? Hopefully? What these 5 songs present to us is a moment of tranquillity and calmness, while also ushering us into a moment of raw and honest worship as Jordan and his team show us 5 songs that are unique, different and musically stripped down as the lyrics take to the front and centre. 'Freedom' starts off the EP with a rousing anthem akin to something Passion would do (mind you, both this song and 'Holy Ground' had the same writers- Jordan Frye, Brett Younker, Mia Fieldes, Kristian Stanfill and Hank Bentley…so maybe, both 'Freedom' and 'Holy Ground' could debut at Passion 2018?) as Urban Rescue present a radio friendly sound of where there is the spirit of the Lord, there is freedom. And while the song is very much acoustic and stripped down, we can still hear the passion and energy present, something that is cleverly done with just the acoustic guitar and some light percussion. 'Holy Ground' (not the 'Holy Ground' on Passion's latest album Worthy of Your Name) also has a Passion-esque feel to it, as Jordan and the team invite us to believe into the fact that wherever the presence of the Lord is (inside of us, because of the Holy Spirit) wherever we are is holy ground, that wherever we go, we carry God's goodness and love as we are in contact with others in our daily lives. As upbeat and anthemic as 'Freedom', I expect both these two tracks to appear in some form on the annual Passion 2018 album next year.
'Unconditional', though it has amazing lyrics as the track is sung from the Lord's point of view and how God's love is unconditional, neverending and steadfast for us all, the music makes the song never really get off the ground. Vocally reminding me of Phil Wickham in this track especially, I unfortunately wasn't as engaged with this song as others previously…which is a shame, because I'm sure Jordan poured his heart into this track. Maybe on another day when I'm in more of a reflective state, I'd enjoy the song more, but where it stands at the moment, this piano only track seems to drag on musically more than needed. 'The Reason', the only 'studio' track on the EP, is lyrically sound and very much theologically based, as Jordan declares that God is our only reason for existence, that we need not look at the stars, the future or the past to gain perspective on our lives, but we look to Jesus. But musically with a lot of electronics, acoustics and a similar tempo between the chorus and the verses, the song has become indistinguishable with itself. Sad to say, 'The Reason' needs a musical makeover if it can compete with songs from other worship artists like UNITED, Crowder, All Sons and Daughters, Cody Carnes and Phil Wickham, to name a few.
The EP finishes with 'Walls', featuring guest rapper and fellow co-writer Derek Minor. While the song can be a little disjointed when they try to marry together worship with rap, the song nevertheless is confronting, albeit a little short, at 3:11. Reminding us to break down our walls that we've built around us in order to help those who are the least of these, we are confronted with words from Derek, challenging us to step out of what we assume to be true, and realise that often we are amassing material possessions we don't necessarily need or even want, only for the sole purpose to feel better than the next guy. Kudos to both Urban Rescue and Derek Minor for such a challenging song, even though I probably would've wanted it to keep going for another couple of minutes. Still, a song that'll hopefully become the catalyst for change in the hearts of many moving forward in the months ahead, alongside Urban Rescue's 'Up From the Ashes' and Derek's own social justice type song, 'Change The World'.
With songs that bring in both lovers of acoustic music, CCM and worship music alike, Urban Rescue's City Sessions is a great way to begin September 2017 with powerful and emotive music. Up there with Kevin Max's Serve Somebody, Jimi Cravity's Heaven, Grayson Reed's Walk and KJ-52's Jonah as one of my favourite EPs of 2017 so far, the band is a must listen if you enjoy artists like Hillsong Young and Free, Rend Collective or Tenth Avenue North. While it still may be a few months before the band becomes popular to the point of Rend Collective or even Chris Tomlin, these honest songs that are written and performed with much grace, honesty and emotion, are sure to be a step in the right direction for the band if they are to become noticed, by fans, other artists and management alike in the upcoming year ahead. From songs like "Freedom", "Up from the Ashes" and "Holy Ground", to "Walls" and "Never Stop", this band's first independent release after their Rend Family Records debut in Wild Heart is a job well done for Jordan and the rest of the band. Can't wait to hear more music from this group, whenever the next collection of new material arises.
3 songs to listen to: Up from the Ashes, Holy Ground, Walls
Score: 4.5/5
RIYL: Rend Collective, Dan Bremnes, Tenth Avenue North, Hillsong Young and Free, Hawk Nelson