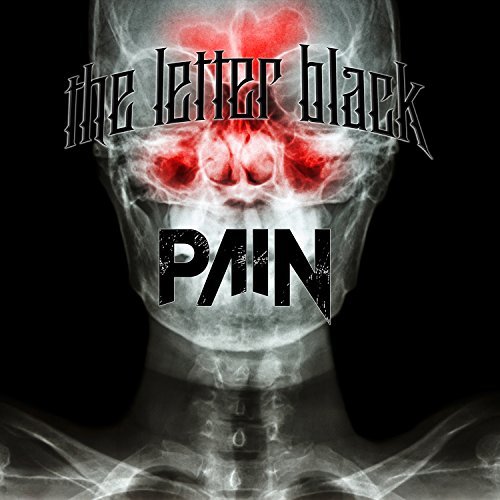 EMP Label Group
Release Date: May 26th 2017
Reviewed by: Joshua Andre
The Letter Black– Pain (Amazon mp3/iTunes)
Track Listing:
Fear
Last Day That I Cared
Pain
Rock's Not Dead
Kill the Devil
Meant for You
Alive
Rise from the Dead
Tear You Apart
Breathe
I Am
Holding On
I gotta say upfront, this is something from left field that you may have never seen me doing a year ago. Review a full on hard rock/metal album. Yep, sure I have reviewed albums from Skillet and Switchfoot in the past, but they have mellowed out a bit during the past few years, yet with a small reviewing team (just myself and Jon!) and multiple albums releasing on any given week, at times I thought to myself 'who will take a step and review the albums that are slightly uncomfortable in terms of genre?' thinking to myself that Jon would help me out and review them. But that's where my thinking was shifted not too long ago. I pondered, and pondered, and pondered. Why do I need to delegate if I can review the album myself? Sure, it'll stretch my abilities as a writer, but I'm definitely up for the challenge! So here goes.
The Letter Black, an out-and-out hard rock band, had humble beginnings from Pennsylvania in 2006, comprising husband and wife Mark and Sarah Anthony, and good friends Matt Beal and Justin Brown, and as the band recorded hit after hit, inclusive of songs like "Best Of Me", "Believe", "Hanging On By A Thread", "Fire With Fire", "The Only One", "Pain Killer", "Sick Charade" and "Up from The Ashes", we were glimpsed into one of today's most passionate and inspiring female fronted rock acts. Both Hanging On By A Thread and Rebuild, when I listened to these albums a while ago, were on the whole enjoyable, and though I read earlier this year that The Letter Black were recording more songs as hard rock and metal for their next album; I was cautiously optimistic for Pain, their first album on EMP Label Group. So, what's the verdict for their hardest album in their career? Well, because I love CCM, I may be biased, but this album is a bit of a mixed bag and a bit of a hit and miss unfortunately. Which is sad, as there's a few songs on this album which I reckon are their strongest to date, and others which I had to stop (for fear of me gaining a headache or a migrane!).
Now before you all call me out and say that 'you aren't just appreciating the metal genre because all you listen to is CCM', let me say this. Yes, I do listen to a lot of CCM. And I mean a lot. But that doesn't mean I appreciate other genres to, or at least try to. So what made Pain more of a misstep than a total success, compared to the previous two albums? Well I guess you would say musical variety. Sure this is a metal album, but that doesn't mean that almost every song should sound almost the same.
The album opener "Fear" is explosive and packs a big rock punch as Sarah ardently recounts that fear doesn't need to be present in our lives, sort of singing to 'fear', telling it to go away, yet for me, the ear-piercing screams put me off and have me stopping the track multiple times to calm my ears. "Last Day I Cared" is considerably lighter, and is catchy as the first single, as Sarah sings to an absent person in her life, declaring that '…today's the first day I ever dared, to stop changing who I am, for someone never there, you made your choices, so tell me what's fair, tomorrow you'll be well aware, yesterday's the last day that I cared…', while the title track is a slower paced rock song with Sarah reiterating to us that there is a remedy for the pain that we feel. Although the lyrics leave the notion there, questions will obviously be asked about 'what is this remedy?' and hopefully Jesus' name can be found as listeners search for meaning.
Unfortunately, quite a number of melodies after the title track fall into the category of "Fear" (somewhat listenable but mostly headachy) rather than "Last Day I Cared" and the title track. While the energetic "Rock's Not Dead" is a pleasant surprise, as Sarah sings a 'meta' melody explaining to her fans that they haven't changed their musical style and heart for Jesus and the fans, even though they've switched labels, I struggle to listen to other melodies. "Kill The Devil" may be honest and poignant in lyrics, in that Sarah sings about getting rid of the 'devil' inside of her, the guilt and shame that makes her feel rotten and empty inside, the sheer intensity of the guitars means that I didn't enjoy the song as much as I think I should have, given its relevant message. While "Meant For You" is musically all over the place unfortunately, it is surprisingly strong lyrically, with Sarah fervently pouring out her heart to a friend, declaring that '…this blood was meant for you…', alluding to the sacrifice Jesus made on the cross, and how we can all be rid of our sin and shame if we just believe that Jesus died for us and rose again.
"Rise From The Dead", "Tear You Apart", "Breathe" and "I Am" are also heavy rock offerings from the band, and while each was well intended, personally I think these fell flat musically and lyrically. "Rise From The Dead" seems to be like a carbon copy of "Back From The Dead" from Skillet, except that melody takes the notion of Jesus rising us up from the dead and making us new and one with Him, much better than The Letter Black; while the mediocre "Tear You Apart", though earnest in lyrics in that Sarah reminds us that pain won't tear us apart from the inside anymore (now that we have Jesus), didn't connect with me musically. Both "I Am" and "Breathe" are generic song titles, and both melodies are so intense musically (like Memphis May Fire intense!) that I had to stop these songs, no matter how honest or personal they were. No disrespect to the band, but I would rather listen to "Breathe" by Michael W Smith" and "I Am" by Mark Schultz instead.
However, notice that I have saved 2 songs to last. And these are the songs that I loved from the album. The 5-minute inspiring piano ballad "Alive" and the rousing guitar led anthem "Holding On", the album closer. "Alive" features Sarah's soaring and beautiful vocals, as she emphatically delivers probably the best song of the band's career, eloquently reminding us all '…what would I fear when You are here? What would I be afraid of? I feel like I'm coming alive because of You, yes, I feel like I'm coming alive because of You…', that we are alive because of Jesus, which is something to celebrate and celebrate well. While "Holding On" is an encouraging guitar led mid-tempo ballad and inspirational melody (complete with soothing synth riffs and an instrumental bridge at the end of the song!), where Sarah ardently encourages us to keep holding onto hope during the times of trouble in this life. Even though we may want to let go, Sarah inspires us to just keep holding on, as at the end of the storm, our determination and tenacity will hold us in good stead as our character is shaped and moulded by every circumstance. Quite deep lyrically and something for us to ponder about, Pain ends with a strong song, and though the album is varied, and overall not my preference (honestly, I could not listen to this album on repeat, save for a few songs!), it does leave me with a few points to dwell upon, regarding the metal/hard rock genre.
Listening to The Letter Black's Pain has taught me one thing, is that I absolutely prefer CCM, and that's ok. We all have our own genres we gravitate towards, but that doesn't mean that we can and should stick to our own boxes. The fact that I stepped out and listened to Pain from start to finish, is in fact a miracle, considering the number of metal tracks in this album- and I encourage you all to give this album a chance, despite my thoughts and previous comments saying that this album is a mixed bag. Yep, that still rings true, but if you are a metal fan, then it means you will love Pain. If you're not, then I suggest listen to the ballad songs, then make up your mind. Either way, The Letter Black is taking the world by storm, and Pain may just be the album that brings more souls to Christ than any of their albums before. Though it's unlikely that I will listen to this album again in the near future, I do appreciate the songs and what they are trying to say. So my final verdict- lovers of bands like RED, Disciple and TFK would love it, yet lovers of worship music and CCM should check out Todd Agnew, Abigail Duhon, Josh Baldwin or We Are Leo (also releasing on the same day!)
3 songs to listen to: Pain, Alive, Holding On
Score: 3.5/5
RIYL: Skillet, Fireflight, Thousand Foot Krutch, VERIDIA, RED, Disciple