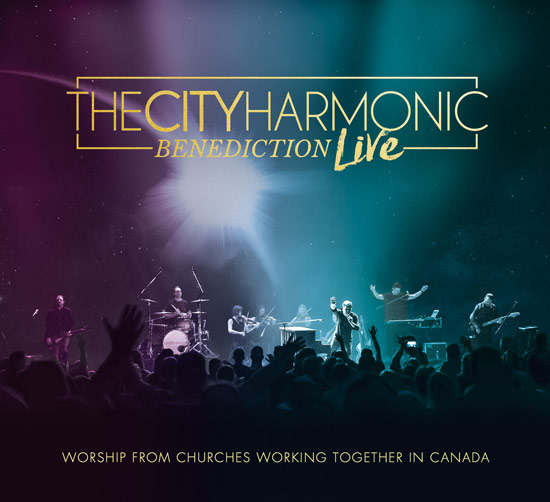 The Fuel Music
Release Date: June 23rd 2017
Reviewed by: Jonathan Andre
The City Harmonic– Benediction (Live) (iTunes/Amazon mp3)
Track Listing:
My God
Maranatha
Yours
Praise The Lord
Honestly (New)
A City On A Hill (new version)
I Am
Mountaintop
Holy (Wedding Day)
What I Want
Let There Be Light
Manifesto
Doxology
Benediction
"…A benediction isn't a goodbye—It's a blessing, a 'sending.' At the end of every worship service, a pastor will often say something that's known as a Benediction. It's not a parting thought, it's a way of sending us out into the world to be the church—the hands and feet of Jesus to a hurting world. Even as we gathered with so many friends and family the night that we recorded Benediction Live, there was this incredible sense of the vitality of the work of Christ. Why? Because hundreds of students had been out getting their hands dirty in mission all day! These weren't just songs we sang, these were declarations of what God had been doing through us all day. That's what this whole thing is about!…" The City Harmonic, quite possibly one of the most underrated and dare I say, underappreciated, worship bands to come into our hearts within the last decade or so. And now with their first ever live album entitled Benediction, we have been blessed with a best-of project that also is a last project by the band, as they have decided to part ways come July 2017. While this quartet from Canada is a band that sadly, I didn't really get into while they were still active (but nevertheless would want to upon hearing this best-of live project…in the upcoming months ahead), Elias Dummer and the band have nevertheless delivered some of the most raw, unedited, honest, emotive and compelling moments of worship I've ever heard within the last few years. Yes, let us place this uniquely gifted band in the same realm as other worship artists/bands like Rend Collective, Jesus Culture, UNITED, Crowder, All Sons and Daughters and Delirious?, bands that showed us what it means to present songs that are just as fun to declare as they are very much needed to sing not only in the good times, but also in the band.
These aforementioned bands (alongside The City Harmonic) have revolutionised worship music to what it is today, and as The City Harmonic leave the Christian music landscape, it will be sad, and while I'm sure there'll be many bands that try and fill that hole, need I say that this band is one of a kind? Elias and his bandmates ought to be proud of the mark they have left on Christian music (especially worship music as a whole), as these Canadians have paved the way moving forward as they showcase heartfelt melodies and songs that I'm sure will become timeless as the years progress. Standing at a towering 14 tracks, this best-of live project is a must have if you have enjoyed The City Harmonic's previous projects, or if you are just a fan of worship music in general. With the band being touted throughout their career as being the Christian version of the Brit-Rock band Coldplay (a comparison now passed onto Aussie duo for KING AND COUNTRY), Elias and co. have continued to remind us through this set of songs- that have charted some form of success over the years, have the ability to inject within us heart, hope, honesty and optimism as they continue to write from personal experience in their one and only new song, 'Honestly'. The City Harmonic showcases some of the most powerful songs they've written and recorded throughout their music career in Benediction (Live), with the album definitely being a standout in June 2017!
Glancing through the track listing that make up the 14 songs that embody Benediction, we see a myriad of songs that encompass most of their radio hits (and hits nonetheless amongst the fans even if the songs haven't been on radio) over the years (with only a few omissions). "Praise the Lord" and "A City on a Hill" are the representatives from Heart, and while I may have wanted a song like "Alive, Alive", "Take Heart" or "Glory" to also be considered on such a best-of project, both "Praise the Lord" and "A City on a Hill" (of which there is a new version- a piano led one with a slower tempo) are worthy inclusions to be presented on Benediction– the former being a track where we're reminded to be the salt of the earth and a city on a hill, shining for everyone to see the Lord's love being shone out of the us in the way we live our lives daily, while the latter is a track that is thematically reminiscent to that of Matt Redman's "Blessed Be Your Name"- a song that, as well, reminds us that we ought to praise God in any and every circumstance!
I Have a Dream has the most representatives on Benediction– Manifesto, Yours, Mountaintop, Holy and the spoken word Benediction (of which the live recording collection is named after), and yet while 'I Have A Dream' itself is absent from Benediction, the 5 songs from the band's 2011 album which are thus present on this live recording are nevertheless hits from arguably one of the band's best albums (in terms of cohesiveness and musical and lyrical atmosphere). Each one of these 5 songs are timely reminders of the little things that the Lord imparts to us on a daily basis, my own personal favourites being 'Manifesto', a heartfelt song that presents a unique and modern slant on the Lord's prayer, and 'Mountaintop', a song that gives us a revelation that the Lord is indeed in the valleys as He is in the peaks and…you guessed it, mountaintops. And while we can further discuss song choices and what I reckon should've been included on Benediction (of which, these songs are 'Glory', 'I Have a Dream', 'Alive, Alive', 'Take Heart' and the title track from their 2015 album, 'We are One') but wasn't, what I will say is this- collectively, Benediction is one for the history books, and in my mind, rivals all the Campfire albums by Rend Collective, as well as live projects from Delirious?, as one of the most poignant live album releases I've heard since Jesus Culture's Live in NY that released at the end of 2012! Even their new song 'Honestly' fits in quite well with the atmosphere of the album, as Elias delivers this new song with heart and hope, as the song shows us the theme of vulnerability, and being honest without condition, even if it means bearing your soul full of the ugliness we may not even allow God to see (yet He sees it anyway!).
"…singing these songs of worship at the top of our lungs together was an incredible, full-circle moment for me. The same worship and missions event I had helped to start well over a decade ago was not only still going, but was part of our last show in Canada. There was this awesome moment as the crowd raised their hands in prayer to bless us as we step forward in faith, and there we were with all our families, blessing the folks with us there to continue being the church in powerful ways. Local churches working together in our hometown–the kingdom at work–is what brought us together in the first place, and to have many of those same people sending us onward into a new season was incredible…at the end of the day, we're church guys. It's no accident that all four of us have found ourselves heavily involved in our local churches right away. It was about the kingdom when we started and it's about the kingdom as we go on to start new things…' This humble outfit from Canada exploded onto the Christian music scene during 2011 with their hit songs 'Manifesto' and 'It Feels Like Home (I Have A Dream)'. Now 7 years later or so, the band are calling it quits (albeit, I reckon a little prematurely), nevertheless, the impact the band has made on worship music holistically is something unique and profound. This best-of live project (which also serves as their last album ever!) is as hard-hitting and alternative as it is worshipful and heartfelt, that's certain to be enjoyed by listeners of similarly styled artists like All Sons And Daughters, Rend Collective, Delirious? or UNITED.
While the band still haven't, even throughout their tenue, been as popular as other worship artists like Hillsong Worship, Chris Tomlin, Tim Hughes or Matt Redman, what Elias and the rest of The City Harmonic have given to us is something different and of lyrical and musical prowess- full of encouragement, hope, wonder and comfort, Benediction (Live) is sure to bring to us all bouts of nostalgia as we reflect upon a music career full of song highlights and tracks that are sure to continue to impact people long after the band is history. The City Harmonic also show us that Canadians are just as good as Americans at delivering great music- think of artists like Hawk Nelson, newworldson, Love & The Outcome, Manafest etc.; and that you don't have to live in the music capital of the world (Nashville) to be noticed by the world. With Benediction being my favourite live/best-of project ever since Farewell Show by Delirious?, this is a great collection of songs either to sing corporately in unified Sunday worship, or to be used during personal reflection time. Well done Elias and co. for such a remarkable career, here's to whatever the Lord has in store for each of you next!
6 songs to listen to: Mountaintop, Manifesto, A City on a Hill, PTL, Holy (Wedding Day), Honestly
Score: 5/5
RIYL: Bethel Music, Passion, Planetshakers, Jesus Culture, UNITED, Y&F