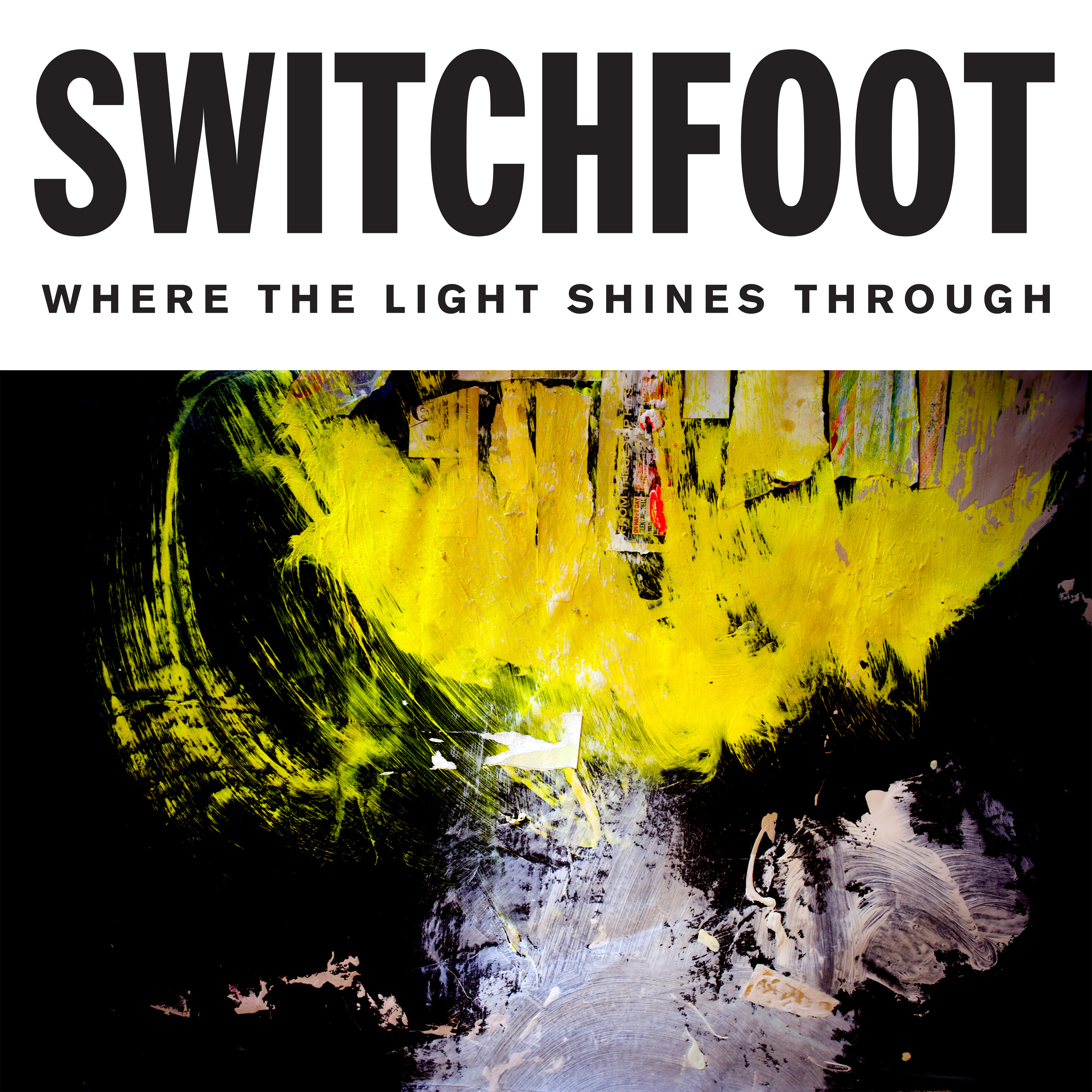 Vanguard Records
Release Date: July 8th 2016
Reviewed by: Joshua Andre
Switchfoot– Where The Light Shines Through (Amazon mp3/iTunes)
Track Listing:
Holy Water (3:47)
Float (4:12)
Where the Light Shines Through (4:24)
I Won't Let You Go (4:47)
If the House Burns Down Tonight (4:31)
The Day That I Found God (4:18)
Shake This Feeling (3:37)
Bull in a China Shop (3:58)
Live It Well (3:56)
Looking for America featuring Lecrae (3:55)
Healer of Souls (3:47)
Hope is the Anthem (4:21)
Light and Heavy (3:33) (Deluxe Edition)
Begin Forever (3:58) (Deluxe Edition)
When Was the Last Time (3:19) (Deluxe Edition)
Bloodlines (Pre-order Bonus Download)
My Place In The Sunlight (Pre-order Bonus Download)
"…when the theme of hope broke through in writing for this album, this song [Live It Well] embodies our desire to go through the hard times and the good times well. I've heard John Piper say if you're in a sorrowful place, be sorrowful well. It's not about always being happy or having enough or feeling strong. It's about living life well even when you're feeling weak. Our music has been landmarks for people and for us as well. This album is ten albums in the making because we've had to live and experience these things in order to write songs about them. "Hope deserves an anthem" became our battle cry, and we want to be a band singing that anthem at the top of our lungs wherever we can, all around the world…" With the hit song "Dare You To Move", their mainstream crossover smash song "Meant To Live",  and the acoustic guitar led ballad "Only Hope" inclusive of being some of my personal favourite songs of mine from their encouraging, vibrant and inspiring career thus far, as well as other more recent highlights including "Mess Of Me", "Your Love Is A Song", "Restless", "Always", "This Is Your Life", "This Is Home", "Stars" and "We Are One Tonight"; San Diego quintet Switchfoot are probably one of my favourite bands ever, alongside Delirious?, Third Day. Newsboys and MercyMe. As it stands right now, Vice Verses and Hello Hurricane have both broken into my personal favourite top ten albums of the years 2011 and 2009 respectively, and for a long time I thought these two stellar and near perfect albums would never be topped in terms of quality, relevance and poignancy. Boy was I dead wrong! Switchfoot's Where The Light Shines Through, in my opinion, is not only my favourite album of the year so far (and will probably stay there by the year's end!), but also my favourite album from Switchfoot period. By a mile. So much so that I'm rating the vibrant and eclectic batch of 15 songs (17 if you preordered the album!) 5/5. That's right, Jon Foreman and co. have certainly earned this 100% rating by myself, and I am sure when I listen to these tracks again and again, it will only cement my view even more!
While Where The Light Shines Through brings the band back to the famous rock that we've come to know and love, Switchfoot still manage to bring to the fore a few sweeping anthemic orchestral sounds, acoustic guitar driven pop tunes, and that aggressive British dance/pop sound that we've all come to know and expect from recent material. From the explosive, heartfelt and lyrically simple yet still profound lead single "Live It Well" and the hymn like "Hope Is The Anthem", to the cheerful and positive guitar led "Float" and the stirring, inspiring and captivating title track; I reckon Where The Light Shines Through is without a doubt, head and shoulders above an enjoyable experience- it's a release that will have Switchfoot enthusiasts, inclusive on myself, jumping for joy as Jon Foreman shows us that the band's best is yet to come. So…what are you waiting for? They're Switchfoot, do you need any more convincing?
Probably the most CCM melody on the album, and one of the most radio friendly songs the band has ever recorded; the first song we were all introduced to from the album was the lead single "Live It Well" released a couple of months ago. Driven by stirring synth and vibrant electric guitars, we are introduced to an active call to action, as Jon reiterates that he wants to '…sing with all my heart a lifelong song, even if some notes come out right and some come out wrong, cause I can't take none of that through the door, yeah, I'm living for more than just a funeral, I wanna burn brighter than the dawn…'– living life to our potential and to the fullest, to the purpose God has called us to rather than going through the motions. Inspiring and thought provoking, Jon and co. have recorded a winner here, as they encourage us to actively pursue whatever it is in our hearts, because we've '…got one life and one love, I got one voice, but maybe that's enough, cause with one heartbeat and two hands to give, I got one shot and one life to live…'. Life is indeed short, thus living it all to God's intended plan, showing others the love of Jesus, should be and can be achievable. What other way is there to live than to live life well? Well done guys for a stellar and near flawless first single!
The rest of the album touches upon plenty of relevant topics across a variety of musical genres, but it's still vintage Switchfoot, if you know what I mean. "Holy Water" is an explosive rocker, as this intense and somewhat aggressive electric guitar prominent album opener, complete with vibrant electronics and synth, highlights the fact that Jon and his friends desperately long for God's presence and touch in their lives, to the extent that they want His Holy Water to rain down on them; while
the positive and optimistic "Float", led by ethereal electronics and synth, is a mid-tempo acoustic and bass guitar pop number with the band expressing their desire to '…float, yeah (in orbit), feet ain't even touching ground, it's how we float (orbit), yeah, flying at the speed of sound…'.
The quintet brings the tempo down further on in the album with the honest, emotional and beautifully crafted acoustic guitar led slow tempo ballad "I Won't Let You Go", as Jon ardently reiterates that God will not let us go no matter what, that '…there ain't no darkness strong enough that could tear you out from My heart, there ain't no strength that's strong enough that could tear this love apart…' (although this song could be interpreted as a mate singing to another mate!- that's the beauty of ambiguity…), while the slow burn electric guitar led haunting and mysterious introspective work of art "The Day That I Found God" has the band turning inward, reminding us all that the day that we find our Maker and Saviour to be loving and to be for each of us, no matter what, is indeed a beautiful and satisfying day, no matter what is going on in each of our personal lives.
Rock is indeed back on the highly intense guitar led "If The House Burns Down Tonight", where Jon takes a slightly more than subtle jab at our love for material possessions and things of this world, reiterating that if our lives burn down around us like Job, what are we willing to 'save' from this world. The answer in this song, from Jon's perspective, are our relationships, and none of our earthly possessions, but this song is definitely food for thought. While "Shake This Feeling" brings the genre back to pop and CCM, as this ultra-catchy danceable number is anything but cheerful and joyful in its message, as Jon once again provides us with topics to ponder- this time about a broken relationship, and the steps both parties need to take in order to start healing. Not providing clear answers, this song seems to be the prequel to Chris August's "Restore", while this relationship in question could be between us and God as well, as we remember that relationships are two way streets and each person is just as at fault as the other- once we acknowledge that progress can be made.
Probably the lowest point in the album is the repetitive and somewhat disjointed "Bull In A China Shop", as in my opinion it was a tad too electronic, too loud, and with Jon trying a bit too hard at being a rapper like Lecrae or Manafest (who coincidently released a song with the same name a couple of years ago!)- although musically the track does grab me because of its uniqueness (and only one 'lemon' does not spoil the whole bunch, nor make me rate the album 4.5!), while on the flipside, the thoroughly engaging and musically and lyrically different rap/rock melody "Looking For America", which has Jon singing to his strengths in the rock genre, and having guest rapper Lecrae on the rap portions, is what "Bull In a China Shop" could have been if executed a bit better, as both Lecrae and the band fervently express how they long for America to be a nation predominately for Christ again- thematically similar to Carman's "America Again". While the penultimate track (on the standard edition at least!) is "Healer Of Souls", where the band try to recapture the Nothing Is Sound/Oh Gravity sound, as Jon reiterates through vibrant acoustic guitar that we are all just searching for meaning and purpose in this life, that '…I want more than just a crutch to lean on, yeah I'm looking for that freedom, so let's go there to the healer of souls…'.
Yet it is the album closer "Hope Is The Anthem" as well as the title track that epitomises the heart of the album, and is the pinnacle of all of the band's recent tracks in my opinion. With the immensely encouraging and inspiring title track led by exquisite electric guitar riffs; the mid-tempo ballad explores the notion of our scars and the trials we endure building our character, and Jon outlines to us that it is in our pain and our struggles where we can find perspective in life, that '…your scars shine like dark stars, yeah, your wounds are where the light shines through, so let's go there, to that place where, we sing these broken prayers where the light shines through…'. While on the surface it may sound insensitive to say that our struggles are necessary and paramount in our character development; knowing that there is a purpose in the chaos can be freeing, liberating and enough to provide peace and comfort.
Which brings me to the album closer "Hope Is An Anthem". Sung like a modern hymn, there's literally nothing I could say to express what I feel about this Holy Spirit anointed and God breathed melody that could even come close to how great the song is. One of the best songs in my opinion that Switchfoot have ever recorded, we are presented with a study and a dissection of hope, as we remember that without hope, life is dull and somewhat meaningless. As Jon ardently proclaims and sings out to God '…my Heartbeat, my Oxygen, my Banner, my Home, my Future, my Song, Your Hope is the Anthem of my soul…', we are eloquently reminded of our ever powerful God and who He is to us. Essentially a worship song to God as we asking Him to provide us hope to us when we feel discouraged, this is Switchfoot at their absolute brilliant best, no doubt about it!
"…this song [Live It Well] was a career in the making, and I think this whole album was a career in the making. It took us twenty years to make this album. It's called Where the Light Shines Through. The wound is where the light shines through. That's a theme we've been featuring for years, the balance of living in the tension of struggle and faith, and the beautiful letdown. We've really wrestled with this concept from a lot of angles for a lot of years. This past year was the most difficult of the band's life, personally and business-wise. It was supposed to be a dark album, and a release of all that emotion. In the middle of making the album, the title track came along. Hope broke through. Hope shines the brightest in the darkest places. You have to experience it. We don't fake it very well. As a band we write about, especially Jon, writes about what he's really going through. The best song is an honest song…" One of the bands that I have come to respect with every new release, as in my opinion Jon Foreman is one of the most honest and transparent singer/songwriters ever; Switchfoot's Where The Light Shines Through is the group's crowning achievement thus far. Who knows, maybe the band will surpass this fine effort in their next album, but until such a time, this is as good as it gets for the band. Put it this way- if you have never heard of Switchfoot before, then this album is the perfect place to start, as we hear Jon pour his heart and soul out, crying out to the Maker of the universe, asking Him to come take control of his life. As for the any future album from Switchfoot, it they're as half as good as Where The Light Shines Through, then Switchfoot is sure to have a brighter and longer career ahead of them! Well done Jon, Tim, Drew, Chad and Jerome; you guys certainly deserve all of the accolades and praise!
4 songs to listen to: Where The Light Shines Through, I Won't Let You Go, Live It Well, Hope Is The Anthem
Score: 5/5
RIYL: Skillet, Needtobreathe, Owl City, Lifehouse, Daughtry
P.S. By the way, don't forget to check out the bonus tracks on the deluxe version on iTunes- there's 3 of them (and 2 more if you were one of the early listeners to pre-order the album!)