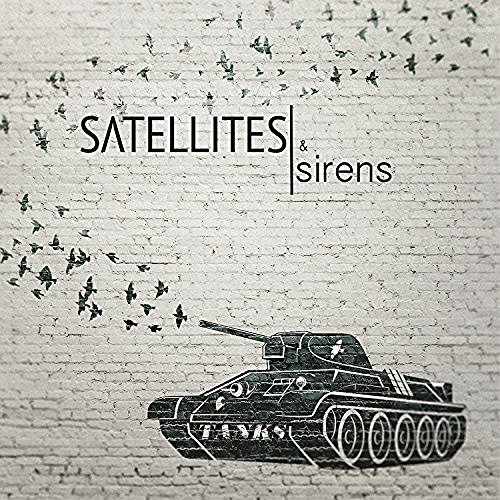 Dream Label Group
Release Date: October 14th 2016
Reviewed by: Joshua Andre
Satellites and Sirens– TANKS (Amazon mp3/iTunes)
Track Listing:
Hey! (This Is The Life)
Who We Are
Chasing Photos
Old Souls (feat. Ronnie Petkovich)
Tanks
Stereo
Enough (feat. Joel Vaughn)
Living The Dream
Control
Don't Say A Thing
Wildfire
Waste Some Time
"…Our culture is so eager to grow up and I think often forces kids to grow up too quickly with all that is at their fingertips. But at the same time we too quickly loose that childlike faith, that "I can do anything, and be anything" mentality. We believe that faith can move mountains when we are younger but I think forget that as we are older and have our own mountains we need God to move. I don't want to lose that faith!…" Originally singed to Word Records in 2006, electro-pop/rock alternative/CCM band Satellites And Sirens recently released their brand new album TANKS a few months ago, via Dream Label Group. Though I myself have not been that totally 'invested' in and following S&S's career, TANKS immediately changes my perceptions of the electronic dance/pop genre. With many of these 12 personal, honest and captivating offerings being driven by stirring keys, electronics and synth, Satellites And Sirens still may not be the most recognisable band in the music industry today, despite their veteran status; yet lead signer Geoff Hunker's passion for Jesus and determination to deliver high quality melodies with poignant and inspiring messages is enough for me to give TANKS a spin, even though I have not fully heard an S&S album from start to finish ever. From the motivational and confronting "Chasing Photos" and the stirring title track, to explosive duets with Ronnie Petkovich ("Old Souls") and Joel Vaughn ("Enough"), TANKS is an interesting and thoroughly enjoyable ride that I can embark on again and again and not be bored at all!
The sunny, bouncy and keys led opener "Hey! (This Is The Life)" is a track not too dissimilar to Switchfoot's "This Is Your Life" lyrically, in the sense that Geoff's ardent passion translates to him reiterating that we ought to live life to the fullest in the way that God intended us to live it. Though vague and somewhat cliché and generic, it's hard not to tap your toes as we hear Geoff cry out '…hey, I see the love in you, yeah this is the life…', with the album opener setting the tone thematically for the rest of the album as Geoff and co. examine the human condition and our capacity to love- whether it is built in within us, or learnt from experience, and whether being a Christians makes us a better human being.
The rest of the album musically sounds similar, or at least in the same genre or vicinity of genre, than the first song, which could be seen as a good or bad thing, depending on your perspective. The highly energetic and danceable "Who We Are" is littered with synth and an 80's atmosphere, as Geoff sings across pulsating bass that '…love is who we are, we shine like stars covered in the sky, oh, we've come so far, the world is ours, yeah we own the night…'– a declaration that seems a bit odd, considering that the world isn't ours to claim, but rather God's. But maybe Geoff was trying to say that we know who we are in Christ, that it is through Him that we are king, queens and co-heirs of this earth…although this inference of meaning and ambiguity in this track put me off entirely, although maybe what the band was trying for in relation to which type of listener they were trying to gain the attention of. While the band also sing about unity and building bridges (the electronic synth dance number "Stereo") yet also about speaking louder about Jesus at every chance we get; as well as about being in a relationship while also being a touring musician (the autobiographical "Living The Dream"). With Satellites And Sirens covering a myriad of topics, it seems that there is plenty of tracks here for everyone, and that is certainly the case with Geoff and co.'s bag of 'something for everyone' thematically and lyrically.
Duets seem to be very popular these days, and Geoff and his friends do not disappoint here, with two of the album's highlights "Old Souls" and "Enough" featuring Ronnie Petkovich and Joel Vaughn respectively, speaking about relevant topics that society most of the time shies away from. With the former track delving into the dichotomy of living, in the sense that we all would love to grow up quickly- we would all want to be adults when we are children- yet when we are adults, we long to be children again (along with the fact that essentially, we can't what we cannot have, so we therefore should just learn to be content with what God has given us!); the latter melody is an honest, real and brutally honest melody about us being enough for God, no matter how dirty, or worthless we think we are. As Joel Vaughn aptly puts it, '…it's enough to be enough….'.
Harkening back to the sound of the 80's, the synth driven electronic toe tapping dance anthem "Control" highlights the notion of surrendering the control that we long for to the One who has total control aka Jesus Christ, that with Jesus, we're '…back to life, with hope in our eyes, can't let go, these hearts are on fire, we're fearless, so fearless…'; while the encouraging and inspirational "Don't Say A Thing" asks God to pour revival on this earth, so that we can love and love unconditionally to every person on this Earth. Geoff also dives deeper into the notion of revival with the catchy pop tune "Wildfire", driven by vibrant and fresh guitar hooks and transfixing synth, where we are encouraged to band together and start a wildfire- a generation of people on fire for Jesus, no matter what the personal cost is. Though I could not for the life of me figure out what the meaning behind the superficial album closer "Wasting Time", where Geoff recounts that he wants to waste time with his wife, and be in their own bubble without a care in the world. A song that is without any spiritual significance as a closer; the track unfortunately is one of the low points of an interesting musical journey that is thoroughly commendable on the whole.
"Chasing Photos" is one of the most confronting songs the band has ever recorded, as Geoff calls out those who live life through their photo taking on their phone, rather than just living each moment, taking it in, without the continuous need to post each moment on social media; while the title track is also a personal favourite of mine, where Geoff ardently and fervently reiterates that we should love without reservation, and love the people Jesus loved. Even our enemies. Also very confronting, Geoff eloquently reminds us that '…we're taking love to the front lines, where the heart beats louder than the cry for war, and like TANKS you can trust, we will crush everything with love…'; and it is these two tracks alone which I reckon are the tracks to listen to from Tanks if you only listen to two songs.
"…Many of us have heard the expression "love the sinner, but hate the sin." I've heard it as "love the sinner and hate your own sin." In that case, if we really think about our own sin and we hate that part of us, hopefully it brings grace and we have more understanding of those who are offending us and who we disagree with. Does that perspective bring an attitude of grace for that person we see sinning, to not think of their identity as based on their sin?…" While Tanks isn't like the worship band we've come to expect because of the vertical focus of One Noise; Satellites And Sirens' latest offering is nevertheless filled with plenty of lyrics and relevant material that need to be mulled over and dwelled upon (apart from a few superficial tracks…). Though all in all, their latest album ought to be commended and congratulated, as the band remind us that stylistic changes doesn't mean that the album isn't worth listening to, nor does it mean that it's not powerful or impacting. Well done Geoff and the band for crafting such a great album, and one to listen to if you're a fan of artists on DREAM Records, or artists like Press Play, Hawk Nelson or Building 429.
4 songs to listen to: Chasing Photos, Tanks, Control, Enough
Score: 4/5
RIYL: Building 429, Hawk Nelson, The Afters, Jonathan Thulin, Jamie Grace, Royal Tailor