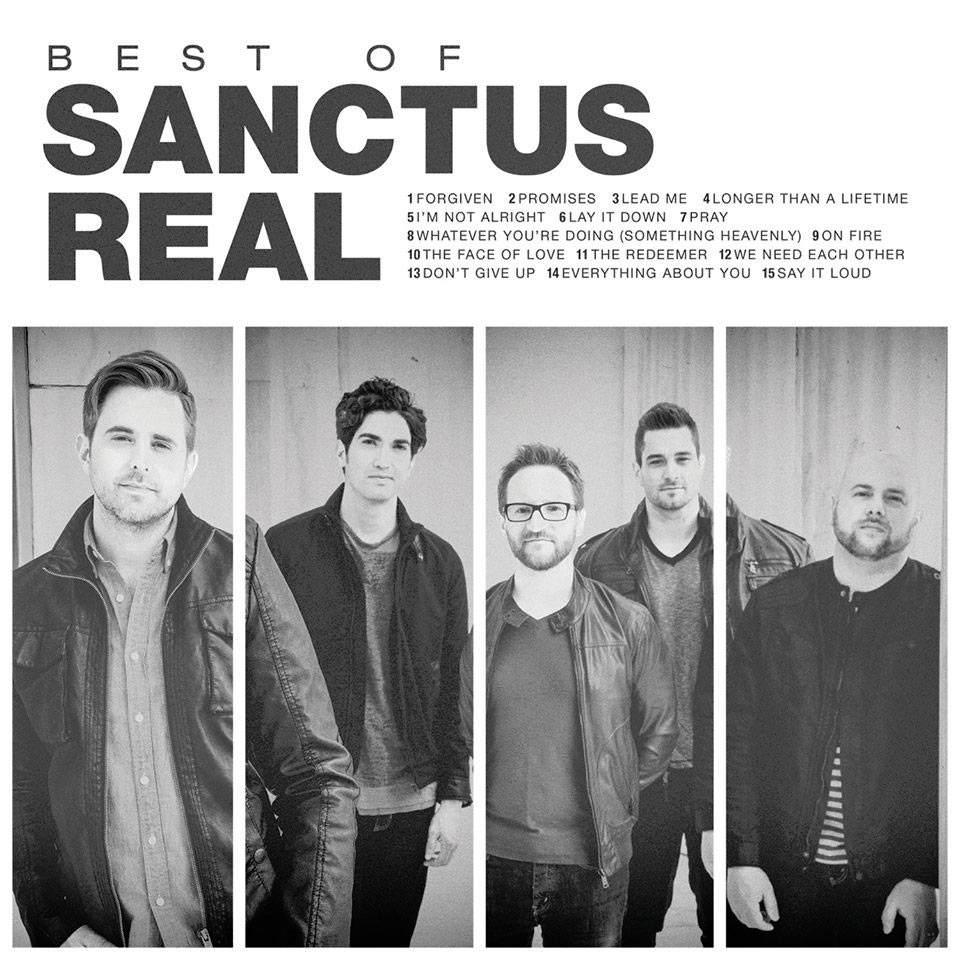 Sparrow Records
Release Date: October 9th 2015
Reviewed by: Jonathan Andre
Sanctus Real– Best Of (Amazon mp3/iTunes)
Track Listing:
Forgiven
Promises
Lead Me
Longer than a Lifetime (New Track)
I'm Not Alright
Lay It Down
Pray
Whatever You're Doing (Something Heavenly)
On Fire
The Face of Love
The Redeemer
We Need Each Other
Don't Give Up
Everything About You
Say It Loud
'…there isn't nearly enough space to recount or describe what I've experienced with my friends in Sanctus Real over the past twenty years. I'm so grateful for what God has allowed a few guys from Toledo, Ohio to experience together. I don't take it lightly, the ability that songs have to impact the hearts and lives of those who hear them. Experiencing this God-given mystery with my friends in the band has been one of the greatest joys of my life…' Matt Hammitt has been the voice of Sanctus Real for quite a number of years. Probably even close to 20 years. So to wake up a month or so ago to the news that Matt Hammitt was leaving the band, and also to the fact that Chris Rohman, guitarist of the band, longs for the band to continue in some shape or form, has made my mind start to run. How will the band sound like without Matt at the helm? Will it be like Hawk Nelson, promoting someone from within…how is Chris Rohman at singing? Or will it be like Audio Adrenaline- filling the void with vocalists only to change the lineup in a few years again?
Whatever the case, we are left with a best of project to be released in October 2015, and with the album standing at 14 of the band's most loved, enjoyed, treasured and heartfelt songs throughout their career (alongside 1 new track, "Longer than a Lifetime"); this is a must-have for Sanctus Real fans, and a must have for fans of CCM/pop/rock music in general. Even if you haven't really been that into the band of late, I'm sure you've heard songs like "Lead Me", "Forgiven", "Promises" or "Pray". This is a must for any die-hard collection fans or anyone who just wants to check out the Sanctus Real catalogue. While this collection of songs highlight more of the back end of their Matt Hammitt-led career; these 15 songs are a reminder of how far a band has come and how far they have influenced their fans, and people around them. Cheers to the band for their accomplishments so far, and here's to more years of encouragement and inspiration, even without Matt there to provide his trademark voice.
In delivering a best-of album, it's hard to pick the best of the best to encapsulate a fair number of years. So if someone were to ask me, which songs, if any, best sum up the band of Sanctus Real, from inception till now? Well, look no further than Best Of. While sad to say the compilation has only one representative from early albums like Fight the Tide and Say It Loud, the remaining tracks deliver a fair and broad encapsulation of what the band has stood for over the years. Opening the 15 track album is "Forgiven", first single from Pieces of a Real Heart and a song that incorporates the mandolin and gang vocals to present to us a theme of us being forgiven as we live out the reality that '…I'm forgiven, and I don't have to carry the weight of who I've been, cause I'm forgiven…' A great song to start off a best-of collection, the band move on to more recent hit "Promises", a three minute high energy pop radio friendly melody that reminds us what it means to hold onto the promises of God in spite of our circumstances. The bridge is a fitting moment in the song, where Matt delivers the poignancy of how '…neither life, nor death, could separate us from the eternal love of a God who saves us…' Nothing can separate us from God's love, and the band deliver a near flawless execution of us being reminded of the fact.
"Lead Me", arguably the band's most famous Matt Hammitt-led song, follows on, and is a prayer and anthem for many around the world longing to be better husbands, fathers, and better people overall. As we are reminded through this acoustical melody to allow God to lead us in every moment of our lives, even if it means for Him to take us to places we don't necessarily want to go; this 4 minute song is what it means to surrender, to Christ, in the wake of us knowing that we can't do life without others- our friends, family and especially God himself. "I'm Not Alright", "Don't Give Up" and "The Face of Love" are the representatives from I'm Not Alright, quite possibly the album that really put Sanctus Real on the map as a band to be reckoned with, as the three present to us themes of being real and allowing vulnerability out as we share with our friends and family that we're not alright ("I'm Not Alright"), us not giving up on love and holding onto the possibility that friendships and love between family won't become distant and broken as a result of distant and misunderstandings ("Don't Give Up"), and realising and declaring that Christ is indeed the face of love, and whom we need to continuously strive towards and become on a daily basis ("The Face of Love").
"We Need Each Other" and "Whatever You're Doing" are the two representatives from their 2008 album, and while it would've been nice to see rocker "Turn On the Lights" or subdued acoustic single "Sing" on the best-of compilation as well, these two aforementioned songs are nevertheless songs that speak to the heart of the album, with the former giving us a great reminder of the need of family and friendship in our lives, while the latter allows us to not worry and declare from the outset that '…whatever You're doing inside of me, it feels like chaos but I believe, You're up to something bigger than me, larger than life, something heavenly…' "Pray", a nice addition from Sanctus Real's 2013 album Run, carries on from the theme of trusting God in every circumstance as Matt further expands it to praying- alongside the powerful acoustic guitar musical backdrop, we see Matt's longing to '…pray, God I need you more than I can say, right here in this moment…' While I must admit that it was a bit of a downer not to see "Run", a promotional single, on the best of collection; both "Pray" and "Promises" represent the best of what their 2013 album, and quite possibly one of their most underrated, is like. "The Redeemer", third single from Pieces of a Real Heart, and earlier songs "Everything About You" (a love song to God) and "Say It Loud" (a song about us declaring out truth to our neighbours in a way that is loving yet equally profound), all make an appearance on this compilation, while their newest singles "Lay It Down" and "On Fire" also prove to be hits with their inclusion as well.
Then there's "Longer than a Lifetime". The last song with Matt Hammitt at the helm. While not necessarily a vertical praise song, we hear this melody as one that is an anthem of sorts- a song that is about nostalgia, remembering about times with family and friends, as well as signalling the end of one chapter and the beginning of another. Fitting for the end of an era with Matt leading the band, we hear him declare in the lyrics of how '…even when the lights fade out, even when we say goodbye, we have a love that lasts longer than a lifetime…' While this song most definitely applies to Matt leaving the band, the melody can also be instrumental in people's lives as well. Every one of us travels through definitive and poignant milestones- moving to another city, falling in love, moving away from family, forming of a new relationship, the breaking of an old one…whatever the case, we do have a love that lasts longer than a lifetime that we can rely on- Jesus Christ. In ever circumstance and season of life we're in, we can rest assured that our days are carefully mapped out and that everything we experience will shape us and make us realise how great the good moments are, and to share them with our family and friends rather than alone. A song that'll be as memorable to Sanctus Real fans as it will be heartfelt, cheers to Matt Hammitt for all the time with the band- may the next 10 years be the best yet!
What do the next 10 years hold for Sanctus Real? Who knows? Maybe they'll retire as a band in a years' time. Maybe in 10. But regardless of whatever capacity Sanctus Real will be in the future, what this compilation shows is the legacy and the impact of their songs throughout the last 10-15 years in the lives of many. From their latest single "On Fire" to their first "Say It Loud", the band has always had a heart for Jesus and the gospel, and that will never change moving forward. Sure, it will be weird to hear the band without Matt Hammitt as the lead vocal, but the heart of the band will still be constant. Maybe Chris will be next in line to sing, maybe they'll bring another member into the fold. Nevertheless, the band will still impact generations in years to come; with Best Of being just a part of the journey God has for them. Well done to Matt and the guys for such a blessing over the last few years in my life especially. Here's to the next lot of years. Maybe "Longer than a Lifetime" will be re-recorded with the new singer and be the first single of their new album in a few years or so?
5 songs to listen to: Longer than a Lifetime, Pray, On Fire, Everything About You, Whatever You're Doing
Score: 4/5
RIYL: MercyMe, Casting Crowns, Kutless, Jeremy Camp