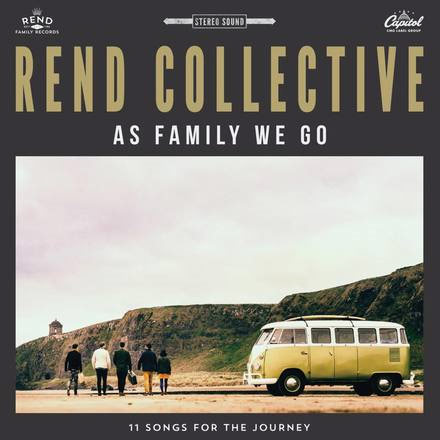 Capitol Christian Music Group
Release Date: August 21st 2015
Reviewed by: Joshua Andre
Rend Collective– As Family We Go (Deluxe Edition) (Amazon mp3/iTunes)
Track Listing:
Celebrate
Free As A Bird
You Will Never Run
Every Giant Will Fall
One And Only
Joy Of The Lord
Never Walk Alone
Your Royal Blood
Just A Glimpse
Coming Home
The Artist
Ireland's Call
You Will Never Run (Neon Feather Remix)
One And Only (Urban Rescue Remix)
Never Weigh Me Down
Every Giant Will Fall (Ukelele Version)
"…part of the title [As Family We Go] comes from the fact that we always have considered ourselves less as a band, and more like a family…We pray as a family, work as a family, and do ministry as a family. But more importantly, we belong to a larger family, and that family includes you. The children of God have always been a people on the move, driven by a mission and a purpose. We aren't part of a social club, but we're given a charge from the Father: to share His love with the world…" Ever since their ambitious music video "Movements" and subsequent album Organic Family Hymnal in 2010, Northern Irish band Rend Collective have given us a different, fresh and unique perspective of worship, and breathed great new life into the British industry with their creative and quite out-of-the-box folk/acoustic albums. With slower tracks like "Second Chance", "Alabaster", "You Bled" together with celebratory and upbeat moments of adoration and praise such as "Praise Like Fireworks", "Build Your Kingdom Here" and "Movements"; The Art Of Celebration was the band's previous album, releasing in 2014, with the album promoted through the lead single and music video "My Lighthouse", with Rend Collective maintaining their acoustic/pop/folk/worship genre and presence despite the change of their band name. Yet this year marks the next album in a season with the band now signed to Capitol Christian Music Group. As Family We Go drops next week, and what is delivered in this 16 track album is a collection of songs encompassing most genres, that are fit for the singing in the church, for personal reflective worship, and for dancing and celebrating the sovereignty and faithfulness of our God. With these different elements and facets in mind, Rend Collective's popularity in the U.S. in worship music is sure to increase, and so far in 2015, this album is my absolute favourite of 2015!
The debut album single is "You Will Never Run", an upbeat and energetic radio friendly guitar led ball of fun, which was recently filmed as a quirky music video. With the video presenting the band playing various instruments, singing energetically and enthusiastically in a grey room, while a few of the band members dress up in panda suits; the guitar led 3 minute tune thematically focuses on the notion that '…You will never run away, You're forever mine, You will never run away, You're by my side…'. God's faithfulness and deep love for us is explored in this song, and we are presented with hope and comfort that Jesus will never leave us, that He will 'stick it out with us' so to speak, even when times are tough. With the band thoroughly enjoying themselves during the music video, which is shown below, this toe tapping melody is remixed in the deluxe version of the album, with the "Neon Feather Remix" version being synth and keys focused musically. Both versions are captivating and catchy, and anchor an album full of life and vitality, as Rend Collective utilise their musically diversities to create a smorgasbord of genres and 14 more high octane and impressive 'songs for the journey'!
Both "Celebrate" and "Free As A Bird" are as raucous and rocky as ever as the band start proceedings off with a bang! "Celebrate" essentially praises God for being who He is, with simple lyrics reminding me of a song that could have been sung in Sunday School all those years ago, and while sounding cliché in parts- the chorus relays that we should '…celebrate, celebrate, shout it from the mountaintop…even with a broken heart…', the heart and joy are there in the song, enough for me to look past the simplicity. I mean, the song has me dancing and swaying from side to side, so how 'bad' could it be? From a fast song to another fast song, "Free As a Bird" is driven by soaring gang vocals and quick strumming acoustic guitar, as lead singer Gareth relays that Jesus makes us free as birds with His love for us, and that our devotion and commitment to Him should '…let our praises run wild and free, the lion heart is alive in me…'. Dancing for joy is natural for someone being set free, and these first two songs, plus the lead single (the third song) ensure that Rend Collective's new album sets off on a celebratory and happy path.
That's not to say that all the ballads on the album are sombre and melancholy, and deserve to be skipped. Just the opposite actually. Even in the quiet moments, Rend Collective have found a way to create joy and celebration out of revered and more serious situations. This is evident in the first ballad of the album. "Every Giant Will Fall", the second single, is more subdued than the previous melodies but still impacts, as the synth and strings driven song speaks about overcoming adversity with Good, and the real truth that mountains will fall at God's command. Though God hasn't promised us an easy road, it's fitting and important to note that Rend Collective have pointed out in this song that '…every giant will fall, the mountains will move, every chain of the past, You've broken in two, over fear, over lies, we're singing the truth that nothing is impossible with You…', as we realise that we can go at full strength at the things we want to do, knowing that God will make a way for us. What an absolutely freeing song, which is given a new take and a different perspective with an acoustic ukulele version at the end of the album, which is an absolute treat to listen to at the end!
"One And Only", which is also remixed as a deluxe edition track (although this remix is my least favourite out of all the remixes and alternate recordings!), plays out like a modern hymn, and is one of my favourites on the album, with Gareth and co. ardently proclaiming that Jesus is the one and only, '…great and holy, we are Yours, how our hearts race at Your glory, Lord almighty, we are yours and yours alone…', across instruments akin to flutes and light bagpipes, as the band travel back to their roots musically. No doubt "One And Only" will be sung in churches everywhere as the years progress, as well as played on the radio and in people's homes.
"Joy Of The Lord", led by accordion and vibrant hand claps, takes a break from the ballad mould, as this folksy worship melody has the band proclaiming that our strength is found in the joy of the Lord, that '…in the darkness I'll dance, in the shadows I'll sing…', reminding us to be happy and joyful despite any situation, because Jesus has made us free and whole. While songs like the optimistic piano led ballad and possible radio single "Never Walk Alone" and the 80's or 90's musically themed "Just A Glimpse" further showcase the band's musical diversity- the former relays that God is right beside us, a theme similar to Point of Grace's "You Will Never Walk Alone"!; while the latter compares God to oxygen, as Rend Collective outline that we can't live without God, that we need just a glimpse and just a touch from Him to be made whole. This kind of vulnerability is rare in Christian music, to be so real in admitting that we need God because we can't breathe without Him; yet Rend Collective have felt it necessary to notch the authenticity up a notch, which makes me identify with the band and the songs all the more!
The latter parts of the album bring the tempo back up (I reckon it's neat that the more upbeat melodies are on either side of the album, with the ballads in the middle!), with "Coming Home" being a mid-tempo acoustic guitar and hand clap prominent honest and vulnerable melody, reminding us that home is where Jesus is, and is not a physical place, as we yearn to be in heaven!; and "The Artist" being the most frenetic and explosive rocker that Rend Collective have ever recorded. Proclaiming that Jesus is the artist of our lives, "The Artist" also invokes that Jesus can take control over all of our lives, because His plans are faultless and flawless, compared to our plans, which are not. There's a reason he's called the artist, right?
"Ireland's Call" is also included, a traditional Irish national anthem song, just because the band is Irish and they want to pay homage and tribute to their homeland (although it should have been on the deluxe edition tracklisting, and as the last track as well!), while the deluxe version of As Family We Go features an all original track called "Never Weigh Me Down", an acoustic guitar driven reflective and contemplative melody, where Gareth declares God to be faithful, that His presence in our lives always builds us up, and never weighs us down. But it is the modern rendition of "Nothing But The Blood", titled "Your Royal Blood" that brings me chills, as this reggae/soul/gospel style retelling of one of the most famous hymns, has me moving to the beat, whlist in my seat. The song is super catchy, and I'd imagine it would be a crowd favourite- just check out these profound and deep lyrics, as the band recount that '…Your blood will never lose it's power, Your blood will never lose, Your victory will stand forever, Your blood will never lose…'. Yep, it is indeed simple, but it's something you need to listen to, to fully appreciate the Holy Spirit's anointing on such a song as this. Anyway, kudos to the band for providing us with 16 tracks of pure folk/pop/worship goodness, on an album that I can listen to again and again.
To say that Rend Collective's As Family We Go is my favourite of the year thus far is an understatement. I would say that it will be my favourite album of the entire year (yep, even compared to the albums I haven't heard yet!), however you never know. Regardless, as I have listened to their 5th studio album many times, each time bringing a smile to my face; it's clear that Rend Collective bring so much lyrical and musical creativity throughout these 16 tracks, injecting fun, joy and life into worship. Rend Collective's presence in a CCM industry that could be stale in worship within a few years; is definitely more than welcome in my opinion, as the band from Northern Ireland continue to impress and encourage me to worship with abandon! A standout album in August as well as in 2015, this is a must for anyone wanting to worship God, but craves musical variety in an industry that celebrates generic material and sameness (sorry to be brutally honest, but that's a fact…)! Well done Chris, Gareth, Ali, Stephen and Patrick for reminding us that we can celebrate our Lord Jesus Christ every day, that His blood never loses, and that He will never run away and that Jesus is forever ours!
4 songs to listen to: You Will Never Run, Every Giant Will Fall, Your Royal Blood, Never Walk Alone
Score: 4.5/5
RIYL: All Sons And Daughters, Leeland, Crowder, Chris Tomlin, I Am They