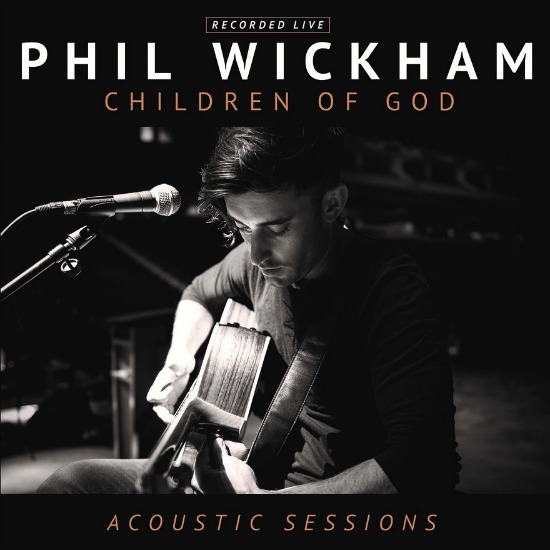 Fair Trade Services
Release Date: October 14th 2016
Reviewed by: Jonathan Andre
Phil Wickham– Children of God (Acoustic Sessions) [Live] (iTunes/Amazon mp3)
Track Listing:
Better Than Life
The Secret Place (feat. Madison Cunningham)
Divine/Sailing/Time/Hymn
Your Love Awakens Me
My All In All
Starmaker (Above The Earth)
At the Foot of the Cross
Spirit of God
As It Is in Heaven
Here With Me
Children of God
Doxology/Amen
Wide Awake
Body, Mind and Soul
Stand in Awe
'…during the difficulty of that season [when I lost my voice], I prayed God would speak to me. There's been just a few times I've felt God has spoken direct words right to my soul. God spoke the simple yet massive truth into my heart that He is my Father, I am His child, and He loves me. That He loves us. That we are first and foremost His children. That whatever may come our way, we are His children. That whatever we may be faced with, we are His. That hit me like a ton of bricks. Many of these songs were written out of this newfound sense of identity…' Quite possibly one of my favourite worship artists of all time, alongside others like Meredith Andrews, Paul Baloche, Christy Nockels, Tim Hughes and Chris Tomlin; Phil Wickham has continued to impress with every album that releases, and as the years go by, we see a sound that has been refined and matured as Phil delivers songs that are as poignant as they are seemingly out-of-the-box musically and hence, in some ways, underappreciated in the scope and realm of worship music as a whole. When every listener of worship music either gravitates towards artists like Chris Tomlin, Bethel Music, Hillsong or Jesus Culture, it's nice to hear someone life Phil, being able to inject some kind of life and vitality into the worship music genre. Not that the worship music genre is a bit of a drag, yet sometimes, it needs someone to come to present to us a new kind of how worship music can be portrayed…and Phil Wickham has done just that throughout his career. Alongside artists like UNITED, Paul Baloche, Crowder and All Sons and Daughters, we have been given a glimpse into a level of worship music that is as emotive and powerful as it is musically profound and lyrically poignant. And so Children of God, Phil's latest studio album that released in April 2016, was, and still is one of my favourite albums of 2016 thus far. Phil's enthusiasm and heart for worship is as infectious as ever, and at times on Children of God, we get a glimpse into the style that British worship band Delirious? once was, and how they themselves could've sounded like if they were still a band today. In fact, I reckon much of Phil's music is on a similar vein musically, sonically, poetically and lyrically to Martin Smith and the rest of the guys from Delirious?, which is not necessarily a bad thing.
All these months later, Phil has decided to release an acoustic version of the album Children of God. Complete with 15 tracks, 12 from the studio album and three bonus tracks (one totally new song, one medley and a track originally recorded by Tim Hughes); this acoustic selection of songs is as encouraging and impactful as the original studio album this was based upon, in fact, at times, I enjoyed this new project more so than Children of God. Writing authentic, powerful, heartfelt and emotive songs for us to contemplate and dwell upon, Phil's music in a holistic sense is an embodiment of vocal effects and an electronic undertones, yet on Children of God: Acoustic Sessions, it is in fact Phil's charisma and enthusiasm that oozes throughout each track with his distinct trademark voice anchoring each melody, making this acoustic album one of my favourite acoustic albums by any artist in a long time (I guess the other one that springs to mind that was as impactful as this album is The Outback Sessions by Planetshakers).
So how does this acoustic album compare to the original recording of Children of God? Rather than just rehash my Children of God review into this one, this acoustic project assessment will probably be more of a holistic one- with 12 out of the 15 tracks already recorded before by Phil in a much more electronic/dance/worship setting, we see Phil right now strip everything away, and with just his acoustic guitar and his ethereal voice, songs like "Your Love Awakens Me", "Wide Awake", "Better Than Life", "The Secret Place" and the title track become instant standouts for me personally. It is a reminder, this album, that the song is much more than the music behind it, that sometimes, and I mean just sometimes, the electronics and unique effects that come with a song can be a distraction, and what an acoustic album serves (especially Children of God: Acoustic Sessions) is this- are we still enjoying the songs as much now with just the acoustic guitar as we were with a full instrument setting. I'd like to say yes, and most of the time it is. In fact, 99% of the time, in my case, I have enjoyed the acoustic renditions to the same extent, maybe even more, than the original recordings. Being much more intimate, the lyrics are highlighted and the passion more evident in an acoustic song compared to its full band counterpart. Especially the song "The Secret Place" with Madision Cunningham, Phil manages to take a melody littered with electronic effects, gang vocals and powerful drum beats and transform it into a track with just the two voices and an acoustic guitar. The passion is still there, maybe even more so, as both Phil and Madison deliver a song about us singing a love song to God, where we poetically declare that we are '…running to the secret place, where you are, where you are, I'll sing to You of all the ways You stole my heart, stole my heart, cause better is a moment that I spend with You than a million other days away, I'm running, I'm running, I'm running to our secret place…' In a similar vein thematically to Matt Redman's "Better is One Day", expect this song to be in circulation either on radio or in Sunday morning services in months to come.
Every other song on Children of God are transformed like this- all the instrumentation away with, and replaced with an acoustic guitar strum, and Phil's distinct vocals. If you really, really love electronic worship music, then I guess this album won't be the one for you. Still, this is an album that can be appreciated even if it is not universally liked. Because Phil's passion is more so than ever, his heart and passion cannot be denied. Listening to the acoustic versions of all the songs make me enjoy his latest studio album even more. In fact, just read my review of Children of God, and what I impart about each track is how the versions on this project sound like…just minus all the instrumentation and adding in the acoustic guitar. And while it can take a while getting used to hearing songs that are lacking instrumentation, when all you know of the song is that with a lot of instruments, often at times we see that when a song is stripped away, there become more of an intentionality to declare the words with honesty- because with no music to hide behind, aside from a few acoustic guitar strums every few seconds of the track, we hear the enthusiasm (or lack of) in the voice, and therefore we continue listening to the album or not based upon this. Thankfully, Children of God: Acoustic Sessions doesn't fall into the trap of delivering a project that pales compared to the original project- in fact, Children of God: Acoustic Sessions highlights Phil's urgency and poignancy in these songs all the more.
With three new songs that are added alongside the 12 from Children of God to make this new project stand at 15 tracks, we see Phil deliver, in some ways, some of his best work in these three songs. Well…not all of them are new per se. "Here With Me", originally recorded by Tim Hughes on his album Pocketful of Faith, is a prayer of sorts. Similar in theme and structure to the powerful hymn "Abide With Me" alongside its contemporary counterpart of the same name, recorded by Matt Maher, "Here With Me", also featuring Phil alongside Tim on the Pocketful of Faith recording, presents to us a message of us crying out to God, often during our times of uncertainty and trouble, for Him to be here with us. While we all know in our heads that He is indeed here with us, often during moments of doubt, it's easy to forget. So this song, as acoustic as it is, speaks to us in volumes, as Phil presents it with such fervent longing and passion, reminding us all that during such a moment of desperation, all we can do is just cry out to Him, wanting a reassurance that He is with us in the times where we sometimes believe that He isn't. Another new track is actually a medley- what I initially thought was an original song, "Divine/Sailing/Time/Hymn" is actually the amalgamation of songs "Divine Romance" from his debut album, "Sailing on a Ship" from Cannons, "The Time is Now" from Heaven and Earth, as well as "Nothing But the Blood".
While on the surface you start to wonder- how can all these songs come together and be delivered in a cohesive unit?; what has actually transpired is a nearly 8 minute medley where the transitions between the songs seem so seamless that it almost feels like one big song- which isn't a bad thing. In fact, dare I say that I haven't really listening to the original recordings of all of these songs prior to this medley? Granted, I only really became a Phil Wickham fan from his 2011 album Response and onward…so I guess I can be forgiven if I thought this medley was a new track…nevertheless, this medley was a great way for me to hear some of the lesser known tracks of Phil's- hopefully I can backtrack and listen to his whole music catalogue in the near future. Phil also unveils to us the new song "Foot of the Cross", a track that was originally recorded to be on the original Children of God project, but never made it. A song about appreciation to our Father for paying our debts and laying everything that is not of Him at the cross where He can rid us of everything that is hindering us having a relationship with our Father; Phil's new track is as catchy as it is emotive- expect this song to be re-recorded and maybe even a new radio single in the future.
 '…we have an identity in God. We are His children, and we are set free, born again, fearless and shameless. There is no reason to be insecure, anxious or afraid. With God on our side, there is nothing to fear. That is a free gift, for all of us to step into the victory that God has won for us to be called His children. Even when we were sinners, when we were dead in our sins, God made us alive by His grace…' Despite the long length of time between albums, Children of God, and thereby also Children of God: Acoustic Sessions, is well worth the wait. With songs like "The Secret Place" evoking a love-song style, and the title track, relaying to us the theme of us being children of God no matter what the circumstance, that regardless of our past, our present and our future expectations of what we believe this life will be, that '…we are believers, all our hope in the Risen One, and we are soldiers, we're fighting with faith and love, and we are pilgrims, on a journey to reach our home, standing together, we are the children of God…'; Phil continues to present poignant songs of praise and perseverance as this new set of songs are some of the most emotive and energetic I've ever heard Phil perform in his whole career. In fact, he has created acoustic albums aplenty over the years with is various Singalong albums, and thus, this new project is nothing new. Still, it is great to hear Phil's new interpretation of his most recent songs, with this album being a must-have for anyone who has been fans of Phil's music previously, or if you are a fan of artists like Leeland, Tim Hughes, UNITED, All Sons and Daughters, or Crowder for that matter. One of the most vulnerable and powerful collection of worship songs I've heard in 2016, Phil's presence within the CCM worship community is only going to enhance it in the upcoming months and years ahead!
3 songs to listen to: Here With Me, Wide Awake, Children of God
Score: 4.5/5
RIYL: Leeland, Tim Hughes, UNITED, All Sons and Daughters, Crowder