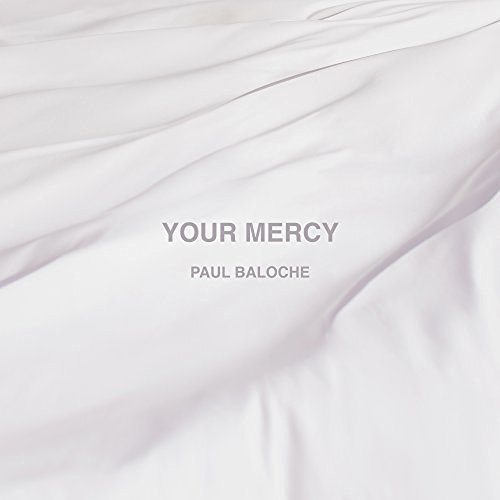 Integrity Music
Release Date: October 7th 2016
Reviewed by: Joshua Andre
Paul Baloche– Your Mercy (Amazon mp3/iTunes)
Track Listing:
Psalm 92 (It Is Good)
Once For All
Found In You
I Will Worship You
Your Mercy
Songs of the People
We Come to You Jesus
God Evermore
Turn Your Eyes Upon Jesus (We Turn)
To the Cross I Come (feat. Jennifer Holm & All Sons & Daughters)
More Than I Deserve
Peace On Earth (feat. Madison Cunningham)
Considered to be one of the 'fathers' of modern worship music (together with Michael W. Smith, Chris Tomlin, Matt Redman and Tim Hughes in my opinion!) with his hit songs like "Hosanna (Praise is Rising)", "Our God Saves", "All The Earth Will Sing Your Praises", "Above All", "Praise Adonai" and "Open the Eyes of My Heart" (to name a few); Paul Baloche has always had a great lyrical and worship leading prowess, and the ability to provide to listeners heartfelt melodies that encourage us to sing a new song to the Lord as the melodies are used, sung and enjoyed in various churches around the world. From chart-topping albums like The Same Love, Our God Saves and The Writer's Collection to the most recent album titled Live and his 2 Christmas albums titled Christmas Worship and Christmas Worship Volume 2; we are able to be blessed once again with another musical offering from Paul. A studio project titled Your Mercy released this past week, on the same day as albums from Britt Nicole and Rend Collective, as Paul delivers to us 12 never-before-heard brand new songs, inspiring us to live a life to the fullest, praising God for all He's done for us. With Your Mercy being a great gift for anyone who loves artists like Michael W. Smith, Phil Wickham and Chris Tomlin, Your Mercy showcases Paul's songwriting flowing from strength to strength, as we declare out with Paul throughout the project that '…You saved me, You raised me, You died so I could live, no greater love than this, Your mercy…' ("Your Mercy").
Four out of the twelve worship melodies present here are tracks that we have heard before. The title track, "More Than I Deserve", "God Evermore" and "Found In You" have all been recorded previously, namely by Vertical Church Band (3 of the four) and Aaron Shust. The electric guitar prominent mid-tempo ballad, yet high energy "Found In You", originally led Andi Rozier on Veritcal Church Band's The Rock Won't Move in 2013; the song starts off as a slow track, with the melody builds to an epic God moment when more and more instruments are added. A praise song that declares that everything we need in life is in Jesus; as Paul emphatically and passionately sings out '…all we want and all we need is found in You, found in You, Jesus every victory is found in You, found in You…', I can't help but sing along raucously as well, amongst the keys, captivating drums, and exquisite electronic remix effects. Declaring God to be high above any other, "Found In You" is a brilliant rendition from Paul, that musically remind me of Hillsong, yet packs a punch thematically and lyrically.
Also previously covered by Vertical Church Band, "Your Mercy" is just as emotive and poignant, as Paul presents to us a potential modern hymn of sorts, as there are easy to sing lyrics, and a thoroughly powerful and captivating worship atmosphere- I can see this song being sung in churches very soon. While at times it seems as though the melody may and might have been borrowed from traditional hymns gone past, what Paul has brilliantly done is to craft and skilfully record a song that will be loved by many who respect, appreciate and even thoroughly enjoy the hymns of the traditional format. A song about how it is always God's mercy that is our saving grace in any situation we are in, that it is God and God alone who can and will save us, this song in particular is for anyone who loves modern hymns like "In Christ Alone" and "10 000 Reasons".
With a light electric guitar introduction, Paul also includes his exquisite interpretation of "More Than I Deserve", a song that highlights how God gave to us what we didn't even deserve- freedom in the price of God's Son Jesus on the cross. Though this theme has been written into song plenty of times, Paul's recording of such a timeless theme has me stopping and really listening, regardless of the cliché nature of the lyrics. Paul's passion for Jesus is undeniable, and this simple yet effective melody is perfect in my opinion for a place of worship, either corporately or personally. The 5 minute "God Evermore", a potential single, is the final 'cover', as Paul records a melody originally sung by Aaron Shust- a powerful piano prominent ballad as Paul eloquently cries out the qualities of God, that '…we adore You, lifting praises to God evermore…'.
Throughout the rest of the album, Paul delves into quite a lot of relevant topics, doing such with grace and poise. The album opener "Psalm 92" is a simple yet effective acoustic guitar led melody, fit for singing at church on Sundays, inspired by…you guessed it- Psalm 92, as Paul ardently recounts how it is good to praise Jesus because He is who He says He is, and because of His faithfulness and that He keeps His promises. Though not that adventurous musically, there is plenty of passion and zeal present in Paul's vocals, and that fact alone is more than enough for me to enjoy this honest and moving opening melody. Another simple yet also accessible and easy to sing melody, that could possibly be sung at churches on Sundays very soon is the acoustic guitar led mid-tempo melody "Songs Of The People", where Paul ardently recounts that we can lift Jesus' name on high at all times, and declare '…glory, glory, holy, holy, You are worthy, amen…', that Jesus is our solid rock, a mighty fortress, and the only constant in our lives- indeed this song is one that I never get tired of, and a melody that I am sure will be popular in the many years to come.
Debut first single "Once For All", led by light acoustics and keys, dives in deep into a lyrical genius moment, as Paul ardently proclaims '…once for all, You died so I could live again, once for all, You washed away our sin, streams of mercy and love flowing free forever and Your blood ran down once for all…', eloquently reminding us all that the price for our sin has been already paid. Jesus died and rose again more than 2000 years ago, so that we don't have to strive to be better to be good enough for God. We already are good enough, so we can rest in the fact that we are accepted and loved even before we took a breath, because of what Jesus did once, and for all mankind.
With Paul including such a theologically sound melody right off the bat at song #2 on the track-list; "I Will Worship You" brings the atmosphere down a few notches, with a sombre, reflective piano led ballad, where Paul emotionally relays that He will worship Christ no matter the circumstances. Presumably inspired by the story of Job, as Paul cries out that '….You are the anchor to my soul, draw me to You and don't let go, only Your love can make me whole, Jesus I worship You…', we are encouraged to cry out to God as well, as we rely on and trust in Him for our wellbeing and our whole everything. While the acoustic guitar led 5-minute worship anthem "We Come To You Jesus" expresses similar themes to "I Will Worship You", as Paul outlines that we can come to Jesus at all times, and just as we are, so that we can gain solace, comfort, meaning and purpose in a world full of calamity and chaos, where the only thing that makes sense is Jesus Christ.
Also remaking a very popular hymn, Paul tries his hand at "Turn Your Eyes Upon Jesus", with added verses (although I prefer Newsboys' original version of the hymn more…), resulting in an honest rendition of a timeless classic, relaying to us that we are turn our eyes to Jesus in times of trouble, because of the fact that He is reliable and faithful. As we near the end of the album, we are presented with one of the most honest and moving songs on the album- the piano prominent "To The Cross I Come" features All Sons And Daughters and Jennifer Holm on guest vocals, and emotionally reminds us that it is because of the cross and the resurrection that we have new life. The quick but noticeable reference to the hymn "Just As I Am" in the verses and the bridge is a nice touch also, and adds extra depth in my opinion. While the final melody on Your Mercy is the 3 and a half minute piano only track "Peace On Earth". Featuring Madison Cunningham as backing vocals, Paul highlights the notion of peace, and that we can live in peace because '…the cross has redeemed us, all penance paid, love through forgiveness, we have been saved…'. A concept that is something we ought to declare over our nation and the world, Paul ought to be congratulated overall in this album. Your Mercy, while not to the same heights as The Same Love in my opinion, is nevertheless a thought-provoking and encouraging album, and one that is sure to provide worship leader with plenty of songs for the Sunday services, and for personal worshippers in their homes.
Paul Baloche's latest musical offering is one that will please lovers of worship music and also those who are a fan of Paul's discography. While not the best album of Paul's that I have heard (The Same Love still is on top, in my opinion, followed by The Writers Collection); Paul's collection of 12 tracks still bring us to appreciate just how much of a great worship leader and a songwriter in the CCM industry. Showing to us that age isn't a factor when it comes to worshipping Jesus, Paul still delivers a powerful collection of soon to be new favourites, and an album that is sure to be on my iTunes playlist for a while yet! Well done Paul for such an inspired and enjoyable album!
4 songs to listen to: Once For All, Your Mercy, God Evermore, To the Cross I Come
Score: 4/5
RIYL: Matt Redman, Tim Hughes, Meredith Andrews, Kari Jobe, Chris Tomlin