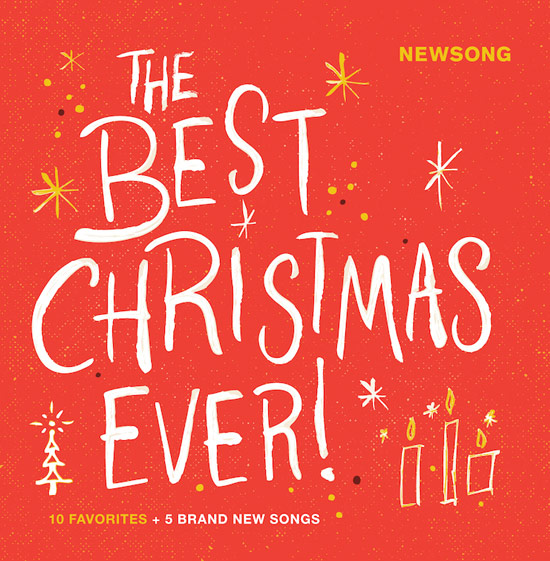 Word Label Group
Release Date: October 21st 2016
Reviewed by: Joshua Andre
Newsong– The Best Christmas Ever (Amazon mp3/iTunes)
Track Listing:
The Best Christmas Ever (feat. Jodi King) (NEW TRACK)
Sweet Little Jesus Boy (NEW TRACK)
This Christmas (NEW TRACK)
My Heart's With You (feat. Bethany Cruz) (NEW TRACK)
The King Is Born (NEW TRACK)
The Christmas Shoes (Live Anniversary Edition) (RERECORDED TRACK)
White As Snow (from Swallow The Ocean: Christmas Edition- 2013)
The Song Of Christmas (from The Christmas Hope- 2006)
The Little Drummer Boy (from The Christmas Hope- 2006)
Go Tell It On The Mountain (from Swallow The Ocean: Christmas Edition- 2013)
The Christmas Hope (from The Christmas Hope- 2006)
O Holy Night (from The Christmas Shoes- 2001)
What A Wonderful World (from The Christmas Hope- 2006)
Sing Noel (from The Christmas Shoes- 2001)
Christmas Time Is Here/Have Yourself A Merry Little Christmas (from The Christmas Shoes- 2001)
Newsong have been a household name in CCM/pop/worship music since the 80's. In fact their previous studio album in 2013, Swallow The Ocean is their 18th studio album, which is remarkable by any standards, given that they've been around longer than Delirious?, Third Day, MercyMe, Casting Crowns, Hillsong Worship, Phillips Craig And Dean, dcTalk, Jars Of Clay, Newsboys, and any other CCM band you could possibly think of! No doubt you've heard of the 7-piece CCM band, if not their songs, then about the band members; as lead singer Russ Lee has done his own solo stuff in the early 2000's, and lead singer Billy Goodwin is the father-in-law of CCM pop artist Francesca Battistelli. And even if those aforementioned facts were brand new, perhaps you may have heard about their crowning achievement- the founding of Winter Jam in the 90's, and now an annual tour that is one of the biggest tours of the year, with many artists included in the lineup each year (along with Newsong, of course!). Winterjam is now a launching pad for up and coming new artists, as well as one of the largest first-quarter tours in the world (along with Night Of Joy and Creation Fest). Hosting the tour every year, Newsong should be very proud of themselves!
As for albums though, the band is into their third decade, and it seems like they aren't slowing down anytime soon. Having also released their latest live album Faithful last year, the band have now unveiled their new Christmas project, titled the Best Christmas Ever, featuring a mix of newly recorded songs and fan favourites from both their 2001 and 2006 Christmas albums (The Christmas Shoes and The Christmas Hope respectively) and the Christmas edition of Swallow The Ocean in 2013. From the powerful and emphatic title track (featuring Jodi King from Love & The Outcome on guest vocals), to the inspiring instrumental cello piece "the King Is Born" and a live re-recording of the smash #1 hit "The Christmas Shoes", Russ, Billy, Matt and the guys have cleverly crafted 15 vulnerable, emotional and honest worshipful Christmas anthems that will leave you feeling refreshed and ministered to…and hopefully you can listen to these melodies all year round! Touring with Matthew West and Love & The Outcome this year for the Very Merry Christmas Tour, The Best Christmas Ever is Newsong at their finest, and one of my favourite Christmas albums this year!
Beginning the album with 5 brand new recordings we've never heard before, the band kick off the hour long track list with a bang, as the title track, a punchy, piano led mid-tempo ballad, dives straight in in describing the band's best Christmas ever. Featuring Jodi from Love & The Outcome on guest vocals, there's not really much reference to Jesus' birth in a manger, however the passion of the band eloquently conveying their ideal experience of the holidays, encourages us to look inwards at our experience of the special day, reminding us all that nothing beats spending Christmas with family. With this track confronting us to look inwards into what constitutes our best Christmas ever, no doubt the reason behind the season will break through. And for that fact alone, I reckon the title track is fitting to include by the band as the first song. As we fervently cry out along with Russ Lee '…when the snow starts falling, friends come calling, you can feel the love in the air, singing carols by fire, presents piling higher, it's our favourite time of the year, c'mon let's make this December one to remember, a feeling we can hold onto, it's gonna be the best Christmas ever, the best Christmas ever with you…', we are met with a glimpse of Christmas with Newsong, and it's a great picture, as we remember the birth of our Saviour Jesus Christ.
The rest of the 4 newly recorded tracks are also a joy to listen to, as the band deliver to us a smorgasbord of styles highlighting their musical versatility as a band. The slow tempo piano led melody "Sweet Little Jesus Boy", brilliantly led by Billy Goodwin, is quite an obscure carol to cover here, as Billy cries out to God reiterating that we '…didn't know You'd come to save us all, to take our sins away, our eyes were blind we did not see, we didn't know who You were…', however Newsong make the track memorable, with an addition of an epic crescendo moving into a refrain of "O Come All Ye Faithful" included near the end of the track. While the upbeat jazz inspired 3 minute 70's and 80's influenced and synth prominent "This Christmas" is extremely fun and danceable to listen to, as Matt Butler passionately declares that Christmas to him is special, though it's ambiguous as to whether it's family or Jesus Christ (hopefully both!) that makes the holiday special to him.
The reflective, emotional and heartfelt keys led ballad "My Heart's With You", one of my favourite original Christmas songs of the year, is next, and features the exquisite vocals of Bethany Cruz. As Russ and Bethany trade vocals in perfect harmony, we are reminded about even the ugly parts of Christmas, where some people may not have fond memories of the holidays. Sung from the point of view of someone with a hurting friend, we are encouraged by the ever true words in the chorus that '…they say home is where the heart is, I keep trying to believe that it's true, but every picture of us just reminds me, that this Christmas wherever you are, my heart's with you…'– you never truly experience Christmas until every part of your family is here and every person is enjoying the season as much as you are; and "My Heart's With You" beautifully encapsulates the struggle we all feel of how we are celebrating Christmas with loved ones while others (maybe someone we know!) are trying to make ends meet somewhere else. It's a dichotomy and something we all need to wrestle with, and Newsong have definitely given us something to ponder about. The last song recorded specifically for this project is "The King Is Born". While only an instrumental cello piece, the way Matt Butler beautifully plays the melody of "Away In A Manger" and "O Come O Come Emmanuel" is nothing short of remarkable. In fact, I reckon Matt's cello prowess is probably in the same league of Lincoln Brewster's electric guitar work!
Through the last ten songs on the album were all tracks we've heard before, some from albums as old as 15 years ago, that does not mean that these songs do not stand the test of time. But rather, on the contrary, the inclusion of these carols and original Christmas songs on this 'greatest hits' Christmas project remind us all that over the years, Newsong's passion hasn't wavered, and their faith in Jesus is probably even more evident in even their earliest work (which is still musically and lyrically strong by the way!).
"O Holy Night", a piano led mid-tempo melody, which is essentially a worship song, is given a jazz/gospel twist, as the band provide us a worthy rendition, eloquently sung and exquisitely recorded on The Christmas Shoes in 2001; while the aforementioned album's other two offerings are the original melody "Sing Noel" (a 90's themed piano led track about worshipping God because He is God and Lord over all creation) and the medley of well-known tracks "Christmas Time Is Here" and "Have a Merry Little Christmas" (an acapella type melody that is extremely powerful and compelling to listen to, as we remember the importance of family when '…faithful friends who are dear to us, gather near to us once more…'). And while these three tracks may seem a tad dated to some, and also seem out of place on an album that includes more tracks recorded within the past few years, I personally reckon that these songs are nonetheless still impacting, stirring and healing to the soul.
Also included on The Best Christmas Ever are "White As Snow" and "Go tell It On The Mountain", both from 2013's Swallow The Ocean: Christmas Edition. With the former being a mid-tempo ballad, led by keys and brilliantly covered by Matt Butler, echoing the sentiment that it is because of Jesus that our sins are washed as snow, as '…this Christmas, the best gift is the One that you have given me, I've got my hands raised up high on this the silent night, my prayer is for the world to see, You washed me white as snow…'; the latter is a country/bluegrass/folk Rend Collective influenced toe tapping melody, where Matt, Billy and Russ ardently cry out that we can indeed tell the gospel to everyone we meet if we want to, because Jesus Christ was born!
Probably the band's most popular Christmas album is The Christmas Hope from 2006, and Newsong have provided us with four worthy inclusions on The Best Christmas Ever. "What A Wonderful World" is not a Christmas song by any means, but in fact a mid-tempo piano led song made popular by Louis Armstrong in 1967. Nevertheless, Newsong's inspiring cover is one of the highlights on the album, as Billy fervently reiterates that the world is wonderful as '…the colors of the rainbow, so pretty in the sky, are also on the faces of people going by, I see friends shaking hands, saying, "How do you do?", they're really saying, "I love you"…'; subtly giving a nod to our Creator and a shout out, for providing us with this life where we can see His handwork full on display.
"The Song Of Christmas" and "The Christmas Hope", a couple of the band's original Christmas tunes originally on The Christmas Hope, are present here also, both led by former Newsong vocalist Michael O'Brien. With the former being a heartfelt, inspirational piano led worship song beautifully sung, with Michael ardently declaring '…can you hear it, the sound of peace on earth, it's the song of Christmas, celebrate His birth, it's the chorus that rings in human hearts, God came down here with us, it's the song of Christmas…', similar in theme to Casting Crowns' "Peace On Earth"; the latter epic orchestral like anthem "The Christmas Hope", the title track of the 2006 album, vividly describes the endless, boundless qualities of God's eternal hope, that '…Hope is a candle, a light in the window, showing the way for a heart to come home, Hope is a Savior, who was born in the manger, sent down from Heaven, to rescue our hearts, our Christmas Hope…', and reinforces the notion of God loving each one of us so immensely that he would come to Earth to be born as a man. These two standouts from Newsong's 2006 album are perfect inclusions here, encouraging us all to exhibit thankfulness and gratefulness to our Father, Friend, Maker and Saviour.
While the final offering from The Christmas Hope is a stripped down acoustic version of "The Little Drummer Boy", slowed down in tempo to 5 minutes. Strikingly different in tempo to rock versions from Jars Of Clay, The Almost or Lincoln Brewster, the melody builds to an epic orchestral crescendo further on in the track, complete with a children's choir, as we ponder the sacrifice of Jesus, and marvel at his love for us. Yet if there is one track you should listen to during this holiday season, then it is indeed "The Christmas Shoes", the original song from 2001 that made the band famous. Re-recorded 15 years later in front of a live audience, the heartfelt, honest and emotional melody tells a story of a little boy wanting to buy shoes for his sick mother for Christmas, because of his concern that she needs to look good for Jesus when she dies and goes to heaven. In the song the main persona feels sadness, pity, sorrow, and every other emotion for the boy and his mother, and in the end buys the shoes out of his own money for the boy and his family. Yet the somewhat inspiring story about helping others isn't what draws me to this timeless classic. No, it is the raw emotion and passion of Newsong as they sing this song, and the simple takeaway message of cherish our loved ones in the here and now, as we don't know how much time any of us have left on this Earth. A song that has stood the test of time, and will continue to do so, I'm sure; Newsong have delivered a gem to us, and a collection of melodies for this year's holiday season, and for many years to come. Showing us that age is no barrier when it comes to worshipping our Lord Jesus Christ, The Best Christmas Ever does live up to its name, as Jesus Christ is glorified with these 15 tracks, and then some more!
While 2013's Swallow The Ocean may not be the most lyrically creative or musically challenging album out, and 2015's Faithful is in another category all together, with the worship anthems are probably some of my favourite worship songs of 2015; The Best Christmas Ever is my favourite Christmas album this year, by a mile, followed by Matt Redman's These Christmas Lights! It's great to hear Matt, Russ and Billy sing songs and reinvent themselves over the years, and evolving their style to stay relevant yet also never wavering in their faith and their heavily Bible based lyrics. Personally I thoroughly enjoyed this album, and the fact that more than half these songs are original tracks make the band's effort all the more admirable and enjoyable. So what are you waiting for? Be ministered to and worship along with Newsong, for the duration of the 15 tracks and beyond!
5 songs to listen to: The Best Christmas Ever, My Heart's With You, The Christmas Hope, The Song Of Christmas, The Christmas Shoes
Score: 4.5/5
RIYL: Jason Crabb, Matt Redman, Chris Tomlin, Phillips Craig And Dean, Steven Curtis Chapman