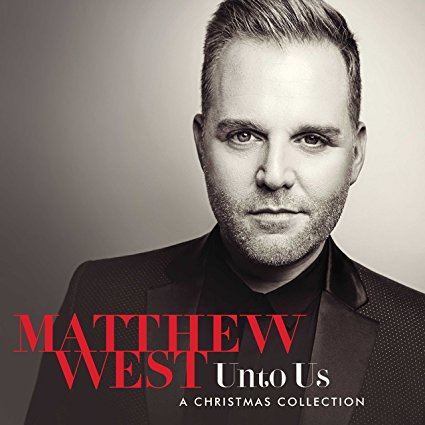 Sparrow Records
Release Date: October 21st 2016
Reviewed by: Joshua Andre
Matthew West– Unto Us: A Christmas Collection (Amazon mp3/iTunes)
Track Listing:
Unto Us
The First Noel
Silent Night
A Christmas To Believe In
Join The Angels
Come On, Christmas
Jingle Bells
The Heart Of Christmas
Oh Holy Night
Have Yourself A Merry Little Christmas
Matthew West, writer of smash hit singles such as "More", "History", "Only Grace", "Something To Say", "The Motions", "You Are Everything", "My Own Little World", "Strong Enough", "Forgiveness", "Hello My Name Is", "Do Something", "Day One", "Grace Wins" and "Mended"; is porbably my favourite male vocalist currently in CCM. Not to say that other vocalists aren't impacting and powerful in their songs, however there's something about Matthew's music that resonates with me a bit more every time I listen to these inspiring, encouraging anthems. Maybe it's because Matthew has since 2010 used listeners' and fans' stories and turned them into songs- making the issues explored 'more real' and relatable…if that makes any sense to all of you. Anyway, as Matthew has recently released his brand new studio album Live Forever in 2015, I wasn't really expecting any new project…except until there was a press release about the new album Unto Us: A Christmas Collection– a 'best of' holiday project, consisting of 5 brand new songs and 5 songs from the 2011 album The Heart Of Christmas.
Though some may say that yet another Christmas project may seem like a money grab, in my personal opinion, Matthew has wowed us time and time again with his stellar and relatable song writing, while also staying relevant to the current CCM sound as well; and within the confines of this 10 song offering of both original Christmas melodies and timeless fan-favourites, he has once again put on display to us a near-flawless effort, as he thanks God for coming to Earth as a baby. With gratitude and appreciation seeping through each melody, we are glimpsed into the true reason for the season.
As we are immersed into the holiday and seasonal spirit this time around, Matthew has delivered well known carols as well as heartfelt and poignant originals, to ensure that we are blessed by some of my favourite renditions of worship songs praising Jesus, while also being exposed to new favourites as well. As we remember why we celebrate Christmas, as well as how we can reflect and ponder on Jesus giving us new life, Unto Us: A Christmas Collection is one of my favourite Christmas albums of 2016, alongside Lauren Daigle's new project Behold and Matt Redman's These Christmas Lights, and is a must buy this Christmas season!
Opening the track list is the brand new never before heard title track, an original melody led by stirring electric guitars. A radio friendly CCM ballad complete with Christmas bells and whistles, Matthew emphatically declares through worship that '…unto us, unto us a child is born, unto us, unto us a son is given, glory to God in the highest, wonderful peace of peace, Emmanuel has come to set the captives free, and with the angels we sing glory to God in the highest, he has brought this great love, unto us…', fervently recounting that extraordinary day when Jesus was born in a manger. A melody that the shepherds may have sung, the vertical worship melody is the perfect way to start praising our Maker for coming the Earth all those years ago.
The remainder of the 9 songs are a mixture of tracks we've heard before and tracks we haven't. Traditional carols "Jingle Bells", "O Holy Night" and "Have Yourself a Merry Little Christmas" were all present on The Heart Of Christmas and each melody is well deserving here, with musical surprises abound. "Jingle Bells" (actually a medley with "Deck The Halls" is a short but sharp 2-minute saxophone led jazz inspired toe tapper, where Matthew cheerfully reminds us '…oh what fun it is to ride in a one horse open sleigh…', while the piano and strings prominent lullaby-influenced album closer "Have Yourself A Merry Little Christmas" is one of my favourite renditions of the carol ever (alongside Francesca Battistelli's version). In sheer contrast to Francesca's 2009 single, which is a upbeat jazz infused time warp to the 60's and 70's tunes, Matthew slows down the tempo greatly, as he sings about the season and that it is the season where we reminisce about '…happy golden days of yore…' and '…faithful friends who are dear to us, gather near to us once more…'. Putting a smile on my face, there is a reflective and contemplative atmosphere present in this song, and is definitely a fantastic inclusion. And Matthew continues with the piano led ballad genre, with the majestic and epic "O Holy Night" being exceedingly awesome and near-flawless. Just like Danny Gokey's version last year, this emotional, heartfelt melody invokes feelings of gratitude and thanks to God for giving us hope and salvation in the form of Jesus as a boy born in a manger. As Matthew ardently relays to us to '…fall on your knees, O hear the angel voices, O night divine, O night when Christ was born…', we are presented with a worship experience like no other, and an anthem that is timeless and surely will be timeless in the next 50 years and beyond!
Also present on 2011's The Heart Of Christmas are two originals "Come On Christmas" and "The Heart Of Christmas". While "Come On Christmas" is a fun filled jazz inspired 80's throwback toe tapping melody, with Matthew passionately crying out, asking '…come on, Christmas, I don't know why you're taking so long, Christmas, well, I've been waiting all year for you to get here, and I can't take another second, can't you hear me beggin'…' (as if 'Christmas' is a real person), in what is essentially a tongue-in-cheek melody; the piano led emotional and heartfelt "The Heart Of Christmas" is also another welcome addition, and probably my favourite Matthew West Christmas song ever. Reminding us all that the true meaning of Christmas, aside from rejoicing in the birth of Jesus, is to be with family and celebrate the coming together of family, Matthew encourages us in the chorus to '…wherever you are, no matter how far, come back to the heart, the heart of Christmas, live while you can and cherish the moment, the ones that you love, make sure they know it…'. Every day could be our last, so Matthew's warm directive to do the things you want to do right now while you still can, is quite thought provoking and confronting, and well worth several listens.
With December 25th being just over 2 months away, it's never too late to hear some brand new Christmas tunes (originals or re-worked favourites) and that is precisely what Matthew has done here (the 5 representatives from The Heart Of Christmas aren't exactly new). And aside from the title track of the album "Unto Us", Matthew has delivered 4 new songs of heart and soul, reminding us all about Jesus and the reason for the season. With an epic orchestral like start and a resounding, emphatic gospel choir added in, Matthew's inspiring rendition of "The First Noel" is one of my favourite renditions of the carol, as we are in awe of the assertion that '…my heart has found no greater love than a king who would offer his only son, to save us all from the shadow of sin, who light up the world, may our praise never end…'. Complete with an added new chorus and bridge, Matthew transforms this age-old classic into a gospel worship modern hymn type melody, sure to be popular in the coming years and beyond. While the 3 minute "Silent Night" stays pretty close to previous versions I have heard- a piano and acoustic guitar led slower paced melody featuring up and coming singer/songwriter Leanna Crawford on guest vocals.
The final two tracks present on Unto Us are the originals "A Christmas To Believe In" and "Join The Angels". While the country/bluegrass/gospel/motown/jazz dance inspired guitar led "Join The Angels" is like a fun filled party wrapped up in a song, as Matthew ardently recounts that we can join the angels and praise Jesus for coming the Earth essentially to save us because He loves each of us so much; it is the poignant, honest and emotional "A Christmas To Believe In" that really tugs at my heart and emotions. As Matthew fervently highlights to us that we should actively live each Christmas with the intention of making each Christmas '…more than just a Merry Christmas, I'm wishing you a Christmas to believe in, where the moments turn to memories, and years from now you'll close your eyes and see them, more than just another busy season…', we are eloquently reminded to cherish each Christmas (and more than that- each moment) we have on this earth, so that we can also live life to the fullest, the way God wanted us to. And as we start shopping for presents for loved ones for the busy season, let us all remember that Christmas doesn't really need to be about gifts and presents, but rather the presence of Jesus, and the presence of the people in our lives that truly matter.
For Matthew West, to record a jovial, happy and cheerful Christmas themed album, after the critical and commercial success of Live Forever and the singles "Day One", "Grace Wins" and "Mended", is probably as healing and as therapeutic to record, as it most likely will be for others to listen to it. Reminding us all that Jesus Christ is King, and that His birth is revolutionary and important in our faith, Matthew's latest Christmas album tops his previous 2011 Christmas offering. With plenty of soon to be original Christmas hits, worshipful melodies, as well as heartfelt personal ballads, you cannot go wrong with taking a look at Matthew's new album. Well done Matthew for 10 songs that have touched my soul and changed me for the better, as we progress into the latter months of the year!
3 songs to listen to: A Christmas To Believe In, The First Noel (Sing Noel), The Heart Of Christmas
Score: 4.5/5
RIYL: MercyMe, Tenth Avenue North, Building 429, The Afters, Sanctus Real