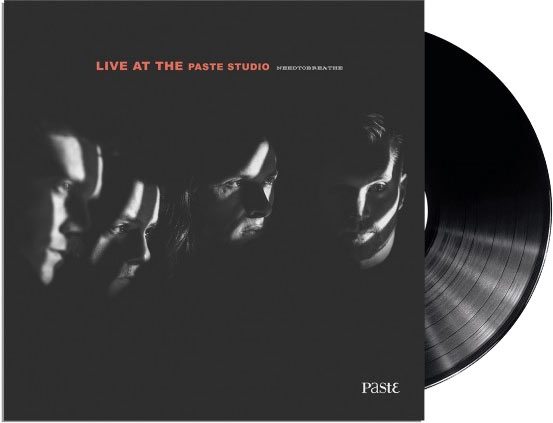 Atlantic Records
Release Date: November 25th 2016
Reviewed by: Joshua Andre
Needtobreathe– Live From the Paste Studio 7″ Vinyl Single (Website)
Track Listing:
Hard Love
Happiness
"…Over the summer in NYC, we got to visit Paste Magazine in midtown Manhattan and do a few acoustic songs with the staff. We put our two favorites together for a new project that is going to be available ONLY on 7″ vinyl…" Arguably one of the most popular and respected bands in both Christian and mainstream media markets, Needtobreathe are a band whom I have increasingly been actively following and listening to over the past few years, and have been respecting more and more. Branching out and recording plenty of songs specifically directed to the mainstream media, the South Carolina quartet comprises of brothers Bear and Bo, and good friends Seth and Josh; with the four having wowed us again and again with their honest lyrics, catchy music and southern rock goodness, also providing us with plenty of inspiring and thought provoking messages to ponder over as well. With their most recent studio album Rivers In The Wasteland and live album Live From The Woods being recognised in the Dove Awards of 2015; HARD LOVE recently released this year, with the 12 track collection of pop rock goodness showing us once again what a force Bear, Bo, Seth and Josh are right now, and how they're definitely a band to be reckoned with both now and into the future. Providing us songs that compel us to dwell upon and ponder the deep issues of life, there was definitely plenty of food for thought on the album. So much so that Needtobreathe decided to release an acoustic side vinyl project, comprising of 2 of their hits "Hard Love" and "Happiness". Live From the Paste Studio 7″ Vinyl Single may be on the short side, but it is a great reminder of the band's ability to create great music, and capture us with their inspirational presence and overall relatability.
Probably the most 'pop/rock' melody on the album, and one of the most radio friendly songs the band has ever recorded is "Happiness"- the first song we were all introduced to from HARD LOVE. With the band releasing a music video at the beginning of June, we were presented with a gospel choir during the first few seconds of the 3-and-a-half-minute danceable melody, as Bear fervently recounts that he is ambitiously chasing and pursing happiness, and longing for the time when he truly encounters the meaning of the word. As Bear relays that '…I got dreams that keep me up in the dead of night, telling me I wasn't made for the simple life, there's a light I see, but it's far in the distance, so I'm asking you to show me some forgiveness, it's all for you in my pursuit of happiness…'; we are encouraged to actively run towards the One who ensures that our happiness is eternal (it isn't explicitly stated, but inferred, especially in the captivating music video!), pressing on towards Jesus as our eternal prize. A thought provoking and stirring first single that is bound to create discussion as to what it means to be truly happy, the acoustic version of the song recorded at Paste Magazine is just as inspiring and compelling, as the quartet passionately sing across vibrant guitars the notion that we as humans long to be happy, and asking our Creator for forgiveness in pursuing the wrong things or not living life to the fullest; sure to create and promote discussion. The last song on the 'EP' is an acoustic version of "Hard Love", just clocking in at 2 minutes. Diving in with a poppy and radio friendly atmosphere (maybe the official 3rd single after "Testify"?); Bear passionately highlights the fact that whenever trouble and adversity arrives, to '…hold on tight a little longer, what don't kill ya, makes ya stronger, get back up, 'cause it's a hard love…', to fight the good fight, as you never know when things will be better, and there might be something good happening around the corner. Reiterating that we need to put the 'hard love' on ourselves in order to keep on surviving through life even if we do not want to, the title track is thoroughly enjoyable, with the added bonus of backing vocals creating an intimate, personal and more honest setting- well done guys for a compelling melody!
So there you have it- Bear, Bo, Seth and Josh have done it again, creating a musical and lyrical masterpiece (although with only 2 top notch and high quality tracks recorded on this project, the chances of creating a masterpiece are pretty high!), examining and diving deep into issues that are relevant across society, while ensuring that their faith in God and testimony of how Jesus is who He says He is, shines through the music and lyrics. And though "Money And Fame", the other song recorded at Paste Magazine earlier this year wasn't featured on this limited edition single, these 2 melodies do serve their purpose- as HARD LOVE is guaranteed to be more popular in the mainstream industry in the years to come! I already can't wait to listen to the band's new full studio album whenever it releases! Well done Bear, Bo and Seth; I will definitely recommend your music to many of my friends and acquaintances!
3 songs to listen to: This single comprises of only 2 tracks, but I recommend watching the 3 videos as well!
Score: 4/5
RIYL: Daughtry, Switchfoot, Skillet, Colton Dixon, Mat Kearney