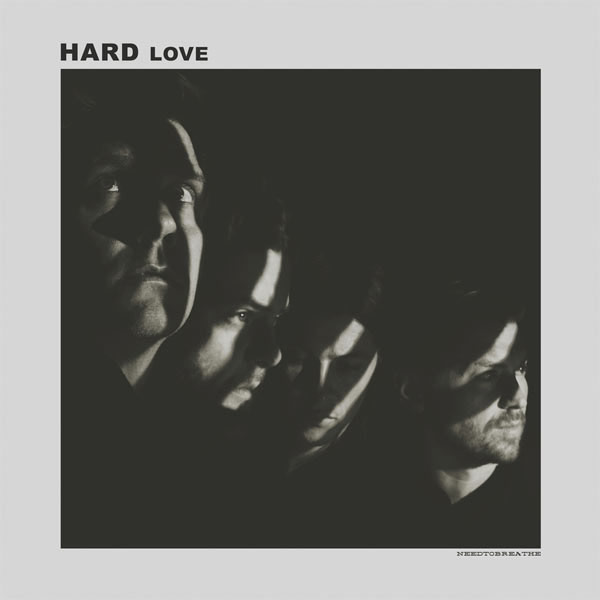 Atlantic Records
Release Date: July 15th 2016
Reviewed by: Joshua Andre
Needtobreathe– H A R D  L O V E (Amazon mp3/iTunes)
Track Listing:
MOUNTAIN Pt 1 (0:56)
HARD LOVE (3:35)
MONEY & FAME (3:12)
NO EXCUSES (2:45)
WHEN I SING (2:43)
HAPPINESS (3:26)
GREAT NIGHT (feat. Shovels & Rope) (2:56)
BE HERE LONG (3:35)
DON'T BRING THAT TROUBLE (2:57)
LET'S STAY HOME TONIGHT (3:20)
TESTIFY (4:04)
CLEAR (6:51)
Arguably one of the most popular and respected bands in both Christian and mainstream media markets, Needtobreathe are a band whom I have increasingly been actively following and listening to over the past few years. Often branching out and recording plenty of songs specifically directed to the mainstream media, the South Carolina quartet comprises of brothers Bear and Bo, and good friends Seth and Josh; with the four having wowed us again and again with their honest lyrics, catchy music and southern rock goodness, also providing us with plenty of inspiring and thought provoking messages to ponder over as well. With their most recent studio album Rivers In The Wasteland and live album Live From The Woods being recognised in the Dove Awards of 2015; there were also plenty of songs that personally impacted and spoke to me, such as "Wasteland", "Multiplied", "The Heart" and "Difference Maker". Fast forward a few more years, and now HARD LOVE has finally released, with the 12 track collection of pop rock goodness showing us once again what a force Needtobreathe is right now, and how they're definitely a band to be reckoned with both now and into the future. Providing us songs that compel us to dwell upon and ponder the deep issues of life, there's plenty of food for thought here… So let's see how this album compares to other albums in 2016 so far, as well as the band's discography!
Probably the most 'pop' or shall we say pop/rock melody on the album, and one of the most radio friendly songs the band has ever recorded; the first song we were all introduced to from HARD LOVE was the lead single "Happiness" released a few of months ago. With the band releasing a music video at the beginning of June, we are presented with a gospel choir during the first few seconds of the 3-and-a-half-minute danceable melody, as Bear fervently recounts that he is ambitiously chasing and pursing happiness, and longing for the time when he truly encounters the meaning of the word. As Bear relays that '…I got dreams that keep me up in the dead of night, telling me I wasn't made for the simple life, there's a light I see, but it's far in the distance, so I'm asking you to show me some forgiveness, it's all for you in my pursuit of happiness…'; we are encouraged to actively run towards the One who ensures that our happiness is eternal (it isn't explicitly stated, but inferred, especially in the captivating music video!), pressing on towards Jesus as our eternal prize. A thought provoking and stirring first single that is bound to create discussion as to what it means to be truly happy, the rest of the songs are just as moving and inspiring also.
"Money & Fame" was the next song released prior to album release day- and is the next single (albeit a promotional one!) from the band. Powerfully led by electronic synth and brass instruments (I can hear saxophones and trumpets!), the subject matter presented in this 70's throwback jazz melody is once again heavy and perhaps confrontational, as Bear ardently relays how the love and pursuit of money most of the time can lead many people away from the person who we want to be. Singing the melody from the perspective of an older person with a ton of regrets as he sings to a younger person, Bear encourages us to not place material wealth and possessions in the middle of our universes, as '…money and fame bring a man to shame, ain't no doubt about it…'. Though the fact that we should focus our attention on Jesus instead of money and fame isn't really referenced to in this song, as Christians we can and should know that Jesus should be the centre of our lives.
Throughout the remainder of the tracklist, Needtobreathe pour their heart and soul into their music, creating anthems and covering a wide array of relatable topics. The album opener and the title track (actually track #2!) is preceded by a one-minute intro called "Mountain Pt 1", an electronic remix like melody reiterating that even if there is a mountain in our way, that '…there's a river made of roses, just up over this hill…' (implying that there is something bigger and greater and worth pursuing beyond our troubles); while the title track dives in with a poppy and radio friendly atmosphere (maybe the official 2nd single?), as Bear passionately highlights the fact that whenever trouble and adversity arrives, to '…hold on tight a little longer, what don't kill ya, makes ya stronger, get back up, 'cause it's a hard love…', to fight the good fight, as you never know when things will be better, and there might be something good happening around the corner. Reiterating that we need to put the 'hard love' on ourselves in order to keep on surviving through life even if we do not want to, the title track is thoroughly enjoyable- well done guys for a compelling melody!
The next couple of songs are relationship type melodies, and while "No Excuses" is an acoustic guitar driven slow tempo ballad reiterating that the persona's ex who broke their heart has no excuses for what they have done or are doing; the happier and cheerful hand clapping and electric guitar led pop melody "When I Sing" delves into a more satisfied relationship as Bear reiterates that when he sings to his soulmate, everything becomes brighter and makes more sense. Though these tracks do not explicitly mention God or anything to do with faith, there is indeed an honesty and brutal emotion evident throughout, and I definitely do commend Bear for delving into a topic that is indeed universal across all walks of life, and hopefully through listening to these songs, people can be drawn to Needtobreathe's faith based songs, and can hear the word of Jesus Christ that way.
Bear then brings the subject matter back to the ultra-personal and honest, as he dwells upon the passing of a loved one in the danceable pop number "Be Here Long", with the lyrics being anything but fluffy and airy (which is what the music is like, with the 80's disco influences littering throughout), crying out that '…I gave you the best of me, loved you more than anything, but we don't get to be here long…', implying that heaven is closer than we think, and we may meet our loved ones later on in heaven. While "Don't Bring That Trouble With You" is an out-and-out country inspired melody with plenty of stirring electric guitar solos, as Bear warns us all of unhealthy relationships (earthly or spiritual), advising us all to run from relationships that will leave us worse off than before we entered into them; and the 7 minute album closer "Clear", a definite lullaby, is as captivating as it is poignant and encouraging, as Bear sings out the assertion that his love for his wife is the only thing that gets him going in this life. Though a tad contradictory as God's love is the thing that should be higher than the love for his wife, Bear's powerful admission that '…oh, it's so clear, come a little closer, all of my love is right here, I just want to hear you whispering you still trust, you're the only thing that I have ever been sure of, I just wanna be where you are…', reminds us all that the love for our loved ones, even if we think it is the highest love of all, is only a fraction of the love God has for each one of us.
The acoustic guitar driven mid-tempo worship style ballad "Testify", thematically similar to "Multiplied", reminds us that we can '…give Me your heart, give Me your song, sing it with all your might, come to the fountain and you can be satisfied, there is a peace, there is a love, you can get lost inside…' (in a song that is sung from both God's perspective in the chorus- and ours in the verses!), and the personal and emotional love song "Let's Stay Home Tonight" beautifully displays Bear's love for his wife through a slow paced acoustic ballad, as Bear imparts that he just wants to stay home with his wife instead of going out. But it is "Great Night" featuring Shovel and Rope that to me is the most disconcerting and is the only miss-step on an otherwise inspiring and thought provoking album. With the lyrics being nothing special and a few questionable content thrown in as well (the song is a far more mainstream version and perhaps more explicit than Group 1 Crew's party anthem "Live It Up"!), I am slightly disappointed here, and would have expected better. All nit-picks aside, HARD LOVE is on the whole a thoroughly enjoyable album and one to listen to if you're a fan of the band's previous work.
So there you have it- Bear, Bo, Seth and Josh have done it again, creating a musical and lyrical masterpiece (except for a couple of tracks!), examining and diving deep into issues that are relevant across society, while ensuring that their faith in God and testimony of how Jesus is who He says He is, shines through the music and lyrics. And even though I have resonated more with Rivers In The Wasteland, that doesn't mean that HARD LOVE isn't a good album- rather I reckon you should check out Needtobreathe's latest project, as you will definitely be inspired and encouraged by a song or two! Guaranteed to be more popular in the mainstream industry in the years to come (I can tell that "Happiness" and "Money & Fame" will be popular for probably the next 5 years at least!), I already can't wait to listen to the band's new full studio album whenever it releases! Well done Bear, Bo and Seth; I will definitely recommend your music to many of my friends and acquaintances!
3 songs to listen to: Hard Love, Happiness, Testify
Score: 4/5
RIYL: Daughtry, Switchfoot, Skillet, Colton Dixon, Mat Kearney