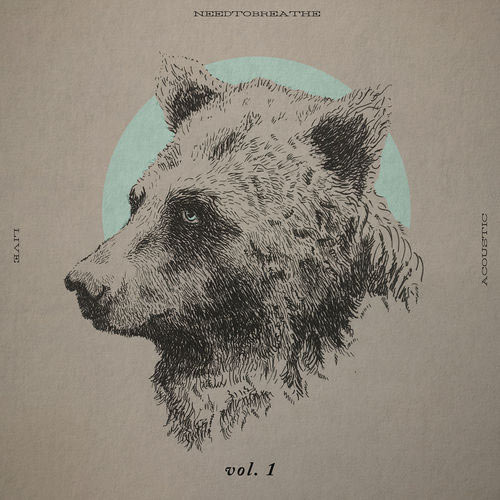 Atlantic Records
Release Date: November 16th 2018
Reviewed by: Joshua Andre
needtobreathe– Acoustic Live Vol. 1 (Amazon mp3/iTunes)
Track Listing:
LET'S STAY HOME TONIGHT (Acoustic Live)
Drive All Night (Acoustic Live)
NO EXCUSES (Acoustic Live)
State I'm In (Acoustic Live)
Washed By The Water (Acoustic Live)
TESTIFY (Acoustic Live)
Oh, Carolina (Acoustic Live)
Stand By Me (Acoustic Live)
Stones Under Rushing Water (feat. Drew & Ellie Holcomb) (Acoustic Live)
White Fences (Acoustic Live)
CAGES (Acoustic Live)
Brother (Acoustic Live)
Time and time again branching out and recording songs specific to the mainstream media, pop/rock quartet Needtobreathe, comprising of brothers Bear and Bo Rinehart, and good friends Seth Bolt and Josh Lovelace, are one such band who have grown on me immensely throughout the years, as they have wowed us again and again with their honest lyrics, catchy music and southern rock goodness. Providing us with plenty of inspiring and thought-provoking messages to ponder over as well; in their last couple of albums alone (River In The Wasteland and HARD LOVE), there were plenty of songs that personally impacted and spoke to me, such as "Wasteland", "Multiplied", "Brother", "Testify", "Hard Love", "The Heart", "Happiness" and "Difference Maker".
Personally, I think that the quartet are much deserving of their many Dove Award and Grammy Award nominations and wins, and maybe even more- and it's only fitting that their 6 critically acclaimed and successful studio albums to date are celebrated in the first part of an acoustic live album. Yes, you heard me, Needtobreathe are unveiling Acoustic Live Vol. 1 today! 12 tracks long and by no means a comprehensive 'best of' project- it's evident that there are more instalments of acoustic projects releasing later on. But for now, how does this album stack up against…say Live From The Woods from 2015 (which is basically another live project with a full band, and can be reviewed here!)? Releasing on a day coinciding with Only Jesus from Casting Crowns and other singles from Mallary Hope and Hollyn; let's dive in, and see why I reckon this release is one of the most necessary and impacting albums of the year!
"…Recording live albums are tricky. You want the band or artists in question to be authentic and include raw audio of a special, unique and magical night (or nights), yet you don't want the recording to sound too bootlegish. So some post-production is needed. But you also don't want the recordings to sound too similar to the studio versions, otherwise why record a live album? Thankfully, Needtobreathe exquisitely invite us into a near-flawless performance, as we hear the same passion, honesty and emotion previously bared in the studio versions, but also the live atmosphere and the emotions of the crowd as well. The result is song after song that I want to listen to again and again…" With this above quote being taken directly from my review of Live From The Woods, I wholeheartedly believe that this sentiment rings true for Acoustic Live Vol. 1 as well- it's such a balancing act in my opinion to get a live project right, and in this instance it's even doubly hard, as it's an acoustic live project. Heavy on the acoustic guitar and the keys, but no/minimal heavy drums or electric guitar. And though some would say that because Needtobreathe are rockers that they are incapable of pulling off such a project; I can firmly assert that the doubters will be proven wrong here, as all of these versions are on par, and some even superior, than the original studio recordings. With each of these recordings showcasing the band's vulnerable and honest side (as there's no flashing lights or big booming electric guitar solos to hide behind!), we are invited to journey along with Bear, Bo, Seth and Josh throughout a few highlights of their career sung in a different, yet still impacting and inspiring, light.
If you're reading this, then you're a needtobreathe fan. Chances are you've heard all of these songs before when they were released originally a while back, so it stands to reason, and is pretty logical for me to 'not-review' this album. It's be pretty pointless to talk about the tracks when you know them all inside and out. So this means that I am going to 'finish up' and let you all discover the specialness and the magic of Needtobreathe all by yourself, which you can do at your own pace. And as far as my earlier claim that Acoustic Live Vol. 1 is one of the most necessary and impacting albums of the year; let me build upon that and also say that these twelve gems reveal to us that good songs are good songs, and you don't have to have a big fancy full band to show that. Just a few guys, a guitar and some keys, and you can create something that lasts for a very long time. While one could say 'oh, "Multiplied" is missing!' or 'I can't hear "Hard Love" anywhere!'; I for one am extremely happy with what the group have come up with- and cannot wait for Acoustic Live Vol. 2 – and who knows, maybe "Multiplied" and "Hard Love" could show up on that track list! Though some bands suffer when the music is stripped away, Needtobreathe certainly isn't one of them.
So, with 12 tracks on the first instalment of an acoustic project, should you check out Needtobreathe's latest project? Yes, most certainly, you will definitely find a song or two that you will love! Perhaps it is the cover of "Stand By Me", or "Cages" where all the band members take turns at singing the lead, or the worshipful hits "Washed By The Water" and "Testify", or maybe you're a sucker for pop tunes, in which case "Brother" will be for you! Whatever your standout track, this release is sure to blow up in the coming days and months, and is more or less guaranteed to be more popular in the mainstream industry in the years to come. Needtobreathe has recently released Forever On Your Side: The Nile City Sound Sessions and though that EP is way too short, Acoustic Live Vol. 1 is near-flawless, and reminds us that the best of Needtobreathe may be yet to come. Is next year the year where we hear a new full length studio album? I personally can't wait to listen to the band's new studio album whenever it releases; and Acoustic Sessions Vol. 1 will definitely tie me over until then, and maybe by some more! Well done Bear, Bo, Josh and Seth; I will definitely recommend your music to many of my friends and acquaintances!
3 songs to listen to: 
Score: 4/5
RIYL: Drew Holcomb, Relient K, Switchfoot, The Civil Wars, John Mark McMillian, All Sons And Daughters