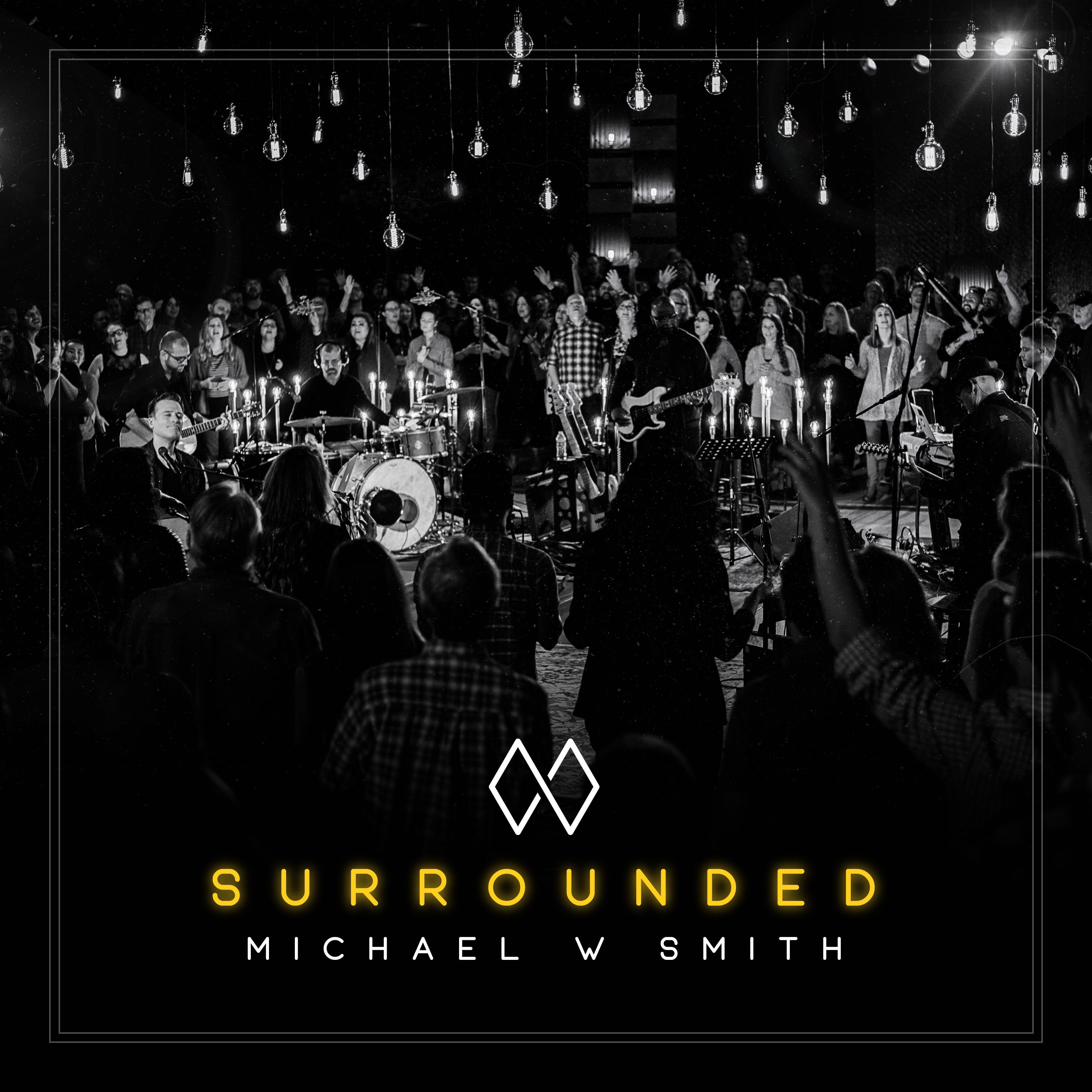 Rocketown Records/The Fuel Music
Release Date: February 23rd 2018
Reviewed by: Jonathan Andre
Michael W. Smith– Surrounded (iTunes/Amazon mp3)
Track Listing:
Your House
Light To You
King of My Heart
Reckless Love
Here I Bow
Miracles
Do It Again
Surrounded (Fight My Battles)
Build My Life
Washed Away
Great Are You Lord
Light to You (Reprise)
If you haven't heard of Michael W. Smith by now, regardless of whether you listen to Christian music or not, you've been living underneath a rock. No seriously. I'm sure anyone who's everyone and everyone who loves music, period, has heard of Michael and his music at one point or another in their lives. And knowing us all who are avid fans of music in general, we know that Michael's release of Surrounded, a live worship album full of original songs and covers (and a sequel of sorts to his previous live album A New Hallelujah that released 10 years ago in 2008), released only a week, yes only a week, after his long-awaited studio album A Million Lights, his first album release in 4 years. Phew, that's a long sentence. Now, for anyone who doesn't know Michael and his music- just check out google, but here's a few gems of goodness for those who may not know this artist who I reckon is one of the pioneers of modern CCM (alongside Amy Grant and Steven Curtis Chapman, both of whom are still active within the CCM industry even now!)- Michael is a renown worship leader, a multi-Platinum, three-time Grammy Award winning artist, best-selling author and acclaimed actor. He has been previously on both Sparrow Records and Reunion Records, has released chart-topping songs like 'Place in This World', 'Love Me Good', 'Live the Life', 'Friends', 'This is Your Time', 'Healing Rain', 'Give It Away', 'I'll Lead You Home' and 'Come to the Cross' to name a few (there are many, many more); as well as covering 'Above All', a song that wasn't written by him (it was written by Paul Baloche), but from here on end, will always be attributed to him.
He has been in and around the music business for a long time, releasing his debut album in the early 1980s. Now it's 2018, and hearing not only A Million Lights but Surrounded, you can't tell that Michael is in fact 60 years old. Nor can you tell that Michael has been in the business longer than much of his fanbase has been alive! Now with not only 1 but 2 albums releasing this year, Michael's new vertical worship album is something unique and heartfelt, and while this new album is literally full of covers, more so than A New Hallelujah, we nevertheless are gifted with a passionate and heartfelt worship session. Michael continues to usher people into heartfelt worship and praise, with the passage of Amos 5:23-24 being the spark of how this new album came about. Michael found himself creating A Million Lights in response to the culture that was arising in America post-2016, as well as the back-and-forth that was on twitter that was a result of such events that culminated in 2016. As Michael says himself, '…it floored me. It absolutely threw me up against the wall, and I started to reexamine everything that I did. I realized at that moment that worship and justice go side by side, and if justice is not a part of what you're doing worship-wise, then it's not going to work…I feel God moving through His Church and He is calling us together to be one voice and one heart. One bride. Every nation, every tribe and every tongue. Every social class, every denomination. What if we bring Him the thing that pleases Him most– our unity. We may each have different stories, and skin, and songs, but we all share His same Spirit…'
And so Surrounded came to fruition. Out of a season of restlessness of how the world has come to the state that it did, and knowing and understanding that a heart of worship in spite of such circumstances is the first and only response we ought to have in a time like this, rather than spurting out messages that may have been well-meaning, but nevertheless have been written and spoken in haste and judgement, rather than out of love and encouragement. Surrounded, an album that may or may not be overlooked in favour of Michael's more 'out-of-the-box' EDM release A Million Lights a week earlier, is sure to become loved and enjoyed by many who love the worship music genre and has followed Michael and his worship music, from Worship and Worship Again, to A New Hallelujah, to now. And with just one look at the track listing of the album, we can see that Michael has always decided to deliver a myriad of songs, some originally recorded and others covers from popular worship songs of today. So even if you aren't really a fan of Michael and his music, you can still love Surrounded if only for the cover songs. And there's plenty of them, many I'm sure have been sung at one point or another on a Sunday morning worship service time in recent memory. 'King of My Heart', originally by John Mark McMillan, is an instant standout on this album, as is Jesus Culture's 'Miracles', Passion's 'Build My Life', and One Sonic Society's 'Great are You Lord', even though that track alone is only the chorus sung a few times, and the bridge, rather than just the whole song as much of the album covers are. Nevertheless, songs like these aforementioned above, anchor the album when it comes to familiarity, especially for many listeners who may not have heard much of Michael's material, they may come for the covers but hopefully they can stay around and check out Michael's discography after a few listens.
Brian And Jenn Johnson's 'Here I Bow', perhaps one of the lesser known songs from a Bethel Music artist, ever, is included on Surrounded and while I myself may not have heard the song if it wasn't for Michael and his rendition, I find myself enjoying the track very much so. It seems like sometimes the lesser known and less popular songs seem to be much more poignant and heartfelt compared to the over-played worship songs on the radio again and again. Not to say that Surrounded is littered with songs that are overplayed, melodies that seem to be tiresome after hearing them for hundreds and hundreds of times on Sunday morning worship setlists- quite the opposite in some cases. I myself am a avid worship enthusiast, and since Michael's last worship album was A New Hallelujah (that album also included a few worship covers like 'I Surrender All', 'Amazing Grace (My Chains are Gone)', 'Majesty', 'Shout Unto God' and 'Grace', to name a few), it's nice to see that ten years later in another worship album, we see a collection of songs- some original, some songs that have been impacting lives around the world for the last few years.
One such cover is 'Reckless Love', released just this year by original singer-songwriter Cory Asbury. A bolter to even be considered to be recorded by Michael to place on Surrounded, this is a song that I'm sure will continue to make waves on the radio both now and into the future, as this track continues to allow the name of Cory and his music to be prominent in both the CCM and worship music industry. 'Do It Again', originally recorded by up and coming worship movement Elevation Worship from their 2017 album There is a Cloud, is recorded effortlessly here by Michael, and frankly, is my preferred version of the track, even better in my opinion compared to the original. Still, others may disagree and that is ok. What I reckon is that the song itself, 'Do it Again', will be a track this year like how 'What a Beautiful Name', 'No Longer Slaves', 'Good, Good Father', 'Ever Be' and 'Great Are You Lord' have been in years past. 'Surrounded (Fight My Battles)', the first single to be released from Surrounded, was originally conceived by indie worship movement Upper Room as a spontaneous track in one of their free worship services, and thus, Michael recorded the first cover of the track ever since the song was birthed within a prophetic worship session. Though the song itself is only repeating two lines over and over 'this is how I fight my battles' and 'it may look like I'm surrounded, but I'm surrounded by you'; the passion and heart that Michael exhibits in this nearly 5 minute track is nothing short of impacting and encouraging, and while I myself may have found it a bit weird to pick this song as the first single from Surrounded, I nevertheless am moved by this lyrically short yet equally profound song.
Michael also invites us to partake in his originally recorded songs especially for this project, namely 'Your House', 'Light To You' and 'Washed Away'- with 'Your House' being an upbeat song, something that Chris Tomlin could sing, as we're reminded that we are all welcomed into the house of the Lord, while 'Light To You', tagged as a reprise onto Surrounded as well, tells us that we can never go anywhere where Jesus can't find us- that our resting place is in Him, that '…even the darkness is light to You…' 'Washed Away' carries on from the theme left by hymn 'Nothing But the Blood', and also features a guest refrain on the song, as what we understand is that God has washed everything away on a clean slate, that whatever we undertake cannot be influenced by whoever we think of- purely on the basis that our sins are washed away and that there is nothing we can ever do to earn what has been freely given to us all. These three songs alone ought to be enough for us to check out Surrounded at least once, and even if we're there listening only for the covers, I'm sure we'll stay a while after hearing the original tracks on the album, some of the most ingenious originally written worship songs I've heard ever since Third Day started to delve into the worship music scene a while ago!
So there you have it…Surrounded, that released not too long ago. Michael W. Smith has always been one of the pioneers of worship music and this album is no different. As Michael says himself, '…until the world ends, music is the most powerful language there is. It can transform your life on every level, not just the spiritual. It can help people reconnect with why they're here…' And while it could seem as though this album is nevertheless a money-grab at face value, considering how many cover songs there are, need I remind us all that Michael has been doing music for quite some time. Does it really matter how many covers there are on the album, especially when just a week prior, his all new album A Million Lights released? Besides, Surrounded is a testament to the quality of these songs, that they can be powerful regardless who sings it. Michael, though a long time in the music business, has always found ways to re-invent himself so that he can still stay relevant towards the younger generation. Surrounded is no different. With some newer covers, and some older ones, alongside his handful of original material, this is a must have for anyone who loves Michael and his music, worship music, or both. Well done Michael for such a powerful album, this one as well as A Million Lights will be on rotation on my iTunes playlists in months and years to come!
3 songs to listen to: Light to You, Reckless Love, Do It Again
Score: 4/5
RIYL: Passion, Elevation Worship, Chris Tomlin, Matt Redman, Tim Hughes