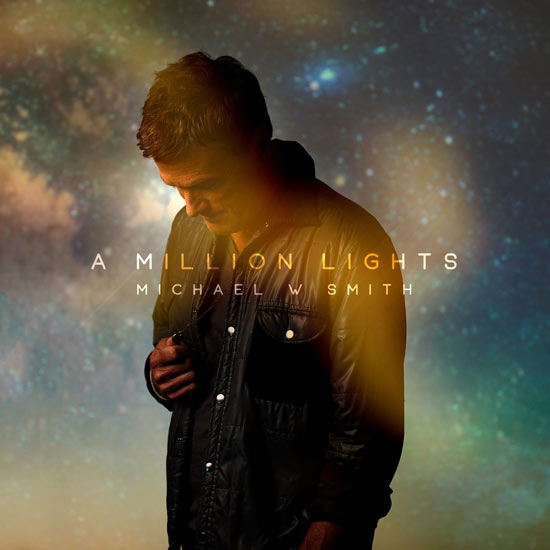 Rocketown Records/The Fuel Music
Release Date: August 11th 2017
Reviewed by: Joshua Andre
Michael W. Smith– A Million Lights (Single) (Amazon mp3/iTunes)
Track Listing:
A Million Lights
"…I don't recall being this excited about a single in a long time. I'm very happy with how 'A Million Lights' has turned out and am anxious to get it from my studio out into the world! I believe the message of this song will be inspiring to everyone who hears it…" It's been about 3 and a half years since Michael W. Smith, one of CCM's most respected and popular singer songwriters, released a studio album of all new material (Sovereign was released in May 2014)- although Michael did released The Spirit Of Christmas and Hymns II: Shine On Us later on. The writer of famous songs such as "Secret Ambition", "This Is Your Time", "Friends", "Live The Life", "Place In This World", "Agnus Dei", "Come To The Cross", "Cry For Love" and "Healing Rain"; now Michael is making a comeback, with yet another label change (from Sparrow Records to Rocketown Records andThe Fuel Music) and the unveiling of a brand new single. Musically in the EDM mould, and with Smitty beign heavily influenced by Coldplay musically here, "A Million Lights" is the lead single from the yet to be titled album to be released early in 2018. While this change came completely from left field, I am very interested and intrigued, as I was last time. My family and I saw Michael in his Sydney concert in 2012, and the worship and performance there was totally sublime; so my eagerness and anticipation to hear Michael's new album is understandable! So is Michael's comeback as worthy as the hype is? Let's dive in and see how "A Million Lights" sounds like, and see if the 3-year sabbatical brings forth a fresh perspective and a reinvigorated sense of musical and lyrical purpose. Though Smitty is now an independent artist (no more songs on WOW Hits albums for him!); the immediate feeling I am left with after listening to the new melody is one of quiet anticipation and joy- hopefully this upcoming new record is the first of many to come on Michael's new home of Rocketown Records and The Fuel Music!
Opening with stirring electric guitar and vibrant synth, we are blessed to hear the trademark Smitty sound as Michael ardently highlights the notion that all of creation cries out '…for You, all the stars are singing with You, every day I'm feeling alive…'. Lyrically and thematically simple in nature with respect to every living thing on earth praising our Lord and King because of everything He's done for us, Smitty's inspiring melody is sure to touch someone's life as we dig a little deeper, and marvel at the One who made the stars, the lights, and everything we see around us. Though at times the song can get a bit repetitive, it still is catchy, and Smitty's passion for Jesus is as evident now than ever before. Call it a new lease on life musically and lyrically if you will, but I think "A Million Lights" is the start of a cool new journey that will hopefully last a long time.
With the move from being signed to being independent not hampering Michael's musical style one iota, it's yet to be determined what musical direction Michael W. Smith will take with his new album- whether it is pop, worship, CCM, or rock. But one thing is for sure- Michael continues to impress and show us in this song, parts of his singing and songwriting not previously explored nor focused, expanding his repertoire and giving newer fans a reason to sing out loud and shout, giving God the glory in every aspect of our lives! After being in the business for 30+ years, one may have thought ideas musically and lyrically may not be fresh anymore and Michael's voice could have been waning. Yet "A Million Lights" reminds me that Michael W. Smith isn't going anywhere any time soon, and that's definitely a good thing, as we can never get enough 'Smitty' songs in our lives! Well done Michael, I can't wait to hear your new album in 2018!
3 songs to listen to: A Million Lights…until we all become more and more excited for Smitty's new album release early 2018- his first in 4years!
Score: 4/5
RIYL: for KING & COUNTRY, Coldplay, UNITED, Planetshakers, Colton Dixon, Citizen Way, Tenth Avenue North