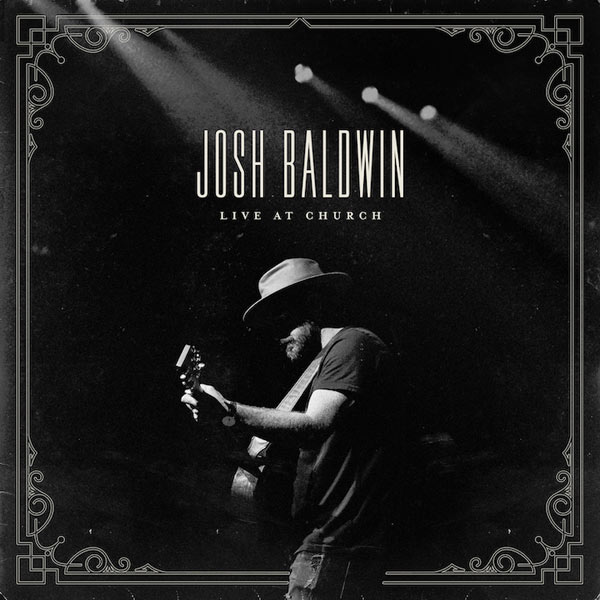 Bethel Music
Release Date: April 24th 2020
Reviewed by: Joshua Andre
Josh Baldwin– Live at Church EP (Amazon mp3/iTunes)
Track Listing:
Endlessly
All I Really Want (Spontaneous)
Let The Redeemed
My King Forever
Fountains
Came To My Rescue
You Deserve It All
If you've been a frequent visitor of this site, then I am positive that you will know all things about Bethel Music. If you don't though, you can check out our thoughts on the worship movement here…and now that you have finished, let's go on, shall we? Over the past few years, worship music has been vastly evolving at an exponential pace. Newer artists like We The Kingdom and Brandon Lake have risen in popularity and prowess musically, with them being recognised amongst veterans such as Chris Tomlin, Matt Redman, Kari Jobe, Meredith Andrews and Leeland; and bands like Jesus Culture, Desperation Band, Elevation Worship, Mosiac MSC, Planetshakers and Hillsong UNITED and Young & Free are also impressing critics and listeners, and injecting a new, unique and fresh musical and worshipful perspective into the worship industry as well. Bethel Music, is another such popular and influential band (more like worship movement) within the CCM industry, that is wowing the hearts and ears of many around the world currently, ensuring that the industry doesn't become stale. And…one such album that I have found to be truly encapsulating Bethel Music's heart for Jesus, and their passion to worship our Father, Saviour and Redeemer, is Josh Baldwin's latest live EP Live At Church. As Josh is a relatively new-ish artist signed to Bethel Music the label, we have been recently introduced to him through his hit songs "Stand In Your Love" and "Let The Redeemed". Yet now on this impacting, honest, poignant and heart-warming 7 track EP, Josh is set to invite us all on a worship experience and a musical and lyrical journey like no other. And for the most part…Josh succeeds in presenting to us a moment, or several moments, of praise and total adoration and devotion to God.
Probably the most recognisable worship melody here is the musically simply yet also lyrically meaningful "Let The Redeemed". As Josh majestically and emphatically recounts the ever-true notion that we as believers and sons and daughters of the Lord Most High ought to voice our faith and our joy that we are in fact co-heirs to Christ, we are presented with one of the most rowdiest choruses of my recent memory, as Josh explosively belts out the directive '…let the redeemed of the Lord say so, sing of His promises ever more, pour out your thankfulness, let it overflow…', while Josh also presents us with one of the catchiest worship songs I've heard lately. "Let The Redeemed" may be musically a bit too radio friendly, however I believe it's what we as a people need at this certain point in time. Solid, theological worship no matter the musical ingenuity, or lack thereof.
The rest of the EP sets out to accomplish Josh as a premier artist at Bethel, and an engaging worship leader, of which it actually does accomplish quite well. "Endlessly", fitting to be released this Easter, was previously on Josh's 2017 album The War Is Over, and ardently highlights the vivid accounts of Jesus dying, rising from the grave, and then ascending into heaven and sitting on the right hand throne of God- a beautiful encapsulation of why we need to worship our King and Lord. Vocally sounding similar to Matt Maher here (and lyrically sounding like a Matt Maher song as well!), this track segues into a stirring 6 minute spontaneous free worship 'song' called "All I Really Want", as Josh once again shows us why he's one of the most improved singer/songwriters and worship leaders of this current generation- he makes even the most simple songs sound very, very interesting!
By far the most inspiring and impacting song on Live At Church is the all-original "My King Forever", another Easter-themed melody. As Josh fervently relays to us his earnest and honest sentiments and praises to God, declaring that Jesus deserves all the praise because of his death and resurrection and His love and unending devotion to each of us; it's evident that "My King Forever", or at least in my opinion, will be present on many Sunday setlists for many months and years to come. As Josh and fellow Bethel music alum Brian Johnson delivers to us a near masterpiece; Josh deserves praise and congratulations as quite possibly my favourite song of the year has been delivered. With Josh also comparing Jesus' presence in his life to a fountain that never runs dry ("Fountains") and exquisitely covering Hillsong UNITED and presenting to us an unequivocally explosive and exuberant God moment (the criminally underrated "Came To My Rescue"); the EP ends with the reflective, contemplative and honest "You Deserve It All". As Josh near-perfectly highlights to us once again the Easter story- making this EP quite fitting that it has released around Easter time- this track especially is one that isn't to be missed as we sit and reflect on God's goodness and majesty, especially during this time of isolation and quarantine due to COVID-19.
Apart from the obvious downside (really, it's a nitpick!) which is that these songs run too long and by the middle of a couple of tracks , we hear some songs become stale…Josh Baldwin has overall created a solid EP that may become better and better with each listen. As Josh has shown us how proficient and how professional he is as a singer and as a worship leader; I am confident that from this EP, Josh's star power and his popularity as an artist able to facilitate the communion between us and God, is sure to rise and rise. With Live At Church being one of my favourite EP's of 2020; there's nothing much more that I can say about this release. So…have a listen and let me know your thoughts! Well done Josh- I can't wait to hear what God has in store for you next!
3 songs to listen to: Let The Redeemed, My King Forever, You Deserve It All
Score: 4.5/5
RIYL: Cory Asbury, Matt Maher, Matt Redman, Paul Baloche, Jeremy Riddle