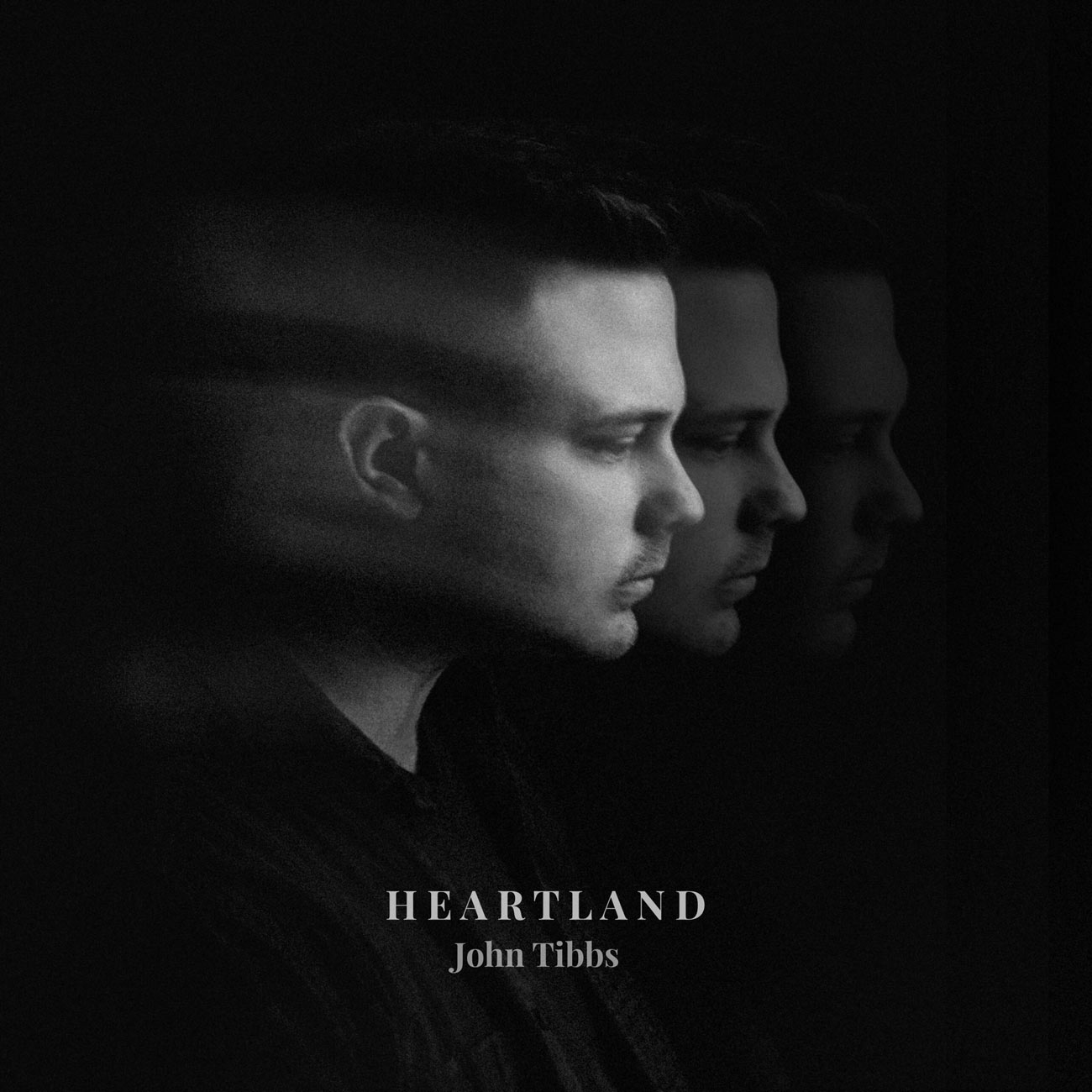 Independent
Release Date: October 20th 2017
Reviewed by: Joshua Andre
John Tibbs– Heartland (Amazon mp3/iTunes)
Track Listing:
Won't Let Me Go
Heartland
Midwest Magic
Shots Were Fired
Shepherd (feat. Sandra McCracken)
Won't Let Me Go (Living Room Sessions)
Shepherd (Living Room Sessions)
Midwest Magic (Living Room Sessions)
"…I grew up in a coal-mining town and fell in love in Indiana. The heartland represents home to me. And yet, I realize that this world is not my home. This song is a response to the strife I see every day and a reminder to myself to carry the love and kindness of God wherever I go. No amount of war, famine, anger, disease or political division can overcome the love of God…" Famous for his cover of the Erik Nieder hit single "Dead Man Walking", John Tibbs, who previously was signed to Fair Trade Services, has now released his brand new EP Heartland, an EP that is sure to inspire and encourage, as we remember that God is a God who won't ever let us go, regardless of whether we think He should or not. Using Pledgemusic as a platform to release this new album, John's sophomore project is quite compelling, comforting and confronting, while all the while enjoyable as well. So let's dive deep into these new tracks, shall we? Personally I reckon fans of artists like Aaron Gillespie, Kutless, and Jeremy Camp will love John's music, but let's see what all of you think as well!
"Won't Let Me Go" starts off proceedings, and is immediately quite different from anything I have ever listened to. The folk/Americana genre of music isn't something I would readily listen to, but John's passion is nonetheless infectious, and has me thinking 'maybe there's something to this genre, than I would have otherwise dismissed'. "Won't Let Me Go" features light acoustic guitars as well as explosive electric guitars, as well as an 80's musical backdrop, with shades of Paul Colman and Jars of Clay vocally as well, as we are presented with a track that is honest, personal and emotional and inspiring. Similar to Matthew West's songs, in that "Won't Let Me Go" tells a story, in my mind of the prodigal son (Luke 15:11-32), in which John relays to us that Jesus always takes us back, and never lets us go, despite our failures and shortcomings; we are gently reminded that '…hope's been blowing on this flame and since I found out You won't let me go…and I will not fear when the earth gives way and the lightning strikes and the oceans rage, You'll stand by me, I'll never walk alone…', and are given permission that we can chase whatever dream we want to, knowing that our Father and the Almighty has always got our back no matter what. While John also includes an authentic, humble and stripped down acoustic version of the melody as well, as we marvel at his prowess as a singer and songwriter.
The rest of the EP is just as powerful as the first single. The radio friendly electronic and synth driven pop melody "Midwest Magic" (also sung as an acoustic version) is a romantic love song, co-written with Cason Cooley and Dave Barnes, about John's ever strong relationship with his wife, as John reminds us that "…I'm gone from home 200 dates a year. My wife, Emily, has been completely supportive of me as I pursue this dream on the road, but I miss and think about her everyday. I wanted to have a song I could sing to her every night on stage and the charm of 'Midwest Magic,' to me, is that unwavering, consistent love that we have in our marriage. This song has quickly become a favorite of mine, and I hope that when people hear it, it makes them pull their loved ones in a little closer…". While my personal highlight and also fan favourite "Shepherd", a re-imagining of Psalm 23, and hymn like melody, also featuring Sandra McCracken on guest vocals, relays to us the notion of God always forever being beside is, now and forever, that Jesus is '…what a shepherd, ever keeping me, ever leading me with love and mercy, what a shepherd, ever keeping me, ever leading me and I will follow…'. Both "Midwest Magic" and "Shepherd" also given the acoustic treatment, and both tracks are presented in a more organic and unfiltered light.
John also includes a 2-minute acoustic guitar driven slew of questions and frustrated feelings in "Shots Were Fired", as he asks God why does suffering occur on this Earth, and '…do I run, or do I hide? I think I'm dying inside…'. Yet it is the emphatic title track which I reckon is probably John's most inspiring, encouraging and honest song ever recorded. As John fervently relays to us that '…oh, I wanna go where, this love is standing higher than the mountain, and oh, I wanna dance in the river right here, with grace that's never ending, and oh, I wanna rest in the shadow of the tree that won forgiveness, and oh, I wanna be found in the heartland…', we are glimpsed into a choice that John is actively making- that while he is on earth, he wants to live a life that is pleasing to God, and one of joy, and love that permeates across everyone he meets. While we are still breathing, there is a purpose for us, and in response to everything chaotic and calamitous in this world, John longs to be a beacon of hope and a light where we point people to Jesus, the ultimate heartland. Well done John for this vibrant and refreshing EP that I hope everyone will listen to a be blessed by!
"…I spent a lot of time working on this song [Heartland]. I was concerned if people would understand it. I've been singing the song on tour, and it's been so cool to see the reaction to it. It connects to something that is all of us, to be closer to Jesus. In the season of being okay that everything isn't okay and truly accepting that, there's been hurt and pain in all parts of the country. I went through a time period where I wasn't truly okay with not having all of the answers and solutions. I kept coming back to wondering how all of us as humans got to this place. How are people okay with all of this pain and suffering? It came back to putting complete trust in Him and trying to be faithful in every situation and opportunity that He opens up. It's okay, because I choose Jesus. All of a sudden it took away pressure to have the answer for every situation. For everything, seek Jesus and His calling. I hope this song encourages people to accept the emptiness on earth, because one day it will be perfect. Hold on to that longing and sense of seeking Him out. As Christians, it's not comfortable and not easy. We need to accept that everything isn't perfect but Jesus is, and choose Him…" Last year, John Tibbs' debut full length album certainly lived up to the expectations placed upon it by the impressive EP in 2015, and now this year, Heartland definitely exceeds my expectations as well. Definitely having me eager in anticipation for John's future projects, John's presence and exposure to the CCM market this upcoming year is sure to be a good thing indeed, as he ministers to Christians and non-Christians alike with his honesty and relatable lyrics. So, are you intrigued by "Heartland", "Won't Let Me Go", "Shepherd", "Shots Were Fired" and "Midwest Magic"? I would definitely encourage you to check out John's music, and I hope and pray you like this new album, as John's music is some of the most personal and emotional songs I have heard in a long time!
3 songs to listen to: Won't Let Me Go, Heartland, Shepherd
Score: 4/5
RIYL: Aaron Gillespie, Kutless, Jeremy Camp, Matthew West, Jason Gray, Andrew Peterson