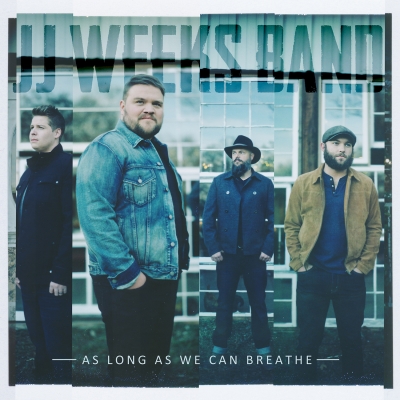 Centricity Music
Release Date: April 8th 2016
Reviewed by: Joshua Andre
JJ Weeks Band– As Long As We Can Breathe (Amazon mp3/iTunes)
Track Listing:
In the Name Of
Jealous
Higher
Alive In Me
Rooftops (feat. Tedashii)
Count Them All
Ahead Of Me
Rest Now
You Called My Name
Love Showed Up
"…making a difference in people's lives—that's really why we do this, we want to be a vessel. We can sing for two hours, and it will not change anything, but God can move in a moment and change everything. That's just how big our God is. Our central message is 'Come to Jesus,' because He loves us more than we can ever understand…" 3 years and a label change later, and JJ Weeks Band, comprised of friends JJ Weeks, David Hart, Cody Preston and Jon Poole, have created a masterpiece of a sophomore album in As Long As We Can Breathe. I initially first heard of JJ Weeks Band from Colton Dixon's song "Let Them See You", penned by JJ, and originally featured on Colton's debut album A Messenger. Which led me to listen to the band's debut album All Over The World which released in 2013 via Inpop Records. Immediately I drew parallels with Chris Sligh, Chris Daughtry and Michael Farren of Pocket Full Of Rocks vocally, as well as Mark Hall of Casting Crowns and Bart Millard of MercyMe. While these comparisons are still there vocally, a seemingly change of genre from rock to more CCM and pop from album #1 to album #2 may warrant a more critical view of the band's recent material.
However JJ's heart for ministry and passion for Jesus leading him and the band into being full time musicians, is nothing short of remarkable and commendable. With the band still overtly showing the world Jesus through their music, the result of this brand new sophomore project are ten gems of honest biblical truth, that are sure to stand the test of time- the band's sophomore project is in my opinion my favourite sophomore project from any artist since Meredith Andrews' As Long As It Takes are Tenth Avenue North's The Light Meets The Dark! JJ Weeks Band is certain to be successful in the years' ahead, and is sure to gain popularity and accolades from critics and listeners alike.
Anchoring the new album musically and thematically is the powerful pop anthem and first single "Alive In Me", a declaration for us that '…the very same light that pierced the dark, the very same word that stilled the sea, the very same spirit that tore the veil is alive in me, You're alive in me, the very same power that healed our hearts, the very same love that sets us free, the very same spirit that conquered death is alive in me, You're alive in me…'. A Holy Spirit anointed chorus that has me amazed at the band's ability to song write and lead worship; we are met with the honest truth that Jesus is alive in us, that whatever good works He did while on Earth, we can do as well, because of He who is in us who is greater than anything in this world.
Opening proceedings, the powerful pop anthem "In The Name Of" emphatically reiterates the notion that it is in Jesus' name that we can do all things. While JJ emotionally and honesty cries out '…bring the rain, let it fall, I will stand through it all, oh, in the name of every doubt, every tear, I can face any fear, oh in the name of Jesus, in the name of Jesus…', we are reminded of God's power, and once again, we remember and are sure to appreciate Jesus' sacrifice for us because of His love for us. While the keys and guitar led mid-tempo pop ballad "Jealous" highlights the fact that as Christians the only person we should be jealous of is Jesus, and no one else, as we point the world to the perfect Father, as we eloquently sing out that '…I am jealous for You only, living for Your glory with all my heart, I'll be jealous for Your glory until the whole world sees who You are…'; the inspirational melodies take a reflective and contemplative turn in the radio friendly guitar led ballad "Higher", where the band challenge and encourage us to look a little higher than our circumstances and situations, as Jesus is the One who can turn our bad into good- if we just believe that Jesus is working in our lives (because He is!), then our perspective changes for the better, and we can fully understand that we needn't worry about everything as Jesus has everything in control.
The rap infused pop melody "Rooftops", featuring guest vocalist Tedashii, is one of my favourites from the album, as JJ and co exuberantly and excitedly proclaim that Jesus' love for us and the evident change in us because of Jesus' presence, is worthy to be shouted and sung from the rooftops. As we proclaim to everyone that we believe Jesus is The One, and the Only One, it is this call to action, this honest and earnest anthem, that hopefully will draw people to Christ; judos to the band for a high quality evangelism tool.
As JJ Weeks Band skilfully and professionally delve into and explore relevant themes in today's society, from being grateful for everything that is given to us (the inspirational piano ballad "Count Them All", where JJ eloquently cries out '…there's still a song to sing, even in our deepest need, in the valleys deep and mountains tall, take a breath and count them all…'), to giving everything to God knowing that He has everything in His hand, and knows what will happen in the future (the acoustic guitar led poignant and impacting "Ahead Of Me", showing us the power of God's knowledge of the future!), to just sitting and immersing ourselves in the perfect person who is Jesus Christ (the emotional, Sidewalk Prophets-like piano prominent mid tempo melody "Rest Now"); it's clear that the maturity in the band and the honesty and passion in As Long As We Can Breathe makes for a thoroughly enjoyable listen, and one that is sure to inspire, heal and provide comfort in our lives. With plenty of plus points in this emotional batch of ten tracks, I am more and more convinced with every listen to the album, that JJ and co have an exceedingly bright future ahead of them as a band, and also on Centricity Music.
The penultimate track is "You Called My Name", a danceable CCM/pop melody and potential single, as JJ ardently and fervently cry out that '…You called my name, pulled me from the grave, stood me face to face with amazing grace, like a dead man walking covered in my shame, until You called my name…', a vivid account and description of what it feels like to become a Christian. As Jesus calls us out to relationship with Him, and all we have to do is answer Him. We are reassured that no matter the state we are in, and no matter if we think we're worthy or not, Jesus has already called us His, meaning that we are heirs, sons and daughters of God, something to be excited about! While the album finishes off with the hopeful electric guitar led country themed ballad "Love Showed Up". With the theme of the song being similar to that of the entire album, that Jesus is with us forever, always, and with us in every circumstance, that '…Love traded heaven for a manger, called us His when we were strangers, walked amongst us in the dust, Love on a cross was left to die, rose again to give us life, when there was no hope for us, Love showed up…', we are provided with reassurance that Jesus is who He says He is- what a brilliant promise from a faithful God! Well done guys for an emphatic last song, and a stellar sophomore album!
"…I feel like a lot of times, as Christians—counting myself—we cower down and back away from just being who we are instead of saying, 'This is who I am. This is who God's created me to be,'. We're going to sing; we're going to worship; we're going to be what God wants us to be 'til the day we don't breathe anymore…" With every anthem and every track pointing to God as our Saviour, Redeemer and Healer; JJ Weeks Band have recorded a stellar debut on Centricity Music. No doubt they have a bright future ahead of them, and with positive and impacting tracks "Love Showed Up", "Alive In Me" and "Count Them All" all probable to receive radio airplay, I could not think of a more lyrically relevant and honest batch of songs lately than this lot. A must for buying digitally or physically for people who want to be encouraged and uplifted; JJ Weeks Band's As Long As We Can Breathe is definitely going to provide buzz and coverage for the band, and hopefully there's a Dove Award nomination or more in the future. Well done JJ Weeks Band– I am definitely anticipating your third album in the future!
3 songs to listen to: Alive In Me, Count Them All, Love Showed Up
Score: 4/5
RIYL: Big Daddy Weave, Tenth Avenue North, MercyMe, Casting Crowns, Carrollton