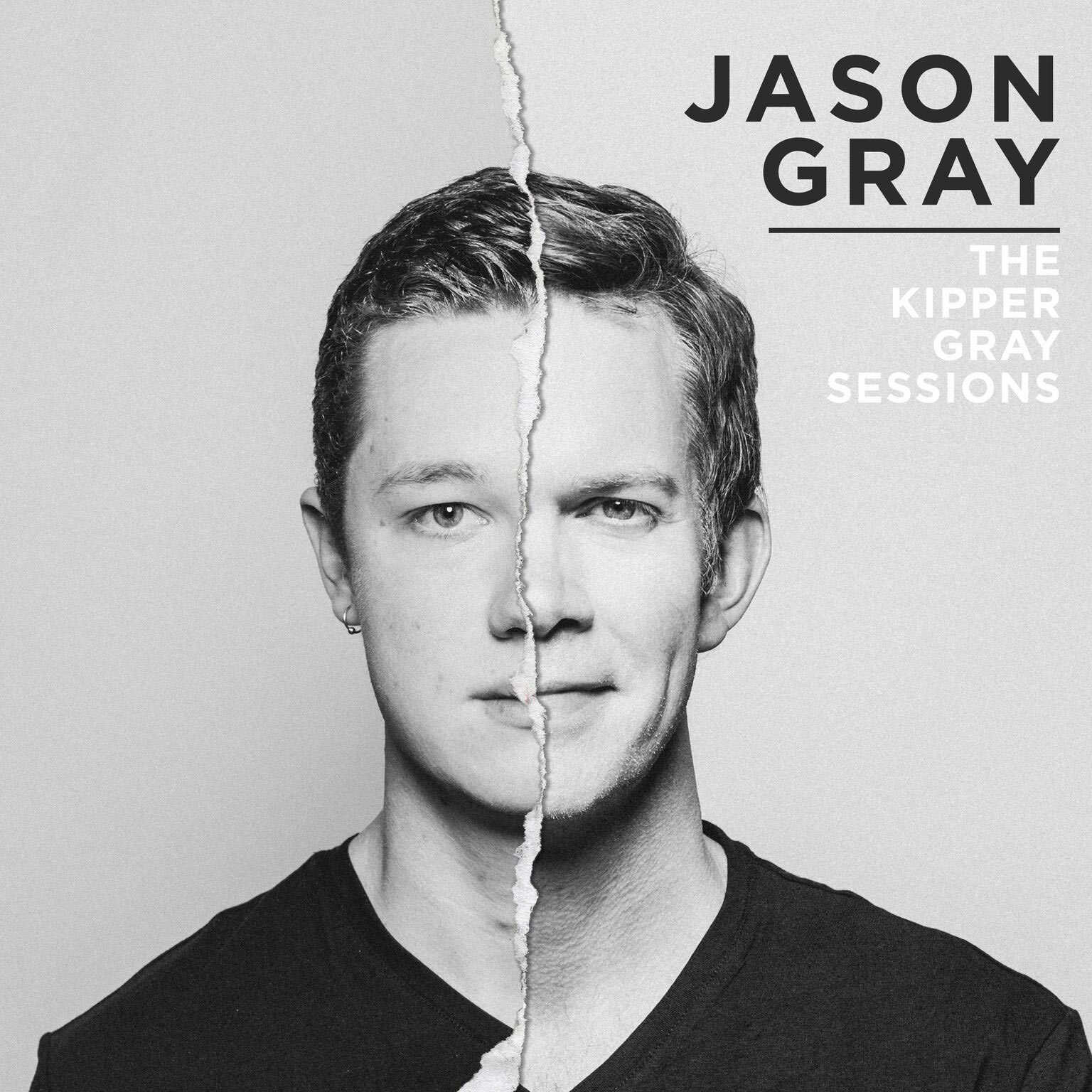 Centricity Music
Release Date: September 14th 2018
Reviewed by: Jonathan Andre
Jason Gray– The Kipper Gray Sessions (iTunes/Amazon mp3)
Track Listing:
Mountain
Be Your Own Kind of Beautiful
Love Life
Time
Becoming
Jason Gray, quite possibly one of Christian music's most honest and heartfelt singer/songwriters, has had quite a journey, personal and musical, to get to the point he is in today. From being a stutterer (and still currently) to changing his last name from 'Gay' to 'Gray' in order to kick-start his music career; it has been his lyrical poignancy in quite possibly all of his songs to date that makes Jason possess an ability like no other, to write songs that are able to unveil his own vulnerabilities without any attack or stigma, while all the while weaving into the songs a grace that reminds us all that amidst the guilt, shame, pain and hurt, God is still there. Songs like 'Nothing Is Wasted', 'More Like Falling in Love', 'I Am New' and 'Remind Me Who I Am' show us the comfort we need, that God redeems us continuously each day from the circumstances and events we are in. His latest full-length album, Where the Light Gets In released in 2016, became a moment of hope and healing as much of his songs on the 13 track musical collection was a testament to his moving-on from his marriage ending, and thereby his subsequent reckoning of such a traumatic event. One of the most hopeful, honest, unique, powerful, heartfelt, and relevant artists of today, in either Christian or mainstream music; Jason has had a powerful story that he has shared with fans and critics alike as he has opened up about events that has led him to where he is today. Since the unravelling of his marriage, Jason has undergone a healing and understanding that it is ok to not be ok, that Christ is with us indeed in the valleys as well as the mountaintops. Much of Where the Light Gets In features songs that are, or lack of a better term, intensely vulnerable and at times heartbreaking, as songs like 'Death Without a Funeral', 'I Will Rise Again', 'The Wound is Where the Light Gets In', 'Where We Go From Here', alongside album ender 'Thank You For Everything'; all allude in some way or another, towards Jason's marriage and the ending of it. Nevertheless, Jason's experiences have still woven the thread of how God is still good, throughout much of Where the Light Gets In– making that particular album one of my favourites of that year, 2016, alongside one of my favourite Jason Gray albums, ever!
Fast-forward to 2018, and we see another development that has led to a unique turn in the Jason Gray discography. This time we see not only an EP, but according to the title of it, a collaboration. The Kipper Gray Sessions released to iTunes last week Friday, and from looking at the cover as well as the title of the EP, we see it's a collaboration between Jason and his son Kipper. As Jason divulges himself, '…as I was writing for my next full-length record, there were a few songs I asked my son Kipper, one of the most musically gifted people I know, to make a few demos of for me…when my label and management heard the songs I was turning in, the tracks I did with Kipper caught their attention.  Excited about the magic they heard in the demos, the idea of finishing them out as a full-blown EP began to gain momentum. I, of course, was very excited about this idea… Kipper is a pop music fan and so those were the kind of songs I brought to our collaborations. Pop songs are the hardest to write, so It was a fun challenge for me to write these summery, fun, hooky (I hope) songs and I love how they turned out! I would feel lucky to get to work with Kipper on the merit of his talent alone. But add to that that he's my son and this was a dream come true for this dad…' And with that, we see Jason and Kipper unveil what is one of 2018's most lyrically rich and musically enveloping (encapsulating a myriad of musical styles within the confines of the 5 tracks) EP's thus far, and a must-listen if you are a fan of similar themed artists like Andrew Peterson, Josh Wilson, Steven Curtis Chapman or Tenth Avenue North.
Standing at 5 tracks, this lyrically rich, albeit track-wise short, EP, leans on the themes that are often overlooked in society at the moment. Standing at a tad over 3 minutes, first track and most-radio-friendly melody 'Mountain' brings us into the fray of being reminded, that it is indeed important to be in community with each other, that coming together and working side by side can produce greater results than working individually.  Littered with a plethora of imagery and motifs, Jason invites us along the journey as we hear 'Mountain' and its emotive and poignant lyrics, and how '…together we're a mountain, a force to be reckoned with, a city we're building higher, higher, st-steady like a kick drum, foundation we can lean on, from the roots to the rooftops, we can't build it alone cause on our own we're stones but together we're a mountain…' Comforting to know that when we as Christians unify and come together, we can accomplish way more than we can ever do separately; 'Mountain' is a great start to The Kipper Gray Sessions and can hopefully impact and influence radio airwaves in the upcoming months ahead. 'Be Your Own Kind of Beautiful' follows, as Jason champions uniqueness and individuality over blending in and fitting with the crowd. A reminder that as Christians, we are also called to be set apart rather than to be conformists in a society where everything is seemingly permissible; 'Be Your Own Kind of Beautiful' moves along into songs like 'Time', 'Love Life' and 'Becoming', all of which have different themes, yet musically, these last three songs are similar in that they are all on the mellow side- which is ok.
While Jason has had his fair share of upbeat songs over the years, I've often found that most, if not all, of the songs that have impacted me the most, have been the slower ones. And thus, these last three songs on the album are nothing different- 'Love Life' is a joyous melody encouraging us all to pursue the wonder, the awe, the excitement and joy, set before us on this crazy ride that the Lord is journeying alongside with us; while 'Time' is in fact the most sombre melody on the EP, as we're reminded that often, during trials and despair, that sometimes, time itself can heal what has been broken inside of us. As the song chronicles a persona being caught in the middle of their parent's failing relationship, we are reminded of just how fragile relationships really are, and that to have full healing from something does in fact take time. 'Becoming' rounds out the EP; and is a welcomed surprise and another added 'CCM'-esque standout. The vague nature of the chorus, and how Jason relays to listeners that he is becoming…well, something, makes me silently pleased. So often we are so focused on wanting to know what we are becoming when the Lord breaks down our defences and orchestrates the rearranging, that we can miss sight of the journey between the breaking and the becoming. It is the middle that God shapes and moulds the most, and 'Becoming' allows us to contemplate on such a theme. Well done Jason and Kipper for these 5 songs, and quite possibly one of the most underrated collection of songs I've heard this year, thus far!
The Kipper Gray Sessions, in all its heartfelt moments of clarity, direction, emotion and comfort, becomes an EP of 5 tracks, two of which are seemingly fit and primed for radio ('Mountain', 'Becoming'), all of which embody themes of community, individuality, alongside embracing the journey instead of longing for the end point at a quicker time frame, to name a few. Jason himself brings to us musical arrangements that further asserts his presence as an underrated artist in today's Christian music society. Nevertheless, Jason is perhaps one of the greatest lyricists in modern CCM, and much of this new EP is evidence of this bold claim. Even though Jason is still not necessarily the most recognised or even the most popular artist within the ranks of CCM currently (artists like Chris Tomlin, Natalie Grant, Francesca Battistelli and Matthew West receive much more radio airplay than Jason), Jason nevertheless forges on, as a songwriter whose songs have become the cornerstone of change in many people's lives around the world, inclusive of mine. On the same roster as artists like Andrew Peterson, Plumb, Lauren Daigle, Unspoken, Carrolton and North Point InsideOut, to name a few; Jason continues to anchor the roster, in both a songwriting and lyrical perspective, and his EP is a testament to this. The Kipper Gray Sessions is a gem of an EP no matter how you look at it, and a must-listen for anyone who appreciates poignant and heartfelt music, regardless of the music genre. Well done Jason Gray for such an inspiring EP, one to tie us over between Where the Light Gets In, and the next full-length album, whenever that may be!
3 songs to listen to: Mountain, Becoming, Love Life
Score: 4.5/5
RIYL: Bebo Norman, Josh Wilson, Andrew Peterson, Sanctus Real, Lauren Daigle