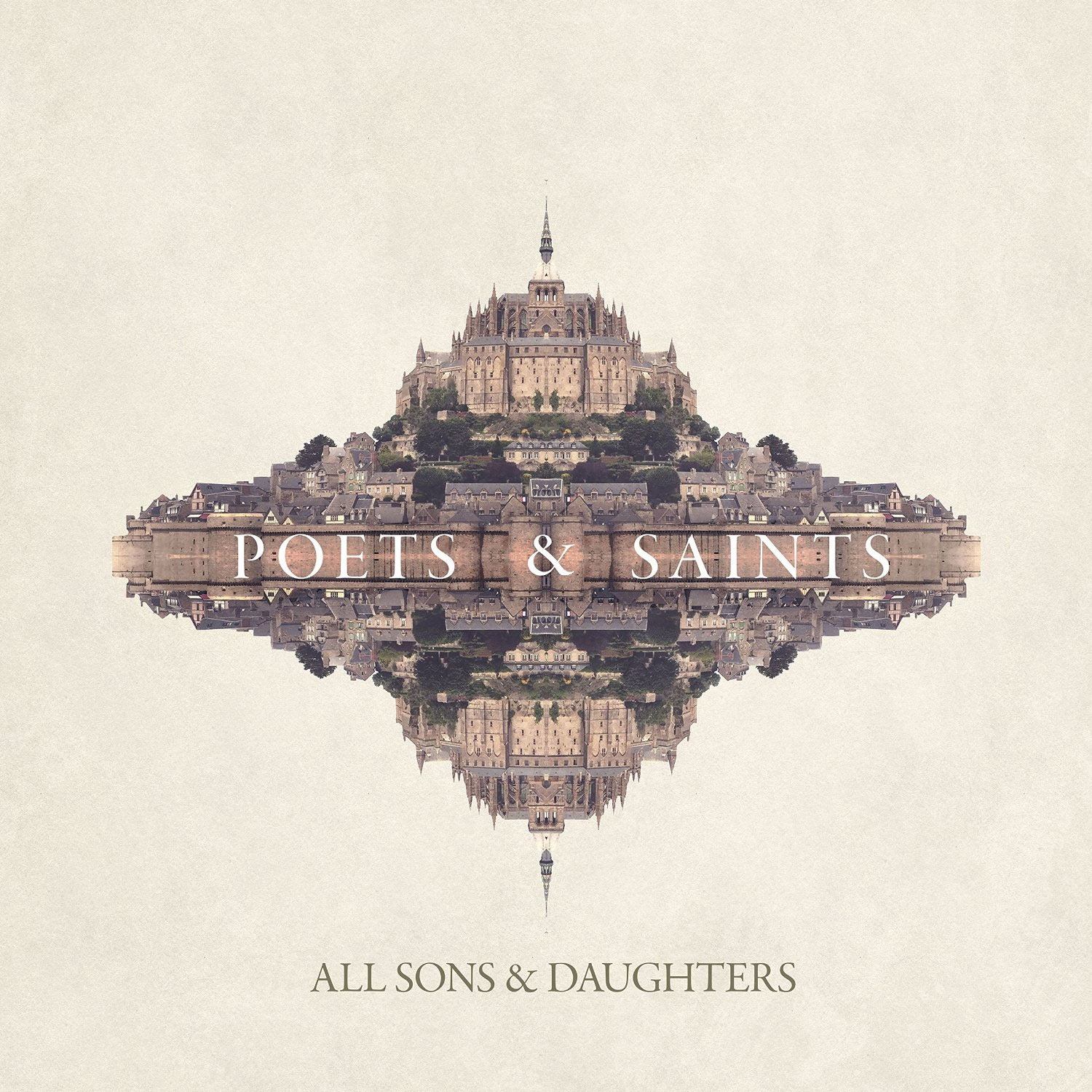 Integrity Music
Release Date: September 2nd 2016
Reviewed by: Jonathan Andre
All Sons And Daughters– Poets And Saints (Amazon mp3/iTunes)
Track Listing:
Heaven Meets Earth
I Surrender
Path Of Sorrow
My Roving Heart
This My Inheritance
You Are Love And Love Alone
I Wait
Rest In You
You Hold It All Together
Creation Sings
'…These songs and stories stirred up all kinds of questions. One of the most beautiful ways to know God better is to learn from those who served Him in other times and cultures. These saints and writers are not abstract, hopeful representations of what we should be. They were actually really broken people who chose to feel through their suffering. That takes a lot of courage, and that's why, years later, we call them poets and saints…' Poets and Saints, an album like no other. Literally. No seriously, if we take a look deeper into the writing and recording process, has there ever been another artist, be it solo or band, that has undertaken what these two musicians/singer-songwriters David Leonard and Leslie Jordan have accomplished? Since forming together as a duo all those years ago, All Sons and Daughters have given to us song after song after song full of rich biblical truths, each with the potential to impact millions around the world. And their songs have…if you look at songs like "Great Are You Lord", written in 2014 and co-written with One Sonic Society…while the song wasn't necessarily that popular a couple of years ago, the song is gaining traction now with a radio version of One Sonic Society's recording now on rotation on K-Love. Similarly, songs like "All the Poor and Powerless", "Oh Our Lord", "Spirit Speaks", "I Am Set Free", "Oh How I Need You", "Called Me Higher" and "Reason to Sing" have all impacted listeners through the years, and now with the introduction of their new album, it is assumed that this set of songs will be just as impactful…and my summation was correct.
Poets and Saints is indeed a unique project. David and Leslie, along with their church pastor Jamie George, conjured up an idea, that maybe, just maybe, a trip ought to be taken, to trace the steps of ancient history, and see the lives lived out by people of history, from Saint Therese, Saint Francis, William Cowper and Saint Augustine, to C.S. Lewis, John Newton and George MacDonald. Since finding out about these people I'm sure both David and Leslie didn't really know to begin with; what was hopefully grasped from such analysis was maybe an undiscovered gem of some sort- something, anything, that God could use that would make their lives be much more universally applicable to this current society, and what it means to use these figures in history as people to look up to when it comes to faith and modern believers. Yet what was meant to initially be just a trip to cure some curiosity, turned into a vast amount of learning and understanding, how each of these people of the past had exactly the same hurts, hopes, moments of triumphs and tragedy like we as humans have even now. What eventuated from visiting around Europe was this- Jamie wrote a book about the experience titled Poets and Saints: Eternal Insight, Extravagant Love, Ordinary People, while this new All Sons and Daughters album is in some ways a soundtrack- songs that have been each influenced by a particular person throughout history- and how each of the tracks are crafted in such a way that these tracks could inspire these people the songs were influenced by as much as they could inspire us here.
Jamie, David and Leslie also collaborated to create a video-based study guide and material, providing an interactive experience for worship and learning, as those who partake understand more about the important influences in terms of Christianity and Christendom. Poets and Saints, though it may seem is just another album, required a lot of hard work, as each of these songs are interwoven into the study guide. Though I myself haven't read the book by Jamie nor the interactive guide as well, I still have listened to the album, and while I may not even still be the best person to review such a profound and momentous album, I can and do appreciate the effort both David and Leslie undertook in creating such a powerful and poignant masterpiece. A must have for anyone who loves modern art, this is a standout amongst all other standouts of this year thus far, and to be loved, enjoyed and treasured if you love artists like Michael W. Smith, Leeland, Jason Gray or Andrew Peterson!
The first radio single from the album, "I Surrender" was released to radio earlier on during the year. While I must admit that I didn't really listen that much to their self-titled 2014 album as much as I initially thought that I would've (I probably want to give the 2014 album a spin from start to finish very soon), immediately when I heard "I Surrender" I knew the album as a whole would be something special. Inspired by the life of Saint Francis of Assisi, and presented as a prayer to God, wanting to surrender everything that we are in a hopeful, yet equally declaratory statement; both David and Leslie humbly proclaim these emotive and equally poignant words, of how we as Christians ought not to be ashamed to say- '…take my life a sacrifice, You alone I'm satisfied, here I empty myself to owe this world nothing, and find everything in You…I surrender, I surrender, I surrender all to You…' Worshipful and contemplative, encouraging and meaningful, David and Leslie invite us all to sit with this song, and figure out what it is that we need to surrender ourselves to Him that we are still holding onto even now. As lead singer Leslie puts it, '…what is the thing I need to surrender to God? Maybe it is worry. Maybe it isn't as tangible as money or possessions but something that stays hidden in the recesses of our minds. How do we surrender those things to God? For this song, there is a constant call for surrender as Jesus followers of our own desires and our plans and purpose. It is a timeless message…' Well done David and Leslie, for such an awe-inspiring song, certainly one of my favourites of 2016 thus far!
What is different and unique about Poets and Saints is that each of the songs written on the album are inspired by people of history. Each of the songs have a backstory to it, and when we hear David and Leslie sing out the words, it is presented in a way that we can relate to the people these songs were inspired upon. "Heaven Meets Earth", track #1, is a beautiful representation of what creation could've been like if we were there to witness all of God's glory and wonder when He spoke the words 'let there be light'- with light percussion and a slow build for as to showcase a reflective atmosphere, this song is a perfect way to start the 10 track album, progressing from the originality of "Heaven Meets Earth" into a few stanzas of popular hymn "Holy, Holy, Holy", all within track #1. And while this song isn't the most rousing and anthemic, it, and every other song on Poets and Saints, are nevertheless needed for us to look inward ourselves and see if there are any similarities between us and historic figures in Christendom gone past. Both "Path of Sorrow" and "My Roving Heart" delve into the melancholy moments of realisation, as these songs, inspired by the lives of William Cowper and John Newton respectively, paint a realistic picture of clinging onto God during times of sorrow. Both these tracks show us that sometimes, maybe even more often than not, life delivers moments of sorrow, not necessarily because of anything we've done, but just because. It is what is borne out of that suffering that determines whether we were indeed clinging onto God during those moments or not. And even if we weren't clinging onto God, He was clinging onto us. And that's what these two songs encourage us to believe- that even if we question, fail and wonder, His heart still yearns and longs for us, for us to return and realise that He was there all along, especially during the moments when we didn't really believe it ourselves.
"Rest in You", "You are Love and Love Alone", "This My Inheritance", "You Hold It All Together" and "I Wait" are all unique in their own way as each track reminds us all about ourselves, about God, and even about the people these tracks were inspired about. Each are similar musically, presented with a reflective undertone and while there's not that much build up in a musical sense, the lyrics more than make up for the less than rousing musical structure. "You are Love and Love Alone", with just light electric guitar instrumentation, little piano riffs, gang vocals and a jazz atmosphere, is just one of many songs that utilise different genres that the duo haven't really touched upon in the past. The song in particular delves into the life of Saint Therese, who loved simply, and whose words, along with words written by English writer and Westminster Abbey Cannon Frederic William Farrar, were both honoured and uniquely fitted together to make this song as we hear it today. A reminder to us that love is to be presented in a simple way, for it to be the most meaningful, without any condition and without any confusion, it is when we love without expecting anything in return, that we can make an impact- to ourselves and others as well. "I Wait" is a song about that- just waiting. Being content in the waiting, knowing that God has everything in His own timing, and that we need to improve, if only one thing, patience, as we focus on what God is saying to us, and whether He indeed wants us on a certain path or another. Inspired by Scottish author, minister and poet George McDonald, whose literary work and fantasy writings inspired that or JRR Tolkien and C.S. Lewis; the song is that of hope, and as Leslie figures it, '…he wasn't a prolific writer, and he didn't get to see the significance of his life, but he made a tremendous impact…'
It wasn't until I heard "You Hold it All Together" and listened to the story behind the song on youtube, that I realised that I knew of the person that the song was discussing about- that St Patrick, whom the Irish celebrate every year in relation to freedom and fighting for it, was the person who inspired such a track on All Sons and Daughters' new album. And as Leslie reminds us all, '…this is a guy who's story started in Scotland, and along the way he ended up in Ireland as a slave. As a teenager he spent a ton of time in the fields with sheep, so he had a lot of time to wrestle with God…at one point St Patrick escaped his slave owners and made his way back home, where he began to study and become more knowledgeable and skilled in the craft of speaking and teaching and along the way he said, 'I wanna go back because I feel like God's given me a vision to lead these people who once held me captive into His kingdom'…' What an awesome story that we hear that gave rise to "You Hold it All Together"? Knowing how each song came to be, and especially this one, takes the song to a whole new level. With this track, we are reminded, that through simple instrumentation and a powerful voice from both David and Leslie, that God holds everything together, and whatever happens, good or bad, will be used by Him to shape ourselves and to allow us to be refined by Him as we become the vessels of love to those around us. Not as grandiose and flash as other more rousing songs I've heard from the band in albums previous, this song in particular is one for the church as we declare collectively that God holds everything together as He promised.
"Rest in You" offers us a moment where we can just rest in the arms of God and allow Him to dispel anything from our mind that is not of Him at that very moment, and is as much needed for us personally as it is needed for the human race as a whole. As the band puts it, '…we live in a place of hurry and distraction, fast paced, do more, get more, produce more. Augustine, [the historical figure this song is inspired by], had a similar life. He was very intelligent, wanted to be challenged, chased a lot of fame and money, and found himself sitting on a bench where he met Jesus. It's a beautiful story and a lot of people resonate with the need for rest…' Being able to rest is paramount in our 21st century lives, and this song offers us to undertake such a feat, even adding Augustine's mantra word for word at the end of the song, in how God '…cannot change yet You change everything…' "This My Inheritance" was inspired by Peter himself, the disciple of Jesus, and taken directly from the words of Peter (1 Peter 1:3-4) as this track is as worshipful as you can get (and fitting to even be slotted into a Sunday morning set list), while the album ender, "Creation Sings" is a benediction of sorts, as the song references verses like Acts 17:28 and Revelation 1:8 as we hear a declaration by Leslie and David, that it is in God that we take refuge and that it is in God that we are even alive at the moment. What a wonderful moment it is when the album ends with a declaration and proclamation of who God is and who we are in Him. Well done All Sons and Daughters for such a powerful and life-affirming track.
'…this is the most thematically diverse record we've done because it is ten songs based on ten different people. The songs are pulled from quotes or hymns or something connected to their stories. A lot of them had heartbreak, heartache and brokenness. A lot of them had parent problems. I think we can all identify in some way with a layer of brokenness in our own stories that cause us dig deeper with God. The thing we hope people take away from this album is not only a deeper desire to understand the stories of people who have lived before us, because that's one element, but there are layers of stories and content that we hope energize people the way we were. We hope that in and through their stories, they can find moments they identify with in these songs, as songs become the milestones of our stories. The reason that we still sing these songs from forever ago is that they have been milestones in people's journeys, and they keep going back to them and singing them and referencing a time in their life that mattered. Our hope is that these songs are some new milestones for people that connect to the ancient story of redemption…' Indeed, All Sons and Daughters have created a masterpiece, well inside my top 30 albums of 2016 thus far. While the vast majority of the album is of a reflective standpoint, the album does have some rousing anthems, like "I Surrender", "This My Inheritance" and "Creation Sings". The album, as a whole, is a must for any ASAD avid fan, like myself, or even for anyone who loves reflective prayerful music. A perfect gift for anyone who loves worship music with a folk-acoustic edge, All Sons and Daughters have redefined the worship music genre over the last few years, alongside others like Rend Collective, Crowder, Audrey Assad, Jesus Culture and Gungor. From "I Surrender", "Rest in You" and "This is My Inheritance" to "I Wait" and "Creation Sings", the band have taken modern-style worshipful music and stretched it, placing worship on its head, as listeners are reminded that music of a worshipful nature can still be fun, enjoyable, different, powerful, unique, compelling, encouraging and poignant, all at once. While David Leonard was previously of needtobreathe and Jackson Waters fame, worship is where I reckon his forte lies, and it shows very much so in this album. Well done to the band for an album so hopeful and inspiring, a standout of 2016 for sure!
3 songs to listen to: I Surrender, Rest in You, This My Inheritance
Score: 4.5/5
RIYL: Crowder, Audrey Assad, Leeland, Jesus Culture, Gungor