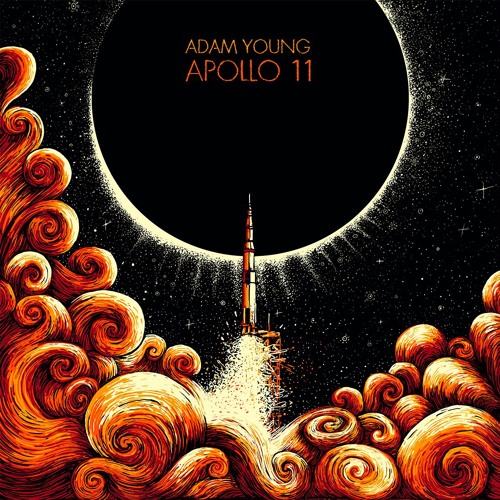 Sky Harbor Entertainment
Release Date: February 1st 2016
Reviewed by: Joshua Andre
Adam Young– Apollo 11 (Amazon mp3/iTunes/Website)
Track Listing:
Launch
The Lonely Three
CSM-LM Docking
Trajectory Burn
400 Degrees Between Sunlight And Shadow
Lunar Landing
Mare Tranquillitatis
First Step On The Surface
Lunar Liftoff
Return To Earth
Re-Entry
Splashdown
"…the revelation of a person's first love of music is different for everyone, but for me, it was film scores — original music written to accompany motion pictures. These types of atmospheres and anthems spoke my language and I remember experiencing a feeling of wide-eyed wonder while listening to my favorite composers…As I found myself looking back on my own story, I realized the ups and downs of the mainstream music space have, at times, given rise to a degree of personal frustration and stress that affects everyone in the industry. By pausing to muse on the way things are in such a place, I find myself greatly inspired to use such trials and tribulations as the means to ignore any such "rules" the industry embodies…so, as I listen to the works of the composers I first fell in love with, I feel a great longing to create my own version of that same wonder and euphoria that moved me as a young impressionable musician. I want to create worlds of sound that tell stories and tales in ways that cannot be described with words. I want to explore a vast, wild universe of storytelling and create in others the same fascination and curiosity I felt…" Does Adam Young need any introduction? Nope, I don't think so- his song "Fireflies" under the popular moniker Owl City, has garnered him fans aplenty, as he rose up to fame and stardom very quickly since 2009- and if you want to know a bit more about him, and his band Owl City, you can read my review of Mobile Orchestra here!
But just in case you are unsure of who he is, let me give you a quick rundown. Adam the young multi-instrumentalist was playing with electronic sounds in his parent's basement in his teens and early twenties, and has over the past few years catapulted into stardom and has now become a musical mainstream phenomenon. "Fireflies" launched his pop career, and his latest album in 2015 titled Mobile Orchestra, his most overtly Christian album to date, provides us with plenty of songs and impacting melodies which speak to our soul, as well as fun, poppy danceable tunes as well. However, this year, Adam has stepped into a foray and a direction we have never heard from him- film scores. Releasing one album per month this year, and with each 'film score' telling a story of sorts, Apollo 11 chronicles a story and an instrumental vivid picture, albeit ambitious, of man's first walk on the moon by Neil Armstrong, Buzz Aldrin and Michael Collins.
Clocking in at just under 25 minutes, this breathtaking musical journey is like no other, and while there are no words present in these 'songs', just Adam playing instruments with his heart and soul, I truly believe that this body of work, this rare art form, is God breathed and Holy Spirit anointed. As a whole, Apollo 11 has the atmosphere of the Disney-Pixar film scores I used to listen to as a kid, and as Adam brings out the nostalgia in me, it's clear that he is a musical genius, with the different instruments and tempos present in each track alluding to the subject matter of the 'song' based on the title.
As the entire score transports me to a place where I could imagine Neil, Buzz and Michael walking on the moon, Adam has expertly and skilfully given us an experience where we all want to be there with them, and also like we are experiencing the walk on the moon ourselves. With a smorgasbord of instruments including a full orchestral band and an epic crescendo ("Launch"), powerful, mysterious and haunting electric guitars ("The Lonely Three"), synth and light electronics ("Trajectory Burn") and vibrant strings including cello and violin ("Lunar Landing"), it's evident Adam chose these strikingly different and commanding instruments to showcase the emotions he was feeling when he thought of the project, and the emotions he all wants us to feel as we go through the journey with him, imagining what it was like for the different facets of the space journey. We are even presented with light piano and soft reflective pieces in "First Step On The Surface" and "Mare Tranquillitatis" as we dwell upon the wonder and amazement of stepping out into the unknown, and the beauty of discovering something new.
Why did Adam pick a theme of walking on the moon to tie all of the intricate, moving and impacting scores together on his first instrumental project? I'm not sure, but maybe it was because of the fact that the subject matter of walking on the moon is so 'out there' that it could maybe conjure up feelings of empowerment and a 'superhero' moment- that if Buzz, Neil and Michael could boldly step out and go where no man has gone before, we can do that too with our own lives. Regardless, Adam has composed a brilliant masterpiece that deserves to be listened to in one sitting, and more than once.
Personally, I reckon that this album is on par with Michael W. Smith's instrumental albums Freedom and Glory, and I hope with more Adam Young score albums, we can see more of Adam's creative and artistic side, as he dives deeper into the emotions that make us feel loved, and the parts of the human condition that we need to uncover, and bare before our Father, Maker and Friend. One of the most 'out of left field' albums I've heard, Apollo 11 is something I would encourage anyone and everyone to check out! And considering that the album is downloadable for free, why not? Though the release will probably capture a whole new group of instant fans, the current fans of Owl City may be hesitant, but I say let us follow in the example of Adam Young, and take a step of faith, going where perhaps we haven't gone before. Maybe we'll be pleasantly surprised! Well done Adam for captivating me for 25 minutes, let's hope and pray that future scores albums are just as compelling and musically layered!
3 songs to listen to: Launch, Lunar Landing, Re-Entry
Score: 4/5
RIYL: Michael W. Smith, Owl City, John Williams, Alan Silvestri, Thomas Newman