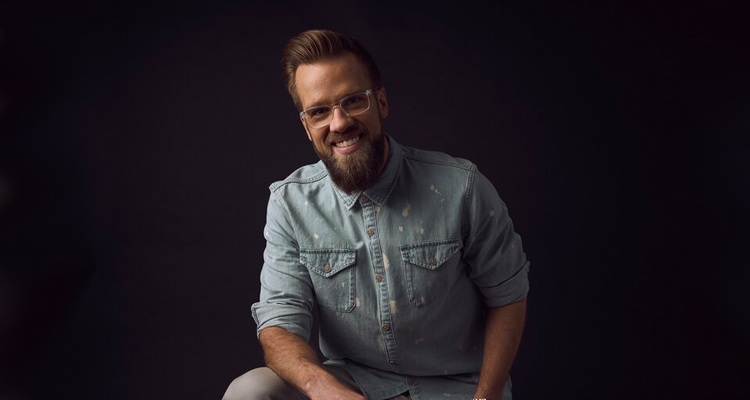 I recently had the privilege of interviewing pop/CCM artist and multi-instrumentalist Josh Wilson, via email, as he is set to unveil his comeback single (still unnamed!), to be released sometime in 2023. We discussed Josh's most popular singles, his views on Chat GPT, and Josh's hopes and dreams for 2023 and 2024, to name a few. Check out the interview below, and be sure to check out Josh's music on Apple Music or Spotify.
It's a pleasure to talk with you Josh. The last time we spoke via email, it was in 2015. Since then, a lot has happened- notably COVID-19. Firstly, I just wanted to congratulate you on your Reimagined and your Acoustic EP's, which we reviewed. And secondly, I was just curious about your songwriting process pre and post-COVID, and how it has changed and how it has stayed the same. Are you a lyrics guy first and foremost, or do you compose melodies first?
Pleasure to talk with you too! I'm honored that you'd want to catch up and check into what I'm doing. I really do appreciate it. Thanks so much for the congratulations about the Reimagined and Acoustic EPs. I had a lot of fun making those.
As far as my songwriting process goes, there are some things have changed, and others that have stayed the same. One thing that hasn't changed is that I'm a slow writer. It takes me longer than many to write, both lyrics and melodies. I like to take my time with my songs, and make sure everything is just how I want it before it gets released. I'm often making small lyric changes right up until the song is mastered. One thing that has changed is that I'm doing a lot more co-writing, and with more people in the room. I used to write with one other writer per song at the most, but now I'm often in rooms with two or three other people at the same time. I'm learning that it's worth having more hearts and minds in the same place to arrive at a better song. Instead of trying to do it all on my own, I'm leaning into the strengths of other writers to help make my music better.
Was there a particular reason why you re-recorded your hit songs as acoustic versions and reimagined versions? Was it like Taylor Swift or Bryan Adams (you wanted to completely own the masters) or was it like Switchfoot (as a love letter to the fans)?
It was a little bit of both! I've gained some new fans over the years, who aren't familiar with some of my older music. I wanted a change to introduce them to those songs, and I thought re-recording them would be a fun way to do that. I didn't want to record the exact same versions of the songs, though, because I wanted my longtime fans to have something fun to listen to as well. Now that I'm an independent artist, there is definitely the added benefit of owning the masters of these songs.
In an era where probably every second artist releases long-ish albums (in terms of the no. of tracks), and some of them in high frequency (examples include Richard Marx's Songwriter, Demi Lovato's Dancing With The Devil: the Start Of Starting Over, any one of Morgan Wallen's albums, and John Legend's LEGEND; to name a few!); your albums (of which your last full length was in 2015!) are on the shorter 10-12 track side. What is your opinion about full length albums in general vs EP's, and how do you manage the roll-out of your new songs in an era of streaming?
The reason I have released EPs instead of full length albums in the last 8 years is less of a creative decision, and more related to the structuring of my last record deal. It wasn't really set up to release full length projects. I definitely had enough songs to do so. It just wasn't in the business model we had agreed to. As I move forward independently, I'm still trying to determine the best course of action in terms of length of releases. Creatively, I love the idea of releasing a group of songs at a time, but unfortunately, the way most folks consume music these days is on playlists. That means that they're more likely to hear every song I release if I release them a song a month, culminating in an EP or album six to twelve months later. I have a lot of songs recorded and ready to record, but I'm still deciding on a plan for releasing them.
Chat GPT was unveiled late last year in 2022; do you have any thoughts at how the AI can influence songwriting for the better or worse, and do you believe AI like Chat GPT is the future of songwriting, or is it merely just a tool? Furthermore, when it seems that every second CCM or worship song sounds like it could have been written by Chat GPT, where do you see the future of CCM and worship, and what do you hope listeners will gain from your music when they hear it?
Asking the real questions! Ha! I love it. When Chat GPT first came out, I had a bit of a crisis. I thought this was surely the end of human songwriting, or at least it would take a big enough toll on our industry that I might not be able to make a living anymore. I've played with Chat GPT a bit for fun, and at the moment, it's a good tool for songwriters, but it certainly can't replace great songwriting (at least yet… TBD on that one). I see it right now as a tool like Rhymezone or Grammarly. It definitely needs a skilled writer to hone its results into something great.
Now, things are progressing so quickly with these large language models that my previous paragraph may be outdated in mere months. We'll see. What I've been doing since I heard about Chat GPT is trying to lean into the human side of my craft. I've been speaking as honestly as I can about my anxieties, doubts, and past addictions, in hopes that I'll foster an emotional connection with my fans. I've been using my social media to grow closer to the folks who follow what I do. Human connection is something that AI cannot replace. I'm hoping and praying that folks will want to connect with me on social media and at concerts, and as I build trust and connection with them, they'll continue to listen to my songs.
The bridge between CCM and mainstream is becoming closer and closer- with artists like TobyMac, for KING & COUNTRY, Needtobreathe, Lecrae, and Lauren Daigle impacting the mainstream music charts. Chris Tomlin has even recorded a country album with country music stars as guest vocalists. What are your thoughts on CCM artists singing on albums from mainstream artists and vice versa? Do you have a list of artists that you hope to collaborate with, CCM or mainstream? Are you collaborating with any artists that we as readers cannot know about yet?
I think artist collaboration is a wonderful thing. It brings two audiences together to hear a song that one or the other might not have heard. I'm definitely working on a number of collaborations for upcoming releases. I can't talk about them at the moment, but I'm very excited on both a creative and personal level about these partnerships. So many talented singers out there, and it's fun to mix it up a bit on my recordings.
Is there any album on your bucket list that you have not recorded yet that you hope to in the future? A duets album, a country album, a covers album?
At some point, I'd love to make a kids album. I've got a handful of fun or silly song ideas from over the years, and I plan to get them recorded eventually. At the moment, though, I'm hard at work getting my own songs released, so I'm not sure exactly when that kids project will come about.
Your songs have reached into the lives and hearts of many- inclusive of "I Refuse", "Before the Morning", "That Was Then This Is Now", "Revolutionary", "Borrow (One Day At A Time)", "Savior Please", "Carry Me", "No More", "3 Minute Song", "Dream Small" and others. What is THE song that touches fans the most, and which is the song that has ministered the most to you?
I'd have to say it's "Dream Small." That song has been and still is an encouragement to me to remember that the little things matter. They always do. Every act of love or service matters, even if only God and I know about them. I've heard from single mothers, pastors, students, teachers, and many others that "Dream Small" reminds them that they have an important part to play in bringing God's Kingdom here. At the moment, I think it's my favorite song I've written. Fun fact… I wrote this one all on my own, without any co-writers, so it's probably the most "me" song I've ever released.
What is your favourite song to play live? Are there any upcoming tours and festivals in 2023 that you can tell us about?
My favorite song live is either "Borrow" or "Revolutionary." I play solo concerts with a loop pedal, much like Ed Sheeran does. These songs both lend themselves to fun looping renditions, and I enjoy building them (quite literally) from the ground up. I'm doing a lot of "one man band" shows this year, and they're all listed on my website, which is www.joshwilsonmusic.com.
Is there anything that we can pray for you as we come into the second half of 2023 and into 2024? Is there new music on the horizon very soon?
Thank you for asking! Please pray that I continue to write the songs that folks need to hear, myself included. I'm trying to reach a new level of hope and honesty in my music, and I'm feeling more inspired than ever that this is what I'm supposed to be doing. New music coming very soon! The first song will release in either September or October of 2023, and I'll have a new song out to Christian radio in early 2024.
Is there anything you'd like to add to this interview that we haven't covered? Maybe a fun fact that people don't normally know about you?
I've got a fun fact, or "Stupid Human Trick" as David Letterman used to say. I can not only wiggle my ears, but I can wiggle each of them one at a time. If you ever see me at a show, come ask me afterward and I'll do it for you!
Be sure to listen to Josh Wilson's new EP's Reimagined and Unplugged that are both now available everywhere! Also, check out Josh's YouTube page here, and my review of Reimagined here. Below are also full streams of some of Josh's past albums! Enjoy listening!