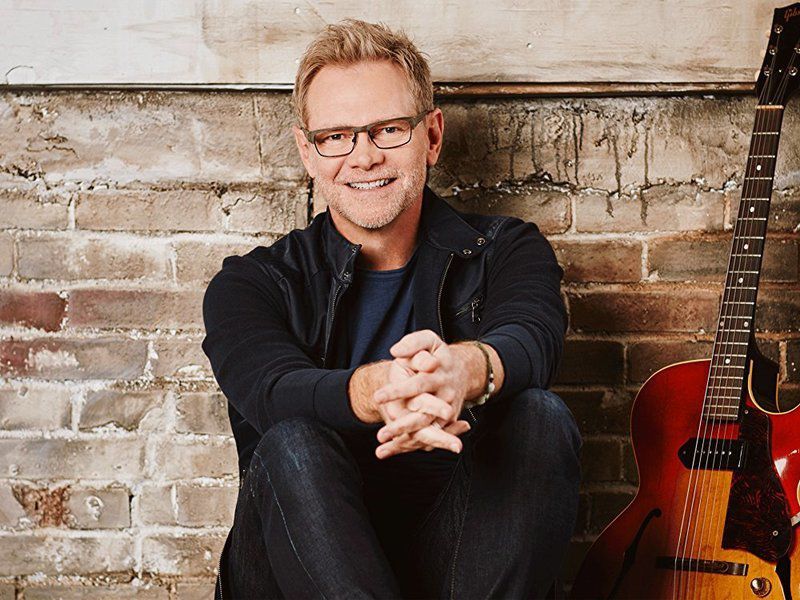 I love music, I love being a student of music. Now at this point in my life, creatively and my journey musically, I'm still learning, and growing and still a student. I'm still listening to music and when music moves me or inspires me, I try and figure out what it is about that, that moved me and I try to learn from that and incorporate that into what I'm doing creatively. At this point in my life I still think there are things that I have to say that can be very relevant hopefully to millennials and to all of us because there are real connecting points. Yeah there are some things that are unique to our different age brackets but there's a whole lot more that's real common ground. I'm trying to stay real connected to that and find that common ground.
When I first started, Christian music was pretty narrowly defined. You'd have your crazy people out there like Steve Taylor who was doing punk rock music but for the most part if you really looked at what was considered Christian music at the time it was pretty inspirational. Even the singer-songwriters weren't even as prevalent. There were songs that were kind of hymns, big productions, beautiful great songs but it was more narrowly defined as far as what Christian music was. As time has gone on, you had DC Talk come along and said 'let's take rap music'- it's an art form and it's a style that a lot of people really connect with, let's take that and use it to proclaim truth and use it to speak messages that are redemptive, and faith filled messages to encourage people. [Now] you have everything from singer-songwriters to rappers to all kinds of different styles and different genres. I think that has grown and also the quality of the music.
In the early days we fought a lot against Christian music being viewed as a sub par. The production wasn't as good, we didn't have as much money to try and spend to make the kind of record that they were making in pop and rock 'n' roll music. But over the time as the genre has grown and more and more people have connected with it and bought the records and supported the infrastructure, the more and more we were able to really make better quality music, with the sounds of the recording, which allowed it then to grow even more.
When you think of Christian music, what do you think about? Michael W. Smith, who, alongside Amy Grant, has paved the way and shaped what Contemporary Christian music is today, delivering radio hits over the years like 'I'll Lead You Home', 'Give It Away', 'Secret Ambition', 'This is Your Time' and 'Cry For Love', to name a few. Or maybe DC Talk, with their album Jesus Freak being such where upon the release of said album, Christian music suddenly became a 'genre' that wasn't overlooked, but rather relevant, real, honest and even necessary in the ever-changing sonic landscape of what music was and is. Christian music as a whole has always had a stigma associated with it, people within the Christian music industry have been said to be of a lesser quality than those outside, those who listen to CCM (like myself) have had the label 'uncultured' or even 'sheltered' placed upon them time and time again. But for me, Christian music has formed my early years all the way through to my university days, and if you'd as me honestly; I'd say the CCM 'genre' (I dunno if you can call Contemporary Christian Music (CCM for short) a genre, because there is pop, rock, rap, folk, acoustic and everything else within the umbrella of 'Christian' music) is one of the most emotive, vulnerable and heartfelt out there, period. What I've experienced from Christian music has shaped me into who I am today- it is for CCM that I am grateful for discovering some of the most impactful artists I've ever known in my nearly-30 years here on this earth. Christian music in a holistic sense has been overlooked- it as a 'genre' has been shafted around and been frowned upon, but still the fact of the matter remains- Christian music provides a hope and an enthusiasm that can be difficult to see in practically every other music genre. I know such statements can be considered bold and radical, but this is my experience of music that has been such a part of my own childhood and teenage years. it is alongside Michael W. Smith, Dc Talk and Amy Grant, that I can safely and assuredly declare that fellow singer-songwriter and devout Christian musician Steven Curtis Chapman has shaped Christian music all for the better over the years.
Steven's career started off in the 1980s, 1987 to be precise. To this day, he's been in and around the music business for 32 years, and that in and of itself is as big a feat as they come. I think only Amy Grant and Michael W. Smith has had a bigger time in the music industry who are also still active today, and thus, I reckon these three artists (alongside DC Talk, the short-lived but equally profound band) have carved out quite a remarkable and solidifying future for Christian music as the style and 'genre' continued to test new boundaries as the years progressed. Steven himself has released many a song over the years, songs that have touched our own hearts and have imprinted upon ourselves melodies that have been soundtracks for us over the years and have been associated with many life events as we look back on the years. Songs like 'More To this Life', 'Hiding Place', 'His Strength is Perfect' and 'For the Sake of the Call' have all been in high radio rotation over the years, and all these songs have solidified my own faith over years. it is a reminder and testament to songs from the 1980s and 1990s in general that, for lack of a better word, get tossed by the wayside time and time again, in favour of newer songs- and that is exactly what the music industry currently is doing. Which is a shame, because the 1980s and 1990s in terms of music as a whole was an era where music was such where the lyrics mattered, where songs became special- be it the lack of technology led artists to work just a little harder, or maybe the lack of accessibility to songs meant that whatever access to music people had during that time was treasured all the more.
Steven's music has always struck a chord with myself- especially songs from his earlier years. 'More To This Life' explains that there is more to life than undertaking the mundane tasks of life, while 'Hiding Place', from Steven's first album titled First Hand, accounts for the fact that it is in the presence of the Lord that we can hide and make our home and refuge in, a reminder that He is who we turn to for comfort and a feeling of home. 'The Great Adventure', re-done in 2017 to feature MercyMe frontman Bart Millard, is quite possibly one of the most popular and most influential SCC songs out of his whole career, as we see the metaphor of depicting life as a grand adventure that needs to be explored, a piece of unknown land that needs to be trekked, and valleys and mountains that need to be walked through and journeyed alongside in order for us to gain a certain perspective, to see life as just that- a time here on earth for learning and to love, live and be loved in the whole process. 'I Will Be Here', also one of his earlier songs, speaks of Steven's love he has for his wife, and is a love song that stands the test of time- reminding us all that even 27 years later ('I Will Be Here' was created in 1992), a song such as this can still tug at the heart and speak the truth that '…I will be here, when you feel like being quiet, when you need to speak your mind I will listen, and I will be here when the laughter turns to cryin', through the winning, losing and tryin', we'll be together 'cause I will be here…' The love expressed through this song is only a shadow of what God shows towards us in the shape and form of Jesus coming and dying and rising again for all mankind. Though on the surface a song sung between men and women and between us and our family members and friends, 'I Will Be Here' is a reminder of God's unending and undying love, something we as a human race cannot get enough reminders of!
Then there's 'For the Sake of the Call', written in 1990, that has been the pillar and the cornerstone of what a powerful CCM ballad should be, all these years later. A song that has been played on repeat countless of times throughout the years, I can safely say that this melody is by far one of my favourites of Steven's ever- maybe in the top 5. In the song, Steven himself speaks about the disciples and how each of them followed Jesus not because of fame or fortune or money or adulation, but rather simply, because He called. A simple reason that maybe people who aren't Christians may not understand, we are given a story behind the song by Steven himself (quoted from CCM Magazine's publication 100 Greatest Songs In Christian Music)-
I was asking myself a lot of questions about what I do. Like, what does it really mean to call myself a Christian, a follower and disciple of Jesus Christ? I think it took me a year to read it [The Cost of Discipleship by Deitrich Bonhoeffer], because I'm a slow reader and it's a very deep book. But it really challenged me; it was one of those times in life where God just took me by the hand and said, 'Alright, come on; I'm taking you somewhere you've never been before.' And he really did that with that book. As I was reading it, I found a passage that talked about the fact that the disciples didn't follow Christ for the sake of a great cause or a dream. It was simply because Jesus said, 'Come, follow Me.' They recognized that He was more than just a man. And though it didn't make sense to anyone, maybe even to themselves, they responded for no other reason than that He had called. I finally began to understand that to me, that's what it means to follow Jesus Christ.
It is in this above quote that I can safely declare that 'For The Sake of the Call' has solidified and shaped my faith in Christ in ways unimaginable, and is a reminder that obedience to Christ and following Him, maybe often on a daily basis, comes at a cost- and we as humans and as Christians need to see if we're willing to make the sacrifice. And that indeed my friends, is the power of song, or more importantly, the power of Christ and the work that Christ is doing through a song like 'For the Sake of the Call'. Calling us out on whether we're following Jesus of our own accord, or because of tradition and years of doing the same thing. Steven is one never to shy away from topics in his music that tend to ruffle feathers, and 'For the Sake of the Call' and the implications of the song is one such example…and that's ok!
I guess if you want to be influential as an artist, you have to understand, that it can't just be your radio hits that impact people- your whole discography has to have the ability and potential to challenge and influence. With Steven's career, not only have there been his chart-topping songs that have impacted the world, but for me, it has been some of his lesser known songs that really spoke to my heart over the course of my Christian life. Songs like 'Finish What He Started' and 'Take Another Step', both from Steven's more recent album The Glorious Unfolding (released in 2013), are such songs that have stood out to me of recent years. Not to say that songs like 'Heaven In the Real Word', 'Dive', 'Live Out Loud', 'Remembering You', 'When Love Takes You In', 'Not Home Yet' and 'All About Love' aren't great, because they are. In fact, as it stands, much of these songs that I just listed just then are some of Steven's most popular and prolific- 'Heaven in the Real World' speaks of trying to find the love and peace that is sure to exist in heaven, here on earth, and living our lives as though heaven has already come here in the places where we are, while 'Not Home Yet', from his 1997 album Greatest Hits, acknowledges the journey that all humans are on, and gives a friendly but heeding warning that we ought not to be too comfortable here in this life, because we're 'not home yet'. 'Dive', from the 1999 album Speechless, as said by Steven himself, is about diving deep into the grace of God and to go all in for Christ, while a song like 'When Love Takes You In' delves into the deep and often overlooked themes and topic of adoption, that '…when love takes you in, everything changes, a miracle start with every beat of your heart…' 'Remembering You' is the theme song for the 2005 remake movie The Chronicles of Narnia: The Lion The Witch and the Wardrobe, and is a reminder of how much Christian influence C.S. Lewis had when writing the Narnia series, while 'Live Out Loud', on a similar vein to 'Dive', speaks of the excitement and joy that knowing God brings, and compares knowing and loving Jesus and never sharing it, to someone winning a million dollars in game shows, and hiding it under the bed.
'All About Love', from Steven's attempt at a 'mainstream' album in 2003, speaks of the importance of love the emotion, and that '…God says love, love, love, love, love…everything else comes out of it, nothing any higher on the list than love, it's all about love…' It is because of the 'mainstream' appeal that All About Love has that I firmly believe that such an album is overlooked, even now- which is a shame. Once there is a label attached to a person, when there's an opportunity to break out of that, it's hard. All About Love the album was a chance for Steven to deliver a 'mainstream' album that can still showcase his faith in a real way- and he did that. But I've felt even now that the 2003 album has been sadly underappreciated by the general public and critics alike- which is nevertheless unfortunate. Steven has created a gem of an album in his 2003 one, and is arguably one to hear if you want to enjoy songs that you would sing to your wife/husband, but songs that can still be sung and declared to the Lord as well.
There are times when I wonder what I would be like if I took a different path. If I studied ancient history instead of modern in high school. If I was more of a sportsperson and decided to something athletic with my life. If I continued pursuing classical music, would I pursue that avenue of piano playing? How would my life look like now if I chose differently? Not that it matters now, because I know we can't change the past, but I often stop and wonder, and think. All the dreams, aspirations, longings, and hopes that I had way back when I was a child, would they still come into fruition now, regardless of the choices I've made along the way, or is it more reliant on the decisions I've made over the years, that once that opportunity door is shut tight, what I long for and hope to be is never going to see the light of day? Tough questions, and I know I probably don't have all the answers right now, yet from where I'm standing, sometimes it's ok not to have them. That wrestling with the questions, and dialoguing with God about what's on your heart can be more of a remedy than a quick understanding and a quick realisation. As much as we want the answers to come quickly, we ought to sit in the puddle of misunderstanding, the valley of discontentment, and the pit of dissolution a little while longer, as we gain the wisdom to know that no matter what decision we make, God's plans for us will always come into reality, regardless of how long it takes, and what it looks like along the way.
There is a song that is from quite possibly one of my favourite Steven Curtis Chapman albums of all time. The Glorious Unfolding released in 2013, and on it, we hear one of my favourites, "Take Another Step", alongside 'Finish What He Started'. Borne out of the story of Peter walking upon the water over to Jesus, it draws upon the theme of worrying about everyday situations instead of fixing our eyes on Christ the Author and perfector of our faith. Along with "Finish What He Started", I am encouraged to trust in the Lord and where He longs for me to be in 2, 5 and 10 years from now. It is sobering to know, that we can believe all we want, and truly say from the bottom of our hearts that we can live through adversity and hold onto faith when needed, but it is only when we've lived through tragedy that what we believe is tested and put into action. It is not until our world is shaken and rolled upside down that we can truly testify to God's grace in our lives. Sure we can see it in the lives of others, but often in our own lives we can become complacent to how we live it that we never really truly believe God's promises to be true…because we're just running through each day right? Nothing really bad happens throughout the week, but even if it does, I'm sure I can handle it? God's got a plan… we have all the right intentions, but we never really know what it means to put all faith in God until we have a Job-like experience. And I pray that no one has that, but, hypothetically, and imagine for a moment, if what happened to Job happened to us one day. Everything ripped from us. Would we still take another step? Would we still believe He finishes what He starts? Would we still declare His name above another other, even if our lives are in pieces when we are doing the proclaiming?
I know these last two paragraphs weren't really about Steven Curtis Chapman nor his music at all (except for the allusions to the songs 'Take Another Step' and 'Finish What He Started'). And maybe that's ok that not all of my post is devoted to said artist after all. Because at the end of the day, yes the artist is important- their mark on history and music can shape the trajectory of where music will head in the future. But it is and always will be the songs, and the impact it has had on people. It will also always be the lives of the artists backstage and how they live their lives and what they do behind the scenes in terms of philanthropy that makes me appreciate and admire the artists all the more. And Steven himself, through lesser known songs like these two, has impacted my own life, and for that I am grateful.
Steven's life behind the scenes is a testament of God's grace and faithfulness. We all know the story of Steven's adoptive daughter and what happened in the fateful year of 2008, and for all those who do not know, then I guess google is your friend. Now that you have been up to speed on arguably the most heartfelt and gut-churning tragedy to hit CCM within the last 15 years, we can all safely say that Steven's (as well as his family's) unwavering faith in the Lord is nothing short of a miracle. Because if I was faced with what Steven had to face, I don't know if my faith would survive. There, I said it. Because if I was in the shoes of a father, and I knew that my adoptive daughter passed accidently at the hands of my son, then…well I guess all sorts of things would run through my head. And I'm sure that was the case for Steven and his family. For him and perhaps the rest of the world that were fans of his music, songs post 2008 took on a whole new different meaning. 'Cinderella', a song from his 2007 album This Moment, is perhaps the biggest tear-jerker in light of the event 11 years ago- written as a letter of sorts to his three adoptive daughters (now two) and their own journeys from childhood to adulthood; Steven's song is as emotional as they come- because his adoptive daughter Maria won't get to see any of the milestones depicted in the track. Nevertheless, the song is still sung and declared in many of his concerts, as he's reminded that he will see his little girl again in heaven. And if there's one thing that this tragic circumstance as taught all of us, is that our own problems aren't really that big. If it's not life-threatening, if it's not a death, or physical illness or even cancer, then our complaints really shouldn't be complaints. Steven's life and especially the death of his daughter has given me perspective in my own life, and is a reminder that often the most broken things can be used by the Lord to create something beautiful in not only the life of the one suffering from said bad thing, but in the lives of many people around. And that has ben the case for Steven and his family. And myself as well!
As I've said- songs post 2008 take on a whole new different meaning for Steven. Immediately in 2009, Steven released Beauty Will Rise, an album cataloguing his own thoughts about the tragedy- recorded solely on tour and only through demo tracks- never in a studio. Songs like 'Heaven is the Face'- which shows us what heaven will be like for Steven (reunited with the daughter that was taken too soon), and the title track 'Beauty Will Rise', remind us how raw the emotions were post-2008, and how such an event like a daughter's passing can never really be 'gotten over', rather just living through each day, all with the reminder that God has things under control. As Steven himself undertook an interview with Christianity Today about Beauty Will Rise, and the theme and story, not only behind the song, but behind the album as a whole; we're reminded that God does in fact bring about beauty and wholeness from the most desolate of circumstances-
We were in China last May when the earthquake hit [the 2008 Sichuan quake that killed 70,000], though we were sitting in the Shanghai airport when it happened, so we didn't feel it. But when we came home, we heard about all the devastation. And then two weeks later, our earthquake hit [when Maria was killed]. And that was a real connection for me, in a way, to pray. In a lot of ways it was one of the ways we survived. When I turned everything inward, with the pain, questions, and devastation in our own family, I felt like I was going to cave in. But when I could pray for other people, when I could say, 'God, these people are feeling the same thing. Please give them the comfort that we are finding in your promises and the fact that we're going to see our little girl again. We know that hope. These people don't; they're in a more desperate place than we are, because they don't know. Let us share that with them.' As I thought of that, I had this desire to go back to China—which we did this summer—to the earthquake zone and sing over these people the hope that has sustained us. I was connecting our day of loss and destruction to theirs and saying, 'You know, today the world went wrong. But out of this, if I really believe God's Word and God's promises, God will bring beauty out of these ashes. And this is our hope. This is our comfort.' And as I wrote that song [the title track], it just captured the heart of what I would say in this album. That this is the promise, God. Beauty will rise out of this. I'm not going to pretend to know what that's going to look like. There's going to be a lot of it that we won't even see until heaven. But this is what I know to be true.
I won't begin to pretend to understand what Steven went through all those years ago with his family. But what I do know is that in light of the tragedy, Steven's appreciation of music and his reliance on God the Father in all circumstances continues to climb. Re Creation followed Beauty Will Rise in 2011, with songs like 'All That's Left', 'Do Everything' and 'Long Way Home', plus a whole bunch of acoustically renditioned songs from his earlier years. The new original tracks spoke a lot to what he was experiencing at that moment- in a season of renewal and realignment. 'Do Everything', the first single, reminded us all that everything we do and undertake, be it the small things like cooking in a café, to big things like trading in the stock-market, and everything else in between; everything matters to God and everything is significant and can impact and influence in the tiniest of ways, while 'Long Way Home' shows us that God is leading us to where He wants us to be at a certain point in time, even if that journey looks like we're going backward and sideways. 'All That's Left', co-written with his son Caleb, shows Steven portraying a theme of love at its core, that though we're '…slowly drawn, moths to the flame, we think we're strong, we think we're anchored down, then it comes, the hurricane, down come the walls, up come the foundations we've been building on and suddenly we'll see that all, that's left is to love, that's all that we have, that's all that we ever really had…'
A change in label from Sparrow Records to Provident Label Group saw albums like The Glorious Unfolding and Worship and Believe come to life in 2013 and 2016 respectively, as songs like 'Amen', 'The Glorious Unfolding', 'Love Take Me Over', 'More Than Conquerors' and 'One True God', came onto our airwaves on the radio during that time period. The Glorious Unfolding in particular was deeply special to Steven personally, as it was the first new album to be recorded after Maria's death- not including Beauty Will Rise which is in fact not officially an album because it was never recorded in a studio, but rather, on tour, and the fact that Beauty Will Rise was recorded so quickly after Maria's passing, that it was almost too raw and full of emotion, maybe even too close to the event for listeners to even process and reflect upon in a way that is not heavily and too much on emotion! Which makes for the listen of the 2013 album all the more special and emotional. It is the album that I've connected with the most as a whole, and the album that I reckon has ministered to myself in my own faith over the years. It is me realising that there is beauty and wonder, joy and awe in the not-knowing, the stressing over this and that is gone, when we know that all we need to do is to trust that the Lord has things right where they should be. It takes a big deal to believe into that, but what I will say is this, from what I've learnt not only from The Glorious Unfolding but from Steven's career thus far- whatever is in front of us in our lives right now is in our way for a reason. It may sound trivial for the person suffering from loss, disease, or the person who is unsure where their life may head, but I truly believe that we can learn something, anything, from the situations that lie before us. There's a line in the lyric of 'Finish What He Started' from Steven's 2013 album that really highlights this fact- '…it may feel like 40 long days in a hard driving rain or 40 years in a dry desert sand, but when He's finished we will see a beautiful tapestry, and know that nothing has been wasted in the end…'
And then now here we are in 2019. No new album after Worship and Believe has been released by Steven, at least no new one full of original material (he did however unveil this year Deeper Roots full of hymns and other re-done bluegrass gospel favourites). He has indeed released songs here and there though. 'Warrior' was released prior to Worship and Believe and was unveiled as the theme song to the movie War Room directed by Alex Kendrick, and speaks about the power of prayer and how the impact that prayer makes in a person's life is like how we as humans to into battle with armour and as a warrior- for we as Christians know that our battles are neither with other humans or with the physical natures of this world- but warring against the dark forces that flood the spiritual realm. 'We Remember', unveiled in 2017, and 'Remember to Remember', in 2018, are similar thematically, and both of them hone into the theme and topic of remembering- our fellow man who has made sacrifices to keep countries like America (and indeed Australia!) safe, and also remembering the promises that Christ has given to us, and never forgetting the sacrifice He has undergone for us to be with Him for eternity. For "We Remember", recorded live at Sam's Place at The Ryman, and now since recorded as a studio track, was presented by Steven as an anthem in light of Memorial Day for the U.S., and is a timely reminder about such horrors of war and our constant need to remember those who have fallen. This song, though as patriotic as it may be, can still be seen in yet another more impactful way- "We Remember" is just about remembering the sacrifice of Jesus as it is about remembering the sacrifice of man. Jesus came to Earth to pay the ultimate price, and what better way to remember than to do so to this track? I am reminded in the words 'cause we know freedom isn't free' that freedom is just that- someone has to pay for our freedoms. It isn't free, and once we realise that for us to live in the freedom, someone else had to pay the ultimate price (death), we can sing praises to our Father, thanking Him for Jesus and the role He played in the story of God, bringing us back to Himself in this tapestry of redemption and restoration. 'Remember to Remember' carries on from this with a heartfelt message- one of remembering, of understanding and continuing to understand what God did for us and what it means now that death has been defeated, that love has won and continues to win in our lives on a daily basis…because frankly, we are a forgetting bunch. We remember for a time and then we forget when circumstances come our way. And so this song is as a reminder to remember, and a reminder to remember to remember. We can never be reminded enough to always recall the moments of His goodness to us, and to use such times in the past as a platform for us to call upon His name, longing for Him to undertake such things again now.
And then comes his album Signs of Life– released in 1996, and perhaps, one of the most sentimental albums, by any artist, in my own personal life. For this is the album that was given to my family before we even had any CD's, before we even owned a CD player. It is an album that I myself listened to tirelessly when I was a young kid and into teenage years, an album that I heard that wasn't Carman (my love and respect for Carman and its influence on my life in another post altogether!). Songs like 'Lord of the Dance' broke through the taboo of dancing full stop, while 'The Walk' challenged us all to walk the walk instead of just talking. 'Let Us Pray' encouraged us all to pray, not just in the moments that were convenient to us, while a song like 'Free' really hit home as it spelled out a personal story for Steven as he met with someone from death row that, through his eyes, seemed more free than Steven felt at that moment- a reminder that you can still be in prison and in chains physically but nevertheless be free in a spiritual sense because of what Christ did for us. It is an album that I will continue to cherish as the years go by, not because it is the most cohesive album he has ever made (leave that to albums like Speechless, All About Love and Declaration), but rather, this album brings about a lot of fond memories of childhood, and the nostalgia it brings with it is of pleasant things.
Isn't it great to think about nostalgia for a moment? To ponder about what once was, to remember once upon a time when life was simpler and technology, the advent of it, and the ease of digital communication at the expense of face-to-face time wasn't so much of a reality as it is now? Sometimes I do, I still do. I sometimes catch myself wondering what it would be like if the VHS never went out of fashion, or if the millennium bug did indeed hit way back in 1999 and it was in fact an apocalyptic age we're living in now. Sometimes I even catch myself missing simple things- like how times were less complicated during primary and high school, and how now, in this moment, life can seem a lot more interesting, hard, difficult, enjoyable, daunting and rewarding, sometimes all at once. This is what listening to a lot of these albums and songs, these artists all these weeks and months, has led me to ponder and to delve deep into nostalgia. Though I myself haven't really followed many of these artists when they were undertaking their music at the time, I have nevertheless been immersed in, to put it bluntly, 1990s and 2000s pop, and frankly, I've been impressed. Not that there's anything that is unsavable about current pop now, but for me, I've connected with certain eras of music more than others, and as of right now, 30 artists in (out of 100, and then a further 20 on top of that!); the artists of today seem not to be as relevant in my own life as the artists of yesteryear…and maybe that's ok. There's a lot of music at our fingertips, and God can speak through at least anything that He can to bring about a positive change in our lives- I firmly believe that. Listening to Steven's music has once again asserted my bold claim that 1990s music has a little less agenda than music of today…then again I could be totally biased- I mean, what do I know, I'm just a café owner and a reviewer for this website!
Does Steven Curtis Chapman make the list for you all when you write your own 'Best Influential Artists of All Time' list? Is there any song (other than 'For the Sake of the Call' and 'The Great Adventure') that has impacted you on your journey through life thus far? Let us know in the comments. Till next time!