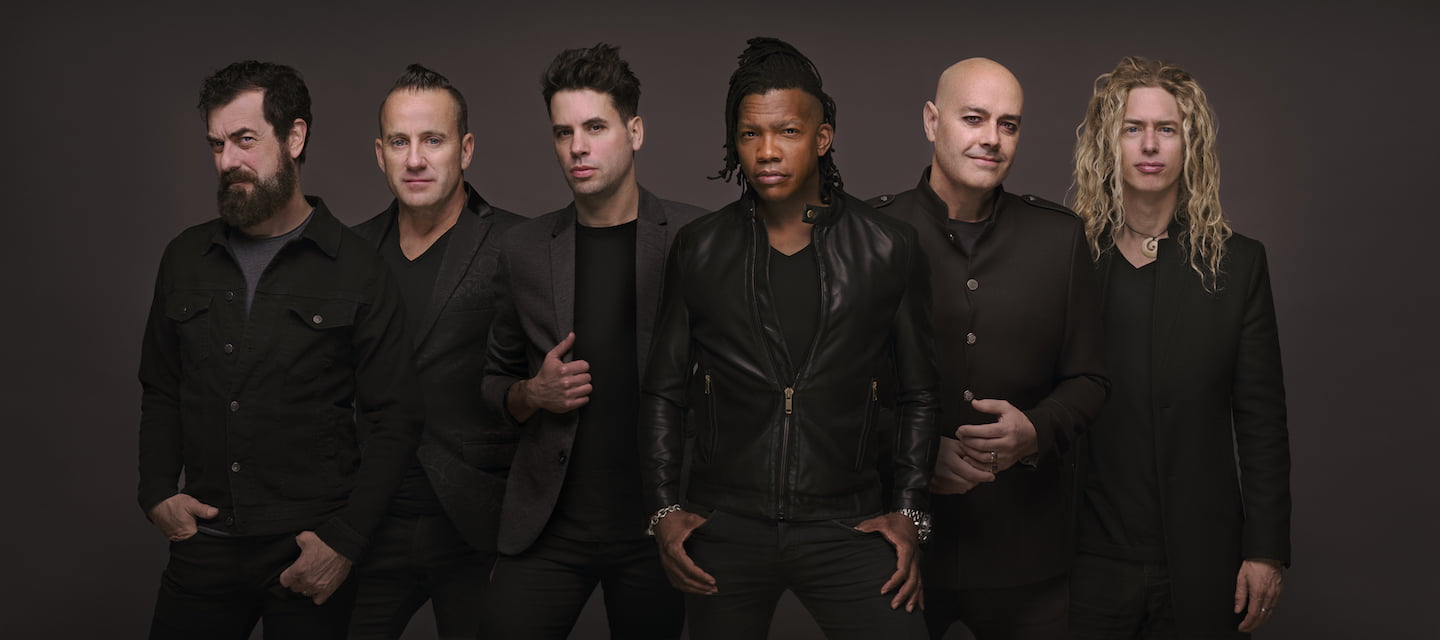 What do you think about when you think of the term 'Australian Christian artist/band'? What comes to mind? Frankly, you immediately think about Hillsong (all its facets) and the deeply polarising nature of the megachurch and their music arm and ministry. Or you can think about Rebecca St. James, who raced to stardom way back in the early 1990s, and then went on to release several chart-topping albums, and is now an icon and a champion of abstinence with her own 'purity' song 'Wait For Me'. for KING AND COUNTRY is another Aussie band that is getting traction, popularity and influence now, and ironically, both brothers in this duo are related to the once-popular Rebecca St. James…but yet, even though all these artists have been popular throughout the years, and do command great influence within the history of Christian music from the land down under; there is in fact one band that I firmly believe is responsible in staking a claim that Christian music not necessarily from the U.S., is firmly and very much ok. The Newsboys, who started their venture in the late 1980s as a band trying to make it on the Sunshine Coast of Queensland, Australia; are now entering into their 4th decade.
With a lot of radio hits and chart-topping melodies that have crept into homes around the world, we can certainly see how far the reach is for this Aussie outfit that frankly, defied the odds and succeeded in America, a land that, to be honest, spits out bands more so than they can cultivate and nurture. Newsboys, to last as long as they have, in an industry like the CCM 'bubble'- which I believe is no less ruthless and cut-throat than any other music industry business, never-mind their message being of a Christian nature! – is a feat in and of itself! Listeners, myself included, have been blessed over the years by Peter Furler and co. (Peter is indeed the sole and only founding member to still be in the band today!), and for me, the band solidified and firmed up, in many ways, my own faith throughout my early university days. And while just like other artists I placed here in this influential list- Andrew Peterson, DC Talk and Michael W. Smith, to name a few; Newsboys also are only well known within the circle of CCM. And that's more than fine. Artists have their niche; and are influential amongst people who are fans of that niche. In terms of Christian music, Newsboys are a pioneer for CCM pop with an Australian flavour, and a reminder for any up and coming band to always persevere. Since their own humble beginnings in a land where I'm sure people in America may not know much about (i.e.: Australia a.k.a. the country that has a lot of humour and down-to-earth humans compared to anywhere else on the planet!!); Newsboys have continued to amaze and inspire, giving us all songs that are the soundtracks for people's lives, and songs for my own life as I also navigate adulthood.
I don't think there's ever been another band, let alone another CCM band, that has had as many personnel changes as Newsboys have had, throughout their career. And that's not necessarily a bad thing- because more often than not; we see personnel change and equate that to a diminishing quality of the band as the years go by. But that isn't the case with Newsboys. Yes, they did have a lot of personnel change throughout their career. Yes, for lack of a better word, there has been 4 incarnations of the band in general. But, all in all, their message has forever been the same- to give us a means to declare our own faith in God alongside the band as we see a group of God-fearing men offer up songs of hope and encouragement, all the while, never waving on their true calling- to spread God's love and the gospel of Jesus to whomever hears the music. Yes, this band is an out-and-out CCM Christian bible-believing band, full of references to love, God, Christ, our sin and His sacrifice, our debt paid with His blood…and while I firmly believe that many listeners, may not share the same sentiment and belief as the band; what I'm sure anyone can firmly attest to and admire about Newsboys is their own boldness in speaking out what they believe, especially in an era of life in the world right now where there is as much political correctness as there is tolerance and acceptance of a wide array of beliefs, or dare I say it, non-belief. In an age where people, in a nutshell, stay quiet as to not offend people; Newsboys have stated what they believe, and remind us all that it is ok to take a stand for issues dividing and polarising. As the band continue to deliver song after song of hope and wonder, Peter Furler, Michael Tait and co. have managed to cobble together a 30-something + career full of anthems, and an era of Christian music that can and should influence many up-and-coming CCM bands both now and into the future!
To cover as much as 30+ years extensively in one big blog post is never going to happen. Not like how I have structured these blog posts recently over the weeks gone by. But, what I will say is this- that throughout their storied and welcomed career from the 1980s till now, we can't help but see, that this Aussie band (who made it in a land where I'm sure many told them they couldn't) has always had time to reinvent themselves. Here I am in my late 20s, being influenced by a band that I'm sure influenced my parent's generation when they were in their late 20s/early 30s as well. Which goes to show you- a band, especially of the Newsboys' calibre, ought to have the talent and the skills, the know-how to change and alter their musical sound and structure to reach a different audience and different listener background, as the time period changes. Nevertheless, what the band have achieved over the years is nothing short of miraculous and remarkable.
As someone who has grown up with Newsboys songs here and there, I fully immersed in their discography come high school and into university days. And while for me I didn't really connect as much to the earlier incarnations of the band, as opposed to the later ones; Newsboys nevertheless still impacts me now as it did when I was exploring Christian music and all that it had to offer during a moment in my life where I was open to the possibility of listening to good pop/rock music, but with an inspirational edge. Newsboys are your general pop-rock band, with a radio friendly atmosphere, all with the central theme of showcasing the love of God; and reminding us of the gospel of Christ. Forming in the late 1980s, the band travelled from Australia to the U S of A, and throughout the earlier few albums, the band changed their lineup quite a lot. It was only until the mid 1990s where the solidified group of 6- Peter Furler and John James being founding members, together with percussionist and drummer Duncan Phillips, bassist Phil Joel, guitarist Jody Davis and keyboardist Jeff Frankenstein; were the bandmates of the group. They toured for a while, releasing songs and steady singles to listeners, and throughout the early-mid 1990s, Newsboys ventured into the homes of many lovers of CCM and Christian music, with the songs 'I'm Not Ashamed', 'Shine', 'Take Me To Your Leader', 'Reality', 'Real Good Thing', 'Spirit Thing', 'Breakfast' and 'Where You Belong/Turn Your Eyes' all solidifying the 1990s era with songs that were quirky, weird, yet still was weird enough to be not ashamed about discussing spiritual elements of life.
A song like 'Shine' is arguably one of the best that Newsboys have ever done, and in it, we see lead singer Peter remind us that such an inward change in our own lives because of what we have seen Christ do to bring us back to Himself; should and ought to bring about an outward change so great that people are blinded by this light we are shining. Not necessarily on purpose, but rather, this is just a light we carry, and that as we live lives with Christ at the centre, people can't help but see the positive difference and change in us compared with who we were before. 'Breakfast' is the all-out quirky song about a real message that 'the don't serve breakfast in hell', and an apt and real reminder that hell is not a place for us to strive to be in, while 'Turn Your Eyes Upon Jesus' is re-recorded and redone, this time as a modern-style hymn with verses written and performed by Peter Furler and John James way back on the 1992 Not Ashamed album.
I guess if you want to be influential as an artist, you have to understand, that it can't just be your radio hits that impact people- your whole discography has to have the ability and potential to challenge and influence. With the Newsboys, not only have there been the chart-topping songs that have impacted the world, but for me, it has been some of the lesser known songs that really spoke to my heart over the course of my Christian life- 'Lost the Plot', a sombre song from Take Me To Your Leader, asks the question- whether we have travelled along the road of devotion to our first love (aka Jesus!), or have we, as the song suggests, lost the plot and travelled along another avenue, for whatever reason; while songs like 'Real Good Thing' and 'Spirit Thing', though singles from Going Public, are hardly remembered now (only 'Shine' is!), yet we forget that these two other singles from the 1994 album are just as good. Nevertheless, the early incarnation of the group brought to us songs that have been the soundtrack of our lives for quite some time. The band influenced us all who have lived throughout the 1990s, and while it has been sad and sobering to see many members come and leave, the heart of the band still remained intact!
Lead singer John James left the group in 1996 citing a reason to spend more time with family midway through  recording the new album Step Up To The Microphone– to much controversy and fan outrage at the time. Still, with every new lead-singer change, it can be hard. Nevertheless, drummer and part-time singer Peter Furler took the reins from John, and since then, carried the band to even more powerful radio singles and the years ticked by. 'Entertaining Angels', arguably one of the standout songs from the band in the 1990s, alongside 'Breakfast' and 'Shine'; came to life in 1998, this time with bassist and backing vocalist Phil Joel taking the lead. The song itself, speaks of how when one soul turns to Christ and believes in the saving power of Jesus and that He indeed is the Lord of creation and the true way to the Father; then angels in heaven rejoice at the fact that people acknowledge Jesus as God incarnate; 'Entertaining Angels' has become a staple amongst live setlists, as the song, is a pinnacle and central moment within the history of Newsboys in the confines of the 1990s era. While for a lot of people, the album released after Step Up To the Microphone (which also spawned radio hits like 'Entertaining Angels', 'Believe', 'Truth Be Known', 'Deep End', 'Whoohoo' and 'Hallelujah'), Love Liberty Disco, felt like an unexpected and at times, uncertain, departure away from the quirky pop that's always possessed the band for the better half of the 1990s; I myself feel like the 1999 disco album is just something unique and different- songs like 'Good Stuff', 'Beautiful Sound' and the title track solidify the album lyrically, as the band venture into unknown territory musically. Experimenting with string instruments, Love Liberty Disco is by far their most experimental album to date, and yet, I find one of the most heartfelt and reflective throughout most of the Newsboys earlier career (pre-2000).
Maybe it's just me, but in terms of which era was my favourite out of each incarnation of the band, I'd say it'd be the Peter Furler-led period of albums. Not that I thoroughly listened to the John James era that much, I did hear a few songs from each album here and there, but in terms of my own spiritual growth and maturity, I have the fondest memories of Peter and his own sense of added quirkiness and an Aussie larrikin sense of humour towards his songs. Peter continued onto lead vocals up until and inclusive of 2009 (when he left to pursue a solo career), and it was in that decade or so that I reckon the best albums of the band were created. Thrive, Adoration, Devotion, In the Hands of God and Go were all part of the 2000s decade, and all albums carried a sense of worship attributed to some, if not all, of the songs mentioned on these five albums. 'I Am Free', 'He Reigns', 'Something Beautiful', 'It is You', 'Lord I Don't Know', 'In The Hands of God', 'Devotion', 'In Wonder', 'Glorious', and 'Rescue', all showcased the band's worship arm and their own proven ability to deliver songs for the church; while also during that era, the pop and quirkiness of it continued to flow full force- songs like 'Your Love is Better Than Life', 'Million Pieces', 'I Love Your Ways', 'Wherever We Go', 'Dance' and 'The Way We Roll' all focus on the fun of the band. Even songs like 'I Fought the La', 'Stay Strong', 'In the Belly of a Whale', 'Joy' and 'Who', all not attributed to any of the 5 studio albums of the 2000s decade, but rather on special compilations here and there; show us what delivering a fun Newsboys song looks like. All in all, what it all boils down to is this- it is good to be a fan of the Newsboys now, especially now that they are entering into yet another new era; but also, it was great to hear them in their element during their albums within the 2000s-for me I was fortunate to hear the Peter Furler led era while it was still happening, rather than I'm sure years later for many other people- there's something different when binge-listening an artist, compared to hearing their music and sounds as they release them. For me my own value and sentiment I've placed on the band is partly due to hearing them throughout the years, rather than all in one go!
If you've read up to now, you are an avid fan of the Newsboys. Or you are just curious and have never heard of the band in your entire life. Or you just love to read. Or all of the above. Regardless, I'm sure you all know the story that broke in 2009 regarding the band. In 2009, lead singer Peter Furler stepped away. He left. Decided to take a break. Maybe with the intention of coming back in some capacity, maybe not, but regardless, we as fans were left in such disarray. Yet never fear, because since then, and for the next 10 years (and counting), we've been blessed with the empowering vocals of Michael Tait, 1/3 of the 'on-hiatus' group DC Talk. While I know the music (and singing) style of Michael is totally different to that of Peter, he made a quasi-new identity of the band, and forged ahead with Born Again (2010), God's Not Dead (2011), Restart (2013), Hallelujah For the Cross (2014) and more recently Love Riot (2016). Then there's the other side of the coin. Since Peter Furler left the band, we have been equally blessed to see that Peter never shied away from music completely. After a solid 2 years or so being refreshed, we were surprised, yet equally pleased and profoundly impacted by Peter's first solo album On Fire in 2011, that spawned the singles 'Reach', 'I'm Alive' and 'Matter of Faith'. Furthering on from his highly successful solo debut, Peter formed the 'Peter Furler Band' with friends Dave Ghazarian and Jeff Irizarry, releasing Sun and Shield in 2014. While that album didn't really have much traction or popularity since it was recorded and released independently, Peter Furler fans like myself nevertheless still listened, and enjoyed songs like the title track, 'Dare I Say', 'The Overcomer' and 'We Won't Forget'.
'…there are two distinct meanings regarding the message of the song [and in extension, the album]. One is about being "born again" as Christians and the other is about being "born again" as the band, newsboys. When my friend of over 30 years, former lead singer Peter Furler, announced he was leaving newsboys, we all had a natural period of surprise and concern. We decided we could make one of two decisions: quit, or call up Michael Tait, the amazing singer from dc Talk, and keep going. Naturally, it took us about 20 seconds to decide to call Michael. If you were a fan of dc Talk, you probably also followed newsboys back in the 1990's. As a band, we actually have to audition for our jobs with each new album. If you keep making the same record, you are actually going backwards. Michael could sing the phone book and people would probably buy the recording. Over the years, we've had over 20 #1 hit songs, but we are "reborn" as whole new band. Once we made the announcement last year that Michael was our new lead singer, the band and our fans began to relish the positives and possibilities of this fresh start. This song is all about that fresh start…' This above quote by drummer Duncan Phillips, an interview with popular Christian website NRT, speaks about the heart behind their 'rebirthing' 2010 album, and, dare I say, my favourite album led by Michael as lead singer of the Newsboys. Nothing to discount or discredit God's Not Dead, Love Riot or even the dance-quirky Restart, but for me, I've always felt that Born Again was the most rounded. Nevertheless, the album for me produced songs that are still some of my favourites today- 'Build Us Back' and 'We Remember', both originally from the side project of Audio Adrenaline, Know Hope Collective, are sung stellar by Michael, while a song like 'Miracles', that has one of the most captivating and unique music videos the band has ever done, reminds us of the possibility of little miracles all around us, and that our life in and of itself is a walking miracle! The band's rendition of DC Talk's 'Jesus Freak', this time with rapper KJ-52 rapping TobyMac's parts, is next to flawless, while worship song 'Mighty to Save' is given the Newsboys treatment.
Their 2011 album God's Not Dead followed, which sparked a controversial movie series called, yep, you guessed it- God's Not Dead. With three movies out so far, this film series is so loved, but also so hated. Nevertheless, God has used Newsboys, and a song that worship leader Daniel Bashta wrote called 'God's Not Dead', to bring together a new generation on fire for God. While for the most part their 2011 album was a worship covers album (songs like 'Your Love Never Fails', 'The King is Coming', 'Mighty to Save'- from Born Again, even 'Revelation Song' are all present), standouts aside from the covers (and not including the title track) are songs like duet 'I am Second' (with another third of DC Talk, Kevin Max), 'All the Way' and 'Here We Stand'. As Jeff Frankenstein, keyboardist, relays the message of 'God Not Dead', not just the song, but the whole movement and the movies as well, we are met with the realisation, that '…it seems like culturally that atheism has become more and more prevalent. God is being taken out of so much of our culture and has been for years. People are just deceived. There's a lack of Truth and in some Christian music circles and in Christians in general, there's a lack of boldness. That's what sticks out to me is the bold message of this song. What's most disheartening for me is that even in Christian music there are so many songs that don't proclaim the Name of Jesus. A lot of us say great things that may coincide with biblical principles and social justice, and I don't know about you, but the boldness of this song is what attracts me. As artists we have an impact on people and culture. To me, that's why this song is resonating with people. We can tell based on the reaction at our concerts to the song that people are embracing the message of the song and that it is saying what they feel. I know that every band has niches, for us, this is a Newsboys message. I'm preaching to myself when I say those words in this song. The Gospel turns the world upside down. We need to live as Christians with God's upside down expectations that defy the world's expectations. The songs that we made as newsboys and dcTalk in the 1990s had bold Christian messages and we set out to make an album with songs that had those type of messages…' Jeff really hits the hammer on the nail, and this message we see in 'God's Not Dead' continues to carry throughout the rest of the band's career.
Both Restart and Love Riot are the remaining albums from the Michael Tait era, and both for me I enjoyed the albums as a whole, in a general sense, compared to albums previously both by Michael and Peter, these latest albums were a bit of a letdown…a little. That's not to say I wasn't feeling certain songs on the album, not at all. Songs like 'Hero', 'Crazy', 'Live With Abandon', 'That's How You Change the World', even the Newsboys cover of Mike and the Mechanics' 'The Living Years' and the Hillsong cover of 'Stronger', are all worthy standouts across the two albums, but for me, two songs in particular over the period of 2013-2016 stood out to me- 'We Believe' and 'Guilty'- ironically both these songs were attached to two major Christian movies, Do You Believe and God's Not Dead 2, respectively.
You know when you hear a song and you immediately think this song is going to be a classic? From 'I Can Only Imagine' and 'Above All', to 'Blessed Be Your Name', 'God of Wonders', 'History Maker' and 'I Am Free'; songs that have managed to impact hundreds of thousands of people around the world tend to have an anthemic feeling about them, and this time, 'We Believe' is no different. A song that is basically the believer's creed, it is in these lyrics that we see a song that reminds us all to take a bold step of faith and declare who we believe in and what we indeed believe about life, death and everything else. Now I know that here in Australia where I live, there is pretty much freedom of speech to say what we want, within reason of course. But there are so many countries, in Africa and Asia, where freedom of speech, especially the freedom to speak religiously; is outlawed. Now I know that I'll say that I'll profess Christ, even if I am in a situation or state where freedoms are squashed beyond recognition, but to actually do it and take a stand in these situations require faith and guts- because if faced with something that I'm sure people in Africa are faced with every day, I'm not sure if I can declare out my faith with the same assurance and comfort that people in oppressed countries have. This is what 'We Believe' ought to conjure up- a sense of security, comfort and a knowledge to solidify what we believe so that we can proclaim it in whatever situation without any shakiness, uncertainty or worry. While I hope that I'm not faced with a situation where I have to declare out my faith or risk an early trip home to heaven, what Michael and the rest of the band have shown us is that in order for us to truly live a life without regrets, we must first look inside ourselves and see if we truly indeed believe the words declared in the song- we can say 'we believe' all we want, but are we really living out the change that has occurred inside of us?
'Guilty' is another song of late that has risen up to become an anthem for today's society, and with the song being the theme song of God's Not Dead 2, we are met with a Newsboys track fit for the times of today, as we declare that we as humans are indeed guilty- for being a follower of Jesus. As Michael himself relays his own thoughts about the song (I'll let him discuss it, for what he is saying is far more articulate than my own thoughts!), we are encouraged full well, to not be '…ashamed of the Gospel. As a believer, like you, all we are asked to do is live for our faith. People are dying for their faith in the world today. I did a book years ago called "Jesus Freaks" about martyrs put into modern day language. We aren't being called to die for our faith like that young girl did in Columbine in 1999. What if we were? I can shamefully tell you that sometimes I have trouble living for my faith, let alone dying. We need to choose to live for the Gospel and live for God. Our country was founded on Judeo-Christian principles, and several of the founding fathers were pastors. Most of the signers of the Declaration of Independence were believers. I live in a country where there are more Baptist churches in the state of Texas than the rest of the world, and you're going to tell me I can't pray to the One True God? I know there is only one true God, and only Jesus Christ rose from the dead. If I can't speak about Jesus in this country, that's a problem. I am frustrated about it, but it is a holy anger…' Michael and the band has given us a song to sing during these difficult times, yet it is a song not to be sung lightly. Reflect upon these words, and ask ourselves, if we're willing to declare allegiance to Jesus, even during such difficult times such as these? When the rubber hits the road, can we forsake everything else we've known, just to follow our One True King?
Michael's take on the Newsboys brings with it a different style of pop/rock/worship music. Not to discount anything that Peter has ever done, it's just that Michael has made the band his own, never trying to emulate Peter in any way in any of the concerts (in fact, most, if not all of the songs- except 'He Reigns' and 'Something Beautiful', of the Peter Furler era have been scrapped from the Newsboys setlist of late). It's been unique and refreshing to see the Newsboys continue to evolve and thrive with changes in personnel. To tell you the truth, everyone thought the band would be over, without Peter Furler. Oh how we were all wrong. Dare I say, that Newsboys 2.0 (with Michael Tait) has been just as successful, maybe even more so, than Newsboys 1.5 (with Peter Furler) (Newsboys 1.0 with John James at the helm…who remembers that?). Which brings us to 2019. After Peter was guested on Newsboys' cover of the Cody Carnes chart-topper 'The Cross Has the Final Word' in 2017, no one knew what to expect. Was Peter rejoining the band? What was going on? Then there was the Newsboys United tours that occurred throughout 2018 and into 2019, whereby Newsboys reunited with ex-memebers Peter and Phil Joel to tour the U.S. and unveil the full Newsboys catalogue. The tour was a success, and while initially the 6 men only booked 30 – 40 shows (because frankly, they didn't know how they were going to be perceived), what started out as something so hesitant turned into quite possibly one of the longest tours by any CCM act in recent memory. And through all of this…let's just say that Peter and Phil's involvement with the band (other than touring) is indeed more permanent. For what has resulted in this reuniting of sorts, is a new album, aptly titled UNITED that released in May 2019.
So there you have it- Newsboys. With Peter Furler and bassist Phil Joel back again, after more than a 10 year hiatus- Phil Joel left in 2006, while Peter in 2009. And so here we are in 2019, the band sounding better than ever before. The meshing together of Peter and Michael's singing styles and literally different music styles that each of these lead singers embody; works in an overall sense. Let's just say that this new incarnation of the band is rather there to pay service to the fans of the band than their own ministry. Which is good, I reckon. Whenever the band deliver music, they do so with tremendous heart and honesty, and though not as popular right now as other mainstream music, they are indeed a pinnacle within the CCM industry…and that's ok for now. They've been instrumental in my life, and as the 6-piece band continues to lap up the momentum set up by their new album release, then maybe, just maybe, the six will continue to make music for a while yet!
Does Newsboys make the list for you all when you write your own 'Best Influential Artists of All Time' list? Is there any song that has impacted you on your journey through life thus far? Has the band delivered music that can transcend walks of life and maybe even walks of religion as well? Has there been some songs that have spoken to you about yourself or maybe God Almighty in the process? Famous for songs like 'We Believe', 'Shine', 'Something Beautiful', 'Entertaining Angels' and 'He Reigns'; is there are song that has connected with you that is a little lesser known to the public? Let us know in the comments. Till next time!
https://open.spotify.com/user/spotify/playlist/37i9dQZF1DZ06evO13V6DK