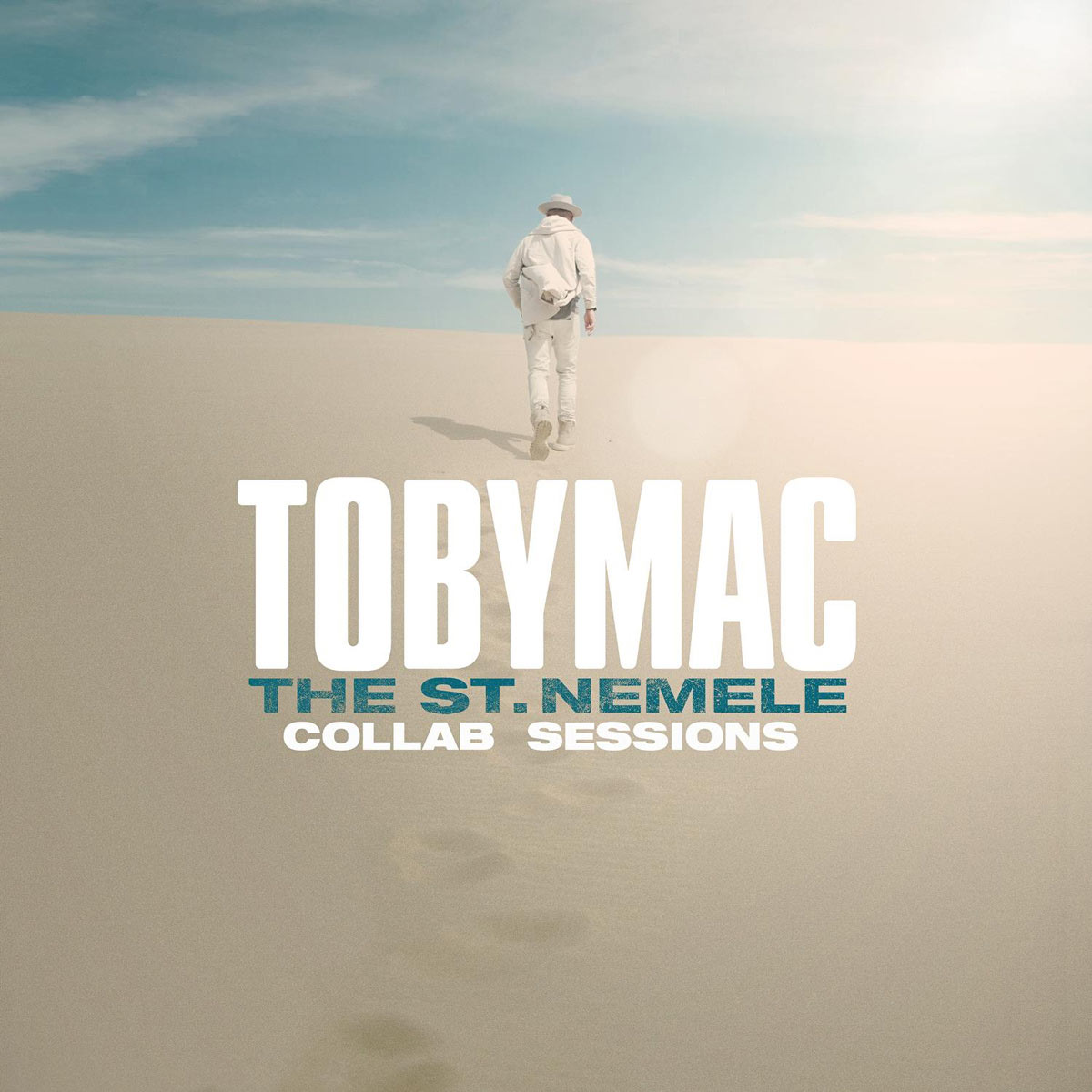 Forefront Records / Capitol CMG
Release Date: August 23rd 2019
Reviewed by: Jonathan Andre
TobyMac – The St. Nemele Collab Sessions (Amazon mp3/iTunes)
Track Listing:
The Elements (Neon Feather Remix) (feat. LEDGER)
Hello Future (DJ Maj Par-T Side Remix) (feat. Crowder)
Overflow (Willyecho Remix) (feat. Bart Millard)
See the Light (RUSLAN Remix) (feat. Jordan Feliz)
Everything (Capital Kings Remix) (feat. Jonathan McReynolds)
I Just Need U. (Tide Electric Remix) (feat. Cory Asbury)
It's You (Tide Electric Remix) (feat. Matt Maher & TERRIAN)
Horizon (A New Day) (Stereovision Remix) (feat. Aaron Cole)
Scars (Come With Livin') (Neon Feather Remix) (feat. Sarah Reeves)
Edge of My Seat (THUNDERBIRD Remix) (feat. Cochren and Co.)
Heart of my Beat
TobyMac has been a force in the Christian music scene for quite some time. Since his early days with good ol' DC Talk, Toby's continued to make music in an industry that's ever evolving and continuing to churn through and spit out artists, just like that- so for Toby, to stand tall here in 2019; after almost 2 decades delivering solo music, and a further 15 years or so with DC Talk, arguably one of CCM's most underrated and heavily influential Christian bands of all time; is a big, big feat. Being 1/3rd of DC Talk, as well as being a solo artist releasing countless songs and albums that have charted success throughout the years and in both Christian and mainstream charts, on top of being the CEO of Gotee Records (housing artists like Ryan Stevenson, Hollyn, Aaron Cole and Finding Favour currently); TobyMac, alongside fellow artists Michael W. Smith, Steven Curtis Chapman and Amy Grant, is one of the only artists who had major success in the 1990s that has continued to stay relevant and relatable in this ever-changing culture now. In his mid 50s, Toby is still energetic and enjoys making music, and its clearly evident by the various music videos and albums he has created since the start of his solo album career way back in the early 2000s. While die-hard fans of DC Talk have lamented the loss of a passionate and innovative band; what has transpired from the indefinite hiatus is a career that is fast becoming one of the most respected and admired in recent CCM history. With career topping radio singles spawning from his illustrious and dynamic career thus far- from songs like "Made to Love", "City on our Knees", "Lose My Soul", "Tonight", "Get Back Up" and "Me Without You", to "Irene", "Gone", "Atmosphere", "Burn For You" and "Speak Life" to name a few; what Toby continues to bring to the table of musical genres and songs that tug at the heart of listeners, is something new and fresh- that a guy in his mid-50s can be relevant both musically and in the message that the song is bringing, is indeed an art.
Last year, Toby gave to us all his brand-new studio album titled The Elements– I reviewed the album here, so I won't go into that much detail with standout songs. For me, the album as a whole was a departure back to his Welcome to Diverse City/Momentum days, which was good for Toby to stamp more on a versatility that wasn't exactly to the fore in his albums previous. Nevertheless, with only one full collaboration ('Starts With Me', an indeed standout song featuring up-and-coming hip-hop artist Aaron Cole), Toby's message of fighting against the elements and moving from a place of hate and distrust, to hope and camaraderie, is something that has made The Elements, in my mind, very successful. From songs like 'I Just Need U.' (a song about always needing the Lord regardless of the circumstance) and 'Everything' (seeing the Lord in everything and every circumstance we find ourselves in), to title track 'The Elements' (a reminder that we're fighting against something that isn't neutral, and that as Christians, our spiritual battles for our souls are something we need to keep in mind as we navigate through this tricky thing called life!), 'See the Light' (Toby's most 'mainstream' song on The Elements that reminds us to always see the light at the end of the tunnel), and the Aaron Cole collab 'Starts With Me' (a song that reminds us all that people need to be heard and felt about what is happening about racial divide plaguing America at the moment); Toby's new album has set the record for such an album to have the most crossover appeal out of every other album in his career thus far!
So now we fast-forward to 2019, where Toby has unveiled to us yet another musical offering, this time titled The St. Nemele Collab Sessions. And yes, this is another remix album, this time, every song on his 2018 album The Elements is rerecorded and remixed with guest vocals- the only song not given the remix treatment is 'Starts With Me', which is out of respect to the song in general, and also because the song already is a collaboration between Toby and Aaron. Nevertheless, this new 11 track remix album (10 songs remixed from Toby's 2018 album, one new song called 'Heart of My Beat' has been breathed to life this last week, and now with me listening to the album for over a week, I'm to present some of my thoughts- no this is not a review of the songs, my review of The Elements can do that, but rather, this is an observation of which remixes work, and which one's don't. And with a lot of artists collaborating with Toby in this unique musical offering- from Jordan Feliz, Bart Millard, Jonathan McReynolds, Cory Asbury, Sarah Reeves and LEDGER, to Crowder, Matt Maher, Cochren & Co. and Aaron Cole (this time collaborating with Toby on a new track that isn't 'Starts with Me'!), Toby's new album is certainly to turn heads, and if you're a fan of CCM like me, then this album should peak your interest- if only once just to see how the arrangements of the songs are compared to that of the original.
Just like any remix album, this one by Toby is also a mixed bag. There's some songs done well, and others that stick mighty to the original, or even alter the original composition too much, that it would be better just to hear the original and be done with it. Nevertheless, props and kudos to Toby for trying and giving opportunities to a lot of artists to collaborate with him on songs that I reckon are some of the most personal he's written. Female artists LEDGER (from Skillet) and worship leader and singer-songwriter Sarah Reeves both try their voices on 'The Elements' and 'Scars' respectively, and both these renditions are some of the brightest on the album. Both these vocalists are madly talented in their own right, so for them to add their own flair to already great songs, is golden. Gospel artist Jonathan McReynolds tries his hand at a Tauren Wells impersonation, to add his own gospel-style atmosphere, to 'Everything', as the song is given the Capital Kings remix treatment (even though the band Capital Kings retired as a singing duo last year sometimes!). While sticking close to the original, Jonathan has something that adds just enough to the remix of the song for me to enjoy it as much, or even a slight more, than the original. 'Hello Future', lengthened by a lot of layered electronics, adds the country-southern rock of Crowder to arguably one of the most underrated songs on The Elements, while Aaron Cole's addition to 'Horizon (A New Day)' is a welcomed surprise, especially the spontaneous rap and hip hop elements that he added into the remix, something that makes this version stand out amongst any other. Toby's most recent song 'Heart of My Beat', complete with strings and looping percussion, is a nice addition to an already busy album, and while for me I feel like this song as a 'single' won't gain as much traction as other singles of the past, as a song in its own right 'Heart of My Beat' is good, and probably fits more on The Elements the album than maybe his forthcoming album that this track could also appear on.
And as for every other remix…not as great compared to what I have mentioned. Not that there's anything against the artists and the passion they've displayed in the remix tracks, it's just some arrangements work, and others don't. And if I am struggling to see what value Cory Asbury really adds to 'I Just Need U.' (aside from gang vocals and singing the second verse), then that's saying something. Alongside the fact that Toby is in fact shafted and borderline non-existent in 'It's You', now a quasi-worship song featuring Matt Maher and new gospel artist TERRIAN, the song 'It's You' itself suffers from repetition, and was in fact one of my lower points on The Elements last year. 'See the Light' is a good remix in and of itself that features CCM legend Jordan Feliz, but for me, I felt it was rushed for whatever reason. Maybe an extra minute on the remix would make it become a highlight for me and become one of my favourite renditions on this album? Besides, the song itself feels like a cut-and-paste job to me- I don't think Toby or Jordan actually sing together on this track, which makes me wonder…did Toby himself record any new vocals, and was he even involved in the collabs? Was it even a collab if the vocals from Toby were straight taken from his 2018 album The Elements? Conspiracy theory-ish, I know, but things to think about! Nevertheless, as a whole, this new remix effort from Toby is indeed a step-up from his 2014 remix album Eye'm All Mixed Up, as these songs themselves carry a little more weight, intentionality and purpose, compared to a lot of music Toby has done recently!
If we as a human race haven't figured out already that TobyMac and his music is as much needed in this society, as it is influential to music as a whole, no matter what musical genre we are inclined to first listen to, then the love we profess about music in general needs to be re-evaluated. For TobyMac is a revolutionary- he's even created his own quasi-musical genre- musical gumbo, as he calls it. It's not just pop or worship, nor is it full-on hip hop either. Many of his albums have been an exploration of different genres, and this new 2018 album The Elements showed us a more broader soul-hip-hop/blues-pop element, a reminder that Toby and only Toby can undertake different genres with such grace and poignancy, and for the end result to come out looking and feeling like one genre, rather than a million different genres mashed up together. In fact, Toby himself has given life to musical genre infusion over the last decade or so. No other artist in my opinion can easily travel between pop, rap and hip hop so easily (maybe perhaps Group 1 Crew) within the CCM industry, and thus, Toby and his music is very unique to a Christian music industry that is sadly one where sameness and familiarity are championed over edginess and out-of-the-box songwriting. The Elements and then in turn The St. Nemele Collab Sessions, remind me of how much we need music that continues to unite and impact on more of a social and a do-something level rather than a 'make me feel happy' level. Feeling happy is good, but if it doesn't call you to action and undertaking a change on a local level, then music, particularly Christian music, hasn't really done its job. And so let us now sit back and listen to this remix album, and then hear The Elements again. Which song has spoken to you about needing to do something in the community, or just something about yourself you may have overlooked? For me it's songs like 'The Elements', 'Starts With Me', 'Scars' and 'Horizon'- both remix and original versions, that have impacted me lately, reminding me, that Toby goes far beyond DC Talk, and remains as one such artist from the 1990s that still continues to make good music, and impactful music today. Another 10 years for Toby? Maybe, maybe not, but what I will say is this- The St. Nemele Collab Sessions has rebirthed my appreciation and love for remix music. Now time to listen to Toby's remix albums of the past, starting with Re:Mix Momentum. Now who's with me?
3 songs to listen to: The Elements, Horizon, See the Light
Score: 4/5
RIYL: DC Talk, NF, Group 1 Crew, LEDGER, Skillet, Aaron Cole, KJ-52