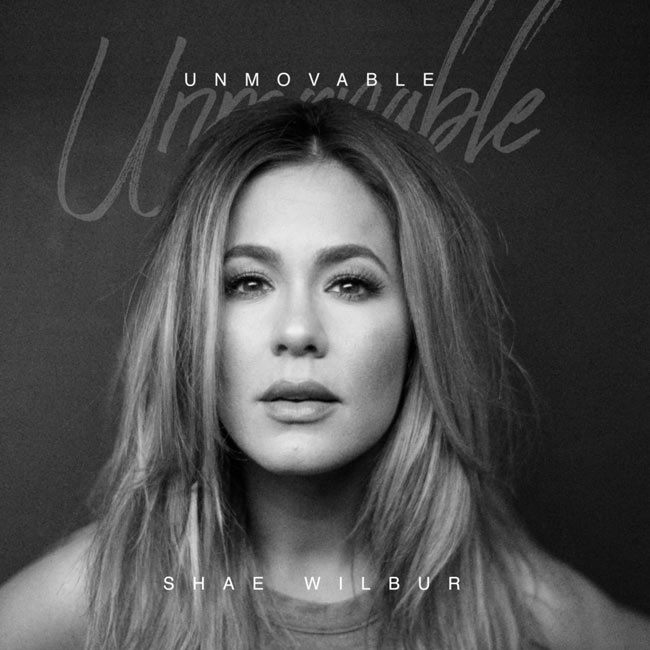 Independent
Release Date: June 7th 2019
Reviewed by: Joshua Andre
Shae Wilbur– Unmovable EP (Amazon mp3/iTunes)
Track Listing:
Unmovable (feat. Danny Gokey)
I Am
Endless
You Say
Heart Of You
In the Christian music industry, probably no one would know who Shae Wilbur is. Natalie Grant…yep, we know her. And we also know of Mandisa, Britt Nicole, Francesca Battistelli, Amy Grant, Kari Jobe, Meredith Andrews, Jamie Grace, Riley Clemmons, Plumb and Lauren Daigle. But Shae? Is she really that famous, you say? In the CCM, no she's not. But a step outside CCM and into the wider mainstream world reveals a young mother who has the world at her fingertips, and working in tons of fields that God has placed for her to be of great influence. I could list all of her achievements, but that would be pointless, and may possibly go on for a few paragraphs. So you can check out the press release of Shae's debut EP on Jesus Freak Hideout, and also read about her achievements in daytime TV as a host of various segments on a number of shows, as a casting producer for American Idol and America's Got Talent, and as a partner for various clothing and fashion brands. Also as a former contestant on American Idol (Season 8); the time is right for Shae to step into music as well. Juggling all of these areas of her life could be considered quite difficult and challenging, considering that Shae just gave birth to her first child recently. However, the young woman of God, who's also the daughter-in-law of worship leader Paul Wilbur, has taken all of her busyness in, given it over to God, and is living her best life with no stress. Just a few weeks ago, Shae unveiled her EP Unmovable, and the result is as good as any debut project I've heard recently- definitely on par with Riley Clemmons! So if you're not up to date as to how impacting to the world Shae is, then I guess Unmovable is a great place to start.
Sounding similar vocally to Kari Jobe and Mandisa, Shae beautifully and powerfully delivers an exquisite opening track which is the title track. With Danny Gokey on guest vocals, Shae emphatically declares that '…You set my feet on a rock, safe and secure, I won't be shaken, I'm weak but You're strong enough, I am unmovable, unmovable in You…', a commanding and ever-true promise that we all can be comforted by- that the God of all the ages, of all kingdoms past, present and future, is the One that we can turn to, whom we can rely on at all times. How crazily awesome is that? Danny's emphatic and joyous presence complement Shae's captivating vocals quite nicely; and with that I can say that the title track is one of my favourite album/EP openers ever since "Head Above Water" from Avril Lavigne! More pop is the name of the game, as "I Am" is next, with Shae trading her majestic vocal chops for Latin favoured acoustic guitar and slick reggae-style beats. Lyrically this track is just as compelling and powerful, with Shae fervently relaying that Jesus is sovereign and the 'I Am'- and though this tune is somewhat lyrically and musically cliché; I still find myself dancing along with this joyous and contagious summer jam! "Endless" follows, and is something that Hillsong Worship or Planetshakers could be able to sing, and sing well; as Shae delivers probably the strongest song on the EP- it's simple and effective, and though still not that inventive, contains enough heart and passion for Jesus. Plus I reckon this track is Holy Spirit anointed, what do you reckon?
"You Say" is the penultimate track on the EP (yep, the release is ending already, which is a shame!), and though not holding a candle to Lauren Daigle's work of art, Shae's original song is still solid (although I wouldn't be opposed to a Lauren Daigle cover!), as Shae brilliantly outlines to us that it's only Jesus who can tell us who we are. No matter what anyone else tells us, all we need to do to thrive in this life is to hold onto what Jesus has said about us. While Unmovable EP ends with the radio friendly and piano prominent "Heart Of You", probably the weakest song on the tracklist, but nonetheless still impacting and moving, as Shae highlights to us that all she wants to chase after is Jesus, '…that I would only live for Your name, with every part of me, I'll chase the heart of You…'.
It is not known what is next for Shae Wilbur. Music full time? Back to TV and appearances on a host of shows? Some combination between the two? A totally new venture? Or maybe just to be a stay at home mother for a while? Wherever God is leading Shae to next, let us be proud of what God has led Shae previously. Some of us may not like Shae's musical direction of pop/worship, but there's no denying her passion and unassuming humility. So, until we hear what is next, let us sit back and marvel at how good Unmovable EP really is! Like totally awesome!
3 songs to listen to: Unmovable, Endless, You Say
Score: 4.5/5
RIYL:  Mandisa, Blanca, Kari Jobe, Ginny Owens, Francesca Battistelli