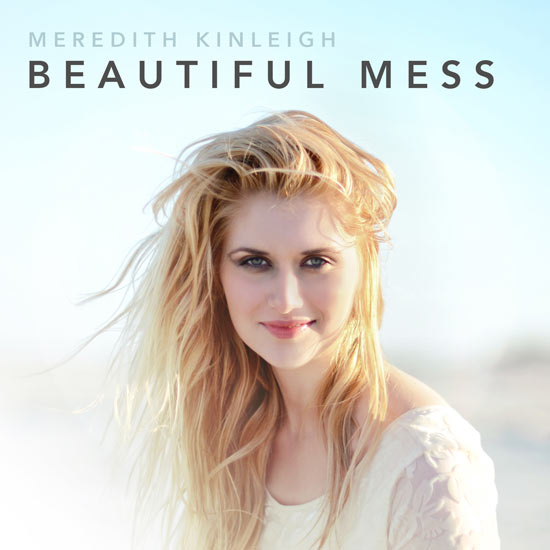 INOV8 Music Group
Release Date: October 2nd 2015
Reviewed by: Joshua Andre
Meredith Kinleigh– Beautiful Mess EP (Amazon mp3/iTunes)
Track Listing:
Beautiful Mess
My Foundation
Sail On
Healing Waters
Wait And See
"…I have been so excited to share this music for many months, so I am thrilled that it is finally available. "Beautiful Mess" is a very honest and transparent look at some of my story and how God has worked in my life. My heart is for people to hear truth through my songs and then allow God to do the rest of the work in their hearts. I pray my songs are a springboard for God to change hearts and lives…" Recently signed to independent label INOV8 Music Group, young talented artist Meredith Kinleigh has released her debut EP Beautiful Mess recently, wowing and impressing us with her relatable and encouraging inspirational ballad single "Sail On", inspiring us to keep pushing through the adversaries and rely on God during times of trouble. With the debut EP releasing on the same day as albums from Paul Baloche and Jordan Feliz, Meredith's passion for Jesus and zeal to share the gospel is so infectious, and makes for a thoroughly enjoyable listen, as we are reminded that God is with us, and will help us through our trials and tribulations, happy and willing to point us to Him and His glory!
Opening with the acoustic guitar and piano led upbeat and jovial celebratory tune, Meredith reflects and muses on life in general, admitting that at times '…I'm a beautiful mess that's at my best, I am broken just like the rest, I'm a beautiful mess, yes I confess, I've done things that make no sense…', and later on in the song relaying that '…but if I fail to see the imperfection in me, I'm gonna get to know my Saviour who sets me free…'. We all have those bad days where everything goes wrong, and what Meredith encourages us to do in those times is to give our circumstances and situations to God, laying them down at His feet, and trusting Him to be faithful, to help us when it's needed. A fun-filled opener setting the tone for the rest of this danceable EP, the rest of these songs are impacting and poignant also.
Probably the most CCM song on the album, the guitar led "My Foundation" has Meredith ardently and prayerfully outlining that '…my foundation is the One who captures me, He is the solid rock beneath my feet, Jesus is my foundation…'; that Jesus is the only One who we can and should rely on, at any time and in any circumstance. Simple yet effective, the music seems to be a bit cliché, but would it be a crime to say that this is one of the songs that I enjoyed the most on this EP?
Moving onto the midpoint of the album, is the first single "Sail On", with the engaging music video being directed by Stephen Yake. Driven by pulsating drums, light keys and a rousing worshipful atmosphere, we are encouraged that Jesus in our lives keeps our lives afloat, as Meredith relays to a friend '…keep on running to the wind and sail on, even if water comes in, just sail on, just ignore the raging storm and sail on…'. With an earnest fervour and a longing to see others come to Christ, Meredith has deftly and beautifully crafted an anthem using plenty of 'water' and 'colour' metaphors, covertly outlining to goodness of Jesus and the things He's done for us; and I think this song can be a great tool for sharing the gospel with someone!
"Healing Waters", probably the most worshipful song on the album, has Meredith channelling her inner Kari Jobe or Nichole Nordeman, expressing gratitude and thankfulness, and an intense longing for God to fill us up with more His presence. Again utilising the metaphor of God's presence being like water, Meredith ardently asks to God to '…pour Your spirit out on me, like water, quench this thirsty soul of mine, and when I feel empty and dry, I still worship you alone, let Your healing waters flow…', a refrain that I can sing out over and over again. Probably a song that I think could be featured in worship sets all around the world in the future, Meredith needs to be congratulated for probably one of my favourite songs of 2015! The EP ender, the pop/acoustic/folk "Wait And See", has Meredith encouraging us yet again, reminding us of all of God's amazing qualities, and singing out that though things may be tough now, that with God on our side, we can '…just hold His hand, don't hide or fear, your time will come, just wait and see…'; and on that note, let me just say that Meredith Kinleigh's Sail On is one of my favourite EP's of the year, as we are encouraged to rely on God during every season of life, and look to Him for guidance. The fact that Meredith is touring later on this year with Kutless, Mark Schultz, Rush Of Fools and David Dunn makes her EP all the more impacting and powerful, don't you think?
Yet as much as I am blessed, inspired and encouraged by Beautiful Mess EP, Meredith Kinleigh's EP probably needs to be heard more by non-Christians than myself, as it contains many relatable topics, and doesn't seem too overt that others may be offended by the album. So…enough about me writing and talking about this release (although it is good and enjoyable!)… Why not share Beautiful Mess with a friend, and remind them that they do not need to look too far for hope and reassurance. You never know, God may work in mysterious ways for those who need it the most!
3 songs to listen to: My Foundation, Sail On, Healing Waters
Score: 4/5
RIYL: Lindsay McCaul, Karyn Williams, Kerrie Roberts, Philippa Hanna, Rachael Lampa