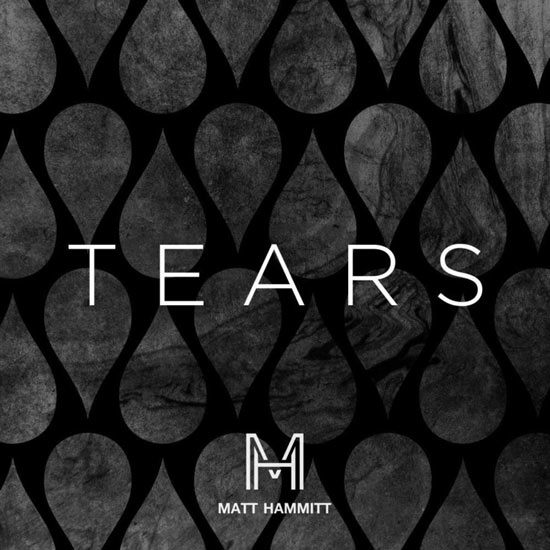 Full Circle Music
Release Date: January 27th 2017
Reviewed by: Jonathan Andre
Matt Hammitt– Tears (iTunes/Amazon mp3)
Track Listing:
Tears
It's been a while since Matt Hammitt has been in the spotlight. Ever since his departure from Sanctus Real at the end of 2015, to much dismay of the fans; Matt decided to take a break from the spotlight and music altogether- opting to lend his voice to the Lead Me Lifecast, a project birthed a while back where listeners can hear honest conversations about life and love, all the while being reminded to become better fathers, mothers, and people within this crazy road of life. The Lead Me Lifecast was a unique way for Matt to continue to be in the spotlight without being in the spotlight, until such a time where Matt felt like it was time for him to continue songwriting again. Because honestly, whenever a lead singer leaves a band, you really, really can't expect them to hang up their boots just yet right? Just like how Jason Dunn tried his hand at a solo career after Hawk Nelson (not sure how successful it was but at least Jason gave it a crack), or even how Peter Furler continued on with music (with 2 solo albums and maybe another one in the works) after his departure from the Newsboys, so has Matt Hammitt decided to release new material after his parting of ways with the rest of the Sanctus Real crew. While I know the band isn't really the same without Matt leading Sanctus Real, I'm sure new singer Dustin Lolli is currently doing a tremendous job. Nevertheless, Matt is still making music, and just recently he signed to Full Circle Music, a label helmed by songwriter Seth Mosley and under the umbrella of Capitol CMG. So what does that mean for Matt and the future of music for him? Well, his first single as a solo artist "Tears" is a definite indication of new music from Matt in the future. What does "Tears" sound like, and if Matt releases anything new in the future, would we be the first in line for our copies?
Presented in a more acoustical frame compared to much of the pop/rock that Matt delivered during his time at Sanctus Real, "Tears" is a prayerful melody, and one that reminds us all what it means to be human and indeed, cry tears for a situation, a person, or just feeling emotions during difficult and uncertain times. As Matt described for himself and what he envisaged the song to be, '…with 'Tears,' I set out to capture the essence of both the beauty and rawness of our shared human experience, in joy and in pain. My hope is that this song carries a sort of simple permission for us to feel, process, and embrace the healing that comes through the God-given gift of tears…' "Tears" reminds us all to feel, to cry either happy tears or even sad ones- because to cry means to feel something in a circumstance, and it doesn't matter if we cry because we're sad, it just means that we're human. Sometimes in society, it can be perceived by the general populous that crying tears can be a form of weakness, yet this song turns that assumption on its head. "Tears" shares to us all through the piano and Matt's earnest voice, that it is ok to shed our tears, to feel. But with feeling comes the scary part- the reconciling of things, situations, circumstances and everything else that we have buried deep inside that we haven't dealt with- that all comes to the surface when we've been told to let go and cry like we're supposed to. And while I know that a song like "Tears" may not necessarily solve all the issues and circumstances we may face, it will nevertheless start a conversation, and allow us to open up and delve deep inside, as we tackle our issues head on and come to realise that crying tears is a sign of strength, not weakness. Strength that we don't have to hide and hold it all together, because frankly, we don't have it all right all the times. In fact, "Tears" can arguably one of my favourite songs from 2017 thus far (alongside other songs like "Worthy of Your Name" (Sean Curran) and "All That Matters" (Colton Dixon)), and if you're a fan of anything Sanctus Real, then Matt's new music is a must!
There is so much you can say when you're reviewing just one song. Besides, I have no clue when Matt's new album will be out, but what I do know is that I'll certainly be taking a listen when that time comes. Matt has been a mainstay in CCM for a long time, and with "Tears", we know that his job in music is not done yet. "Tears", though not as pop-rock as opposed to his Sanctus Real days, is probably more akin to that of Every Falling Tear and the music on that album more than anything else. Do I wish that he didn't leave Sanctus Real? Maybe, but then again, everyone has different callings. Here's hoping that Sanctus Real continues with their success after Matt's involvement with the band. As to Matt's solo material- "Tears" is just the beginning to what I reckon will be yet another chapter in Matt's life where the music will influence listeners more than he himself realises. "Tears" is a standout song in not only 2017, but all throughout Matt's career as frontman of Sanctus Real. Well done Matt for such a poetic and powerful track, can't wait till the full length album when it releases!
3 songs to listen to: this is not an album or an EP, but I will definitely listen to this song three times in a row for sure! Maybe you can as well…
Score: 4.5/5
RIYL: Bebo Norman, Nichole Nordeman, Jason Gray, Sara Groves, Andrew Peterson