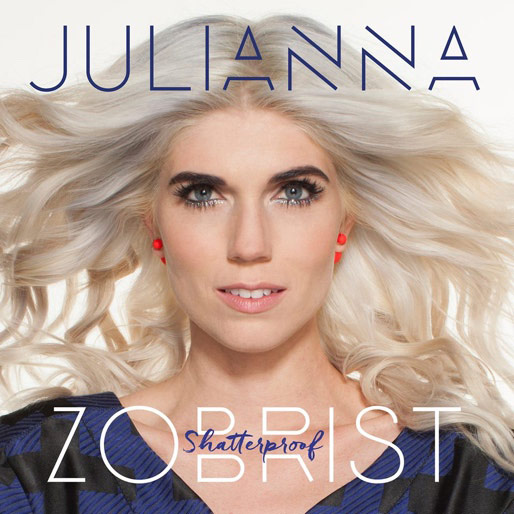 Independent
Release Date: July 1st 2016
Reviewed by: Joshua Andre
Julianna Zobrist– Shatterproof (Amazon mp3/iTunes)
Track Listing:
Shatterproof
Alive
The Dawn
Cosmic Sanctuary
Jester
Over and Over
Always the Same
Heartbeat
Promises
Common Ground
The Dawn (Matt Erickson Remix)
"…Over the last couple years of writing and recording this record, I have been learning what the concept of being "Shatterproof" means to me.  And I hope others walk away with the same freedom I have found.  We often live our lives in fear of what others think of us.  We allow their approval or disapproval to weigh into who we are.  But being shatterproof means finding your identity, your security, and your authority in the person and work of Jesus Christ…" Having released her debut EP Say It Now in 2012, CCM pop artist Julianna Zobrist, wife of baseball player Ben Zobrist, has now unveiled her debut full length album Shatterproof to digital outlets and stores this week; and her upbeat and inspiring dance tracks and slower meditative piano based ballads filled with biblical truth and topics about the human heart, have certainly shaped my thinking and perspective on life in many ways. Musically similar to artists like Beckah Shae, Plumb and Superchick, I reckon that Shatterproof will catapult Julianna to the heights of radio and the stardom that musicians only dream about. Releasing in a month where albums from Switchfoot, Hillary Scott & The Scott Family, Needtobreathe, Leeland, Relient K and Vertical Church Band drop their new albums; Julianna's release may slip under the radar a tad, but I definitely encourage you all to check out these inspiring, honest, moving and raw 10 offerings, as you definitely will not be disappointed.
Opening the album is the emphatic and danceable title track. Led by stunning and brilliant electronics and synth programming, as well as some groovy remix effects, Julianna eloquently reiterates that she will not be influenced or swayed by whatever is thrown our way by life's circumstances. As Julianna constructs this in-your-face anthem as a letter to 'doubt', 'guilt', 'fear', 'shame' and every other negative feeling and emotion in our lives, in my opinion this track is deliberately ambiguous with respect to how Julianna combats her feelings of inadequacy (so that people from all walks of life can relate to this inspirational anthem!), however there's no doubting the healing power of the chorus, as Juliana cries out '…I'm shatterproof, shatterproof, I won't let you break me, c'mon make your move, make your move, you're not gonna shake me…'– now there's a declaration we can all shout over all of our problems, that they don't own us! Well done Julianna for this powerful and emphatic first song off this stirring album!
The rest of the tracks provide us emotional, honest and heartfelt melodies containing encouraging truths relevant to any generation and any situation. Electronic and synth led mid-tempo worship ballad "Alive" (no not the Hillsong Y&F song!) is an uplifting testimony in song type track where Julianna powerfully and joyfully highlights that she feels alive in the presence of Christ, whereas before she was just going through the motions and just existing, that now '…for the first time, I'm not afraid to live…I'm not afraid to give, I'm not afraid to cry, I'm not afraid to die…'. While the mystical and eerily sounding, and thematically expectant and longing atmosphere of the electronic and synth led "Cosmic Sanctuary" took a while for me to fully understand. Yet nevertheless, the experimental melody fit for dancing at a club or on the disco floor on a Friday or Saturday night, packs an extreme punch as Julianna encourages us to find true fulfilment and satisfaction in our 'cosmic sanctuary' in Jesus Christ!
The playful and somewhat tongue in cheek "Jester" may be only 3 minutes long, but probably is one of the most revealing and transparent songs on the album, with Julianna delving into the concept of us putting on different masks for different occasions and never letting anyone see the 'real' us. Yet God is the One who can turn all of our insecurities into confidence and assuredness in Him, if we let Him permeate our lives with his presence. Similarly, the bass guitar and 80's throwback musically inspired "Over And Over" encourages us also with Julianna reminding us that God has showered all of his promises over us many times during our lives, and then some more for good measure, so even when we find ourselves in the midst of a difficult situation, we can rest in the hope and knowledge that '…You say that You love me, over and over, You say that I'm treasured, over and over, You say I'm Your child, You say You have taken my shame…'.
Promotional single "Always The Same" is sure to be a smash hit at radio, with hand claps and the presence of captivating piano, as Julianna recounts that '…the God who once delivered you, is the God who will deliver you, the One who was your Savior, is still strong enough to save…'– a personal highlight of the album, as I find myself tapping my toes to the catchy beat, and singing along, echoing Julianna's sentiments that God is constant and that His promises hold true for eternity; while the honest, moving, emotional and inspirational "Heartbeat" delves into the notion of doing our bit and being Jesus on earth to orphans and little children, giving and providing them with hope and a real future, as God instils in us a need to care for the least of these, as mentioned in Matthew 25: 31-46. Uncomfortable and confronting as it may be, Julianna does need to be commended here as this inspiring melody is sure to create action amongst even the most passive person!
"Promises", driven by vibrant and mysterious keys and synth, explores the theme of trusting God's promises no matter the circumstances, as Julianna inspires us and assures us that '…You said You'll never let me go, You told me, You'll never ever let me fall, You'll hold me, one thing that will never fail are Your promises, Your promises…', an eternal truth that we all can hold onto especially during our struggles; while "Common Ground" is yet another confronting melody, as Julianna deftly tackles the topic of people with different views and opinions. Somewhat controversial in the fact that Julianna calls for us to be united with Jesus as our common ground (with respect to letting Him move in their lives instead of us pushing the issue of Christianity on those who do not want to hear it!) rather than to tear down our non-Christian friends, the album closer is sure to gain plenty of buzz and perhaps unwanted opinions. But it is tracks like these that make you think, as we dwell upon the fact that showing the love of Jesus to others is more important than telling them about Jesus or instructing them to follow Jesus or else.
However, it is the heartfelt and emotional first single "The Dawn" that really pulls at my heart strings. Also recorded as a reconstructed remix by Matt Erickson as the album closer, "The Dawn" highlights that Jesus is the dawn in our lives, the bright spot that makes everything around Him shine brighter, the aspect in our lives that those around us can't help be drawn to. As Julianna inspires us and cries out that '…you are never ruined, never too far gone, as long as you're still breathing, you can carry on…', I am amazed at her authentic heart for Jesus, showing us that a simple prayer and encouragement to others can make a great impact. I definitely predict great things for this song and the album as a whole; well done Julianna for your stellar full length debut album!
"…I want the gospel to saturate what I do. If our lives end with loving ourselves then we miss the point. We are to be sacrifices, living testimonies that seep Gospel out of every pore, so that in every song, every confrontation, every dialogue, every sermon, every testament, we radiate the truth of our acceptance by God because of the Righteousness of Christ. Nothing more, nothing less…" With sublime musical experimentation as well as honest ballads, full of electronic effects as well; Julianna Zobrist has compiled an album with a wide array and a smorgasbord of genres, sure to grab the attention of many. Shatterproof is very unique, and I am sold on the gorgeous vocals, guitar hooks and vulnerable lyrical content. An album that may guarantee Julianna signing to a major record label (if she wants to!); this album is a must buy for fans of artists like BarlowGirl, Superchick, Plumb and Beckah Shae!
3 songs to listen to: The Dawn, Always The Same, Common Ground
Score: 4/5
RIYL: Tricia, BarlowGirl, Rebecca St. James, Mandisa, LoveCollide