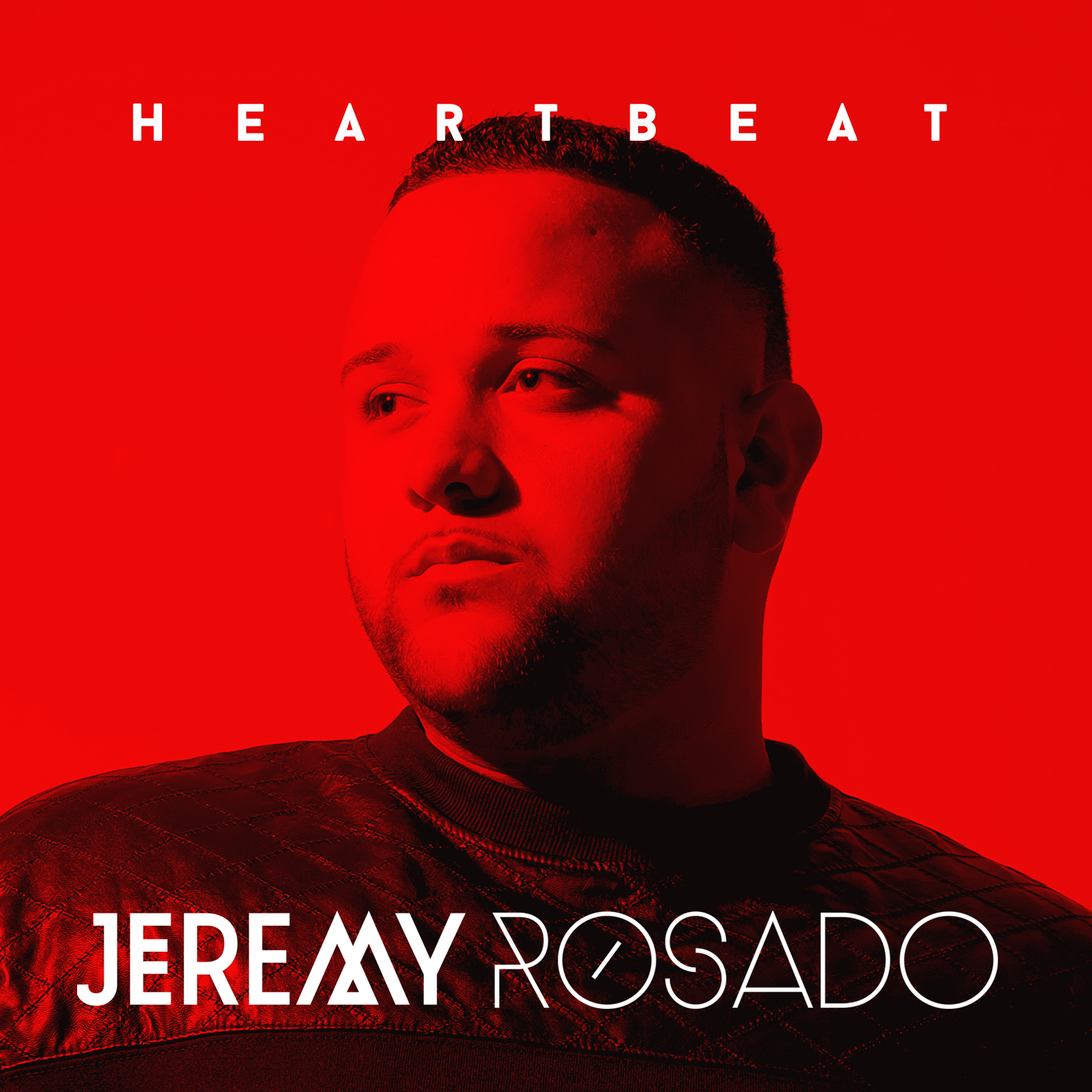 Save The City Records
Release Date: August 28th 2015
Reviewed by: Joshua Andre
Jeremy Rosado– Heartbeat (Amazon mp3/iTunes)
Track Listing:
Bright Lights (That Kind Of Love)
Speed Of Love (feat. Canon)
Heartbeat
Innocent
For Real
No Ordinary Moments
Clean
What It Means To Stay (feat. Blanca)
The Other Side
You And Me Jesus
Brand New
Leave The Light On
Over the last decade or so, many current pop sensations and successful artists have been born out of the reality competition American Idol, including artists like Kelly Clarkson, Carrie Underwood, Colton Dixon, Daughtry, Jason Castro, Mandisa and Phillip Phillips. Now, yet another American Idol alum, pop/r&b/worship singer songwriter Jeremy Rosado (placed 13th on season 11 of American Idol), looks set to join the aforementioned illustrious company, as he released his debut album Heartbeat last year, via Save The City Records. Releasing on the same day as albums from Nichole Nordeman, One Sonic Society, Sidewalk Prophets, Ghost Ship, Travis Ryan and Warr Acres, I can personally say that this album slipped under the radar for me when it released way back in August, until a few weeks ago around Christmas time. It was thent hat I decided that I'd give this album a spin (cause you never know when and where you find your next favourite artist), and many more listens later, I am hooked! Wearing his heart on his sleeve with his authenticity and transparency, Jeremy's debut offering of 12 songs, sung in a variety and slew of musical genres, is deserving of many listens as we are presented with a man on fire for Jesus, unashamed of the gospel, declaring His love and devotion for Jesus and drawing people to Christ in his unique, vibrant, honest and heartfelt way.
Opening up proceedings is the guitar led mid-tempo pop anthem "Bright Lights (That Kind Of Love For Me)". Somewhat autobiographical, Jeremy earnestly relays his thoughts and feelings as he entered the music industry, facing many hurdles, and constantly asking himself '…was there anyone who had that kind of love for me…'. Yet the song brings hope later on, as Jeremy realises that while some friends and loved ones didn't agree or appreciate his career ambitions, God always had and has his back. Only He has that kind of love for us that is unending, faithful and true, and it is only Jesus that can turn our perspective and life from mundane to exciting. The electronic dance remix like pop number "Speed Of Love", featuring Canon on guest vocals, brings the atmosphere up to more energetic and celebratory, yet still reminds us of how Jesus changes our lives in a second, like a heartbeat. As Jeremy eloquently reiterates that '…I was broken down, I was counted out, that's how You found me, but your faithful hands had a different end, put me back on my feet…', we are reassured through pop and rap the power of God's love to bring us back from feelings of isolation and loneliness towards feelings of thankfulness and gratitude. God has changed our lives from the inside out, and Jeremy celebrates this fact immensely with the first two songs in particular.
All throughout the rest of the album, it is the personal relationship with God and how real it is for Jeremy and hopefully us, that is the interweaving theme, encouraging us to go deeper and deeper with Jesus. The synth and keys led electronic ballad of the title track skilfully blends remix elements with Jeremy's powerful and enthusiastic vocals, as he prayerfully reiterates that His devotion and love is to Jesus forevermore, even when life gets him down, '…until the final breath escapes my chest I'm Yours, I'm Yours, and even after that, the beat will last forever, forever…'; while electronic drums and piano beautifully collide in the Jonathan Thulin-like pop ballad "Innocent", as Jeremy ardently relays that we are innocent in the eyes of Jesus, as He has paid the price for our sin. Expertly and creatively outlining how all we have to do is to '…. open up your eyes, mercy has arrived, you are innocent, you don't have to carry around yesterday, you are new again, you are only seen through the eyes of grace…', this song of healing is sure to impact all who listen, as we understand that all the baggage that we carry can be given over to Jesus as we surrender fully to Him. "For Real" is next, as the electronic and synth driven danceable 3-minute pop tune poses the question of what aspect in our lives is real, as Jeremy fervently recounts how Jesus came to him and showed him something real (although the song is catchy, it does contain a little bit of repetition!), while the rap infused high octane gospel like "No Ordinary Moments" delves into the notion of no coincidence, that everything that happens in our lives can be used and shaped by God to build our character and to prepare us to something that He has for us to do in the future- a notion that is as supported as it is controversial.
The revealing and confronting mid-tempo synth led ballad "Clean" is as honest a song as can be on this album, with Jeremy passionately relaying how God washes us clean and makes us stainless, blameless, white as snow, vividly declaring through imagery to God to '…wash me and I'll be clean, Jesus take me somewhere You can drown all my sin, cause I've heard there's a river where a sinner like me can be clean…', though the song does in fact abruptly finish while I'm still immersed in the eternal truths presented in the lyrics- the only down point of an otherwise emotional and honest melody. While resounding and compelling melodies like the electric guitar led inspirational "The Other Side" (with Jeremy relaying that God is faithful, that He can be trusted, and that '…He's gonna do what He's gotta do to get you through the other side…') and the bouncy, toe tapping dance number "You And Me Jesus" (with Jeremy powerfully proclaiming that Jesus is the only One who is true and constant in this every changing world!) once again put Jeremy at the centre and forefront of today's up and coming CCM artists, and one to watch for in 2016, with his enthusiasm and infectious love for the Creator and Maker.
While Jeremy's duet with Canon earlier in the album was a coming together of rap and pop, in a moment of celebration and cheerfulness, his beautiful harmonies with Blanca in the piano prominent "What It Means To Stay" bring the tempo down a bit, as the reflective and contemplative pieces reminds us that God should be and is the driving force in all relationships, and that broken relationships can be made whole with God's help and intervention. Similar in theme to Casting Crowns' "Broken Together", Jeremy and Blanca sing in perfect harmony as they encourage us to seek after God first in anything we do, and show us that in the darkness of all situations, there is still hope with God.
The penultimate song on the album the acoustic guitar and keys led rap prominent "Brand New" brings in a Group 1 Crew atmosphere, as Jeremy ardently relays that he feels brand new '…because of what You do…', then launches into impressive raps in both verses that Manwell would be proud of. Heartbeat ends with the anthemic guitar driven and synth prominent musically epic mid-tempo "Leave The Light On", as Jeremy introduces the theme of God being the lighthouse keeper, and shining us lights on our path, showing us the way to go, the way He wants us to follow. An inspiring and moving way to end a refreshing and invigorating debut album, I am certain that Jeremy has definitely much more to show the world, as He lifts Jesus' name higher and brings Him glory in everything He does.
From song 1 to song 12, Jeremy Rosado has created a magical debut worth many, many listens. Though it's a shame I have only recently listened to this album, and not months earlier, I guess it's better late than never with Heartbeat. It's clear that Jeremy's burning passion for Jesus and relatable lyrics show us that God is with us and faithful, and that no matter what we can chase our dream with God's help. With that underlying theme interweaving throughout the album, it's no wonder that all twelve songs are so encouraging. So, should you make the plunge in listening to Jeremy's debut? Of course, I would definitely recommend this album to each and every one of you- you may find your new favourite song or the healing that you need. Fans of artists like Royal Tailor, Jonathan Thulin and Jimmy Needham will definitely love this album. Well done Jeremy, I can't wait for album #2!
3 songs to listen to: Speed Of Love, What It Means To Stay, Leave The Light On
Score: 4/5
RIYL: Jonathan Thulin, Jimmy Needham, Group 1 Crew, TobyMac, Royal Tailor