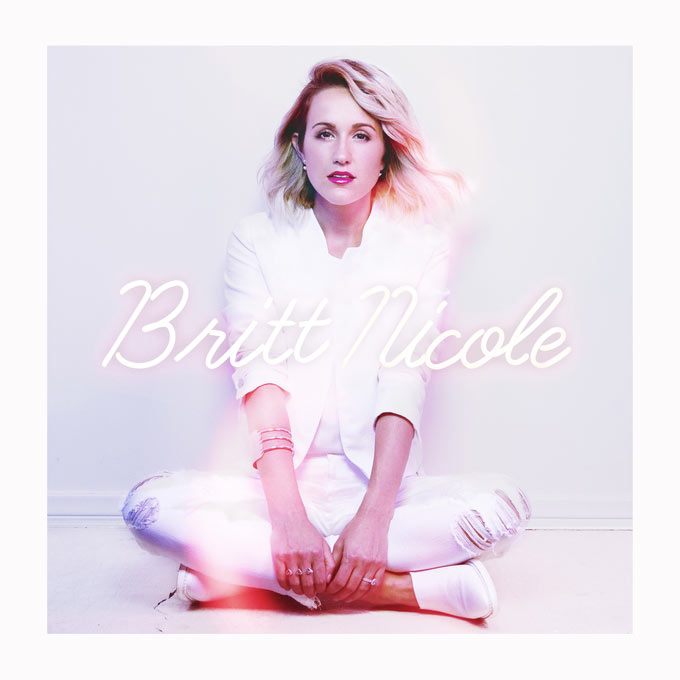 Capitol Christian Distribution
Release Date: October 7th 2016
Reviewed by: Jonathan Andre
Britt Nicole– Britt Nicole: Deluxe Editon (iTunes/Amazon mp3)
Track Listing:
Through Your Eyes
All The Money
Better
Work Of Art
Fallin' In Love
Be The Change
All Day
Pave
No Filter
Girls Night Out
After You
Concrete
Heart of Stone
Electric Love
Britt Nicole, by far, has been one of my favourite female CCM artists since her debut album of Say It way back in 2007. From songs like "Don't Worry Now", "Set the World on Fire", "Gold" and "All This Time" to "Stand", "Ready or Not", "Walk on the Water" and "The Lost Get Found", Britt has always worn her heart on her sleeve, delivering tracks that are relatable, real, raw and reminding of the perfect love that envelops us on a constant basis, even during the moments when we may not believe it ourselves. And yet after her successful 2012 album, which even featured a re-release in 2013 in the mainstream market…there was radio silence. Mind you, let's not include the remix album in 2015- that doesn't really count. Between albums it has been 4 years, maybe even more. Many, including myself, thought she was never going to release anything new. But, if artists like Leeland (radio silence since 2011) could release Invisible 5 years after The Great Awakening and Nichole Nordeman (radio silence since 2005) could release The Unmaking a whopping 10 years after Brave, then Britt Nicole's 2016 album release 4 years after her previous one doesn't seem that long. And yet we as consumers and lovers of music seem to think that if an artist doesn't release an album after a certain amount of time, then there must be something wrong…with them. Maybe, with their personal lives, but the way I see it is this.
If Nichole can make a comeback, then Britt's new album, four years after Gold, can be at least worth one listen to- from start to finish, before we can say whether the wait was worth. Mind you- this is Britt's first album released via a mainstream label- Capitol Records. Signed to both Capitol Christian Music Group (Sparrow Records) and Capitol Records, her self-titled new album is delivered in three categories- songs about God, songs about romance and love, and songs about empowerment and everything else that is in between. And while this album is certain to be heavily scrutinised by those who have thoroughly enjoyed Britt's earlier work (with a lot more faith and spiritual material than this new album), or by even those who have enjoyed more of her mainstream-style tracks, what I will say is this- if this album is what it takes for more people to think about bigger issues and the God behind it all, then Britt Nicole has served its purpose. So how does this new album compare to others of years gone past? Has Britt's break from music led to a more mature and refined sound? Am I stoked like the next person to see that Britt is indeed releasing something new this year? Read the remainder of this review to find out!
Standing tall at 14 tracks, Britt Nicole's new album is a plethora of themes and messages, and when we look at it, can be classified and categorised into a few sections, if you will. Songs about God, or songs that can be sung from the point of view of God or even to God; songs sung to each other as a way to empower each other in this life we lead, or even songs that we sing to our loved ones, as a form of addressing the romantic love or even familial love we feel for them. 3 categories (or maybe more if some songs don't fit into any category above), and therefore, the song as a whole can, at a glance, seem disjointed at times. Previous albums had more of a faith leaning, and while many may declare that Britt has lost her way, what I do find in this album is a thread throughout- that our worth isn't defined by what people say to us or say about us, that what we believe about ourselves ought not to come from other people, but what we believe about ourselves (which ultimately comes from God the Father, giving us a revelation about how He sees us and therefore, how we ought to see ourselves in light of that).
"Be The Change" is the first of the 'empowerment' tracks, and is a call-to-action moment. Complete with electronic drums, keyboards and fiddles (or fiddle-sounds), Britt invites us all to be the change, to come together and be motivated to change the landscape and the world we live in. While the song doesn't go to the length of reminding us all that it is God who convicts us of the change that is needing to happen in the world today, nor does the song remind us that God shows us what to do in order for such changes to occur; the song nonetheless is a timely reminder that the world needs fixing, and we as a human race need to stand up and undertake such a feat. "Work of Art", another encouragement-type song, is underpinned by light electric guitars and a reggae-pop sound as Britt speaks about a message that often young girls don't get to hear that much of- that who they are and what they're worth isn't determined by the magazines they read. So many young people, especially young teen girls, are being influenced by the media, and "Work of Art" is a song that hopefully counters all of that. Britt encourages and imparts, inspires and uplifts, and "Work of Art" allows us all to see, that '…you were made for greatness, beautifully created by the One who made the stars, baby, that's just who we are, take back what was taken, all those lies are vacant, we're gonna tear them all apart, let the Truth invade our heart…' "Work of Art", and "Be the Change", are the most musically powerful and lyrically compelling 'empowerment' songs- and though there are more, like "Better", which features just light electric guitars as Britt relays to a teenage girl that things will be better for them in their life as a school girl, and "No Filter", a piano led melody that tells us a story about a couple who fakes a perfect marriage on social media, only for it to be far from it in real life (thus relaying to us the pitfalls of believing anything there is on these social media platforms); "Better" and "No Filter", though impactful and enjoyable in their own right, sadly pale compared to the other two songs. Nevertheless, these four 'empowerment' songs are just what I reckon humanity needs at the moment- songs whose goal is to bring people out of despair and into hope, which I reckon these songs have the potential in bringing to fruition when people hear them!
"Through Your Eyes", the first radio single from the album, leads the way in a collection of songs that highlight the faith that Britt Nicole has, and while on this album there is a little less of a presence of faith-filled songs, they are nevertheless present and a reminder of the faith that Britt carries, even now after mainstream success. Starting off with an electronic keyboard style introduction, we are met with the ever-familiar voice that has been quiet for the last few years. As Britt delivers her trademark voice on "Through Your Eyes", we as listeners are gifted with the reminder, that God sees situations, people and circumstances not from our view and our me-coloured lens but through His own perspective, which can be, and is, so much bigger and grander than ours. As a reviewer I have come to realise that lyrics are first and foremost- you can have a great melody and be a pop sensation, but if the lyrics are just about nothing and having a great time, then the song is meaningless. On the flipside, you can have the most theologically sound lyrics of a generation, but if the song isn't catchy, then no one would want to hear it. So for "Through Your Eyes" to deliver on both fronts is a feat in and of itself.
The message of the song is simple- that God has given us moments in our own lives, where we can have the opportunity to see the situation from His point of view. Whether it is through an encouraging word from someone, or even an extreme moment where circumstances fall into place, not necessarily of God's doing but because life just gets in the way, and then we're forced to see things from a different perspective; God always uses moments to get our attention. As the chorus comes to an epic build, we hear the poignancy felt by Britt and us, in the lyrics of how '…You stood right there and then You broke apart the lies, You told me I had something beautiful inside, You brought to life the part of me I thought had died, cause You stood right there, until I saw me, I saw me through Your eyes…' God always wants us to see ourselves the way He sees us- beautiful, blameless, full of life to give, a child of the Living God, someone who has even the power to do greater things than Jesus because of the Holy Spirit dwelling inside of us. Yet at times we may not believe these things, or even feel it ourselves. That is where I reckon "Through Your Eyes" comes in.
"Heart of Stone", only on the deluxe edition of the album, is as poignant and faith-filled as they come…unless Britt Nicole is singing to a friend and asking for them to break the heart of stone that she has, we know from hearing the track and listening to the lyrics that she's singing to God. With synth keyboards and vocal distortions littered throughout the song, we hear Britt channel artists like 1GN or Rachel Lampa as "Heart of Stone" poses some questions- are we as a human race willing to sacrifice human connection with the security of feeling safe? As we place up walls around us to safeguard us from the hurt that people can cause towards us, we may shield ourselves from despair and pain, but we'll feel alone as well. For when our walls go up, we may find in more difficult as time goes by to unveil and show our real selves, no matter how great or ugly it is. "Heart of Stone" tells us this truth- that God can break our walls down even when we can't, when it comes to the point when it gets too much and we're crying out. "Heart of Stone" raises a lot of necessary questions, and is a welcomed addition on Britt Nicole, even if it is on the deluxe edition! Yet the album ender on the standard edition of the album, "After You", is one of the most honest and lyrically poignant songs I've ever heard from Britt since songs like "Stand", "Walk on the Water" and "Hanging On", and what I reckon is the song to hear if you only hear one song from Britt Nicole. Written as a love song to the Creator, Britt shows us all her devotion and adoration in this 4-and-a-half-minute track. With a light piano undertone, Britt expresses from her heart, showing us all that '…there's nothing sweeter than Your love, it's all I want, it's all I need, there's nothing sweeter than Your love, You gave it all, poured out for me, so I'm not after the world, I'm after You…' It is interesting to note- "Through Your Eyes" starts off the album in the way of how God sees us, and "After You" ends the album, at least the standard edition, in how we see our heavenly Father.
While the album features empowerment songs like "Be the Change" and worshipful faith-filled songs like "After You"; the song collection can't be complete without songs about relationships and love, especially if you want to succeed within the mainstream music industry. "Concrete", a track on the deluxe edition, is ambiguous in its lyrical display…and that's probably a good thing. With first listen, I as a listener am unsure about whether Britt is discussing about teenage love and all its facets, or the love people have within a family, or the love a husband has for their wife and vice versa. Nevertheless, this song is as relatable as it is ambiguous, as we are reminded that we have another person in our lives (be it our spouse, our family or even some close friends) who are willing to stick with us like concrete, a metaphor used throughout the track and that'll hopefully allow us to think deeply and see if there is anyone who is as faithful to us as the people are in the song. "Electric Love", the last remaining bonus track from Britt Nicole, speaks about love in its simplest form- the love and affection between two people, most likely the personas of the track being teenagers, while the song features a lot of electronic keyboards, reverbing effects and vocal distortions as Britt imparts to us that teenage love can be some of the most unique and different and fun feelings we could ever feel. Nevertheless, the song does drag on a little bit, and the lyrics can be repetitious and cliché at times- still, we as listeners can't help but dance along to "Electric Love", and for that, Britt has done a good job in creating such a track.
"Pave", "Fallin in Love" and "All the Money", all present on the standard edition of Britt Nicole, all show us different sides of the same message and theme- the love Britt has for her loved ones, especially her husband. "Fallin' in Love" has an 80s musical backdrop like no other song I've heard since songs like "Every Heartbeat" and "Lead Me On" from Amy Grant, as Britt expresses her love for her husband, and while her intentions are true and the passion and enthusiasm is present in force, the song sadly feels a little out of place compared to the rest of the song list that presents a more up-to-date musical backdrop…that's not to say that 1980s music isn't good, it's just that "Fallin' in Love", while a catchy song, has been recorded before- by different artists in a different time period. "Pave" is a personal song with Britt singing to her husband, or maybe even her kids, with the theme of her paving the road as activities that her family loves to do are undertaken. It is a humbling moment to sing about paving the road for someone- meaning that you are putting their needs above your own- if they want to accomplish a certain task, even if you may not enjoy what they want to do, out of the love you have for that person, you are willing to set aside what you believe and 'pave' the road for them- knowing that the task means more to them than it does for yourself. "Pave" is a reminder of this- that often we need to swallow humble pride and do things that the other person likes…who knows, we may enjoy the event too!
"All The Money", track #2 after "Through Your Eyes", is by far my favourite 'relationship' track on the album, as Britt relays to the listener through powerful electric guitars and a dance atmosphere, that all the money that we can amass in our lives, all the possessions we can hoard, cannot compare to the love we receive from another. Because, as the song puts it '…a car can't kiss goodnight, and a diamond can't hold me tight…', reminding us that things cannot replace the affection and attention given to us by our loved ones. Things are just that- things, inanimate, and cannot replace the real thing. "All the Money" challenges us to look deep within ourselves- are we hoarders? What do we need to rid ourselves of? The album also features "Girls Night Out" and "All Day", two songs that don't fit in any category whatsoever- the former is a party style track that is Britt Nicole's equivalent of G1C's "Live it Up" and shows us that Britt doesn't necessarily have to sing serious songs all the time (there is even a section of the song devoted to an audio recording of Britt and her friends buying 7 burgers, 7 milkshakes and 7 fries at a drive thru fast food outlet), while the latter "All Day" is a dedication to her children- presented with unique music- maybe Egyptian or Arabic style, Britt unveils the tension she has about travelling on the road away from her family. Unique musically, the song sadly drags a little- nearly 6 minutes, and while the song is different, sometimes being too different and too long can be a drawback, which is exactly what "All Day" is.
Britt Nicole is one of the most unique albums of the year, with a plethora of musical genres all within 14 tracks. And just because an album doesn't fit into what is defined to be an album full of radio hits (that are sure to be received well by radio stations like K-Love or Air1), does not mean that it doesn't tackle the issues that need to be heard and discussed. Sure, this album is a mixture of pop, CCM, worship, dance, 80s music and everything else. Sure, people who have appreciated more of Britt's faith-influenced music of the past will rip into this album, criticising it like no tomorrow. And maybe that is what is needed for us to know that there are millions of different styles out there and that's ok. Not every style is for everyone. I may enjoy Britt's new album whereas someone else may not. And that's ok too. Yet what I reckon is that Britt's new venture is one of the most real, raw and honest I've heard since her 2009 album The Lost Get Found back in 2009. Will it do well in the charts? Maybe, maybe not. It has only been out for a week or so. Ask me this question in a few months and what I say will be a different story. But what I will say is this- Britt Nicole is back after an absence in music, and her comeback album is as musically inventive and lyrically powerful as ever. Well done Britt for this encouraging album. Can't wait for the radio singles to impact listeners in the upcoming weeks, months and even years ahead!
5 songs to listen to: Work of Art, Through Your Eyes, After You, Be the Change, Heart of Stone
Score: 4.5/5
RIYL: Rachel Lampa, Blanca, 1GN, Tori Kelly, Rachel Platten