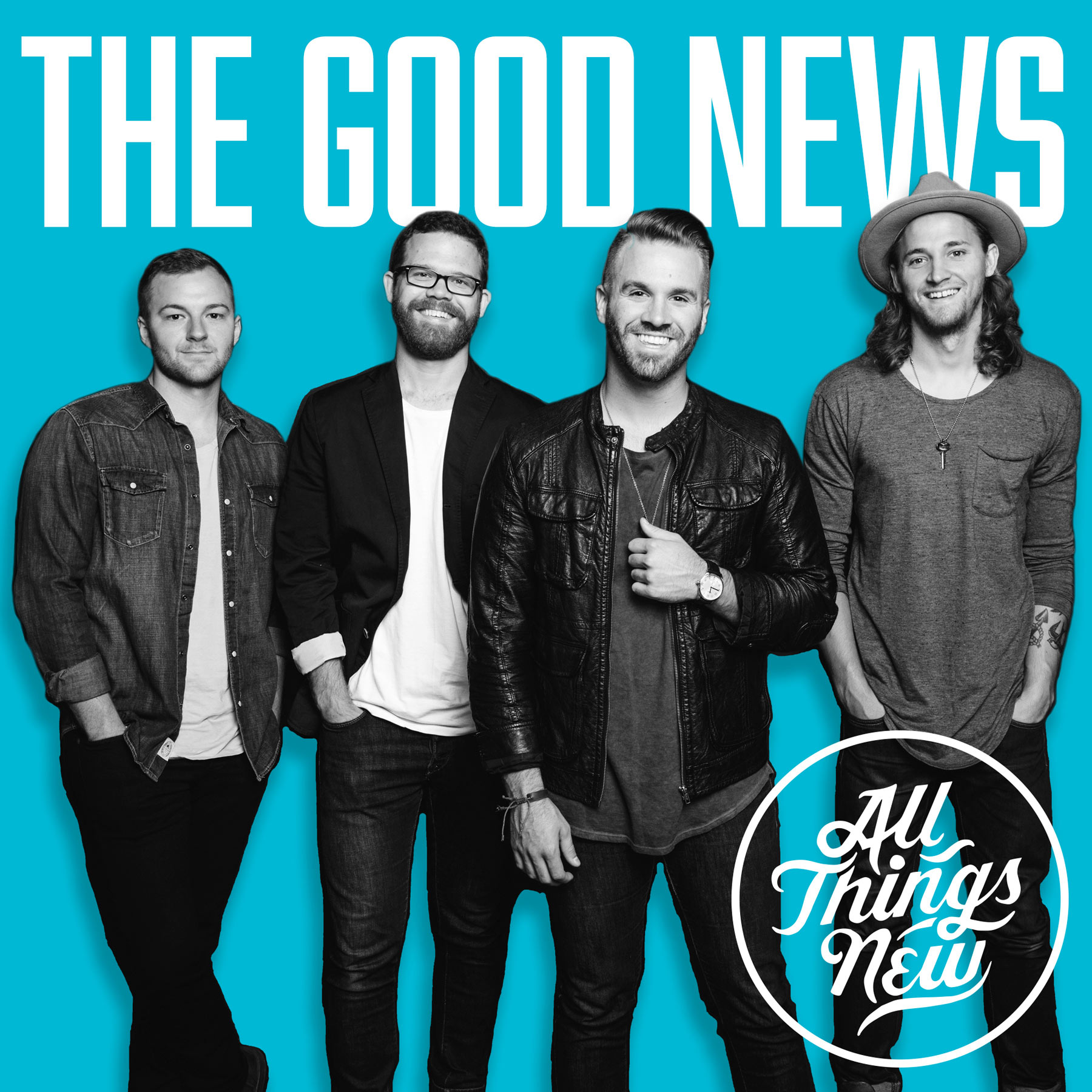 REC Recordings
Release Date: September 25th 2015
Reviewed by: Joshua Andre
All Things New– The Good News (Amazon mp3/iTunes)
Track Listing:
You Love Me For Me
I'll Be
Can't Hold Me Down
Believe
Take Me Back
We Are The Free
Who We Are
All Because You Love Me
Changed
The Good News
"…We believe in this record and what it stands for and says. That's where it has to start. We had to go back to the basics and find our heartbeat. And it was to love people. That's the ultimate win. When we were talking about the second record, we wanted it to be cohesive. It just came back to, why did we start doing this when we were 16 years old in youth group worship service? Why did we decide to take that elsewhere? It was to share the Gospel, the good news…" Signed to BEC Recordings, the label home of Kutless, 7eventh Time Down, Shine Bright, David Dunn, Ghost Ship, Shuree, Among The Thirsty and Citizens And Saints, and others; the Florida CCM/pop/rock quartet of All Things New recently released The Good News this past week, following their self-titled debut in 2013. Comprised of good friends Garrett Hornbuckle (vocals), Jeff Stein (guitars), Luke Wycuff (drums), and Drew Moenning (keys), we are presented with a more mature sound and a poppier sound than the southern rock melodies we were shown a couple of years ago. In my opinion, that is definitely a good thing, as the band have expanded their musical genres a bit more. Older, wiser, and with more life experiences, the band unveiled their release on the same day as Building 429, which could be seen as a misguided move, considering the reception of Building 429's two new singles "Impossible" and "Ocean Deep" in the lead up to their upcoming album Unashamed. Yet a few listens to this new album from All Things New, which also streamed on New Release Tuesday in full for all of last week, and I can say that All Things New's sophomore project is filled with honest, real and emotional truths about Jesus, delivered in an accessible yet unique and fresh way, as we are invited to communion and worship with the band and to spread the good news of Jesus Christ.
Opening the track list is the upbeat 3 minute guitar led tune "You Love Me For Me". Led by rousing electric guitar and searing gang vocals, lead singer Garrett passionately admits his faults to Jesus, yet provides us with hope and reassurance in the catchy chorus, reiterating that '…You love me for me, Your love sets me free, nothing that I've done could ever change the way You feel, You love me for me, and that's all I need, even when I lose my way Your grace surrounds me still…'. A feel good inspirational anthem that's a perfect album opener, this refreshing take on God's unconditional love towards us, is brilliant from All Things New, and has me very excited for the rest of the album. And the guys do not disappoint!
Opening with a pulsating piano riff, "I'll Be" follows, and is sung from God's perspective. A folksy, country like mid-tempo anthem, driven by hand claps, big booming drums and vibrant acoustic guitars, the melody is a joyous celebratory party of a song relaying that Jesus will be our everything if we let Him have complete control of our lives. As the band eloquently remind us that '…I'm here for You now, and I'll always be, through fire and rain, no I'll never leave…', the motivational pop tune segues into the first and second singles of the album, which both have a similar theme of God being actively present in our lives when we need Him.
"Can't Hold Me Down" is a musically aggressive rock anthem directed to the devil, reiterating that '…my God is undefeated, Love has won my freedom, you can't hold me down, you'll never steal my joy, no, the grave has been destroyed, you can't hold me down…'. Overtly and powerfully emphasising that Jesus has won the war, and that the devil has no power on us anymore, this is a prayer for us to declare whenever we feel powerless or defenceless, or need cheering up and encouragement. Similarly, the musically different CCM piano ballad "Believe", the band's second single, inspires us to believe in the promises of God and His word, whenever we feel completely isolated and alone and need someone to vent our frustrations to. Probably the most CCM song on the album, Garrett's exquisite vocals together with God breathed lyrics, asking God to '…help me believe I'm a new creation, help me believe that I'm something more than the path that I've been carrying, help me to know that I am Yours…', ensure that this will be the song that propels the BEC Recordings band to higher heights than they are at now!
But that's not to say that the rest of the album pales in comparison to the aforementioned 2 singles. Rather, the rest of the album brilliantly conveys a variety of genres and has me thoroughly impressed with the album as a whole musically! "Take Me Back" is reminiscent of Rend Collective musically, as the band dabble in folk, eloquently asking God to take us back to the feeling of when we first believed God, that feeling of faith where we seem to be invincible, and more on fire for God than we can seem to be now. Thematically similar to Sanctus Real's "On Fire", this prayer is something that can and should be prayed in the future if we feel like we need some encouragement and re-ignition of the spark of believing in Jesus. The album continues on the folk vein , with "We are The Free" and "Who We Are" each reaffirming we were in Jesus, with the former explaining that we are completely free in Jesus, and the latter outlining that who we are, are sons and daughters of Christ, that '…we are forgiven, no longer captive, we have been given a new chapter, there's hope in our hearts, this is who we are…'. With most of the songs telling a progressive story of faith, doubt, than reaffirmation of our beliefs, the final songs of the album remind us that the faith that we hold dear, the love of God we have, has to be shared with everyone else in the world, because how could we not keep the Good News of Jesus inside us forever?
Led by catchy hand claps and inspiring piano, Garrett sings out in "All Because You Love Me", that our future and our life with Christ is all because He loved us before we first loved Him- something that once we fully grasp, understand, and get our head around, we become fully appreciative and in awe of God's unending and boundless love, while the tempo scales back down in the piano only story song "Changed". Structurally and stylistically different to the remainder of the songs on the album, "Changed" isn't a worship song directed to Jesus, or songs about the qualities of Jesus, but rather a song Garrett sings directed to someone he once wronged, relaying that he has now changed, that '…I'm not the man that I used to be, it kills that you don't see me differently, oh no I'm not the same, I have changed, I think you'd respect the man I've become, instead you hold onto who I once was…'. Hopefully this song does have an impact on bullies and those who have been bullied, and hopefully every party involved has closure of some sort when they realise that Jesus' love and grace for us can turn a bad situation into something good for God's glory. Yet the heartbeat of the album is the title track, the album closer. Sounding upbeat, jovial and energetic, as acoustic guitar strums and a captivating tempo form the backbone musically for the album, the title track has Garrett and co. proclaiming the Good News, and outlining that Jesus is alive and willing to be in a relationship with us if we make the first step! The perfect way to end an album which is essentially ten testimonies of God's love and faithfulness hopefully spurring listeners to fall into a deeper relationship with Jesus; The Good News is an album not to be discounted, despite the vast differences musically to the rockier debut album.
All Things New have splashed onto the CCM scene with a solid self-titled debut, although comparisons between them and Mikeschair, Aaron Shust, Sanctus Real, Kutless, The Afters, and other bands with pop and light rock roots may make critics assume that these young men haven't worked out their sound yet. But then along comes The Good News and makes us admire the band for who they are, a worship band eager to share the love of God with everyone they meet! For fans of contemporary pop and rock, with the introduction of different instruments such as the ukulele and the banjo, All Things New are here to stay. Well done guys for an encouraging and captivating second album- this album will be loved by fans of artists like Rend Collective, Leeland, Crowder, Tenth Avenue North and Sidewalk Prophets!
3 songs to listen to: Believe, Who We Are, The Good News
Score: 4/5
RIYL: Rend Collective, Leeland, Crowder, Tenth Avenue North, Sidewalk Prophets