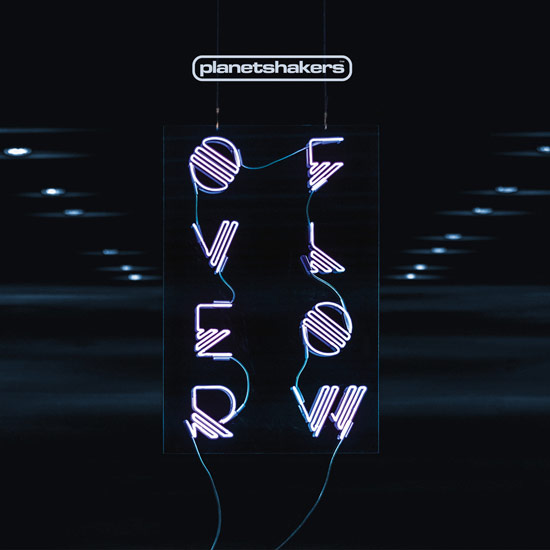 Integrity Music
Release Date: September 30th 2016
Reviewed by: Joshua Andre
Planetshakers– Overflow (Amazon mp3/iTunes)
Track Listing:
Come Right Now
River
Overflow
I Know Who You Are
I Came For You
Sings My Soul
Heart Song
I'm Free
Give My All
Precious To Me
Face To Face
Join With The Angels
My Father's Child
Gotta Give Him Glory
Here Comes The Revival (feat. Boom)
One of Australia's most popular, passionate, creative and inventive youth and praise and worship bands, Planetshakers have created many stellar and poignant live and studio albums since the early 2000's. In the same vein as Hillsong, these Aussies release albums every year, sometimes 2 or 3. And though I previously hadn't been as fully immersed in the band's discography than I reckon I could have been (except for a full appreciation of earlier albums Rain Down and All that I Want), it is later albums, namely This Is Our Time, Momentum EP and The Outback Sessions that have greatly impressed me, and piqued my interest for future projects of the band. What I did learn from listening to and reviewing Planetshakers' recent albums (view the reviews here) was that a few albums of less cohesion (in my opinion Heal This Land, Limitless and Endless Praise), doesn't mean the next album is going to fall flat. Which brings me to this year, where the young men and women of God have unveiled their latest live project Overflow. Considering the fact that Planetshakers still continue to release new material 2-3 times a year, you might think that yet another live album could be seen as a bit of the 'same old, same old'- after all, why doesn't the band unveil a covers, remix or Christmas album? However, a few listens of the poignant and heartfelt tracks have me thinking the complete opposite- Overflow seems to be the band's crowning achievement so far.
Three of the fifteen track album (yes, fifteen!) are songs we've already heard before, and familiarity of these songs brings together with it an earnest passion for Jesus, and a zeal I haven't heard from the band in a long time- each of the newly penned and recorded tracks are equally as moving, inspiring, emotional, personal and honest. The piano led ready-made-for-radio pop tune "I Know Who You Are" (transformed from a 3-minute pop tune on Momentum to an 8-minute praise and worship anthem here) to me is certain to become a single (I think it is a single already though…), and that's not necessarily a bad thing, as Sam Evans ardently and explosively reiterates that because we know who Jesus is, we can rest in the promises of His, and we can know we are safe. Declaring in the chorus that '…Lord, Maker, Savior, I know that through it all, You are greater, Your love for me will never fade away, those who hope in You, will never be ashamed…', we are presented with a promise and an eternal truth at will last through the ages, that Jesus will be with us always without fail. With a 3 minute spontaneous free worship also present in this inspiring and encouraging track, "I Know Who You Are" is one of my favourite Planetshakers songs over!
Standing tall at just over 6 and a half minutes, "Face To Face", is a reverent, contemplative and reflective acoustic guitar and piano led ballad, where we are treated with an epic musical piece, culminating in a full band crescendo later on in the track, as the band eloquently outline how '…I give You the highest praise and I'll worship for all my days, when I look You in the eye, I know I just want You now, I just want You now…'. It's a humble, simple, yet effective and poignant prayer, as Sam eloquently reiterates her desire to know more and more of Jesus on a deeper level; while the EP closer of Momentum is now the album opener of Overflow– the energetic, high energy and electronic dance focused pop number "Come Right Now", a prayer to God, asking Him to '…come right now, Holy Spirit, release Your power, Lord we are hungry for more of You…'. As Joth ardently relays his passion and immense heart for Jesus, we are met with a power packed dance anthem setting the tone for the rest of the album, as an unbridled and passionate moment of praise to Jesus encourages us to sing along in joy and honesty as well.
The remainder 12 offerings are entirely brand new recordings, and each song is just as impacting, heartfelt and inspiring as the song before it, with plenty of genres explored, and relevant issues discussed. "River" opens with a bang, as the guitar led dance anthem highlights the notion that Jesus is '…a never ending river, flowing full of power, washing over me, I will run into the water, Jesus take me deeper, saturating me…'. With Joth praising God and enthusiastically proclaiming that our life with Jesus is radically different than without, as it is His love that permeates everything we do; we are reassured that '…in the midst of despair, You are God and You are there, You're always with me…'. While the title track carries on where "River" left off- another high octane, energetic guitar led dance number, with Joth proclaiming God's unending qualities, that Jesus and everything that He is overflows and outpours out of our lives so much that I'm sure it would be not that hard for those around us to be captivated by the presence of the Almighty as well.
With plenty of more offerings from Planetshakers in the vein of worshipful ballads, inclusive of "I Came For You" (a powerful piano led slow paced 7 minute melody earnestly outlining our need for Jesus in every situation, with Joth ardently crying out that '…Holy Spirit You are welcome, come and move upon this place, we desire an encounter once again, send your fire, release your power, so we'll never be the same…'), "Sing My Soul" (a hymn-like piano led melody- complete with an epic and orchestral crescendo -as well as a 3 minutes spontaneous free worship segment in "Heart Song"- outlining our desperate need for Jesus, as we cry out '…sings my soul, sings my soul, the song from my heart overflows, sings my soul, sings my soul to Thee…'), "Precious To Me" (a straight up worship song about how precious Jesus is to us, as we cry out and declare eternal praises to our Father, Saviour and friend), "Join With The Angels" (a piano only haunting and mysterious melody, where Joth ardently cries out that we will proclaim God's praises along with the angels '…singing powerful melodies, bringing worship, we're on our knees, cryin' Holy, all of heaven, giving praise unto the King, with the thunderous voice we sing, for He is Holy…') and "My Father's Child" (an acoustic guitar led mid-tempo melody, outlining how  Jesus is with us always, and as our Father's children, we do not have to be afraid as He is in our corner all the time); it's evident to hear that the band are playing to their strengths and delivering some of their greatest work here. While others may conclude that Planetshakers excel the most in their ballads, and their pop/dance material are more hit and miss than songs delivered in their preferred genre.
However, the band continue to defy the expectations placed upon them, proving to us that songs like "River" and "Overflow" are no fluke, with a quartet of some of their best upbeat melodies they've ever recorded. "I'm Free" has the band place on their 'Hillsong Young And Free' hat, having a blast as they presumably jump around, dance and conclude that they are free because of the blood of Jesus, that He died and rose again; while "Give My All", another CCM/pop/radio friendly tune, speaks about surrendering completely and 100% to God, something we ought to do once we fully grasp that the King of all Kings and Lord of all Lords is in our corner.
Then the band does something that is completely from left field- they dabble a bit in the gospel/soul genre in "Gotta Give Him Glory", channelling their inner Israel Houghton, Mandisa or Kirk Franklin. It's an interesting melody, taking me some time to get used to, as the band ardently declare that they 'gotta' give God the glory, yet on a deeper listen, this song showcases the band's musical diversity in delivering high quality productions no matter what genre it is. The album ends with the remix dance inspired "Here Comes The Revival", a fun filled jump-on-your-feet type of melody, with the band fervently asking God for revival, amidst musical 'chaos' and synths and electronics abound. All in all, the 15 track album from Planetshakers is one of the most inspiring and engaging worship albums I have heard this year, and an album I would definitely encourage you all to check out!
Overall an enjoyable album that has definitely continues my reinvigorated interest for Planetshakers a bit more; this album has certainly created momentum, and given me new songs to sing out to Jesus during times of joy and hardship. Still not as impacting or rousing as albums from Passion, Jesus Culture, and Hillsong, Planetshakers have done Australia proud with their latest live anthems and dance melodies, full of inspiring messages and uplifting lyrics about Jesus! Well done Planetshakers for creating an album that is sure to be repeated on many iTunes playlists!
5 songs to listen to: River, I Know Who You Are, Sings My Soul, Face To Face, Gotta Give Him Glory
Score: 4.5/5
RIYL: Hillsong Worship, Desperation Band, Jesus Culture, Bethel Music